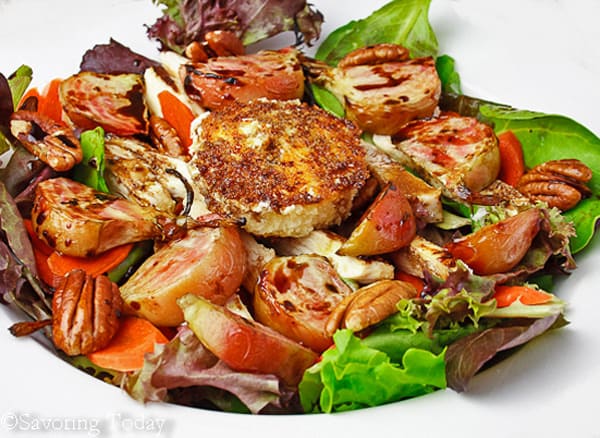 I am a sucker for goat cheese. When glancing at a menu or scouring recipes goat cheese always catches my eye.
Is that why you're here?
I've had versions of this salad at several restaurants (order it every chance I get) and the two things that always make it work are the beets and the goat cheese—it's become a sweet-savory obsession.
The irony of this infatuation is I grew up on a goat farm and as a kid I wouldn't touch the stuff (no pun intended). At its peak, our herd was about 120 strong with enough milk to feed the pigs, dogs, cats, neighboring families allergic to cow milk, and then some. We had gallons upon gallons of it and rather than pouring it out, Mom tried her hand at cheese making. In my defense, it was not the chèvre I now know and love, it was dense, squeaky cheese—the kind that squeaks against your teeth when you chew it. In Mom's defense, this was almost forty years ago before artisan goat cheese was all the rage here in the U.S. and she couldn't Google her way to better results.
Unfortunately, Mom never differentiated between the two, so whenever I eat goat cheese she has the same retort, "You wouldn't even eat it growing up, now you'll pay $__ a pound for it (the number always changes)." The words almost ring in my head, but rather than belabor the inedible quality of Mom's efforts trying to explain the difference, I agree with her and enjoy every bite of it.
On to the recipe.
Warming the goat cheese mellows its tanginess and creates a fork-gliding creamy texture. Panko crumbs crisp against the hot pan for a delicate crust, adding structure for the soft cheese. You'll wonder why you haven't set a gold disc of fried goat cheese atop every salad you've ever eaten … it's certainly the reason this salad will win your affection.
Any greens will work for this salad, but a mix of spring greens with arugula or fresh herbs is best for tenderness and flavor. There's no need to get carried away, it's supposed to be simple; let the cheese and beets shine. For that matter, any fresh beets will work too. This time around, I used Chioggia beets (pronounced kee-OH-gee-uh) a.k.a. Candy Stripe beets, which are mild and sweet. Their rosy exterior and dramatic streaks of red on white make this heirloom variety ideal for raw applications; unfortunately, the color fades when cooked, which is why I added the carrots for a little pop.
Roasted or grilled beets are an earthy-sweet contrast to the bright, salty cheese. Grilling the beets adds a smoky dimension to the salad but is optional. The possibilities for dressing are wide open, though it is best to stay with oil and vinegar types like our Orange-Dijon rather than covering it with anything heavy or creamy. We dressed this one with extra-virgin olive oil and Vermont Maple Balsamic, which is seasonal, though Aged Fig Balsamic is excellent too. You can find a delicious assortment of flavored balsamic on-line at Venice Olive Oil Company, we enjoy them on salads, meats, cheese, as well as desserts (no compensation is received for the referral).
Go ahead, tell me, is it hard for you to pass up goat cheese too?
Print
Fried Goat Cheese & Grilled Beet Salad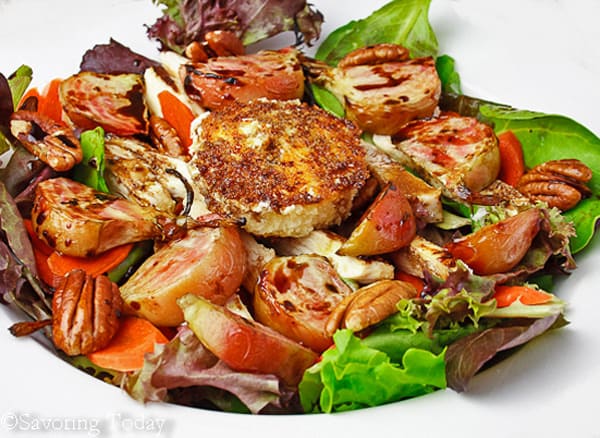 Author:

Judy

Prep Time:

5 mins

Cook Time:

25 mins

Total Time:

30 minutes

Yield:

2 Salads

Category:

Salads, Lunch, Main Dish, Dinner, Side Dish, Gluten-Free
Ingredients
3-4 small beets (or 2-3 medium) — washed and all but 1″ of stems removed
1/2 teaspoon sea salt
avocado or olive oil
2 1/2 ounces goat cheese (chevre) — divided into 1 inch thick slices or discs
1/4 cup panko bread crumbs
1 large carrot — sliced or shredded
3 cups spring greens
pecans (optional)
aged balsamic & olive oil — for dressing
Instructions
Remove greens from beet root, leaving 1 inch of top stem (this is optional, but adds texture to the salad). Scrub around the tops with a vegetable brush while rinsing beets under water to remove any sandy soil.
[url href="undefined"][/url]
Using a paring knife or vegetable peeler, gently peel the beets at the top by the stem to remove any tough skin (small, tender beets require less peeling.) For small beets, quarter each one into wedges — for larger beets, cut into 1″ wide wedges.
Place beets in a saucepan with salt and cover with water. Bring to a boil then reduce heat to medium and simmer until beets are fork tender, about 15 min. (optional) Drain beets and toss with olive oil. Grill over high heat until beets are lightly charred in spots, 3-4 minutes on eat side or stirred a couple of times on a vegetable grate. Remove from grill and set aside.
Cut or shape goat cheese into a 1″ thick x 2″ diameter disc. Press goat cheese into panko crumbs on all sides. Heat 2-3 tablespoons of oil a cast iron skillet over medium heat. When the skillet is hot, place the goat cheese in the skillet cook until golden brown on both sides (about 2 minutes on each side).
Prepare bed of greens on a plate, scatter carrots and pecans over lettuce. Arrange beets on the salad and top with the goat cheese. Drizzle olive oil and balsamic over salad and enjoy.
Notes
This salad can be served as a side dish or add grilled chicken for a main meal. Suggestions: Use gluten-free panko crumbs to make it gluten-free.
Shared on the following Blog Hops:
Hearth & Soul Hop