Fish is a delicate protein and prone to overcooking quickly over the dry heat of a grill. Follow these 5 Best Fish Grilling Tips for greater greater success when cooking fish with fire.
We include recommended equipment too!
Grilled Salmon with Tomato-Basil Butter Sauce is a combination of two of our grill class recipes. I created the Grilled Tomato-Basil Compound Butter for Grilled Herb-Buttermilk Chicken and with a splash of dry white wine, it finishes this salmon just as beautifully.
Versatility is one of the things I love about having compound butter in my freezer for any flavorful whim (or wild hair, as my mom would say). It is a staple in my kitchen and is easy to make ahead to quickly dress up any roasted, pan seared, grilled meat or fish.
Need an instant sauce for your grilled salmon?
Add a splash of wine, lemon juice or red wine vinegar to thin and balance the richness of the butter, creating a sauce instead.
Include homemade chicken stock along with any of these acids (use a combination of chicken stock and lemon juice as a sub for wine) to stretch it to cover more servings.
How much you'll need will be determined by your own taste.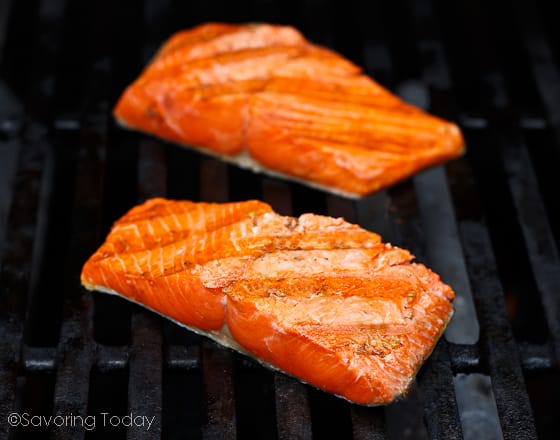 This post contains affiliate links. Thank you for supporting what I do here at Savoring Today. For more information, please see our Disclosure Policy.
5 Best Tips for Grilling Fish: 
Fish is a delicate protein and prone to overcooking quickly. Following these tips will provide greater success when cooking fish with fire.
Start with a clean, oiled grill grates. The best way to clean grill grates is high heat for at least 15 minutes to burn off any residue and follow up with a good grill brush. Turn down the heat and oil the grates using the bottom of a sliced onion dipped in oil—trim 1/2-inch off the bottom of an onion, stab with a fork to create a handle, dip the sliced side in oil and use it to spread the oil over the grates. Fish is easier to turn and keep intact if it doesn't stick.
Brine the fish before it hits the grill. Brining the salmon enhances its natural flavor, helps keep it moist, and diminishes the white albumin film that forms as it cooks (remember, the first bite is with our eyes). I like to use a simple salt brine as indicated in the recipe because I'm finishing the salmon with compound butter or a sauce, but herbs and other seasonings can be added too. Just be careful with adding acids like lemon juice so it doesn't "cook" the fish before it gets to the grill.
Protect the fish with a barrier between it and the fire with wood planks, sliced citrus, or skin-on cuts. Leaving the skin on fillets protects it from direct heat, as does cooking it directly on wood planks or sliced citrus. If you have skinless fillets, placing cedar planks or sliced lemons on the grill grates to form a bed for the fish provides protection and adds flavor as it cooks. Don't worry, you can still slide the almost-done fish directly onto the grill grates the last minute or so of cooking to get those pretty grill marks. The plank or the grilled lemon slices can be used for an enhanced presentation as well.
Watch it closely (don't leave the grill). I know sticking close to the grill might seem obvious to point out, but it is so easy to get distracted or try to do too much at once. One of the advantages of fish is how fast dinner can be done on a busy night. But it's also a drawback if you're not paying close attention as it goes from perfectly tender and moist to dry and overcooked in less than a minute. It's best to get side dishes or sauces ready before it meets the heat.
Use a timer and an instant read thermometer for accurate doneness. A rule of thumb is 10 minutes of cooking time for every inch of thickness, but that is a loose guideline since thickness and density vary widely. The best way to make sure it's done is to test the thickest part of the fish with an instant read thermometer. You can pierce the flesh with a sharp knife to peek inside to check for flakiness and to make sure it's barely translucent, but I find the thermometer to be faster and more reliable. Here's the one I use: http://www.thermoworks.com/ThermoPop
What else you'll need for easy grilling:
Fancy fish baskets might make it slightly easier to turn the fish, but they don't prevent sticking and are a mess to clean. A wide spatula with a thin, tapered edge like a fish turner is the only special equipment you will need to make grilling fish a breeze.
For more delicate fish, it is handy to have two of these spatulas or you can use nitrile gloves like I do. I use the spatula to lift the fish off the grill grate, while using my gloved, left hand to gently turn the fish over.
The gloves help protect my hands from the heat of the grill (or chile peppers), giving me better hands-on control. These gloves are a staple I use almost every day for various tasks in the kitchen.
Looking for a little more smoky flavor? This summer, I discovered Mo's Smoking Pouch Kit with Natural Wood Chips Smoking Pouch Kit with Natural Wood Chips and it's been worth every penny. I'm not big on cooking or grilling gadgets, but this has proved to be the real deal.
It's a stainless steel pouch you can throw on any charcoal or gas grill for added smoke without risking flare-ups like you can get with bare wood chips.
The pouch is small, producing smoke for 15-20 minutes, so it's ideal for quick-cooking foods like steak, chops, fish, burgers, and vegetables. This is the actual kit I ordered and have loved using it:
Now you're ready to make this Grilled Salmon with Tomato-Basil Butter Sauce Recipe!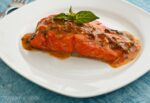 Print Recipe
Grilled Salmon with Tomato-Basil Butter Sauce
Grilled tomatoes and fresh basil create a compound butter for an easy sauce over tender grilled salmon.
Ingredients
For the Grilled Tomato-Basil Compound Butter Sauce:
1/2

cup

butter

2

tablespoons

extra-virgin olive oil -- plus 1 tablespoon for grilling

6

ounces

grape tomatoes

1/4

cup

finely chopped fresh basil leaves

Pinch

sea salt & freshly ground pepper

1/4

cup

dry white wine
For the Salmon:
4

salmon fillets or steaks

4

cups

water

4

tablespoons

sea salt

2

tablespoons

extra-virgin olive oil -- plus 1 teaspoon for grilling
Instructions
For the Compound Butter Sauce:
Heat the grill to 400°F. Toss the tomatoes with 1 tablespoon of the oil to coat and place on skewers, or use a vegetable grill pan. If using a grill pan, place on the grill while preheating so it is hot when the tomatoes go on it.


Grill the tomatoes until blistered and charred in places, about 8 minutes. Remove from grill and transfer to a cutting board. Sprinkle with salt and pepper and coarsely chop (careful, they can squirt a little).

Transfer to a mixing bowl and allow to cool for 5-10 minutes. Combine with 2 tablespoons of olive oil, basil, and softened butter until well mixed. Spoon compound butter onto a piece of wax paper in a long, narrow shape, about 2 inches wide by 9 inches long.

Carefully fold the wax paper over the butter to create a somewhat rounded cylinder shape--this will make it easy to cut slices off of when ready. Gently place the butter on a flat surface in the freezer.


The butter can also be made well in advance and kept in the refrigerator or freezer until ready to use. Once the butter is firm, it can be sliced and used to top the salmon, or added to a skillet with wine or chicken broth to create a sauce.

To make the sauce, place approximately 4 tablespoons of the compound butter in a small, non-reactive skillet over medium heat. Once the butter starts to bubble, whisk in the wine to create a simple sauce. Taste, and add more wine or compound butter, as desired. Remove from heat and set aside while preparing the salmon.
For the Salmon:
Heat the grill to 400°F. While the grill is heating, mix 4 cups of water with 4 tablespoons sea salt and stir to dissolve salt. Place salmon in the brine in a container just big enough to allow the brine to cover the salmon in a single layer (don't stack the salmon)--brine for 10 minutes.

(If not using the brine, salmon with salt and pepper then drizzle with olive oil.)

When the grill is ready, remove the salmon from the brine and dry with paper towels. Brush with olive oil on both sides. Place the salmon on the grill over med-high heat, skin-side up. Cook for 4 minutes and gently turn over to finish cooking skin-side down, about 6 more minutes.

At 4 minutes, check the temperature and remove from the grill when the thickest part of the salmon is between 120-125 degrees. Tent the salmon with foil and return the sauce to the stove to reheat. Spoon sauce over the salmon to serve.
Nutrition
Calories:
588
kcal
|
Carbohydrates:
2
g
|
Protein:
34
g
|
Fat:
47
g
|
Saturated Fat:
18
g
|
Cholesterol:
154
mg
|
Sodium:
7269
mg
|
Potassium:
944
mg
|
Sugar:
1
g
|
Vitamin A:
24.2
%
|
Vitamin C:
7.4
%
|
Calcium:
4.6
%
|
Iron:
8.8
%
More Grilling Recipes You'll Love:
---
This post contains affiliate links. Thank you for supporting what I do here at Savoring Today. For more information, please see our Disclosure Policy.