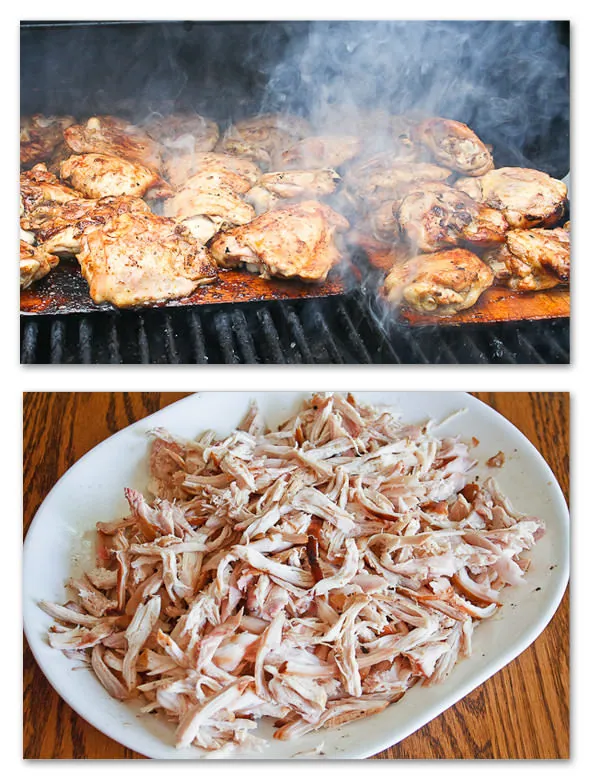 Grilling is more than an occasional summertime excuse for a party around our house—it is a year-round brave-the-weather habit. To be ready when the mood strikes, cedar planks are always on-hand for Cedar Plank Grilled Chicken.
Coastal Cuisine is a brand I recommend, but there are many on the market from which to choose. I like that their cedar is from sustainable forests and the planks can be reused until they are used up.
We love the subtly sweet smoky flavor of Cedar Plank Grilled Chicken for Chicken Alfredo, Classic Caesar Salad, Stuffed Poblanos or simply plain with herbed butters.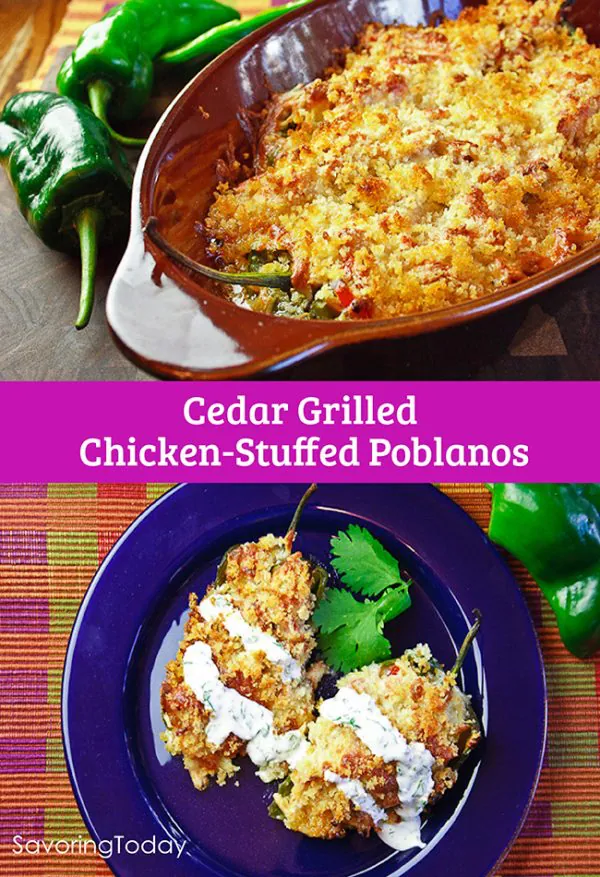 Ordinarily I recommend marinating meat before grilling, but when using wood planks it is best to lightly season so the flavor of the wood comes through.
Boneless, skinless or bone-in chicken are interchangeable for this recipe, simply adjust cooking time as needed.
I like to use bone-in chicken thighs for BBQ Pulled Chicken Sandwiches and boneless, skinless chicken breasts to top salads or pasta dishes as shown in the photo.
Since I am a batch-cooking kind of gal, I rarely light the grill for just one meal. If a recipe calls for 4 chicken breasts, you may as well cook 12 to get the most out of a chimney full of coals or the 10-minute preheat.
Grilled chicken freezes well, so this is an ideal time to cook a few extra pieces for quick lunches or a midweek meal.
Cedar Plank Grilled Chicken
Chicken grilled over cedar wood planks for a sweet, smoky flavor.
Ingredients
1

cedar plank

approx. 7"x16"

4

boneless

, skinless chicken breast or 8 bone-in thighs

1 1/4

teaspoons

sea salt (per pound of chicken)

1

teaspoon

freshly ground pepper

Extra-virgin olive oil
Instructions
Lightly pound the thickest part of the chicken breasts with a meat mallet to create an even piece of meat.


Salt the chicken liberally with sea salt and refrigerate for at least 6 hours, but no longer than 24 hours. Soak the cedar plank in water for 1-2 hours before grilling.

After brining, season chicken with pepper and drizzle with olive oil (olive oil is not needed for chicken thighs).

On a preheated gas grill, place cedar plank on grill over direct heat. Place chicken breasts directly on the cedar plank and grill over med-low heat with the lid closed.


The planks will smoke while cooking, which is ideal, so it is important to keep the lid closed as much as possible.

Check the chicken every 2-3 minutes turning as needed to allow each side of the chicken to make contact with the plank while cooking, about 10 minutes total.


Once the chicken is almost cooked through, remove from the plank (leaving plank on grill) and cook directly on the grill over high heat to develop grill marks on the meat.

Serve on top of pasta sauces, salads, or shredded for BBQ chicken sandwiches.
Notes
Total time includes marinating time.
The cedar planks can be reused until completely burned up; see package instructions for guidelines.
Nutrition
Calories:
257
kcal
|
Protein:
47
g
|
Fat:
5
g
|
Saturated Fat:
1
g
|
Cholesterol:
144
mg
|
Sodium:
262
mg
|
Potassium:
836
mg
|
Vitamin A:
70
IU
|
Vitamin C:
2.7
mg
|
Calcium:
11
mg
|
Iron:
0.8
mg
More Grilling Recipes You'll Love: