This Herb-Buttermilk Chicken will be a fast favorite served from your grill!
Fresh herbs clinging to the chicken and the Tomato-Basil Butter is the perfect touch of robust flavor to finish it before serving.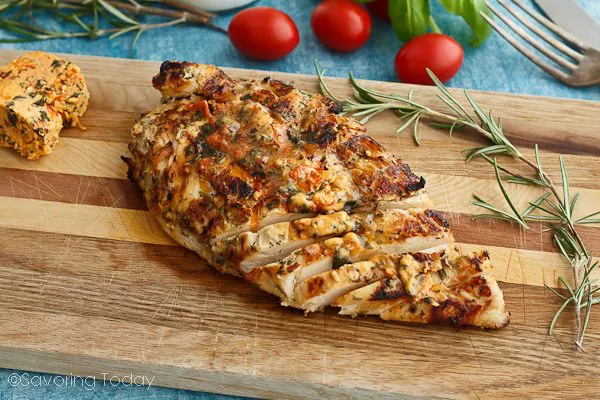 The intense heat of a grill can leave chicken breast rubbery and dry if it isn't prepped with a marinade or brine and monitored closely for doneness. That's where buttermilk and an instant-read thermometer come in.
Buttermilk has been a secret ingredient in the best fried chicken for as long as I can remember, and it brings the magic to grilled chicken too.
TIP: Another important step in prepping chicken breast for the grill is even thickness. Using a meat mallet, it should only take two or three whacks on the thicker end to create an even piece of meat that will cook, well, evenly.
---
This post contains affiliate links. For more information, please see our Disclosure Policy.
---
⇒ An instant-read thermometer is the best tool for knowing when chicken is done to avoid overcooking.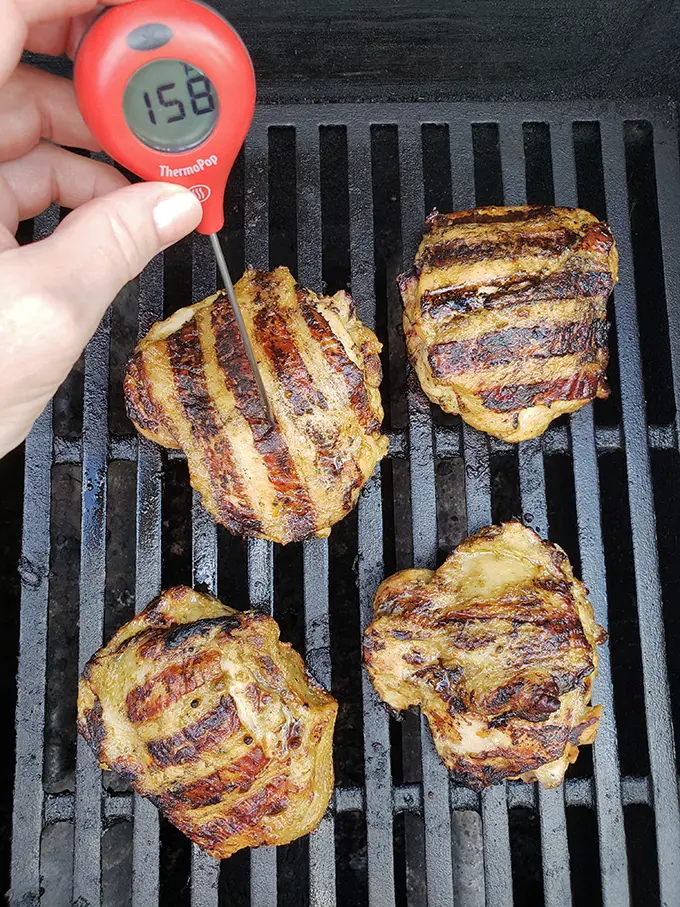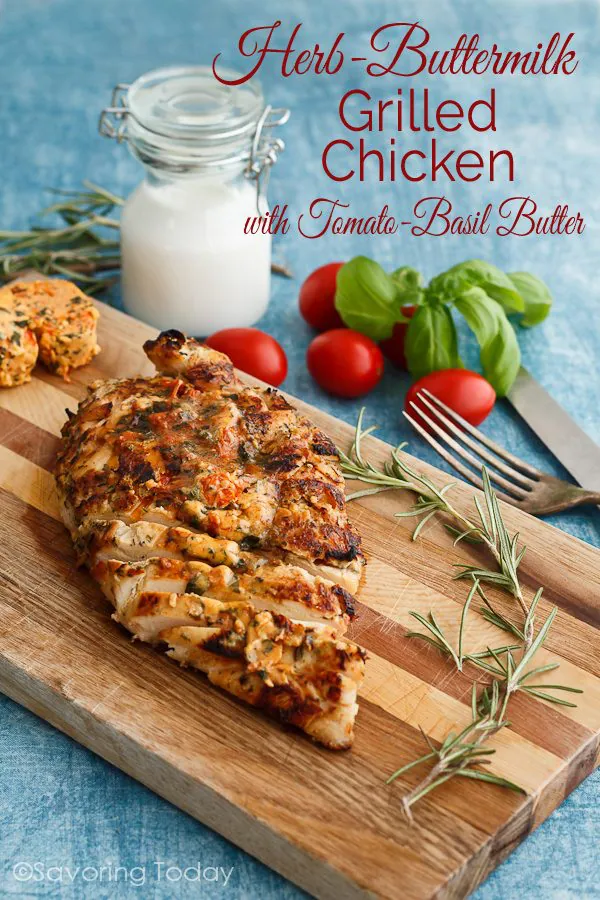 Grilled chicken is a standard make-ahead protein at our house and this recipe is easy to double or triple.
As delicate as chicken breast can be during the cooking process, it is remarkably resilient when frozen. Both the chicken and the compound butter freeze well and are suitable for numerous recipes.
I love having it on hand for quick dinners when time is tight or I'm just tired of cooking.
The Herb-Buttermilk flavored breast is an ideal topper for salads, pasta, pizza, or burritos and you can use the Tomato-Basil Compound Butter to add rich flavor to any dish.
You can even use the compound butter to make a quick sauce, like this Tomato-Basil Grilled Salmon.
3 Quick Tips for the Best Grilled Chicken Breasts
Start with an even thickness – use a meat mallet to pound out the thicker end
Marinade in buttermilk – citrus marinade works for flavor, but not as well for tenderness
Check doneness with an instant-read thermometer – the best way to safeguard over-cooking lean proteins
Grilled Herb-Buttermilk Chicken with Tomato-Basil Butter
A simple marinade of buttermilk and herbs makes chicken tender and delicious when grilled. The tomato-basil butter is a superb finishing touch.
Ingredients
4

boneless

, skinless chicken breasts
For the Herb-Buttermilk Marinade:
2/3

cup

buttermilk

2

tablespoons

Dijon mustard

2

tablespoons

honey

2

cloves

garlic

, minced

2

tablespoons

finely chopped fresh rosemary

1

teaspoon

dried thyme

1 1/2

teaspoons

sea salt

1

teaspoon

freshly ground pepper
For the Tomato-Basil Compound Butter:
1/2

cup

butter

2

tablespoons

extra-virgin olive oil

, plus more for grilling

6

ounces

grape tomatoes

1/4

cup

finely chopped fresh basil leaves

Pinch

Sea salt & freshly ground pepper
Instructions
For the Chicken and Marinade:
Place one chicken breast inside a food storage bag or under plastic wrap and pound the thicker part of the breast with the flat side of a meat mallet or large skillet to flatten. The chicken will cook evenly when it is an even thickness.

Whisk together the marinade ingredients in a medium bowl and transfer to a large resealable plastic bag.

Add the chicken, making sure the marinade surrounds each piece, seal the bag and refrigerate for 1 to 4 hours. Set the butter for the compound butter out on the counter to soften to room temp.

When ready to grill, start with the tomatoes for the compound butter. Remove chicken from marinade and transfer to a platter while preparing the butter.

Heat the grill to 400°F.
For the Compound Butter:
Toss the tomatoes with 1 tablespoon of the oil to coat and place on skewers, or use a vegetable grill pan. If using a grill pan, place on the grill while preheating so it is hot when the tomatoes go on it.


Grill the tomatoes until blistered and charred in places, about

8 minutes

. Remove from grill and transfer to a cutting board. Sprinkle with salt and pepper and coarsely chop. Transfer to a mixing bowl and place in the refrigerator for

5-10 minutes

to cool.

Combine with the remaining 2 tablespoons of olive oil, basil, and softened butter until well mixed. Spoon compound butter onto a piece of wax paper in a long, narrow shape, about 2 inches wide by 9 inches long.


Carefully fold the wax paper over the butter to create a somewhat rounded cylinder shape. Gently place the butter on a flat surface in the freezer while grilling the chicken. (The butter will harden enough to slice and top the chicken.)
To Grill the Chicken:
Turn one side or one burner of the grill off to create an indirect heat zone (adjust the other burners to maintain the temperature around 400°F). Place the chicken on the indirect side and close the lid.


Allow to cook for 4-6 minutes on each side, or until the internal temperature of the chicken is at least 130°F. Move the chicken to directly over the heat to create grill marks and finish cooking, about 2 more minutes per side.


Remove from grill when the internal temperature of the thickest part is between 153-155°F and tent loosely with foil to rest for 5 minutes.

Remove the tomato-basil butter from the freezer (or from the fridge if it was made in advance). Slice into approximate 1 tablespoon-sized pieces and place one on top of each piece of chicken while the chicken is tented and resting;


butter should melt over the chicken. If the butter is still not melted when the chicken is done resting, place in a warm oven for a couple of minutes until ready to serve.
Notes
Prep time includes marinating time.
Tomato Basil Compound Butter can be made well in advance and refrigerated until ready to use, for up to 2 weeks. This recipe will only require about half of the butter made, the remaining butter can be stored in the freezer for other uses such as topping grilled or roasted meats, spread for breads (allow to soften), or a starter for pan sauces.
Recipe Variation:
Change up the flavor with 3 tablespoons Savoring Today's Green Chile Chix Rub in the marinade and 2-3 tablespoons of chopped green chiles with 1 tablespoon cilantro mixed into the compound butter.
Nutrition
Calories:
612
kcal
|
Carbohydrates:
15
g
|
Protein:
51
g
|
Fat:
38
g
|
Saturated Fat:
18
g
|
Cholesterol:
212
mg
|
Sodium:
1488
mg
|
Potassium:
1037
mg
|
Fiber:
1
g
|
Sugar:
12
g
|
Vitamin A:
1340
IU
|
Vitamin C:
9.9
mg
|
Calcium:
119
mg
|
Iron:
1.8
mg
More Amazing Summer Grilling Recipes