Growing up, meatloaf wasn't the comfort food it is for me today. It was more like dreaded food because the massive chunks of onion were never pleasant for a kid who hated onions (mostly because of the texture). Dinnertime wasn't the time for nonsense at our house, so I was usually in trouble by the time I was done picking through my crumbled meat to reject them. Oh, and the add-ins … oats, rice, carrots, bell pepper … I can still remember Mom adding rice, which I think is gross. Really, meat is not supposed to have little white specks in it that look like fly larvae. If the first bite is with the eyes, there is no second bite with this one. Stop it with the rice.
Overall, Mom thought meatloaf was a place to hide vegetables, compensate for the cost of meat with "stretchers", or save a step by throwing everything together in one bowl. Thankfully, this didn't completely turn me off to this homey, crave-worthy comfort food. Of course, if you loved your mom's (or dad's) meatloaf, the familiar flavor ultimately brings the warm thoughts and feelings you remember, and comfort is king. (I'd be delighted if you'd share their secret in the comments!)
Since I wasn't chasing the nostalgia of a childhood favorite, we've tried a number of meatloaf recipes over the years. Frankly, you don't need to put vegetables in it; that's what side dishes are for, and it won't interfere with the flavor or texture of the meat. Oats are okay, just grind them semi-fine (again, no white specks allowed). Think of meatloaf as a main event rather than something thrown together. As long as you're sticking your hands into cold, ground meat (not my favorite part), you want to make it count, right?!
I've settled on this adaptation of a Cooks Country recipe because it's all about adding just enough to complement the meat, which is as it should be. My favorite combination is beef, pork, and turkey though I've had success with any mix of beef, buffalo, pork, turkey, chicken, or veal. Just be sure one of them has at least 15% fat, or it will be too dry. Cooking the loaves on parchment isn't absolutely necessary, but it makes clean-up a breeze and I like that. The recipe also addresses onions in the best way possible—cook them before adding to the meat to mellow and soften their influence. Oh, and there's a brilliant sweetly-spiced, tangy sauce to glaze the humble loaf, as well as pass around the table.
The next day you'll have to decide whether to smear the glaze or mayonnaise (or both) on your meatloaf sandwich. Trust me, it will be a difficult decision if it's been just mayo up to this point. Then you will be prepared to weigh in on the debate—the meatloaf, or the meatloaf sandwich?
It's still not settled at our house.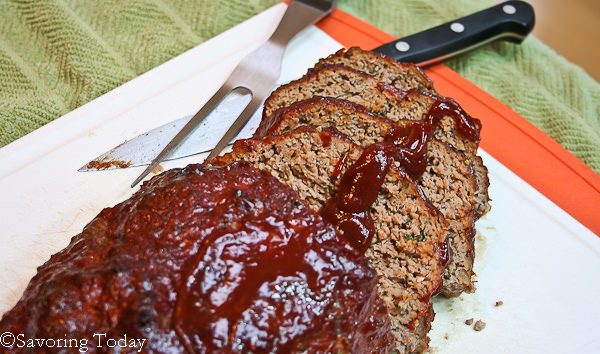 Adapted from Cooks Country Glazed Meatloaf
Print
Meatloaf with Sweetly-Spiced Glaze
Author:

Judy Purcell

Prep Time:

30 mins

Cook Time:

35 mins

Total Time:

1 hour 5 minutes

Yield:

8

Category:

Main Dish, Beef, Pork, Turkey

Cuisine:

American
Ingredients
Glaze:
1 cup ketchup
1/4 cup coconut palm sugar — or brown sugar
2 1/2 tablespoons cider vinegar
1 tablespoon Chipotle Tabasco Sauce
1 teaspoon liquid smoke flavoring
1 tablespoon prepared horseradish — grated, not creamy
Meatloaf Mix:
2 tablespoons olive oil
1 medium onion — about 1 cup, chopped fine
3 cloves garlic — minced
2/3 cup saltine crackers — about 17 crackers, crushed
1/2 cup whole milk
1 pound ground beef
1 pound ground pork
1 pound ground turkey
2 large eggs — beaten
1 large egg yolk — beaten with eggs
2 teaspoons Worcestershire sauce
2 teaspoons Dijon mustard
1/2 teaspoon dried thyme
1/3 cup fresh parsley — chopped fine
1 teaspoon salt
3/4 teaspoon pepper
Instructions
Make glaze by whisking all glaze ingredients in a saucepan until sugar dissolves. Reserve 1/3 cup glaze mixture, then simmer remaining glaze over med heat until slightly thickened, about 5-8 minutes. Cover and keep warm.
Heat oil in a skillet over med heat; cook onion until golden. Add garlic and cook until fragrant. Transfer to a mixing bowl to cool.
In a large bowl, gently mix the beef, pork, and turkey by hand until well combined. Process the saltines in a food processor into a fine texture, or crush with a rolling pin. Add the crackers to the milk in a small mixing bowl. Add the eggs and yolk, mustard, Worcestershire sauce, thyme, parsley, salt and pepper, along with the cooked onions and garlic to the milk and cracker paste; mix well and then add to the meat. Gently mix until well incorporated.
Shape meat mixture into two loaves, side by side, on a parchment-lined, rimmed baking sheet. Trim parchment paper to remove excess, leaving about an inch around loaves. Broil on HI, 5-6 inches away from element, until well browned, 8-10 minutes. Brush some of the reserved, uncooked glaze over top and sides of loaves and return to oven to broil until glaze begins to brown, 3-4 minutes.
Move the oven rack to the middle position and bake loaves at 350°F for 30-35 minutes or until meat registers 160°F. Transfer to carving board, tent with foil, and let rest 15 minutes.
Serve with cooked glaze at the table.
Notes
To make this gluten-free, use GF crackers or GF bread crumbs. If using bread crumbs, increase salt by 1/4 teaspoon.
For make-ahead meals: Make into smaller loaves (adjust baking time), cool and freeze loaves without sauce. Sauce can be prepared and frozen separately. Slice defrosted meatloaf and gently reheat individual portions in a skillet and top with warmed sauce.
Shared on the following Blog Hops:
Hearth & Soul Hop
---
This post may contain affiliate links. For more information, please see our Disclosure Policy.