Chimichurri is a bright, summertime condiment made up of a handful of fresh herbs, olive oil base, vinegar, and a hit of chili spice. It is an attention-grabbing addition to grilled meats, vegetables, pasta, potatoes, sandwiches, and more.
It is second to none for its versatility, vibrant color, and most importantly its unique herbaceous, garlicky, citrusy, tangy, and spicy flavor.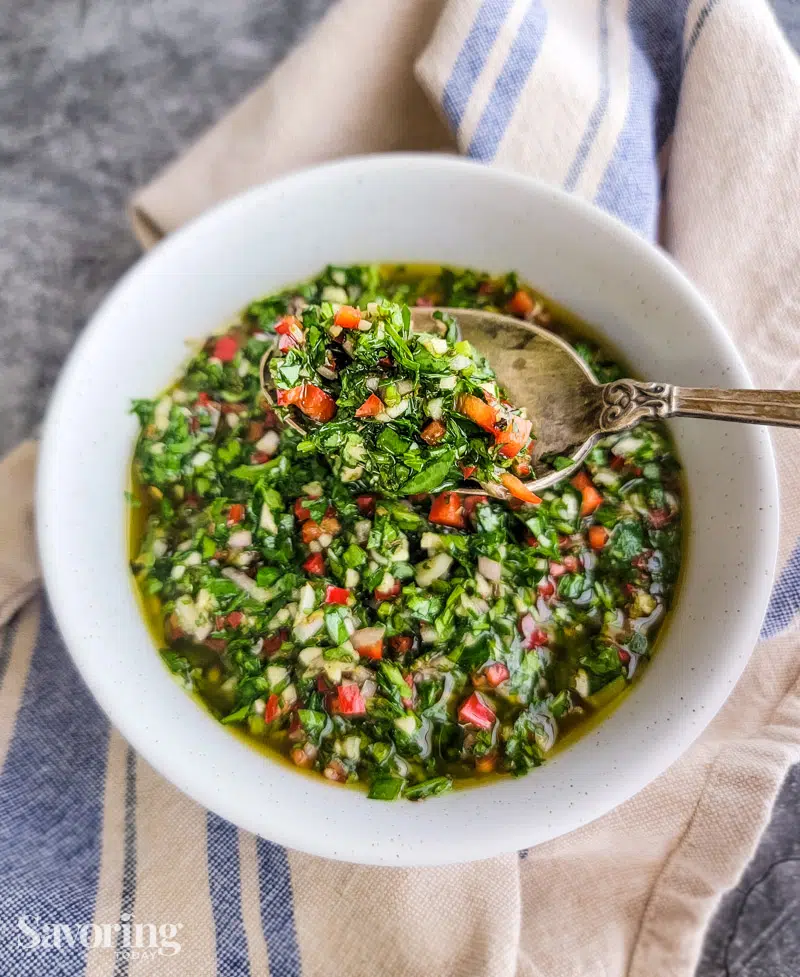 Where Did Chimichurri Originate?
Hailing from the southern reaches of South America, this Argentinian and Uruguayan culinary specialty is one you won't want to miss. Chimichurri highlights the very best of simple garden herbs so you can transform a simple bite of grilled chicken or steak into something truly unforgettable.
I do not claim this recipe as "authentic". There are numerous recipes for chimichurri, some calling for parsley and oregano only, dry or fresh herbs, some include cilantro, and others use different kinds of spicy peppers. In fact, so many chimichurri recipe variations exist that it would be hard to even name who makes the most authentic sauce.
Instead, I'll claim that my chimichurri is worth trying because we use a summer herb trio of parsley, cilantro, and basil which hits all the right marks.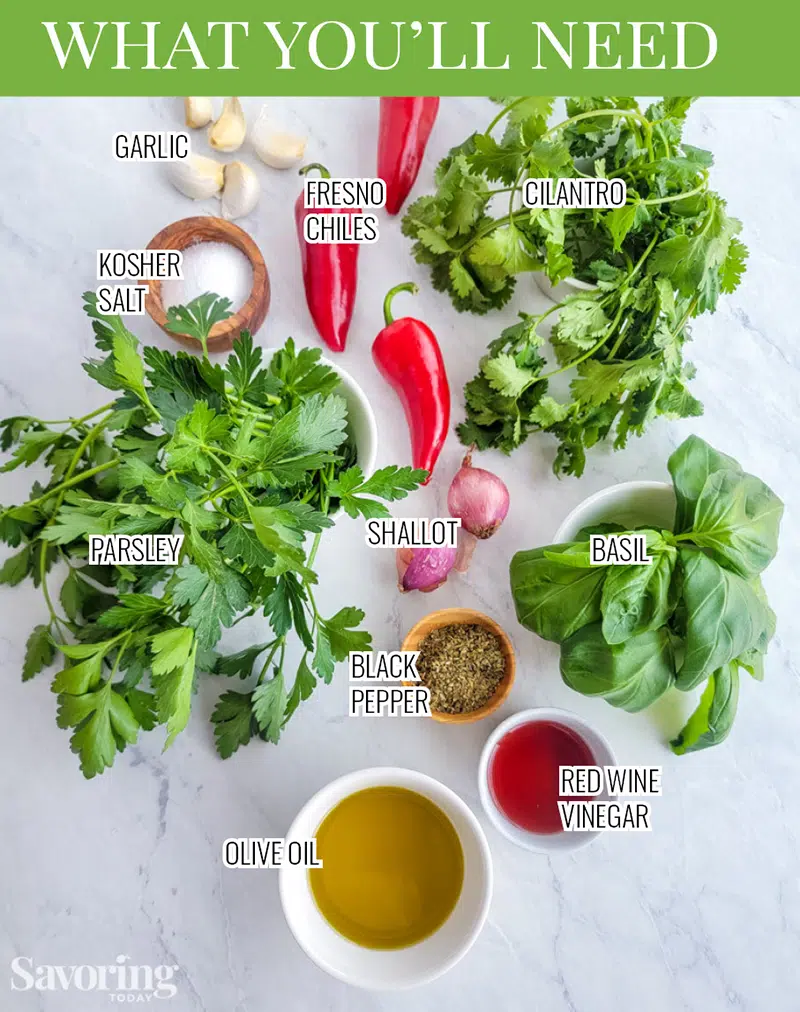 It's the fresh herbs that make chimichurri come alive. You're not making a "kind of like pesto" sauce here. You're making a real food firework. A flavor bomb. A mix of things that will cause a shift in your palatal paradigm.
Red wine vinegar, shallot, garlic, and Fresno peppers are all very intense ingredients so I do recommend starting with the specified amount (if not less) in case you are sensitive to spice, don't love garlicky things, or find the sauce to be too acidic.
PRO TIP: Resist the urge to puree this recipe. It is a fair amount of chopping, yes, but chimichurri is meant to be a somewhat coarse, textured sauce and is best served as finely chopped ingredients. Pulse it gently in a food processor if you really don't want to hand chop everything, but know that the texture won't be the same.
I don't have red wine vinegar, can I use something else?
The short answer is yes, you can use white wine vinegar, sherry vinegar, or fresh lime juice, but only if you absolutely have to. Red wine vinegar is one of those ingredients that impart a specific and noticeable set of flavors because it is made from, you guessed it, red wine.
It stands up to grilled meats very well due to its robust, punchy flavor. I recommend buying it for this recipe and for salad dressings or Red Beans and Rice too.
White wine vinegar and lemon/lime don't stand up to grilled red meat as well and may result in a different balance of acid. I may choose to use either of these if the protein base is chicken or seafood, simply because they meld well with a lighter protein.
Balsamic vinegar, apple cider vinegar, rice vinegar, and straight-up white vinegar are not good substitutes.
Do I have to use fresh garlic?
Chimichurri benefits greatly from fresh garlic as it brings its own spiciness and big, necessary flavor alongside all of these delicious herbs.
Using pre-chopped garlic in a jar can taste far stronger than fresh cloves, so I wouldn't use that here.
Can I cook it?
In practice, chimichurri is best utilized when spooned generously over the top of your grilled items as a finish. I have been known to use it as a 24-hour marinade on a skirt steak and then grill the steak with the chimichurri on it, however, it is at its best when uncooked.
Can I make Chimichurri in advance?
Yes! In fact, making it ahead of time is a great idea. It will still be absolutely delicious when made fresh, but giving the flavors time to meld together over a 24-hours can bring it up a level. It also keeps for a good amount of time, though I would advise using it within a week of making it.
7 Delicious Ways to Use Chimichurri (other than grilled meat)
Specifically, I would like to highlight its use in Argentina and Uruguay, in which chimichurri is most often paired with grilled steak. It is essential to asados or parrillada, a meal of a variety of meats that are grilled or barbequed. It is a truly versatile condiment capable of bringing amazing flavor to chicken, fish, and vegetables just the same. However, once you get it mixed up, there are even more possibilities!
RECIPE VARIATIONS:
Change up the herbs. Traditionally only parsley and oregano are necessary for chimichurri. If they are not included, then you're not really making chimichurri. We did an even split of parsley, cilantro, and basil with a touch of oregano. Feel free to change the ratios, use no basil or cilantro, or go heavier on any of these herbs.
Add rosemary to the chimichurri and toss with roasted fingerling potatoes. You will not be disappointed.
The Fresno pepper can be replaced by red chilis or dried chili flakes.
Use a jalapeno and more cilantro for a more taco-oriented flavor profile. You can also omit the red pepper if you're really not a fan of spice.
Shallots can be substituted with ramps, green garlic, or red onion.
More Sauce and Condiment Recipes You'll Love
This post may contain affiliate links. See our disclosure policy for more information.
BONUS: Grow your own herbs for chimichurri sauce
Kitchen herb gardens were made for fresh sauces like chimichurri. Even if you don't have a plot of ground, these herbs do quite well in pots and don't necessarily need to be outside.
Parsley and oregano are even perennials in most zones, and cilantro is usually less than 80 cents at the grocery (I would grow it if I had the patience for its finicky ways), and in the summertime, basil plants thrive.
There is something very satisfying about utilizing your own herb garden to create something delicious. Just be sure to deadhead your herbs so they don't bolt on you!
Chimichurri
A bright, versatile condiment for grilled meats made up of a handful of fresh herbs, olive oil base, vinegar, and a hit of chile spice.
Ingredients
3

tablespoons

finely chopped shallot

(1 to 2 small)

2

whole

red Fresno chiles

finely chopped

3

cloves

garlic

finely chopped

2

tablespoons

red wine vinegar

1

teaspoon

kosher salt

1

teaspoon

dried oregano

(or 2 tablespoon chopped fresh oregano)

1/3

cup

finely chopped cilantro

1/3

cup

finely chopped basil leaves

1/3

cup

finely chopped fresh parsley

3/4

cup

extra-virgin olive oil
Instructions
Mix shallot, chiles, garlic, vinegar, and salt in a small bowl and set aside for 10 minutes for vinegar to soften the flavors of the onion and garlic.

Stir in the fresh herbs to combine and then whisk in enough of the oil to coat all the ingredients and so that none of the ingredients are above the oil (1/2 to 3/4 cup). This way the oil preserves the fresh herbs for storing.
Nutrition
Calories:
124
kcal
|
Carbohydrates:
1
g
|
Protein:
1
g
|
Fat:
14
g
|
Saturated Fat:
2
g
|
Polyunsaturated Fat:
1
g
|
Monounsaturated Fat:
10
g
|
Sodium:
196
mg
|
Potassium:
29
mg
|
Fiber:
1
g
|
Sugar:
1
g
|
Vitamin A:
210
IU
|
Vitamin C:
3
mg
|
Calcium:
9
mg
|
Iron:
1
mg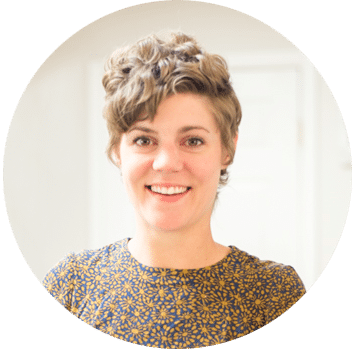 Article by Kayla Purcell
Kayla's creativity spills over into everything she does, especially in the kitchen. She is passionate about bringing people together around tasty food that's good for you. We love that too.