Homemade Creamy Buttermilk Ranch Dressing far outshines anything in a bottle from the store!
We use fresh chives, parsley, and dill in this classic salad dressing recipe for the freshest taste possible.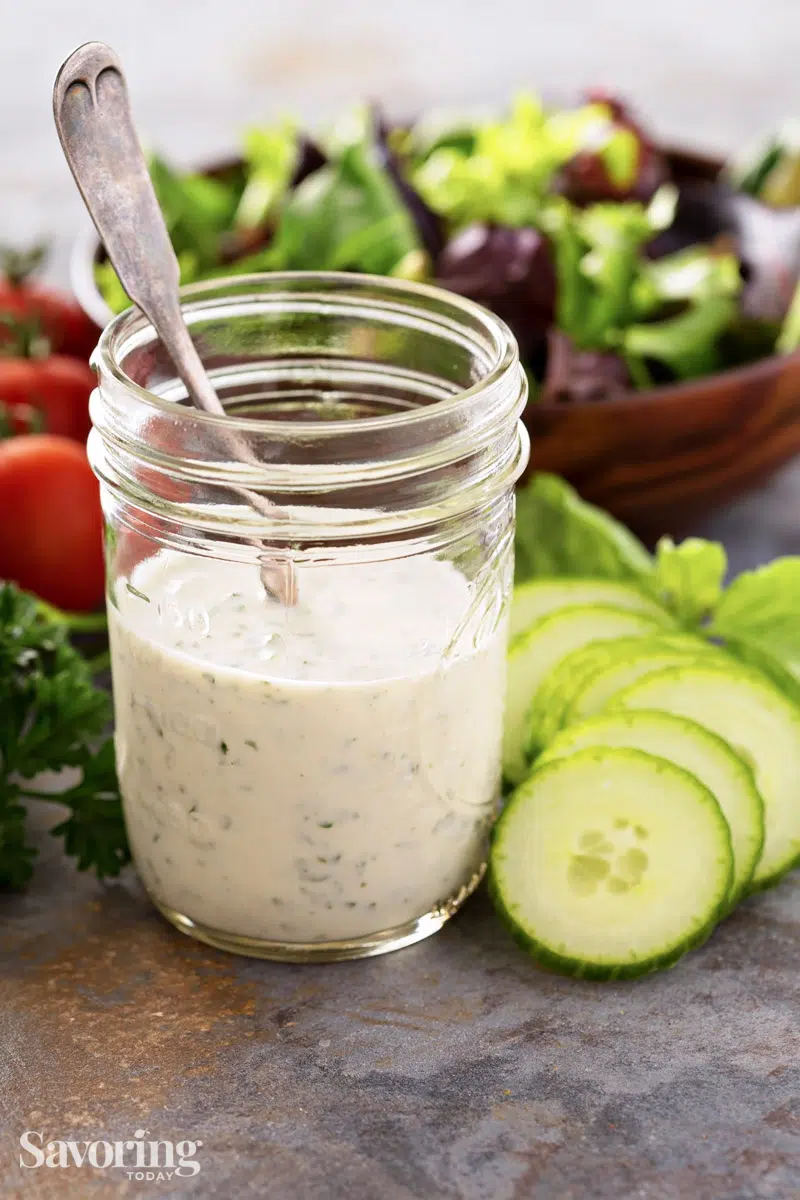 We've been making our own Ranch Dressing from scratch for a long time because you can't beat the flavor of homemade or the peace of mind of knowing exactly what's in it.
Of course, we first fell in love with this veggie dip staple years ago and even used the dry package mix … until we realized it had MSG and decided to create our own.
Hidden Valley Original Ranch (Dry Packet) Ingredients: Salt, Monosodium Glutamate, Garlic, Modified Corn Starch, Spices, Onion, Maltodextrin, Less Than 2% Of: Natural Flavor, Guar Gum, Calcium Stearate
They do have a NO MSG version, but somehow that ingredient list is even longer!
Why is it called Ranch Dressing?
Making creamy ranch dressing at home will get you a lot closer to the original recipe created by Steve Henson who first made this tasty dressing while living and working in Alaska where it was a real hit with family and friends.
Steve retired at an early age to Santa Barbara where he bought a ranch he later renamed Hidden Valley Ranch. His dressing creation proved so popular that he decided to start producing and selling this dressing from his ranch. Hence the name Hidden Valley Ranch dressing.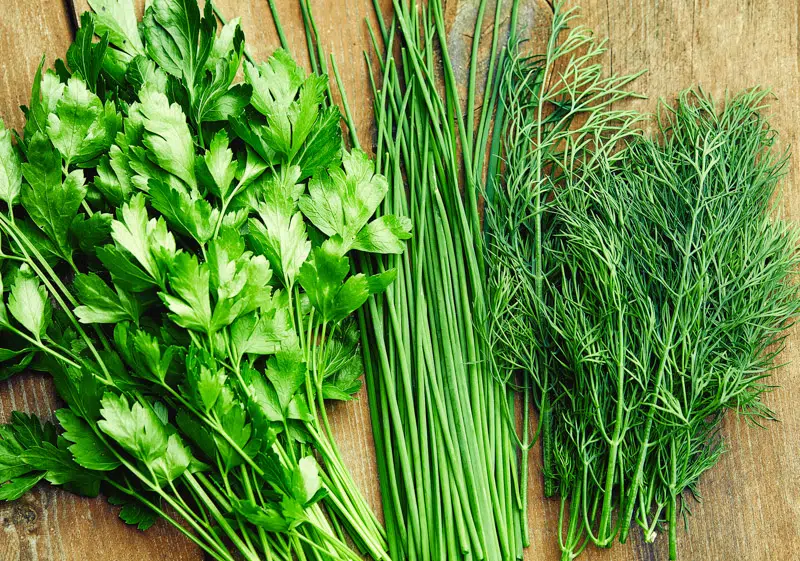 Ranch Dressing Made with Fresh Herbs
We prefer the lighter, fresher taste of using fresh herbs over dried ones, but it really is just a matter of preference. You can use all fresh herbs, all dried herbs, or some combination to suit your preferences.
An abundance of fresh chives carry the onion flavor in our recipe, but you can use granulated onion instead if you prefer a stronger onion flavor.
Whether you use fresh herbs and garlic or dried herbs and granulated garlic, the key to getting closer to the ranch dressing you're probably used to is the salt.
If you're used to the dry package mix or bottled dressing you may want to adjust the salt in our recipe to better match their higher salt content. As with any recipe, taste and adjust as it suits you.
What if I don't have buttermilk?
A suitable substitute for buttermilk in ranch dressing is adding 1 1/2 teaspoons of freshly squeezed lemon juice to 1/2 cup of whole milk and allow to sit for a few minutes. Like buttermilk, the lemon will bring the acid needed to balance the sweeter taste of the dairy.
RECIPE STEP BY STEP:
Place all the ingredients into a small bowl, except the buttermilk, and whisk to combine.
Add half the buttermilk and whisk again. Continue to add the buttermilk into the dressing until the desired consistency is reached.
Refrigerate for 30 minutes to allow the flavors to meld.
Taste and adjust seasoning, if needed.
TOP TIP: When making this homemade ranch dressing it is important to get the consistency right. So once refrigerated, if your dressing needs to be thickened add a little more mayonnaise or sour cream. Alternatively, add a little more buttermilk or regular milk to thin it down.
TOP TIP: Transform this salad dressing into a tasty dip by adding some extra mayonnaise or sour cream to thicken it and cut back on the buttermilk. Same ingredients – different consistency!
RECIPE VARIATIONS
Mayonnaise is one of the key ingredients in this dressing so we prefer homemade. However, a quality store-bought mayonnaise is fine, just don't use anything like Miracle Whip, or the dressing will be too sharp or taste too tangy.
Sour cream thickens this ranch dressing and can be substituted with Greek yogurt.
Buttermilk adds a creamy and acidic element to this dressing and it's really easy to make your own by combining 1 cup of milk with a tablespoon of lemon juice.
Garlic adds flavor to the dressing and I like to use fresh for the intensity of flavor. However, you can substitute with garlic powder if you don't want to use fresh.
Fresh chives and dill add a fresh and pungent herb flavor to the dressing, but you can also use basil or cilantro.
Apple cider vinegar can be substituted with white or red wine vinegar.
Smoked paprika adds a smoky note to the dressing, but you can use regular sweet paprika instead.
Add green chiles or jalapenos for a spicy Southwest flavor.
Add blue cheese for some funky tang.
Make it vegetarian or vegan—use a vegetarian or vegan Worcestershire sauce as the standard sauce contains anchovies. Swap out the regular mayonnaise for vegan mayo and omit the buttermilk. Check out this recipe for Vegan Worcestershire Sauce from Karissa's Vegan Kitchen.
Creamy Ranch Dressing from Scratch
A creamy dressing made with tangy buttermilk and loaded with fresh chives, parsley, and dill.
Ingredients
1

clove

garlic

, minced very fine, or pressed, (or 1/4 tsp garlic powder)

1

cup

mayonnaise

1/2

cup

sour cream

1/4

cup

finely chopped fresh parsley

(or 2 tsps dried parsley)

1/2

ounce

fresh chives

, minced (1 package), (or 1/4 tsp onion powder)

1

tablespoon

minced fresh dill

, minced (1/2 package), (1/2 tsp dry dill weed)

1

teaspoon

Worcestershire sauce

3/4

teaspoon

sea salt

1/2

teaspoon

freshly ground black pepper

1/2

teaspoon

apple cider vinegar

Pinch

smoked paprika

Dash Tabasco sauce

1/2

cup

buttermilk

, as needed for desired consistency
Instructions
In a small mixing bowl whisk all the ingredients except buttermilk until well combined. Add half of the buttermilk then whisk again. Continue whisking in the remaining buttermilk in small amounts until the desired thickness is reached.

Refrigerate for 30 minutes to allow flavors to meld. Taste and adjust seasoning, if needed.
Notes
Ranch dressing is a great make-ahead condiment as it needs time for the ingredients to meld anyway. Store in the fridge for up to 1 week.
Nutrition
Calories:
231
kcal
|
Carbohydrates:
2
g
|
Protein:
1
g
|
Fat:
24
g
|
Saturated Fat:
5
g
|
Polyunsaturated Fat:
13
g
|
Monounsaturated Fat:
5
g
|
Trans Fat:
1
g
|
Cholesterol:
22
mg
|
Sodium:
427
mg
|
Potassium:
69
mg
|
Fiber:
1
g
|
Sugar:
2
g
|
Vitamin A:
373
IU
|
Vitamin C:
4
mg
|
Calcium:
41
mg
|
Iron:
1
mg