Pan-fried Fish Tacos with Street Corn Sauce is an easy weeknight meal the whole family will love. The street corn sauce in this fish taco recipe is fabulous on just about anything, so use it liberally.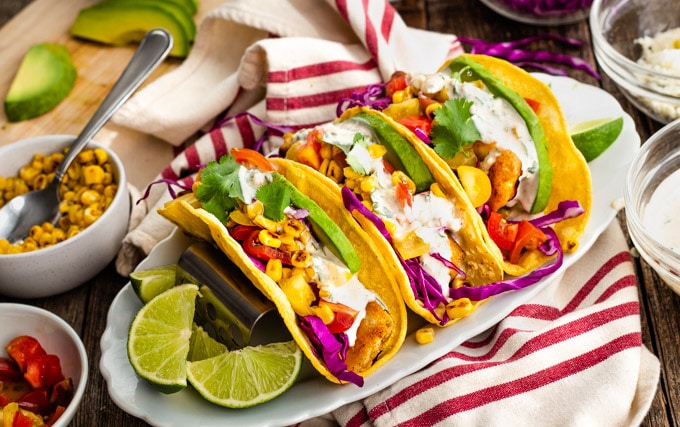 My first introduction to Baja fish tacos was at Rubio's and I was hooked right away. The textures and flavors of crisp slaw, batter-fried fish, and a squeeze of lime all cradled in a warm corn tortilla are the perfect finger food in my book.
Where the fish taco originated still raises debate according to this story in Sunset. As far as I'm concerned, Ralph Rubio got it right when he opened his restaurant near Mission Bay all those years ago.
One of the elements of Rubio's tacos were the soft yet sturdy corn tortillas unique to the restaurant. Few from the grocery store compare, but homemade corn tortillas offer the same sturdy wrap with a toasted sweet corn taste.
All you really need to make a fish taco is sweet white fish and a taco shell, but we think a variety of toppings keeps it interesting and even more delicious. Here's to Baja!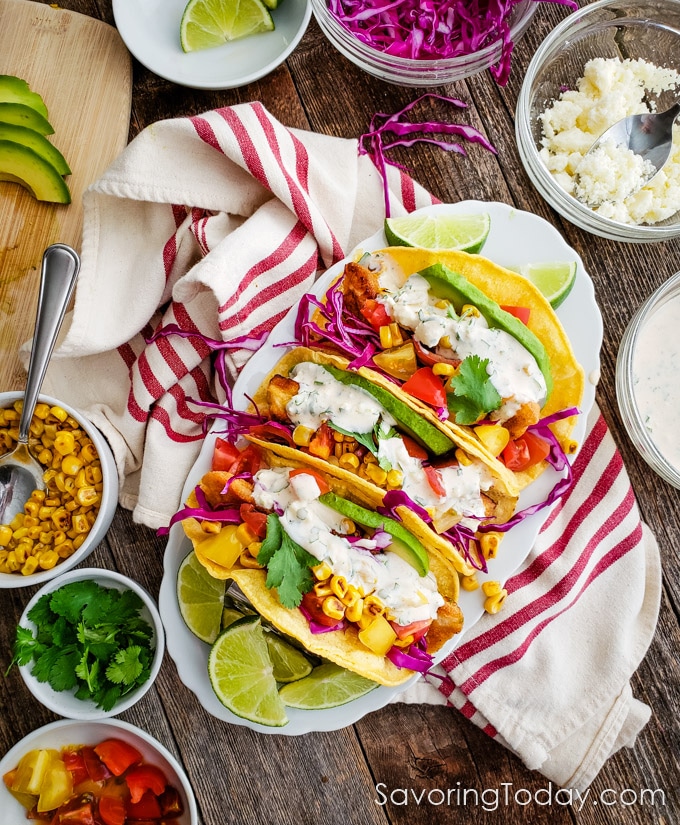 How to Make Healthy Pan-Fried Fish Tacos
We start with the basics by improving the flour and oil used to make pan-fried, beer-battered fish. Our beer batter is made with sprouted whole wheat flour and we pan-fry the fish in avocado oil to create a whole food recipe you can feel good about serving.
We select delicious white fish like barramundi (Asian sea bass) for its mild flavor and resilient texture—it withstands a little overcooking without drying out. It's one of the few farmed fish varieties we eat because of the superior farming practices at Australis.
Barramundi are hardy and naturally disease resistant so there's no need to feed them antibiotics or pesticides—we think that's important.
Of course, we pile on fresh ingredients like cabbage (or slaw), tomatoes, avocado, and herbaceous cilantro to make each taco a complete meal.
TIP: Check the freezer section at grocery stores (and Costco) to find this great-tasting, versatile fish.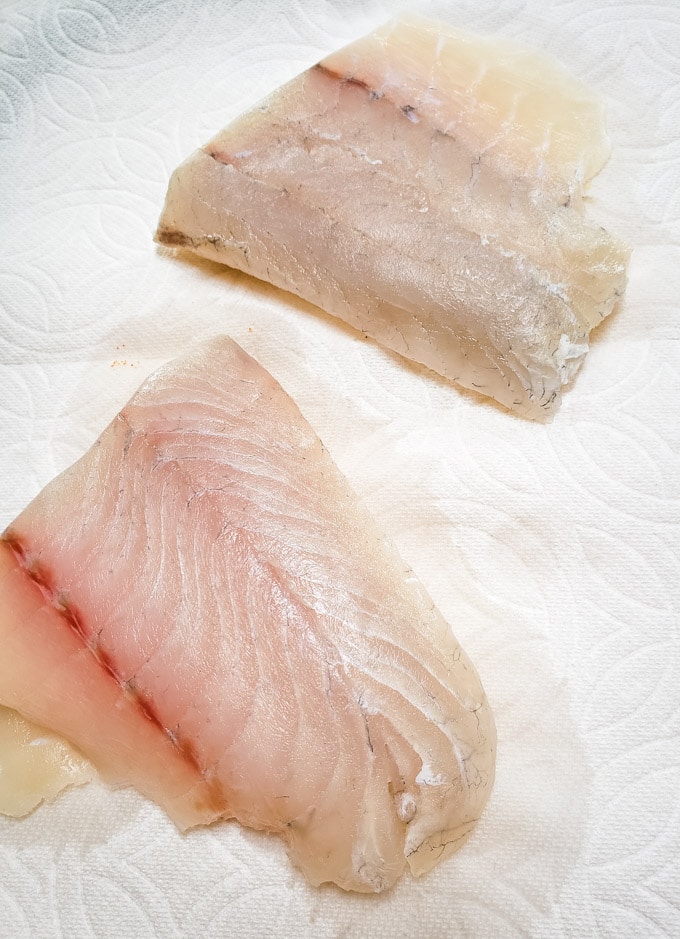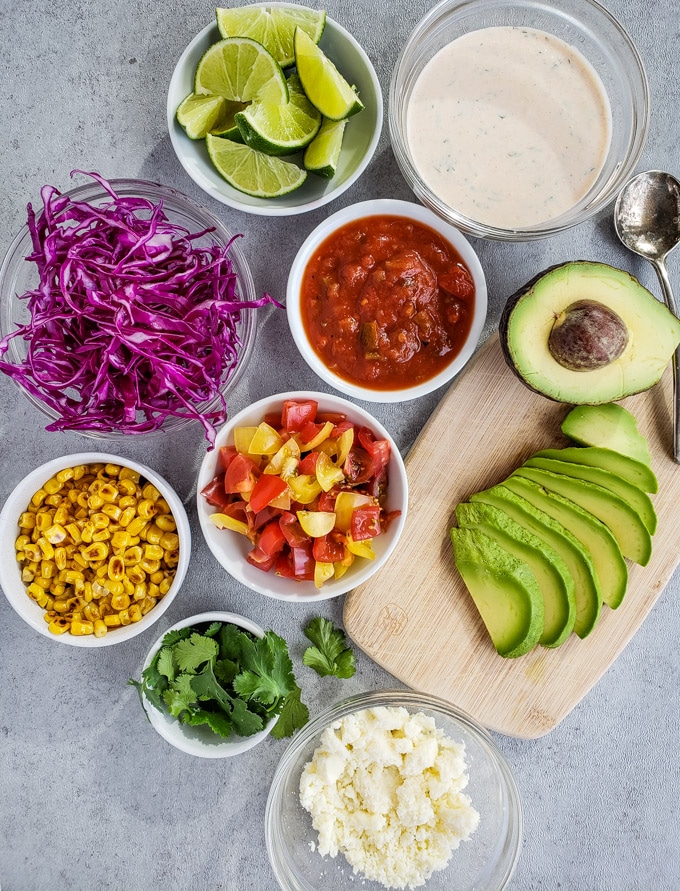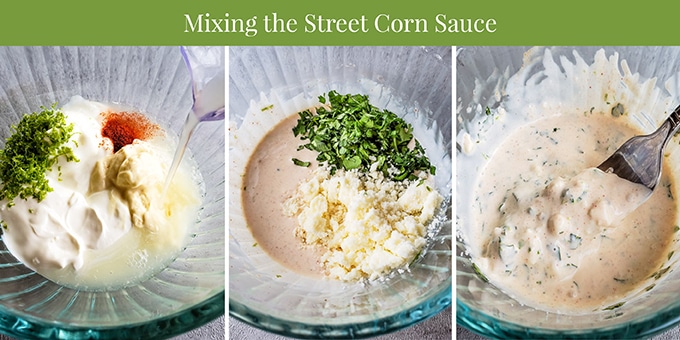 Street Corn Sauce Makes The Best Fish Taco Sauce
Grilled Mexican street corn (Elotes) is char-grilled corn on the cob with a creamy white sauce infused with cotija cheese and lime juice. This sauce tastes amazing on sweet corn so we knew there needed to be a few kernels in our tacos too.
Instead of grilling, we use a cast iron skillet to char and blister the corn so it's fast and easy!
Salty, tangy, creamy goodness we think you could put on just about anything, but goes especially well on something with sweet undertones of white fish. Serving street corn sauce atop blistered corn in our beer-battered fish tacos is a heavenly match for sure.
Don't be shy with the sauce either—it's time to fill your hands with these tacos and dig in!
TIP: Leftover grilled corn is a fine substitute for the blistered corn in this recipe. Simply cut the grilled corn off the cob and briefly warm it on a hot skillet or in the microwave for a few seconds.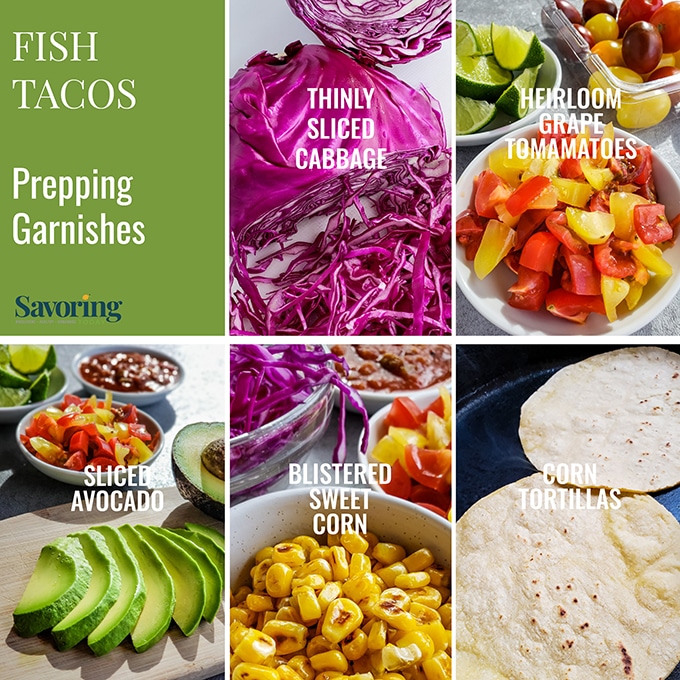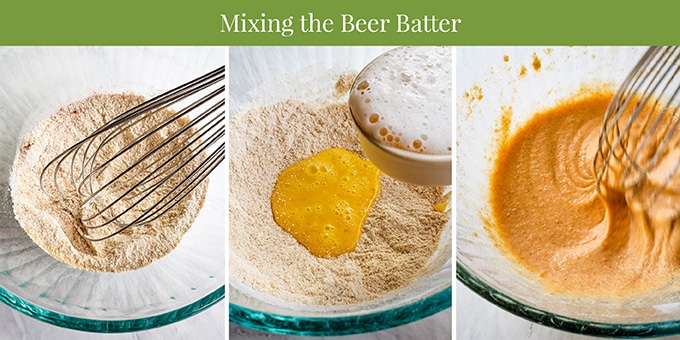 Step by Step:
Prepare the sauce in a small mixing bowl.
Prepare the garnishes before starting the fish so they are ready to serve as soon as the fish is done.
Blister the corn in a heavy skillet.
Prepare the beer batter.
Heat oil and pan-fry fish.
Serve in warm corn tortillas with a wedge of lime.
TIP: Make it gluten-free by using 1:1 gluten-free flour and gluten-free beer to make the beer batter.
Recipe Tips
Prepare the sauce, garnishes, and batter before frying the fish.
Warm corn tortillas in a skillet and never in a microwave so they hold together and are not soggy.
Watch fish closely whether you grill, pan sear, or fry because it cooks very quickly.
If using frozen sweet corn, defrost completely and dry with paper towels before adding to a hot skillet.
Recipe Variations
Make it gluten-free by using gluten-free flour and gluten-free beer in the beer batter.
Substitute shrimp for the fish.
Substitute lettuce leaves for tortillas.
Substitute whole wheat flour or all-purpose flour for the sprouted flour.
Substitute lettuce for the cabbage slaw.
Substitute peach or mango salsa for the tomato salsa.
Grill the fish—use these tips for the best grilled fish.
Skip the tortillas (what?!) and create a salad by layering the copious toppings and topping with the fish and sauce.
For spicier flavor use our Habanero-Cilantro Taco Sauce as a sauce alternative.
Try dark beer for a robust beer flavor in the batter.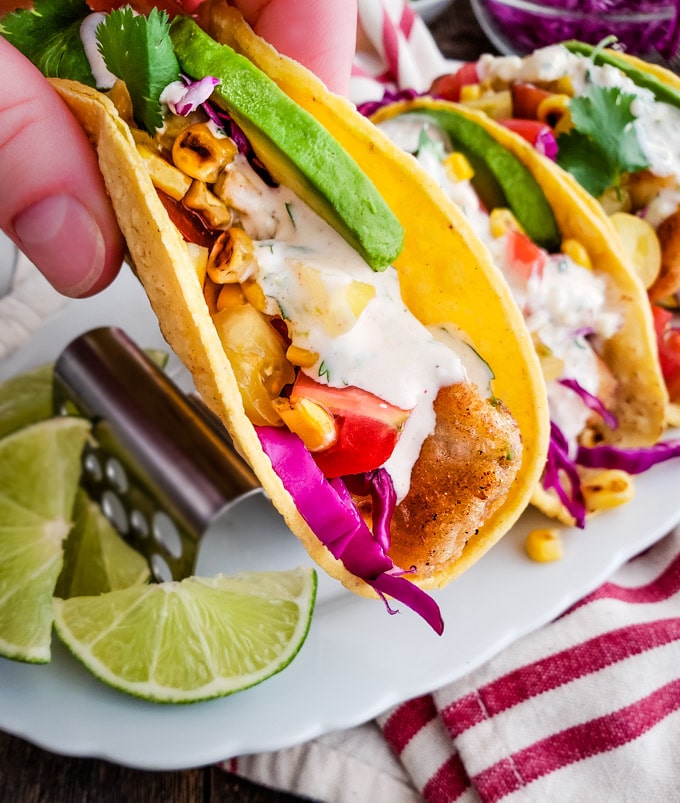 This post may contain affiliate links. See our disclosure policy for more information.
More Fish Recipes You'll Love