Creamy seafood chowder with an abundance of clams, shrimp, and fish for a hearty soup to please a crowd.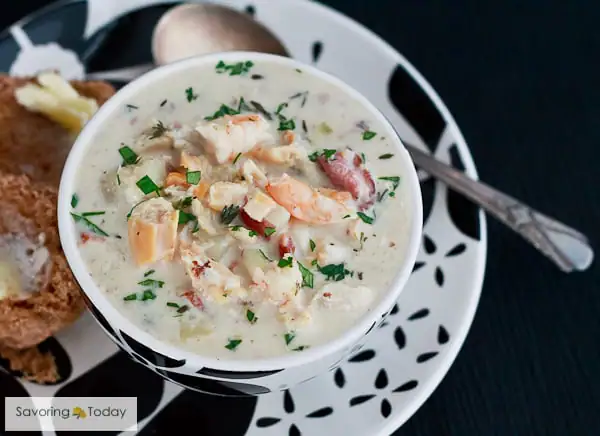 Now is the perfect time to start a big pot of Seafood Chowder with Clams, Shrimp, and Fish on the stove.
I suppose it would seem far easier just to open a can when the urge for chowder hits. But if you've ever been fortunate enough to have a bowl of chowder in Boston, you know anything poured out of a can hardly resembles it.
For me, the real stuff is well worth the effort. As it goes with food and fashion—to each his own. We like to mix up the vegetables here with celery root and parsnips in place of some of the potatoes. There is little difference in flavor, but it does add fiber.
---
This post may contain affiliate links. For more information, please see our Disclosure Policy.
---
For those willing to dice a few vegetables and strip pesky thyme leaves (tell the kids it will be fun!), this dreamy soup with clams, shrimp, and white fish is a delicious reward.
Tender fish (we used Barramundi), smoky bacon, and cream deliver soup with soul and substance and may make a few uncanny converts in the process (pardon the pun).
The silky cream base cradles the seafood and vegetables in a subtle herb blanket, satisfying chowder cravings to the last bread-soaked drop.
We served ours with Sprouted Wheat Dinner Rolls, but crackers work for dipping too!
Are you all in for chowdah? Try this quick Salmon Dill Chowder too!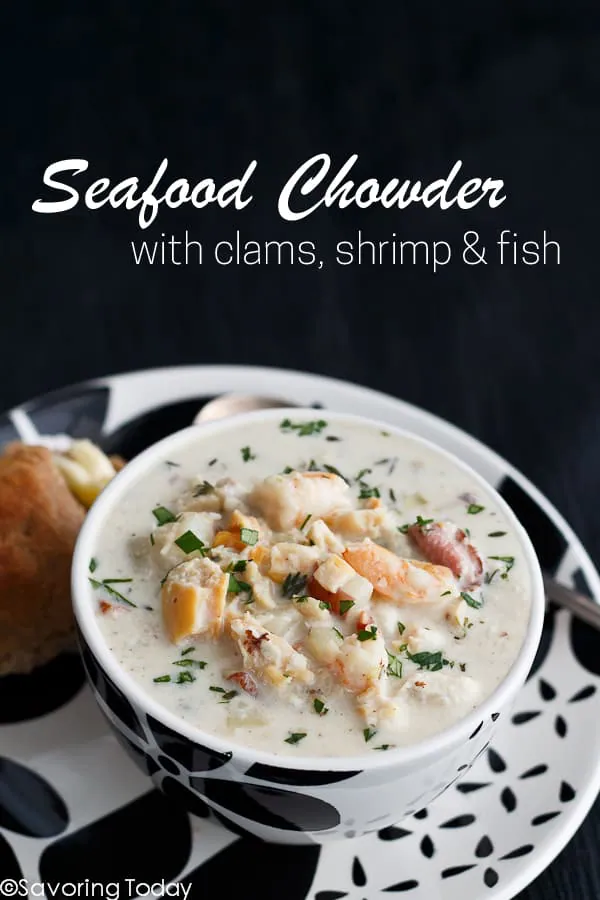 Seafood Chowder with Clams, Shrimp, and Fish
Creamy chowder with an abundance of clams, shrimp and fish for hearty soup to please a crowd.
Ingredients
3/4

pound

bacon

, chopped and cooked

51

ounces

canned chopped clams

, retain juice (equal to 3 3/4 cups clam juice and 3 3/4 cups chopped clams)

1/2

cup

chopped green onion

(2 bunches) white and light green parts

1

cup

finely chopped sweet yellow onion

(1 medium)

1

cup

chopped celery

(2 large ribs)

3

cups

red potatoes

(4-5 medium), scrubbed and unpeeled, cut into 1/2" cubes

1

small

celery root

(about the size of a large orange) — peeled, cut into 1/2″ cubes

2

cups

chopped parsnips

, peeled, cut into 1/2″ cubes

3 3/4

cups

clam juice

, from canned clams (juice amount is approximate and can be topped off with chicken or vegetable stock)

1 1/2

teaspoons

dried thyme

1/2

teaspoon

sea salt

1/2

teaspoon

white pepper

2

cups

heavy cream

1

cup

whole milk

, as needed for desired thickness

1/2

tablespoon

hickory liquid smoke flavoring

5-6

sprigs

fresh thyme

1

pound

white fish

(halibut, Barramundi, cod) — cut into bite sized chunks

1

pound

shrimp

, cut into bite sized chunks

1/2

teaspoon

fresh ground black pepper
Instructions
Cut bacon into 1/4 inch strips and cook in a soup pot over medium heat until fat is rendered and bacon is crisp. Drain on a paper towel-lined plate and retain the bacon fat.

While the bacon is frying, prepare all other ingredients before starting soup. To prepare the clams, drain the juice into a large measuring cup or bowl and then strain through a fine mesh sieve to trap any sand or debris. NOTE: If you don't have a fine sieve, line a colander with cheese cloth before straining the juice.

Saute all the onions in 2 tablespoons of the rendered bacon fat in the soup pot until tender, about 8 minutes.

Add the potatoes, celery root, celery, parsnips, clam juice, dried and fresh thyme, salt and white pepper. Simmer uncovered until vegetables are just fork tender, about 10 minutes.

In a blender, puree 1/4 of the raw shrimp with 3/4 cup of the soup (cooked vegetables and liquid) from the soup pot. (Add up to a 1/4 cup of water to thin the mixture if too thick for the blender to puree well.) Add this puree back to the soup.

Stir in cream, milk, liquid smoke, bacon, clams, fish, and the rest of the shrimp to the soup pot; simmer for 20-30 minutes to cook and meld flavors. Taste and finish with freshly ground black pepper and salt, as desired.
Notes
Ingredient TIPS:
Chopped clams—each brand of canned clams is different and will have differing amounts of juice with the clams. The 51 ounce can of chopped clams from Sea Watch produces approximately 3.5 cups of clam juice. If the clams that you use do not have enough juice for the recipe, chicken, fish, or vegetable stock can be used to top off the amount needed. Separate clam juice can also be purchased as a backup.
Celery root—if (celeriac root) is not available, substitute with more celery, potatoes, or parsnips.
Bacon—for the best texture, cook the bacon until completely crisp so when it is added to the soup it doesn't taste fatty.
Green onion and sweet yellow onion—while you can certainly use only one or the other, we like both types of onions in this soup for the different aspects each brings to the overall flavor. Green onions add a bright, fresh element while the sweet yellow onions add to the depth of flavor.
White fish—any mild flavor, quick-cooking fish will work in this recipe, though a more dense flesh like cod will hold its shape better than flakier fish like orange roughy.
Make-ahead Tips: Chowder freezes well, so if you have a stockpot, I recommend making a double batch.
The soup will be very thick once chilled or frozen but resist the urge to thin it until it is warmed through.
Thin with milk, chicken, or fish stock, if desired.
Nutrition
Calories:
468
kcal
|
Carbohydrates:
12
g
|
Protein:
28
g
|
Fat:
33
g
|
Saturated Fat:
16
g
|
Cholesterol:
233
mg
|
Sodium:
1113
mg
|
Potassium:
433
mg
|
Sugar:
4
g
|
Vitamin A:
1025
IU
|
Vitamin C:
7.8
mg
|
Calcium:
159
mg
|
Iron:
2.2
mg
More Seafood Recipes You'll Love: