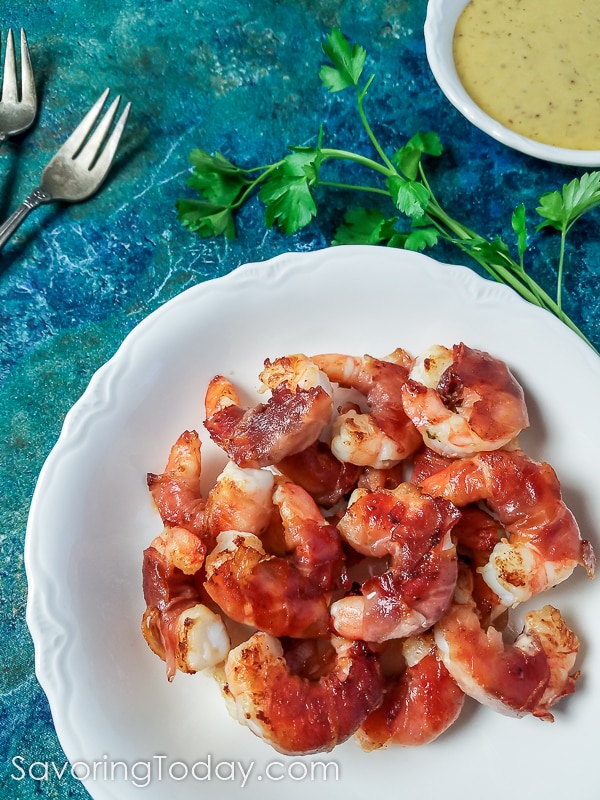 Holidays and parties call for easy, great-tasting appetizers without a lot of fuss. Shrimp & Prosciutto with Smoky Honey-Mustard Sauce hits the mark on both counts and if you choose brands carefully, it will be a hit with your gluten-free friends too. Prosciutto di Parma has been a longtime favorite around our house for wrapping chicken, veal, shrimp or salad, and it shines in this simple recipe too.
If you're looking for adventure try Spanish Serrano or Ibérico ham in place of the prosciutto. They are are every bit as delicious, but can be a little more difficult to find in local grocery stores.
Think of the Smoky Honey-Mustard Sauce as a launching pad for great dipping sauce—find your perfect balance of flavor to make it your own. Once it's well mixed, taste and adjust as needed = add mustard, for more tang; mayo to mellow it out; honey for more sweet; and liquid smoke for more smoky flavor. If you like spice, mix in a pinch of crushed red pepper flakes for kicks. Just avoid adding salt as the prosciutto will bring salty-savory to balance the sweet and tangy sauce.
Shrimp & Prosciutto with Smoky Honey-Mustard Sauce is savory, tangy-sweet finger food you'll love having on your party menu. To take the stress out of last minute party prep, wrap the shrimp and mix the sauce up to 24 hours in advance and then pop in the oven or skillet right before serving. Enjoy!
Print
Shrimp & Prosciutto with Smoky Honey-Mustard Sauce
Author:

Judy Purcell

Prep Time:

10 mins

Cook Time:

10 mins

Total Time:

20 minutes

Yield:

3-4

Category:

Appetizer, Shrimp, Seafood, Pork
Ingredients
2 tablespoons stone ground mustard — any favorite
1 1/2 tablespoons mayonnaise
1 tablespoon honey
1/4 teaspoon liquid smoke
1/2 pound shrimp — 21-25 count, shells and tails removed (about 12)
3 slices prosciutto — quartered
Instructions
For the mustard sauce: Mix the mustard, mayo, honey, and liquid smoke in a small bowl until well combined. Taste and adjust any component, as desired.
Using a sharp knife, cut each slice of prosciutto to create 4 equal pieces. Wrap one of the cut pieces around the shrimp so that the prosciutto goes all the way around and wraps over itself to keep it in place. Once all the shrimp are wrapped, you can either pan-sear over med-high heat or broil on Hi for 4 to 5 minutes on each side to crisp the prosciutto. Once the prosciutto is crisp on both sides, remove from the oven and serve with the mustard sauce.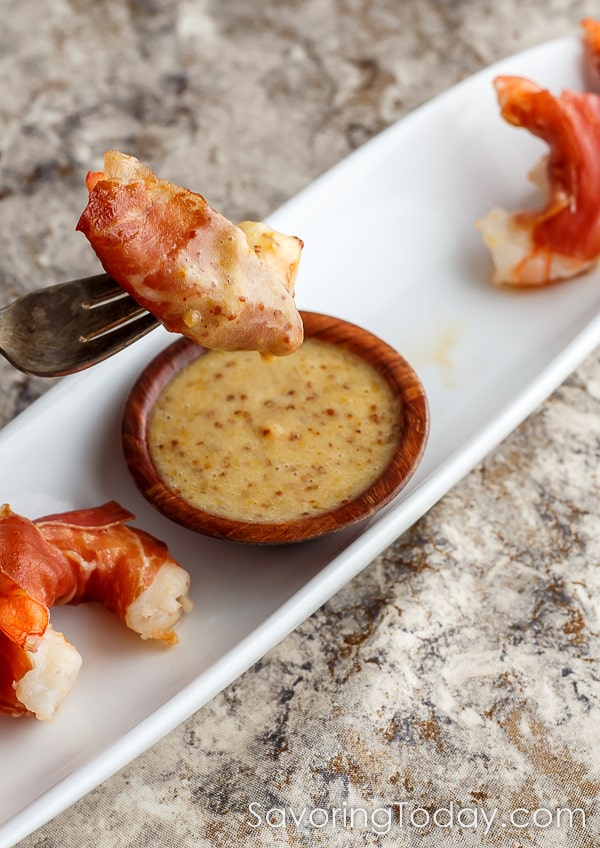 More Prosciutto Ideas:
Prosciutto-Wrapped Caprese Salad
Prosciutto-Wrapped Shrimp and Goat Cheese
Chicken Saltimbocca
Veal Chop Saltimbocca: Hero Food