This Shrimp Lo Mein recipe highlights plump shrimp and crisp-tender vegetables intertwined with noodles in a savory sauce for an easy weeknight, one-pot meal.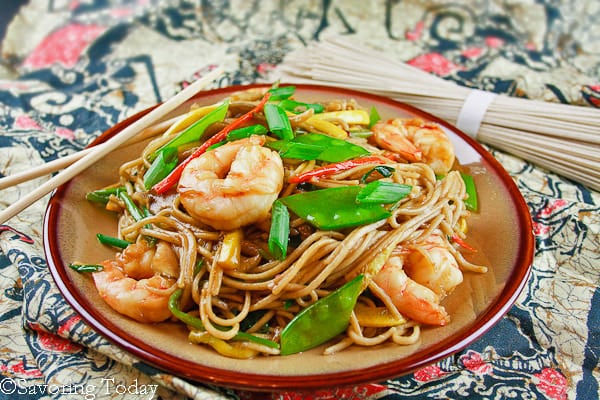 It's a given for our family that Lo Mein is on the list when we order takeout—it's easy to love a plate of noodles in umami rich sauce. Shrimp Lo Mein is even better when you can make it at home to suit your preference for vegetables or you want a gluten-free option.
Shrimp Lo Mein is an easy one-pot meal.
I've been making this recipe for a couple of years now, adapted from Emeril's Seafood Lo Mein recipe during our season of Test Kitchen Tuesdays, and it always satisfies. 
Since the ingredients are available in larger grocery stores, there's nothing exotic to track down. Also, we have used a variety of meats (check out my Beef Lo Mein recipe), vegetables, and noodles when something on the list wasn't available.
In the photos we highlight Japanese buckwheat soba noodles with thinly sliced green beans and snow peas because it's what we had on-hand, so feel free to make it your own.
If using beef, pork, or chicken as an alternative to shrimp, cut the meat into small, thin strips so the cooking time is kept to a minimum.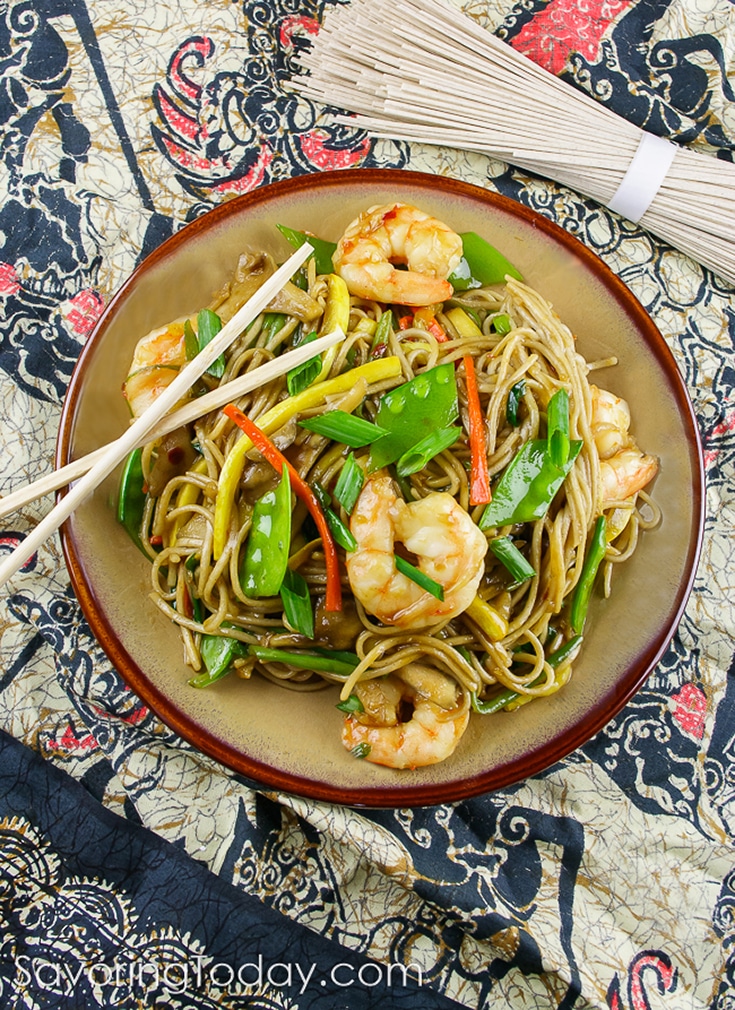 Make Your Lo Mein Low-Carb
Lo mein makes it easy to incorporate a healthy amount of vegetables for a complete low-carb meal.
Either substitute all the noodles with a mix of bell pepper, fennel, leeks, parsnip, bok choy, sugar snap peas, and Napa cabbage or reduce the amount of noodles and increase the vegetables already listed.
Simply cut vegetables into thin matchstick pieces to resemble the texture of noodles—this also helps each ingredient cook quickly.
This post may contain affiliate links. See our disclosure policy for more information.
How to Make Shrimp Lo Mein Gluten-Free
Look for Tamari soy sauce, oyster sauce brands like Lee Kum Kee Panda Brand Green Label Oyster Flavored Sauce or Wok Mei, Red Boat Fish Sauce (found at Whole Foods), and swap wheat noodles for a variety of gluten-free Asian noodles.
Finally, if you cannot find the gluten-free substitutions at a regular grocery or health food store, you can order noodles on-line.
Shrimp Lo Mein
Plump shrimp and crisp-tender vegetables intertwine with noodles in a savory sauce for an easy weeknight, one-pot meal.
Ingredients
6

ounces

thin Chinese egg noodles — fresh or dry

, cooked according to package directions

2

tablespoons

sesame oil

2

tablespoons

coconut oil

1

tablespoon

garlic — minced

1/2

cup

carrots — cut into 3-4 inch matchstick size pieces

1/2

cup

zucchini — cut into 3-4 inch matchstick size pieces

1/2

cup

green onion tops — bias-cut in 1/4 inch pieces

4

ounces

snow peas — ends snapped

, strings removed, bias-cut into thirds

4

ounces

French green beans

(optional) — sliced in half lengthwise

4

ounces

Brown Beech or Maitake mushrooms — trimmed from base clump and separated

1/4

teaspoon

red pepper flakes

(add more for additional spice)

1

pound

shrimp

(size: 30-40 count or larger) — peeled and deveined
Instructions
Bring a large pot of water to a boil. Add the noodles and cook until just tender, about 4 minutes — or according to package directions. Drain the noodles, rinse briefly with cold water. When well drained, transfer to a bowl. Toss with the sesame oil, to coat lightly and set aside.

Combine the oyster sauce, soy sauce, fish sauce, cornstarch, and pepper in a small bowl and stir to dissolve the cornstarch.

In a large skillet or wok, heat 2 tablespoons of coconut oil over medium heat. Add the garlic and cook for 30 seconds, stirring, or until garlic is fragrant.

Stir in the carrots, zucchini, green onions, snow peas, green beans, mushrooms, and red pepper flakes to the skillet. Cook, stirring, for about 4 minutes.

Add the shrimp and cook until the shrimp begin to turn pink, 2-3 minutes, stirring occasionally. Once the shrimp are no longer translucent, add the noodles to the pan and stir to combine with vegetables and shrimp.

Lastly, gently toss the sauce with the noodles and vegetables until well coated; cook until the sauce is bubbly and thickened. Serve immediately.
Notes
Chinese noodles or Japanese soba noodles take only a short time to cook, but check package directions for specific instructions. If using rice noodles or gluten-free pasta, cook according to package directions.
Bias-cut: A slice or cut made at a 45 degree angle from top to bottom, from the side, or both.
Nutrition
Calories:
463
kcal
|
Carbohydrates:
42
g
|
Protein:
34
g
|
Fat:
17
g
|
Saturated Fat:
7
g
|
Cholesterol:
321
mg
|
Sodium:
2564
mg
|
Potassium:
575
mg
|
Fiber:
4
g
|
Sugar:
5
g
|
Vitamin A:
3395
IU
|
Vitamin C:
32.4
mg
|
Calcium:
230
mg
|
Iron:
4.9
mg
More Delicious Shrimp Recipes
---