Our Barramundi in Brown Butter Recipe comes together so fast, you'll have dinner on the table in less than 30 minutes.
Easy. Fast. Delicious.
That's exactly what we need on busy weeknights.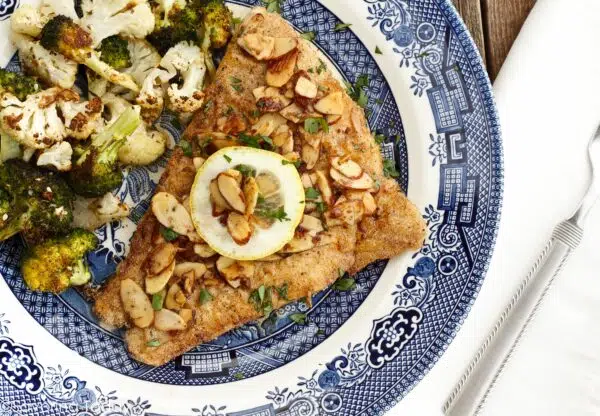 It's not unusual for friends to check in with each other about what we are planning for dinner. So when a friend called on and I told her we were having Barramundi in Brown Butter Sauce with Almonds, she said, "Didn't you just have that?"
As a matter of fact, we've had it three times in four weeks.
Admittedly, I cook a recipe multiple times in a short period to get it ready to post here, but in this case, it became a favorite. And it's as fast as it is delicious.
So quick, roasting the vegetables takes longer, which means there's time to sip a white Bordeaux while prepping the fish. (There's no wine in the sauce, just in the glass.) The whole thing is done in less than 15 minutes since the butter can brown while searing the fillets.
Have you tried barramundi?
I wasn't even aware of it until it showed up at Costco and after researching the supplier, Australis, I was comfortable trying it (we usually avoid farmed fish).
We were impressed by the delicate, buttery texture of barramundi as well as how stable it remains from pan to plate. It is slightly sweet and exquisitely mild; ideal for those sensitive to "fishy" flavors.
We have one of those in our family. She loves salmon because it doesn't taste like … fish. When she stopped by for dinner, she was surprised by how much she enjoyed the barramundi.
Ready for a few fun facts?
Barramundi is also known as Asian Seabass, Barramundi Perch, Giant Perch, Palmer, Cockup, Bekti, Nairfish, Silver Barramundi and Australian Seabass.
According to Australis, "Barramundi spawn on the full moon, and their iridescent skin can be seen shimmering through the water during their 'love dance'."
That sounds straight out of a romance novel, doesn't it?!
Oh, but there's more! Evidently, there is an Aboriginal folk tale of the Fish of "Forbidden Love" and those who believe in the legend call them passion fish.
I can't promise you'll break out in a love dance, but when you taste brown butter on this fish, well, you might get close. 😉
Now back to the recipe …
As fabulous as brown butter is with barramundi, sole or trout are superb too (adjust cooking time for fillet size).
The recipe is with instructions to add the lemon to the butter sauce, however, waiting to give the lemon a good squeeze over the fish is great too. This makes the lemon a little more pronounced, which I like.
Either way, lemon balances the richness of the butter sauce and almonds. Got fresh sage? Toss a few leaves in the butter with the almonds, like this recipe.
As quick as this all comes together, a side of roasted vegetables is worth a few extra minutes (hence the wine-sipping). They like the brown butter sauce too, so you're sure to use every drop.
Barramundi in Brown Butter Sauce with Almonds
Delicate skillet-seared white fish topped with a simple nutty, buttery sauce and a squeeze of fresh lemon.
Ingredients
1/2

cup

sweet white rice flour

(gluten-free), or sprouted wheat flour

2

teaspoons

Paul Prudhomme Blackened Redfish Magic

, or other Cajun seasoning

1 1/3

pounds

barramundi fillets

2

medium lemons

, halved and seeded

Sea salt and freshly ground black pepper

2

tablespoons

extra-virgin olive oil

, as needed

10

tablespoons

butter

, divided

1/2

cup

sliced almonds

2

tablespoons

chopped fresh parsley

, for garnish
Instructions
Mix the flour and Redfish Magic in a wide dish. Season the fish fillets with salt and pepper, and gently squeeze lemon over the fish (you're only looking for a teaspoon or so to lightly moisten each fillet). Dredge the fillets in the seasoned flour. Set the lemons aside.

Melt 2 tablespoons of the butter with 1 tablespoon olive oil in a 12-inch cast iron skillet over medium heat until hot and tiny bubbles dance on the surface.


Add two of the fillets to the skillet and cook 2 to 3 minutes per side, until browned. Transfer the fish to a platter, add more olive oil as needed, and cook the remaining fillets.

While the last two fillets of fish cook, add the remaining butter to a 10-inch stainless steel skillet over medium heat. As the butter cooks, swirl the pan or stir as the milk solids begin to brown and the butter becomes frothy.

Once the butter is light brown in color, add the almonds and continue to cook until the butter is golden and the almonds brown. In total, this should all take, 5 to 7 minutes.

Remove from heat and carefully stir in the remaining juice of both lemons (it may bubble vigorously at first). Alternatively, wait to add the fresh spray of lemon juice (1/2 lemon per filet) just before serving for a brighter lemon flavor.

Spoon the browned butter and almonds over the fish, garnish with parsley and serve immediately.
Notes
Use two skillets for this recipe to reduce time--a 12-inch cast iron for the fish and a 10-inch stainless steel skillet for the brown butter sauce. However, but you can use just one stainless steel skillet if desired, so long as it does not have a dark surface. Otherwise, you won't be able to see the butter browning properly. If using just one skillet, keep the fried fish fillets warm in the oven while preparing the brown butter sauce.
Nutrition
Calories:
628
kcal
|
Carbohydrates:
24
g
|
Protein:
35
g
|
Fat:
45
g
|
Saturated Fat:
20
g
|
Cholesterol:
150
mg
|
Sodium:
331
mg
|
Potassium:
675
mg
|
Fiber:
4
g
|
Sugar:
2
g
|
Vitamin A:
1535
IU
|
Vitamin C:
31.3
mg
|
Calcium:
76
mg
|
Iron:
2.1
mg
More Fish & Seafood Recipes: