What I love most about this dish is how common ingredients we walk by in the store every day can surprise and delight.
I promise you, butternut squash + sage + brown butter + almonds with a splash of fresh squeezed lemon juice will rock your side dish world.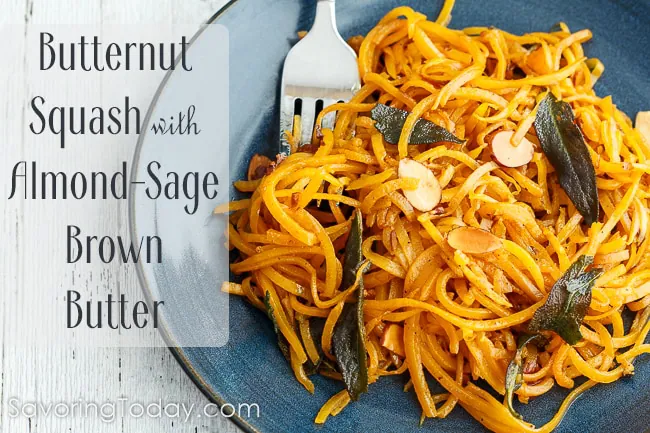 While proofing recipes for my Loving Low Carb Cooking Class, we had spiralized Butternut Squash Noodles in Almond & Sage Browned Butter four times in one week and not once did we get tired of it.
My faithful recipe tester (and husband) said it's the best squash he's ever eaten and I can't argue.
Did I mention it takes about 15 minutes to make? Amazingly simple.
While the ingredient list is short, the way each item is prepared elevates the entire dish.
Butternut Squash: How to Spiralize it, Cook it and Sauce it.
You'll need a spiral slicer
of some kind to twirl and twist your squash into thin "noodles" which enhances the texture of the dish and reduces cooking time dramatically.
For those who ordinarily don't like squash, the spiral-cut texture can make all the difference.
Peeling and Spiralizing Butternut:
If you have strong hands, a sharp knife and vegetable peeler is all you need. However, to make it easier for your vegetable peeler to do its job, slice 1/4-inch off of each end and pierce the squash a few times with a sharp knife.
Microwave it for 2 minutes. Let it cool enough to easily handle and peel. Once it is free from the hard peeling, slice the squash to separate the longer portion from the bulb-shaped end.
Wrap the bulb end in plastic wrap and save for another recipe—remove the seeds later too. The longer, straight portion is spiralized for this recipe.
Load and spiral cut squash in a spiral slicer per manufacturer's directions using a 1/8-inch blade size, if available.
A larger blade size will require a slightly longer cooking time. Marvel over the gorgeous curly strands of butternut squash you just cranked out.
⇒ After working with several different spiral slicers, the OXO Good Grips 3-Blade Spiralizer with StrongHold Suction is the one I now use.
It holds its position on the counter better than any other I've tried and has a convenient storage case for the blades.
Cook Squash by Oven or Stove Top Method in Under 10 minutes:
Spiralized squash will soften in 7 to 8 minutes in a 400 degree oven or over medium heat in a large skillet. I tend to use the oven for larger quantities and a skillet for smaller servings.
Taste test a noodle to see if it is soft, but retains a good texture, or al dente. It will continue to soften slightly once removed from heat.
Saucing Spiralized Butternut Squash:

Go lightly with any oil when preparing for a sauce. You want the sauce to coat and cling to the noodles, so add only a small amount of oil to the squash when roasting or pan searing.
Ladle any favorite sauce over the top, but in this case, add the noodles directly to the sauce to toss and evenly coat before serving.
How do you make butter even better? Brown it.
If you already love butter, you might be wondering how you could possibly love it more. When butter is heated until the milk proteins release a nutty fragrance and resemble golden autumn hues, it's even better butter.
However, be patient with it, medium heat is all that's needed and when it's ready, move it off the heat because brown is brown and burnt is burnt. In this recipe, the almonds complement your efforts exquisitely.
And then there's the revelation of fried sage leaves.
Yes, sage. You know, that overlooked fuzzy leafed herb that often gets ignored until Thanksgiving?
As much as we adore Chicken Saltimbocca and a sprinkle of it in our Thanksgiving dressing, there is no better companion for sage than brown butter. I could eat butter fried sage leaves by the buckets. I don't. But I could.
When you drop sage into the foaming browned butter, the tender leaves are transformed into thin wisps of herbaceous, nutty-buttery-ness.
Pause for a moment to take in the gorgeous aroma then pluck one or two out of the pan. Taste. Surprising, right?!
Go ahead, savor a couple more.
So keep that in mind when you're shopping for this dish and question if you really need that much sage … the answer is yes! No matter how many times I've increased it, I end up feeling like there could be more. So don't skimp.
Does fresh squeezed lemon juice really matter?
In a word, absolutely. This exact question came up during our cooking class, so I set up a sample of fresh juice beside the sample of bottled lemon juice from my fridge (primarily used for baked goods).
The fresh lemon juice was described as fresh, bright and clean tasting. The bottled was described as tasting harsh and abrasive.
Hands down, fresh wins the flavor test, but it also brings the acid needed to balance the richness of the butter sauce.
Acids like wine, vinegar, and citrus juices are the secret to savory or sweet recipes tasting great past the first or second bite, like a built-in palate cleanser.
⇒ The Trudeau Lemon Juicer is the most convenient juicer I have found. It's dead simple with easy to read measurements, and you can pop the lid on to store unused juice if needed.
I bought mine at the grocery store, but you can find it here too: Trudeau Juicer
Butternut Squash Noodles in Almond & Sage Brown Butter is a healthy side dish that elevates any meal. Serve it as a bed for pan-seared fish and you have a fabulous meal in under 30 minutes. Enjoy!
Butternut Squash Noodles in Almond-Sage Brown Butter
Spiralized butternut squash tossed in almonds and fried sage leaves swirled in brown butter.
Ingredients
6

cups

spiral-sliced butternut squash noodles -- 2-pound squash with 1-pound

, long, straight end

2

teaspoons

extra-virgin olive oil

3

tablespoons

butter

2

tablespoons

sliced almonds -- more for garnish

, if desired

20

fresh sage leaves -- or more

Sea salt and fresh ground pepper -- to taste

Squeeze of fresh lemon juice
Instructions
Heat oven to 400°F. Prepare a large rimmed baking sheet with parchment paper.

Spiral slice the peeled, straight end of the squash onto a large plate or platter using the small, spaghetti-sized blade. Drizzle with 1-2 teaspoons of the oil and toss with your hands to lightly coat the squash.

Spread the noodles out evenly over the rimmed baking sheet. Sprinkle with salt and pepper. Bake for 7-8 minutes until softened, but should still have a slight crunch.

While the noodles are roasting, melt the butter in a medium skillet over medium to med-low heat. When the butter begins to foam and brown, stir in the almonds and sage.


The sage should sizzle on contact and release its fragrance. Continue to stir until the butter and almonds are gold-brown and the sage is crisp. Remove from heat.

Once the squash is ready, toss with the brown butter sauce to coat, shower with a generous squeeze of lemon, salt and pepper, to taste. Serve immediately.
Notes
Use a sharp vegetable peeler to peel the straight end of the squash all the way down to the curve where the bulb begins.
Once peeled, lay the squash on a cutting board and cut the long end from the bulb as straight as possible. Only the straight end without the seeds will be used to spiral-slice.
The bulb-end of the squash containing the seeds can be reserved for another recipe - wrap with plastic wrap and store in the refrigerator.
Nutrition
Calories:
217
kcal
|
Carbohydrates:
25
g
|
Protein:
3
g
|
Fat:
13
g
|
Saturated Fat:
5
g
|
Cholesterol:
22
mg
|
Sodium:
83
mg
|
Potassium:
774
mg
|
Fiber:
5
g
|
Sugar:
4
g
|
Vitamin A:
22615
IU
|
Vitamin C:
44.1
mg
|
Calcium:
125
mg
|
Iron:
1.8
mg
More Recipes with Butternut Squash
---
This post contains affiliate links. Thank you for supporting what I do here at Savoring Today. For more information regarding ads and advertising affiliations, please see our Disclosure Policy.