Our savory pumpkin soup recipe offers hints of ginger, fennel, and smoky chipotle chile to complement the subtle sweetness of fresh pumpkin.
You'll love every creamy spoonful with salty crunch of cotija cheese and toasted pepitas we sprinkle on top too!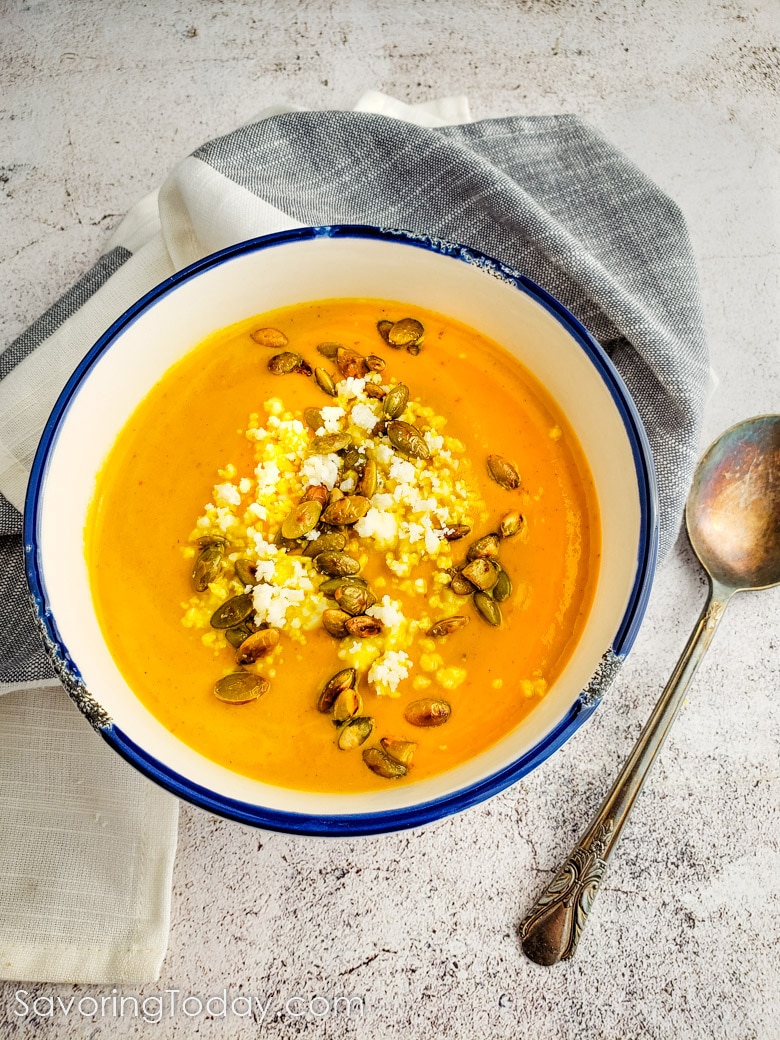 Melt away the chill of changing seasons or indulge in a resolution to eat right with a silky, delicious pumpkin soup. This nutrient-packed soup boasts vitamin C, manganese, magnesium, potassium, and vitamin A—taking better care of yourself never tasted so good!
Making soup with fresh pumpkin is easier than you think! Especially if you wait to peel the pumpkin after it's baked.
What kind of pumpkin is best for making soup?
The best pumpkin for making soup is the smaller variety called pie pumpkins or sugar pumpkins. They are smaller (roughly 2 pounds), a little sweeter, and less fibrous for easier cooking and mashing.
Since sugar pumpkins belong to the winter squash family, like butternut, acorn squash, and kabocha, you can feel to prepare them in similar ways.
You absolutely can use pumpkin flesh from larger pumpkins, but you'll find it necessary to adjust the cooking time as well as substitute some of the pumpkin in the recipe with butternut squash for the best flavor.
The smaller pumpkins are also easier to cut up! Here's a little tutorial if you need one: Cutting a sugar pumpkin
Can I substitute canned pumpkin for fresh when making soup?
Yes, you can substitute 2-3 cups of canned pumpkin for the fresh pumpkin in this soup. However, roasting the fresh pumpkin deepens the flavor as it caramelizes the sugars as it browns. For me, this makes for tastier soup.
1 pound fresh pumpkin = about 1 cup cooked, mashed pumpkin
One 15-ounce can pumpkin = 1 3/4 cups mashed pumpkin
TIP: When replacing fresh pumpkin with canned, concentrate the pumpkin flavor by cooking it in a saucepan over medium heat for 5 to 6 minutes to evaporate some of the liquid, as we do in our Pumpkin Spice Muffin Recipe.
Fresh and creative toppings make the BEST pumpkin soup.
The beauty of pureed soups is the way the flavors are completely incorporated so every spoonful is blissfully delicious. However, the texture can become a little monotonous by the time you finish the bowl so we highly recommend experimenting with toppings.
Suggested toppings for pumpkin soup:
Crumbled bacon or pancetta
Feta cheese
Grated parmesan or parmesan crisps
Blue cheese and toasted walnuts
Fresh herbs like chives, cilantro, thyme, or basil
Pinenuts and brown butter sage leaves
Toasted hazelnuts and fresh kale or rainbow chard
Sunflower seeds
Croutons and roasted garlic
Basil pesto
Fresh diced chile peppers and crispy fried onions
Seaweed crisps and sesame seeds
Sour cream and pomegranate
Cran-apple relish and heavy cream
Recipe Variations
Substitute 2-3 cups of canned pumpkin for the fresh pumpkin (see recipe note for best tips)
Substitute butternut squash for the pumpkin
Make it dairy-free with coconut or almond milk and dairy-free cheese
Substitute ancho chile powder for the chipotle powder for less spicy heat
More Savory Soups You'll Love
More Pumpkin Recipes
Savory Pumpkin Soup
A slightly sweet, creamy pumpkin soup balanced with savory spice and garnished with cotija cheese and toasted pepitas.
Ingredients
2.5

lb

pie pumpkin

, also called sugar pumpkin

2

tablespoons

olive oil

for brushing on pumpkin

2

tablespoons

butter

1

cup

chopped leeks

or sweet onion, white part only only of leeks

1

large

carrot

, peeled, chopped

2

ribs

celery

, chopped

1

cup

chopped fennel bulb

or honeycrisp apple

2

cloves

garlic

, minced

1

tablespoon

fresh ginger

, peeled and minced

1

tablespoon

honey

to balance the spice

1

teaspoon

salt

to taste

1/2

teaspoon

freshly ground pepper

1/2

teaspoon

dried thyme

1/4

teaspoon

chipotle chile powder

(optional), or cayenne for a real kick

4

cups

chicken stock

, plus more for thinning if desired

1/3

cup

heavy cream

, or coconut milk
For Garnish:
1/2

cup

crumbled cotija cheese

for feta cheese

1/2

cup

toasted pepitas
Instructions
Using a sharp knife, cut the pumpkin in half from the stem to the bottom. Scoop out the seeds with a spoon (the seeds can be roasted, composted, or simply discard). Cut each pumpkin half in half again so it's in 4 pieces.

Place the pieces on a rimmed baking sheet, skin side down. Brush pumpkin flesh with a little olive oil and place in the oven to cook for 30-40 minutes, until the skin is soft and the pumpkin can be pierced with a fork.

Heat butter in a soup pot over medium heat; add the chopped leeks, celery, carrot, and fennel. Cook 8-10 minutes until vegetables are lightly browned and tender. Stir in the ginger, garlic, honey, salt, pepper, thyme, and chipotle; cook 2 minutes until well incorporated and fragrant.

Add the chicken stock and cream to the pot and set aside until the pumpkin is ready.

Toast the pepitas in a dry skillet over medium-high heat, stirring occasionally, until they begin to pop and brown. Transfer the toasted pepitas from the skillet to a plate to cool until ready to serve.

Once the pumpkin is tender, remove from the oven and allow to cool until easy to handle. Scoop the pumpkin out of the skin onto a cutting board and coarsely chop. Add to the soup and simmer for 5-10 minutes to meld flavors.

Blend the soup using an immersion blender or transfer to a blender and puree until smooth. For chunkier soup, use a potato masher to mash the pumpkin into the soup until it reaches the desired texture.

Taste the soup and adjust seasonings by adding more honey to sweeten, salt for flavor (keeping in mind the cotija cheese will add some salt), or chipotle for added spice. Add more chicken stock to thin the soup as desired.

Serve in warmed bowls and sprinkle with cotija cheese and toasted pepitas.
Notes
Recipe Tips & Variations
Substitute 2-3 cups of canned pumpkin for the fresh pumpkin: Cook the canned puree in a saucepan over medium heat for 5 to 6 minutes, constantly stirring, until it begins to steam to evaporate some of the liquid. This will concentrate the flavor for a richer-tasting soup. 
Substitute butternut squash for the pumpkin
Make it dairy-free with coconut or almond milk and dairy-free cheese
Substitute ancho chile powder for the chipotle powder for less spicy flavor
Equipment
Nutrition
Calories:
479
kcal
|
Carbohydrates:
40
g
|
Protein:
15
g
|
Fat:
31
g
|
Saturated Fat:
14
g
|
Polyunsaturated Fat:
4
g
|
Monounsaturated Fat:
12
g
|
Trans Fat:
1
g
|
Cholesterol:
66
mg
|
Sodium:
1219
mg
|
Potassium:
1483
mg
|
Fiber:
3
g
|
Sugar:
20
g
|
Vitamin A:
27756
IU
|
Vitamin C:
31
mg
|
Calcium:
205
mg
|
Iron:
4
mg