Pumpkin Pie Spice Muffins with Pepita Crumb Topping hold the flavors of fall in a single muffin cup.
Your family is gonna love their favorite pumpkin spice wrapped in these healthy whole wheat muffins!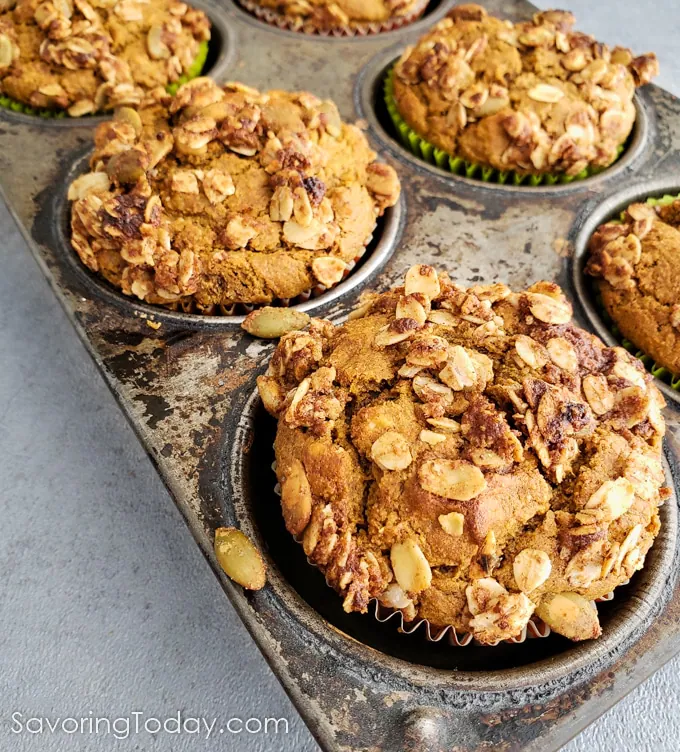 October and the pumpkin pie spice reminds us Thanksgiving is just around the corner. More than a day marked on a calendar, each season needs a proper introduction, a special recipe to announce the changing scene with the first bite.
Pumpkin brings a moist crumb to quick breads that lingers for days after baking—the warming spices of cinnamon, clove, ginger, and nutmeg fill our kitchens with a pleasant aroma candles just can't match.
This post may contain affiliate links. See our disclosure policy for more information.
Make Healthy Muffins with Sprouted Whole Wheat Flour
If you have followed Savoring Today for any length of time, you already know about our sprouted wheat baking adventures. Delighted with the bread, bagels, and burger buns we have made with sprouted flour, we're even more impressed with how well sprouted wheat flour
performs in quick breads like pumpkin muffins.
Whole wheat flour can leave baked goods too dry or dense causing muffins and quick breads to crumble. But that was not the case in this recipe and the credit goes to pureed pumpkin, cream cheese, and the use of white whole wheat flour.
NOTE: Read more about why white whole wheat flour is the best choice when baking in our biscuit recipe post.
Cream cheese does wonders for creating a tender crumb in whole wheat baked goods and it works its magic in whole wheat muffins the same way. TIP: You can use up leftover cream cheese to make frosting for some of the muffins too!
Healthier Fats Make Healthier Muffins
Coconut oil and avocado oil have become a primary cooking oils in my kitchen and are especially good for baking. If you're not partial to the flavor of coconut, avocado oil is a neutral flavored oil that works brilliantly in place of any vegetable oil, but has a healthier composition similar to olive oil.
Less Sugar, Perfectly Sweet
Coconut palm sugar is my go-to for replacing refined white or brown sugar. Its flavor is close to brown sugar and works well in most recipes, but it can overpower subtle flavors like pumpkin so we opt for maple syrup or honey as the main sweetener here.
NOTE: Even though we use unrefined sweeteners like maple syrup, honey, and coconut palm sugar, we still reduce the amount of sugar usually found in muffin recipes.
Crumb Topping for Breakfast or Cream Cheese Frosting for Dessert
We add a bit of "hippy health nut" as our daughter would say to our crumb topping with toasted pumpkin seeds. If you like the texture and crunch of a crumb topping, you'll appreciate the pumpkin seeds right away.
Of course, you can skip the crumb and go with a Zen swirl of cream cheese frosting—because some days demand a little fancy.
Topped with crisp, buttery, toasted crumb or frosted and creamy, these Pumpkin Pie Spice Whole Wheat Muffins are perfect for welcoming the fall season.
Pumpkin Pie Spice Sprouted Wheat Muffins
Moist, tender quick bread flavored with pumpkin pie spices, topped with a cinnamon pepita crumb.
Ingredients
For The Muffins:
15

ounces

canned pumpkin

4

teaspoons

pumpkin pie spice

3

tablespoons

butter

, melted coconut oil, or avocado oil

1/2

cup

maple syrup

, or honey

1/4

cup

coconut palm sugar

4

ounces

cream cheese

2

large

eggs

2

teaspoons

vanilla extract

3/4

cup

chopped walnuts

1/2

teaspoon

baking soda

1 1/2

teaspoon

baking powder

3/4

teaspoon

sea salt
Instructions
Heat oven to 400°F. Use muffin cups to line muffin tins.
For The Crumb Topping:
In a skillet, toast pumpkin seeds over med-high heat until they begin to "pop" and brown and spots (about 3 minutes). Transfer to a small bowl and toss with the oats, coconut palm sugar, flour and cinnamon.

Using your fingers, work the butter into the dry ingredients until evenly mixed and a crumbly consistency in reached.
For The Muffins:
In a 3-quart saucepan, combine the pumpkin puree and pumpkin pie spice. Cook over medium heat 5 to 6 minutes once it starts to steam, stirring constantly, to evaporate some of the liquid and condense flavor.

Remove from heat and mix in butter, maple syrup, coconut palm sugar, and cream cheese until smooth. Whisk in eggs and vanilla.

In a mixing bowl, combine the flour, walnuts, baking powder, baking soda, and salt. Add the pumpkin puree to the dry ingredients and stir until flour is just mixed it.

Fill muffin tins 3/4 full; sprinkle streusel topping over each one. Bake for

16 minutes

or until toothpick inserted in the center, comes out clean.

Cool on wire racks in the pans for 5 minutes. Remove muffins from pans and continue to cool on racks until cooled completely. Store loosely covered.
Notes
These muffins freeze well, though the topping will only be crisp just after baking.
How to make your own pumpkin pie spice:
Mix 3 tablespoons ground cinnamon, 2 teaspoons ground ginger, 2 teaspoons ground nutmeg, 1 ½ teaspoons ground allspice and 1 ½ teaspoons ground cloves. 
Nutrition
Calories:
194
kcal
|
Carbohydrates:
23
g
|
Protein:
5
g
|
Fat:
10
g
|
Saturated Fat:
4
g
|
Cholesterol:
36
mg
|
Sodium:
197
mg
|
Potassium:
177
mg
|
Fiber:
3
g
|
Sugar:
9
g
|
Vitamin A:
3896
IU
|
Vitamin C:
1
mg
|
Calcium:
63
mg
|
Iron:
1
mg
Cream Cheese Frosting
Creamy, dreamy frosting for muffins or cupcakes.
Ingredients
4

ounces

cream cheese

, softened

2

tablespoons

butter

, softened

2

tablespoons

honey or maple syrup

, or powdered sugar

1

teaspoon

pure vanilla extract
Instructions
In the bowl of a mixer, beat the cream cheese, butter, vanilla, and honey on high for 2-3 minutes, or until smooth. Once the muffins are completely cooled, spread or pipe the frosting on the muffins as desired.

To easily pipe the frosting, transfer it into a zipper-type bag and snip a bottom corner off the bag, about 1/4-inch up from the corner. Pipe frosting by squeezing the frosting out of the hole onto the muffin.

Apply frosting when the muffins are completely cooled. Enjoy right away or refrigerate until ready to serve.
Notes
Yields enough frosting for 6 muffins if piped, 8 muffins if spread with a spatula.
Nutrition
Calories:
121
kcal
|
Carbohydrates:
7
g
|
Protein:
1
g
|
Fat:
10
g
|
Saturated Fat:
6
g
|
Cholesterol:
31
mg
|
Sodium:
94
mg
|
Potassium:
26
mg
|
Sugar:
6
g
|
Vitamin A:
370
IU
|
Calcium:
19
mg
|
Iron:
1
mg
More Healthy Muffin Recipes