Fresh Peach and Heirloom Tomato Salsa is a beautiful garnish or dip with a sweet acidic balance.
Spice it up with peak season jalapeno chiles and serve it on tacos, over breakfast skillets, or dip into it with hearty corn tortilla chips all summer long.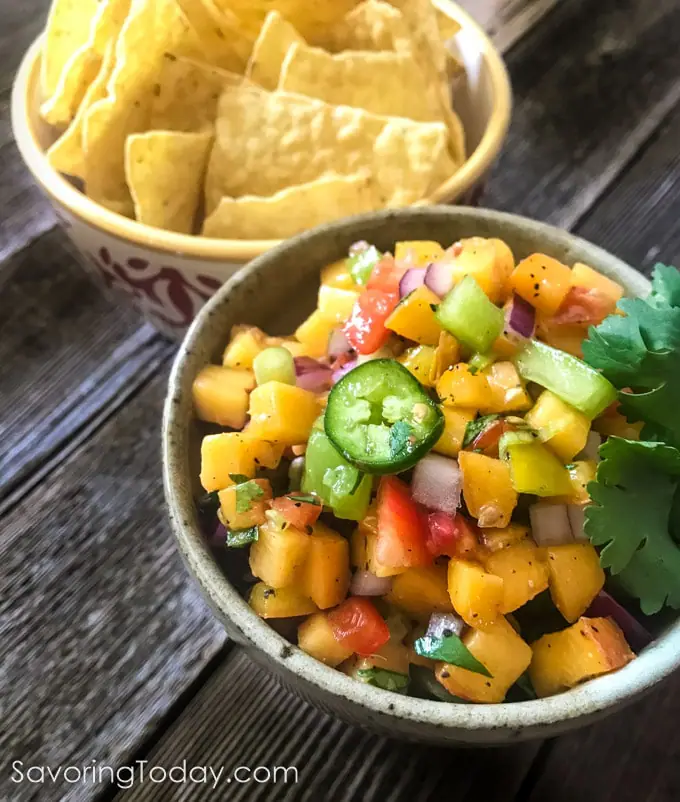 I marvel at the way we are beautifully wooed by a timeline we rarely recognize we are apart of—the earth's sustenance through seasonally ripe produce.
Peaches and tomatoes are the best of sun-loving fruits to grace patios and picnic tables in what we hope are endless summers.
We foodies follow the food, which is why I am grateful for local farms like Fruition Farms in Larkspur, CO, who produce epic heirloom tomatoes. They are the reason this recipe even exists. You're reading the words of a life long tomato hater turned tomato fanatic.
Before trying an heirloom tomato salad from their glorious produce, any and all tomatoes would have been woefully pushed to the side of my plate or picked off my sandwich. Tomatoes were never on my grocery list and you certainly wouldn't catch me making salsa.
Summer ripe peaches have always been part of my market list, but now, heirloom tomatoes are on there too! Especially at our local farmer's market where I'll snag 3 beautiful, tender tomatoes and pick up an entire flat of peaches (that's 24 peaches folks! And I eat ALL OF THEM.)
So began the journey down peach and tomato salsa road …
This delicious twist on salsa will have your taste buds singing with a touch of sweet and savory as juicy fresh peaches and plump, flavorful heirloom tomatoes team up for the best salsa you'll have all summer.
The ingredient list isn't long, but the flavor depends heavily on the ripeness of the peaches and tomatoes so we show you how to pick the very best you can find.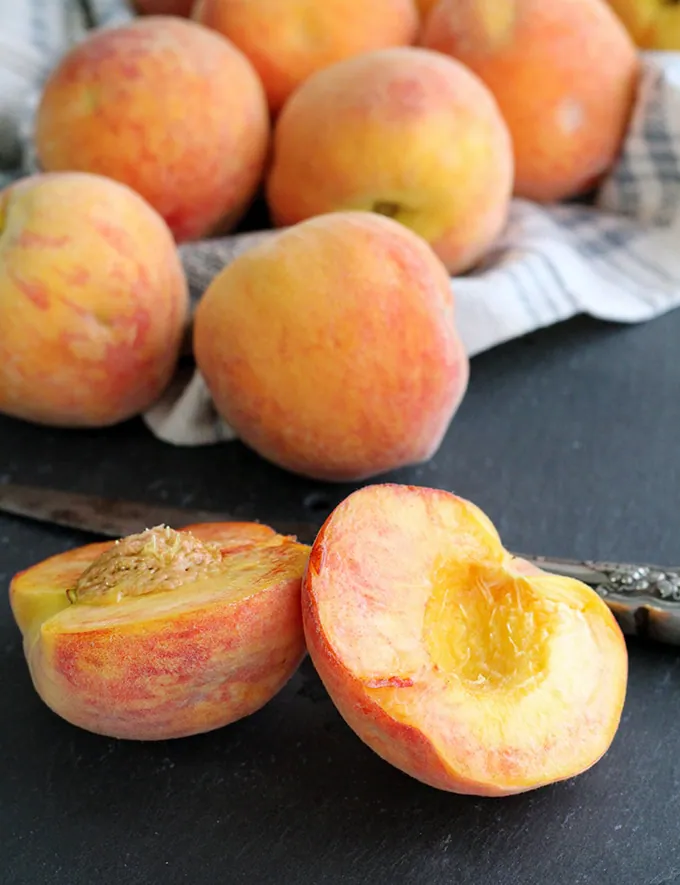 How to Select Flavorful Peaches
The smell is the number one way to know if a peach is ripe. A ripe peach should smell sweet and fragrant like a peach. If the fruit doesn't have any fruity, peach aroma it won't have any flavor either.
The flesh of a ripe peach should yield slightly when gently press on the top by the stem with your thumb. It only needs to have a little softness to it for this recipe.
The skin should be smooth, not wrinkled or bruised. Some peach varieties are fuzzier than others, but this won't matter to the recipe.
TIP: If fresh peaches are not available, nectarines are a suitable substitute. Use the same tips for selecting ripe nectarines.
How to Properly Store Fresh Peaches
Unripe peaches should be stored on the counter, stem side down, (without stacking to avoid bruising) 2 or 3 days, or until ripe.
Ripened peaches can be stored in the refrigerator for a couple of days without affecting taste or texture. Just be careful to not stack them.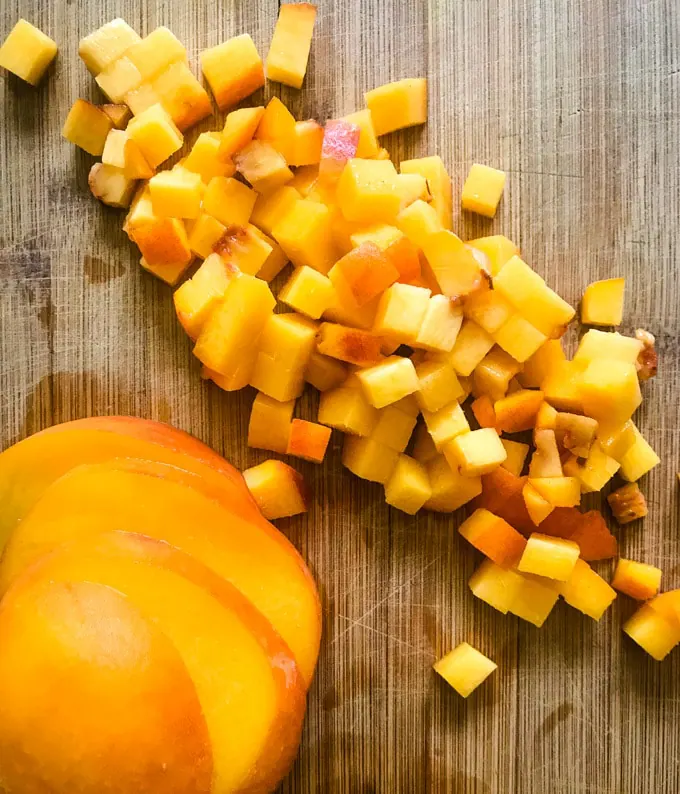 More Peachy Options for This Salsa Recipe
Not quite ripe peaches—If you can wait a couple of days, leave your not-quite-ripe peaches on the counter (stem side down) until they begin to soften.
Frozen peaches—Yep, you can use frozen peaches in this salsa too, though you may want to peel them if you left the skins on because the texture of the skin won't be as appealing as fresh peaches.
Canned peaches—Sure, you can use canned peaches for this recipe but you won't want the heavy syrup that often comes with them. Drain any syrup and keep in mind you may need to add a little more tomato than peaches so the salsa doesn't end up too sweet.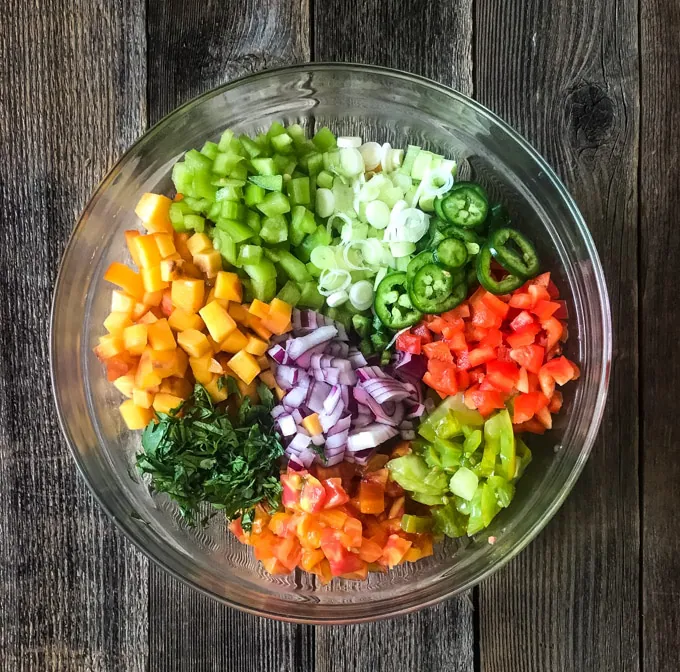 Selecting a Better Tomato for Making Fresh Salsa
If you've ever tasted a vine-ripened tomato from a home garden or hit the farmer's market at peak season you know the very best tasting tomatoes are ripened on the vine. Because tomatoes will ripen in color after being picked, most of what you see in grocery stores have been picked green and ripened after shipping to prevent damage.
This is not the only reason the tomato lacks flavor. When commercial crops are selected for maximum yield, the plant cannot supply enough sugar to all the fruit.
According to this Scientific American article, the reason why one tomato tastes better than another is the geranial compounds or fragrance of the fruit.
Heirloom tomatoes tend to have more of these fragrance compounds which is why you may have noticed they have a better flavor than the standard variety. We use red Beefsteak and Cherokee Green heirloom tomatoes in this recipe for a balance of sweet and tang.
Heirlooms definitely come with a heftier price, so we are more likely to choose this type when the tomato is part of the main flavor profile of a dish like salsa versus a few wedges on a salad or cooked in a sauce.
TIP: If heirloom tomatoes are not available our next choice would be on-the-vine Campari tomatoes, or a can of San Marzano tomatoes (drained) if fresh tomatoes are not an option.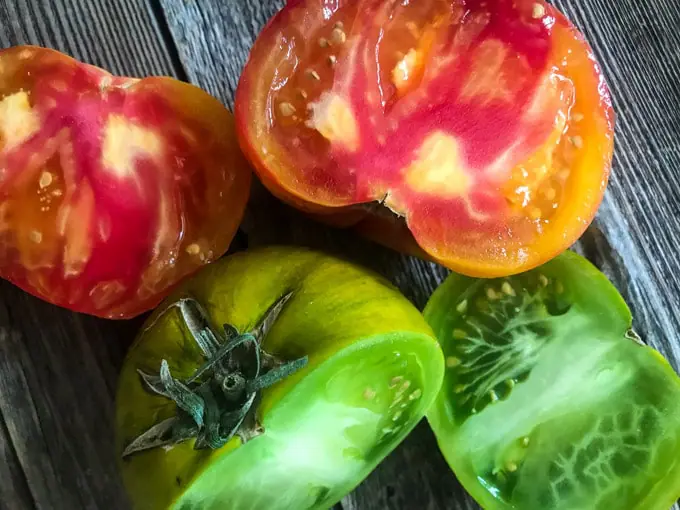 This post may contain affiliate links. See our disclosure policy for more information.
Tips for Selecting Flavorful Tomatoes, Heirloom or Otherwise
Smell the tomato. A flavorful tomato should have a pleasant earthy fragrance. If you smell nothing, it likely will taste the same.
Look for smooth, tight skin with flesh that yields just a little to pressure and no squishy spots.
Red tomatoes should be deep red in color, not pink or green.
Ripe tomatoes should feel heavier in the palm of your hand than unripe tomatoes because of the weight of the juices.
Tomatoes still hanging on a piece of the vine may have better flavor (but not always). We prefer the flavor of Campari tomatoes over other on-the-vine varieties.
TIP: Do not buy tomatoes from refrigerated coolers as this will diminish taste and texture.
How to Properly Store Tomatoes
Store ripe tomatoes on the counter (without stacking) for a day or two. Remove any stems from your tomatoes and store them stem side down (this prevents moisture loss so tomatoes stay plump).
Store unripe tomatoes in a warmer than usual spot (without stacking), but not directly in the sun on a windowsill. Placing a ripening banana or apple beside them will speed up the process.
Tomatoes should not be stored in the refrigerator as it diminishes the flavor and texture of the fruit.
NOTE about tomato refrigeration: If you want to see the research, take a look at this article on chilling-induced tomato flavor loss by the Proceedings of the National Academy of Sciences.
More Tomato-y Options for Salsa
Not quite ripe tomatoes—Roasting tomatoes caramelizes any sugars present and intensify flavors. To roast, slice and season the tomatoes with salt and pepper. Roast in a single layer on a parchment-lined baking sheet at 375°F for 20-30 minutes until edges begin to brown. Cool and chop for the recipe.
Canned tomatoes—Sure, you can use canned tomatoes for this recipe but they need to be drained well (save the juices for soups). Look for diced tomatoes rather than whole as trying to cut canned tomatoes turns into a mess.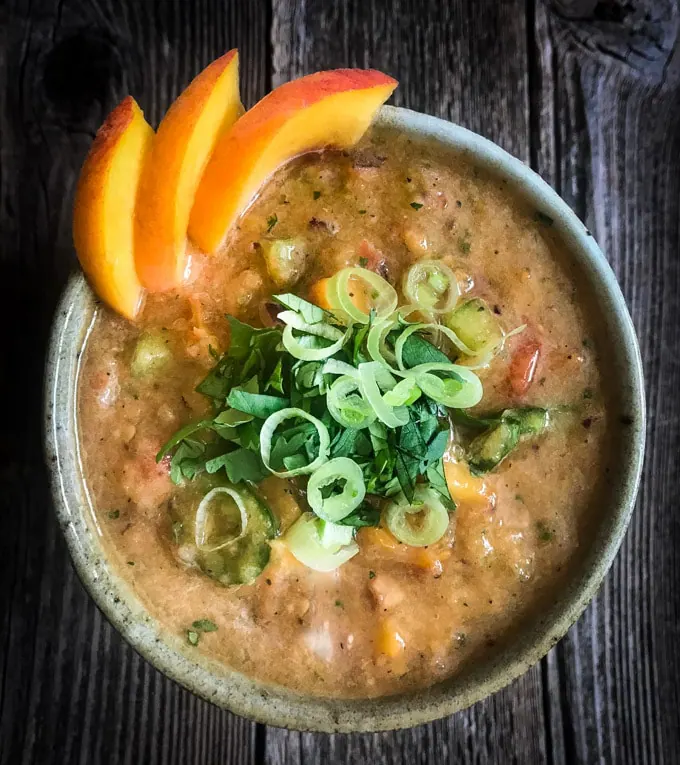 Recipe Variations:
Substitute mango or pineapple for the peaches.
Grill or roast the peaches and tomatoes to caramelize the sugars for deeper flavors.
Add garlic for a more savory vibe.
Add serrano chile pepper for extra spicy heat.
Fresh Peach and Heirloom Tomato Salsa
This delicious twist on salsa brings a touch of sweet and savory as juicy fresh peaches and plump, flavorful heirloom tomatoes team up for the best salsa you'll have all summer.
Ingredients
3

peaches

, mostly ripe, not too ripe. Diced, skin on!

2

medium

heirloom tomatoes

, diced

1/4

cup

diced red onion

3

green onions

, white part sliced thin

1/4

cup

chopped cilantro leaves

1

diced jalapeño chile

(amount used varies to spice preference)

1/4

small

green bell pepper

, diced

1/4

small

red bell pepper

, diced

1/2

lime

, juiced

1

tsp

champagne vinegar

, or apple cider vinegar, to taste

Sea salt and freshly ground pepper

, as desired
Instructions
It is a straightforward deal from here to slice and dice all of your ingredients and mix in a bowl. Keep it chunky if that's what you enjoy or blend half of it up for a little thicker consistency. (I blend half and keep half chunky because I like a thicker salsa with the flavors all melded together.)

Taste and season with salt and pepper until it hits the sweet spot of "oh, I can't stop eating it."

Bust out your favorite salsa chips and enjoy in the sun.
Notes
Notes:
Champagne vinegar is used in this recipe as a more intense acid alongside the tomatoes and peaches (which are at their sweetest this time of year) to bring balance to the other flavors. Apple cider vinegar is a fine substitute.

We like the addition of both red and green bell pepper, but if you only have one or the other, that works fine.
Green and red onion contribute unique flavor profiles, however, sweet yellow onion is a suitable substitute for either.
Recipe Variations:
Substitute mango or pineapple for the peaches.
Grill or roast the peaches and tomatoes to caramelize the sugars for deeper flavors.
Add garlic for a more savory vibe.
Add serrano chile pepper for extra spicy heat.
Equipment
Nutrition
Calories:
45
kcal
|
Carbohydrates:
11
g
|
Protein:
1
g
|
Fat:
1
g
|
Saturated Fat:
1
g
|
Sodium:
4
mg
|
Potassium:
272
mg
|
Fiber:
2
g
|
Sugar:
8
g
|
Vitamin A:
824
IU
|
Vitamin C:
23
mg
|
Calcium:
15
mg
|
Iron:
1
mg
More Dip Recipes You'll Love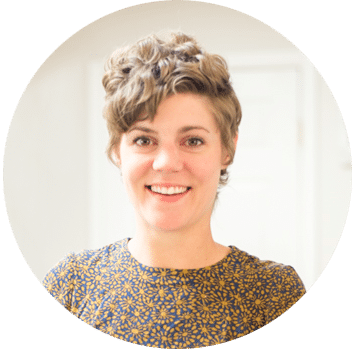 Article by Kayla Purcell
Kayla's creativity spills over into everything she does, especially in the kitchen. She is passionate about bringing people together around tasty food that's good for you. We love that too.