Mushroom & Blue Cheese Ragout is one of those recipes that makes everything you serve with it better.
This irresistible mushroom sauce is big on flavor with a luscious texture that takes red meats, grilled vegetables, and pasta to a whole new level.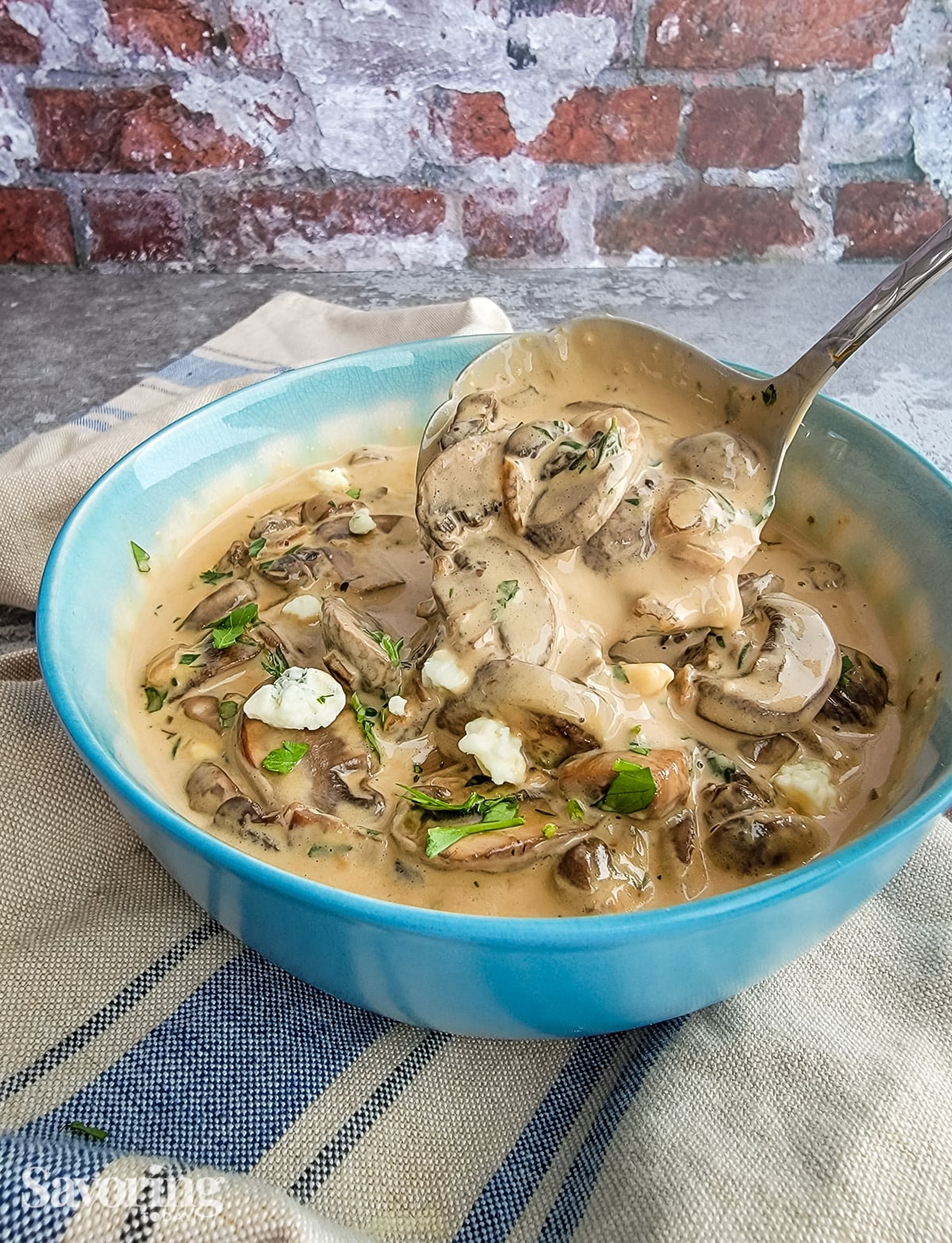 Fresh thyme complements savory crimini mushrooms in a creamy, hearty marsala sauce with a funky blue cheese backbone in this recipe for Mushroom Ragout. I dare say it's the most delicious, savory sauce you'll find anywhere.
Earthy umami from tender mushrooms shines through with mouthwatering aromatics from the thyme and blue cheese. Several of our friends have swooned over this sauce at various dinner parties, and the recipe is often requested.
Such a delicious addition to breakfast, lunch, or dinner, and it comes together in under 30 minutes with just a few simple ingredients.
When I include Roasted Tri Tip with Mushroom Ragout on the menu for a gathering, at least one person expects a red sauce to appear on their plate. Pronounced the same, ragout and ragu are quite different.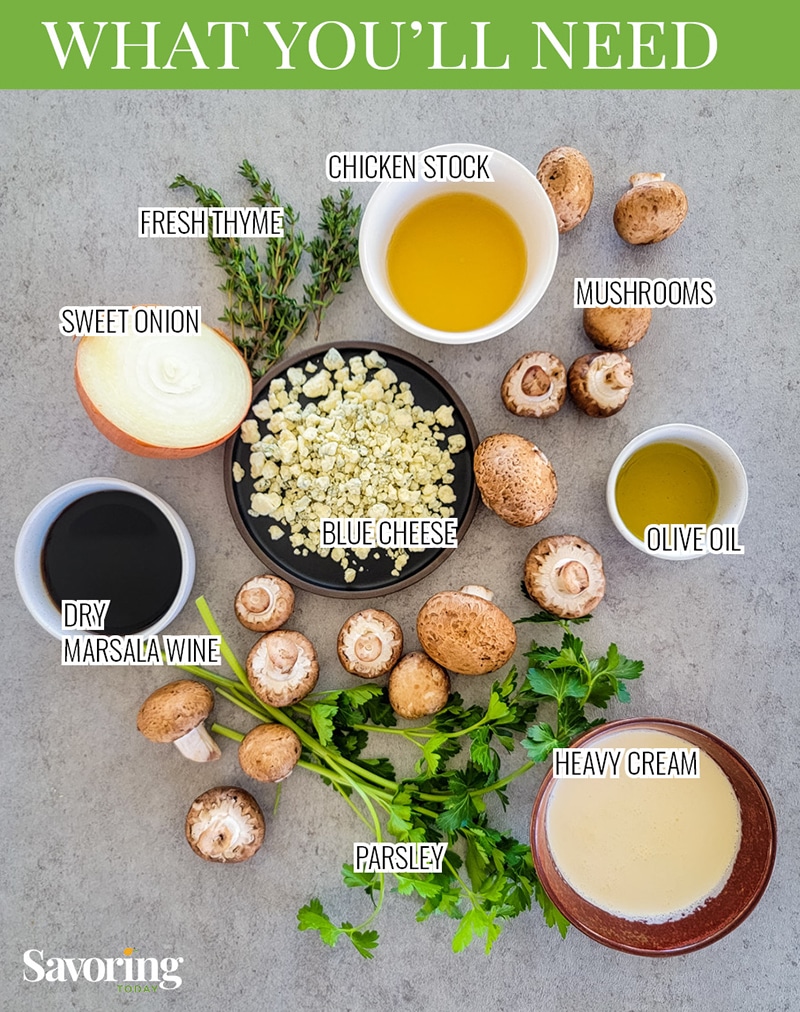 What's the difference between ragout and ragu?
Both come from the French word ragoûter ("to revive the taste"), and it is believed the ragouts of France influenced the ragus of Italy due to Napoleon's occupation of what is now the northern regions of Italy in the late 1700s. Also noteworthy is the influence of Italian cooks on French cuisine when Catherine de Medici married French royalty in the mid-1500s.
Italians may point out they first influenced French cuisine, and the French may infer that they refined it, but it is undeniable we have all benefited.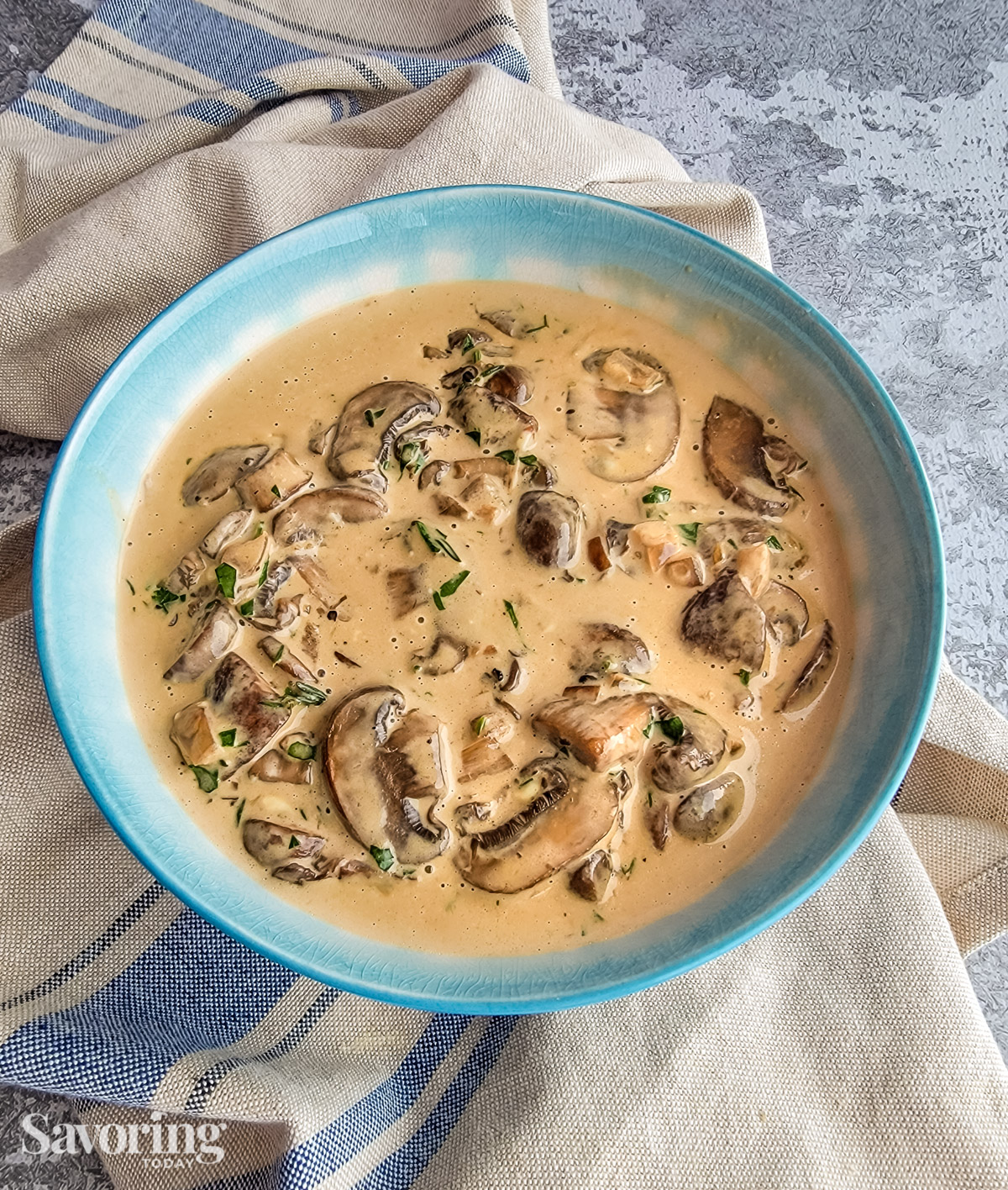 Ragout and ragu are thick and well-seasoned. Ragu is typically a sauce for pasta, and ragout is more like a stew or gravy-like sauce, which can also be served as a sauce with meat, like the recipe here.
Ragout: A thick, seasoned French stew or sauce made with meat, fish, or vegetables.
Ragu: An Italian tomato and/or meat sauce, depending on the region where the recipe originated.
Does a brief history lesson help?
It's perfectly fine to call it mushroom gravy to keep the food nerd vibe to a minimum. Of course, once you taste it, you may not even care if you know the difference, so long as there is enough for seconds.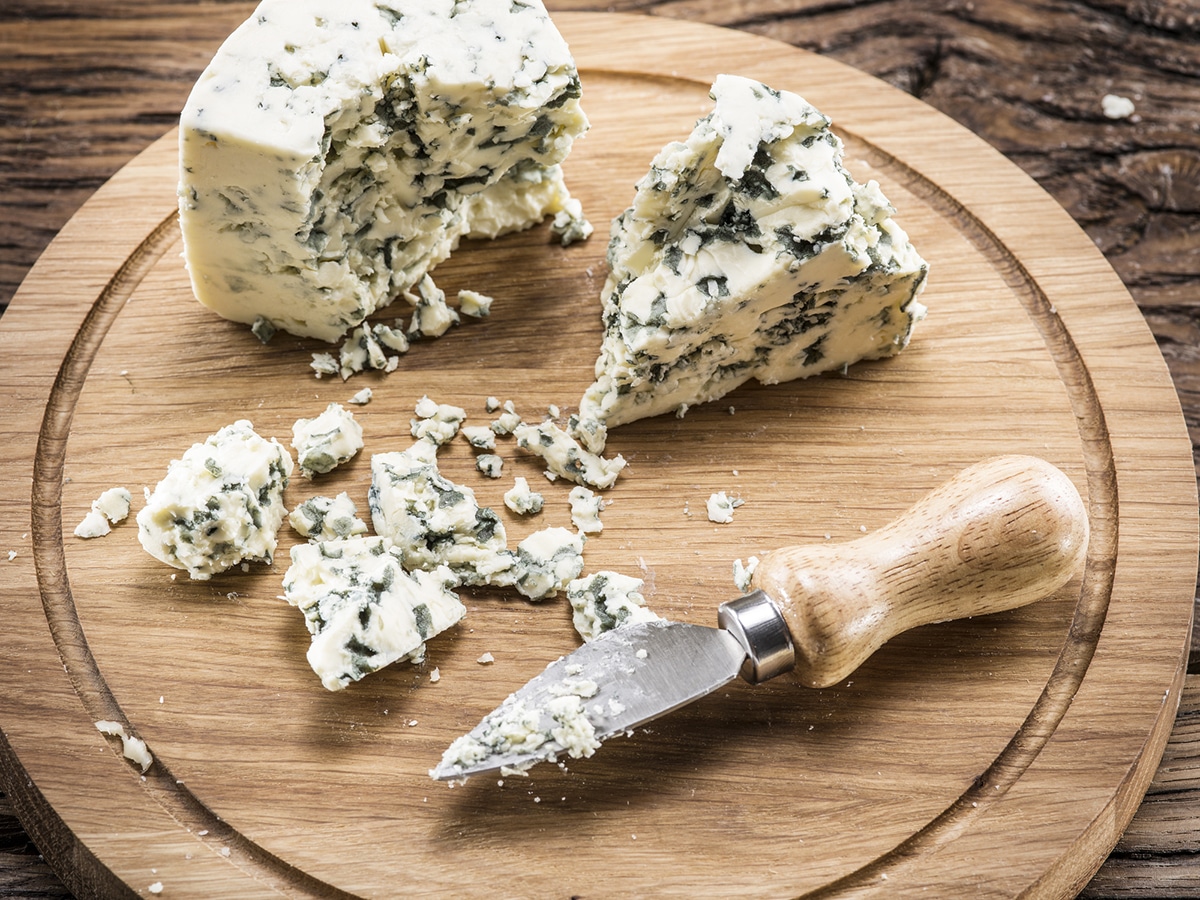 The BEST Blue Cheese for Mushroom Sauce
The meaty flavor of crimini mushrooms and blue cheese brings umami to the luxurious sauce. Depending on the blue cheese you use and the amount, you may not need to add salt and pepper.
There is a wide variety of blue cheese to choose from, and your overall opinion of blue cheese will influence the type you choose. A little blue cheese goes a long way for me—I like it, but it can't be so strong that I smell it before it gets to the table or it overwhelms other flavors.
Look for these types of blue cheese based on your personal preference:
MILDER FLAVORS:
Chiriboga Blue
Fourme d'Ambert
Bleu d'Auvergne (my favorite)
BOLDER, PUNGENT, INTENSE FLAVORS:
Maytag
Gorgonzola
Roquefort
Still not sure which one to choose? Personally, I've found that if blue cheese has a pleasing aroma to me with grassy, mushroom, or citrus notes, I'll enjoy eating it. If it smells overly strong or like sweaty socks, I pass.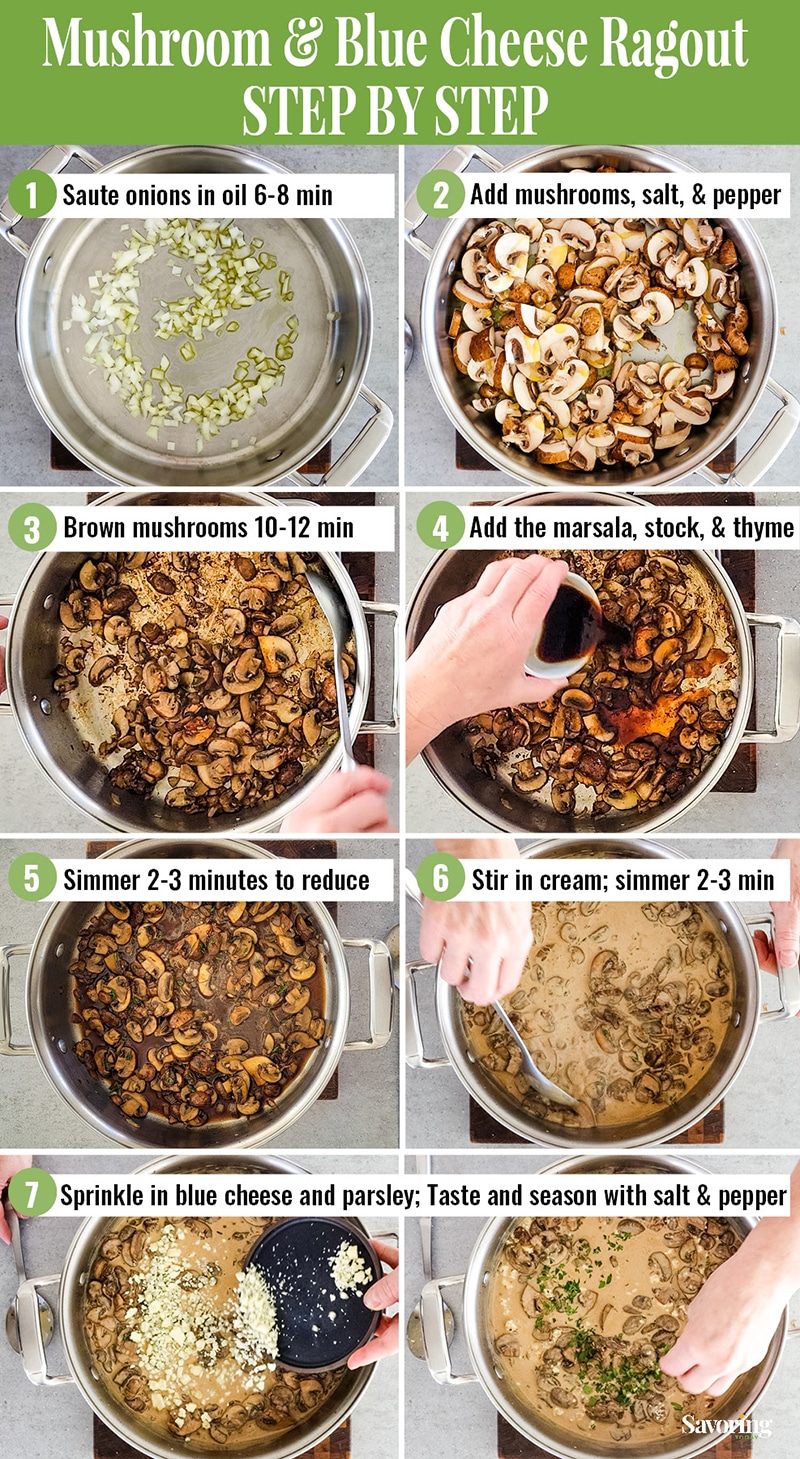 Mushroom and Blue Cheese Ragout STEP BY STEP
Cook the onion in 2 tablespoons oil until softened, about 6 minutes.
Add the mushrooms to the skillet with the onions and season with salt and pepper.
Cook the mushrooms until browned, about 10 minutes.
Add the Marsala, chicken stock, and thyme to the skillet, stir to loosen browned bits, and simmer to reduce most of the liquid, about 3 minutes.
Reduce heat to medium-low and stir in the cream.
Simmer for 3 minutes to allow the cream to reduce and create a sauce.
Stir in blue cheese and parsley (more blue cheese can be added according to preference); salt and pepper to taste.
TIP: When browning mushrooms, try not to stir too much so the mushrooms have a chance to brown against the pan.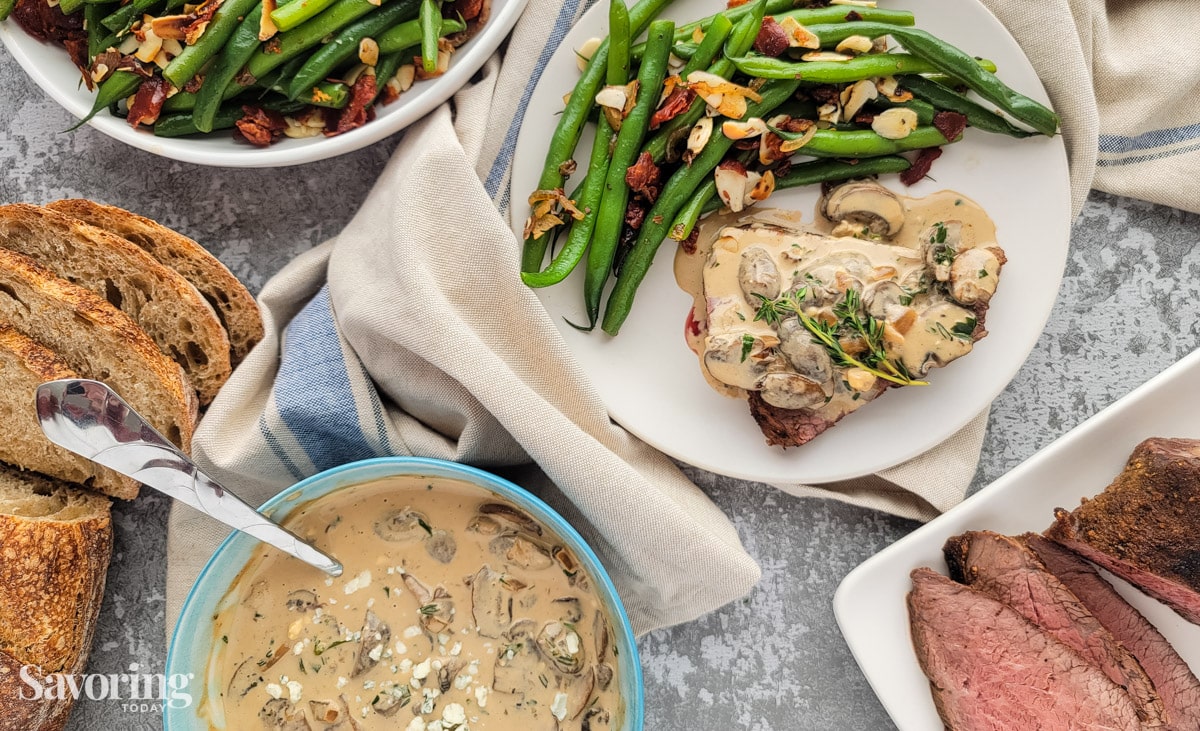 How should I serve Mushroom Ragout with Blue Cheese?
Naturally thickened with cream, there's no gluten to worry about so it's safe for our gluten-free friends. Mushroom & Blue Cheese Ragout is ideal for roasted or grilled beef, lamb, pork chops, or wild game—it makes any occasion special.
Our favorite recipe to pair with mushroom ragu is grilled or roasted tri-tip or tenderloin. Creamy sauces are ideal with lean cuts of meat like tenderloin steaks or grilled chicken breasts that aren't as juicy as fattier cuts.
Overall, I'd consider this recipe to be a social butterfly of sorts, making an excellent addition to omelets, benedicts, roasted chicken, pork chops, pasta, or roasted vegetables.
Can this recipe be Vegetarian or Vegan?
Yes! For a vegetarian version simply sub in vegetable stock for chicken stock. For a dairy-free, vegan recipe, sub in vegetable stock and replace heavy cream with a plant-based cream of your choice.
Cashew cream or oat cream may be the best options, coconut cream may shift the flavor too much. There are vegan blue cheeses in this world, you may have to do some hunting.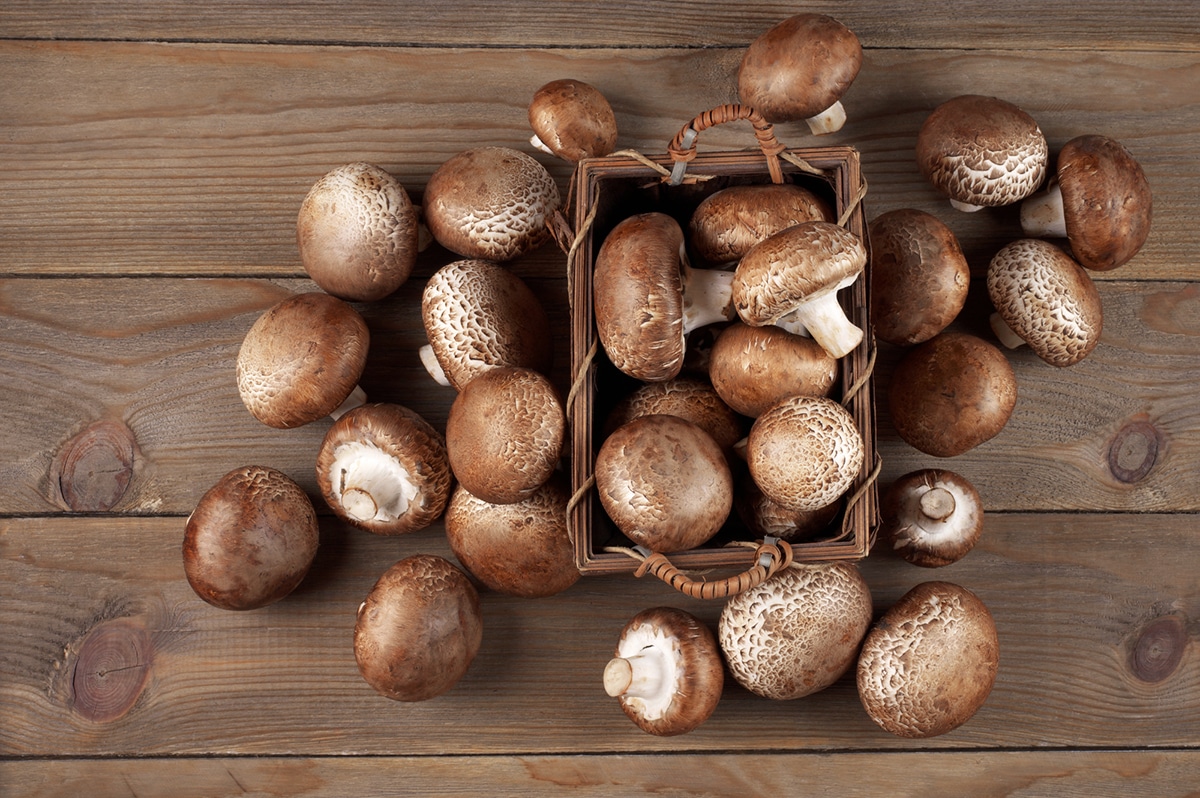 I don't like blue cheese, can I make this recipe without it?
Yes, you can make the sauce without blue cheese. However, before ditching it altogether, try reducing the amount or ask for help at your local deli count to find a more mellow, less funky blue. There are so many options!
If you are absolutely averse to blue cheese, try subbing in goat cheese, feta, or cotija cheese. Take care in salting the recipe when using cotija as it has a higher salt content.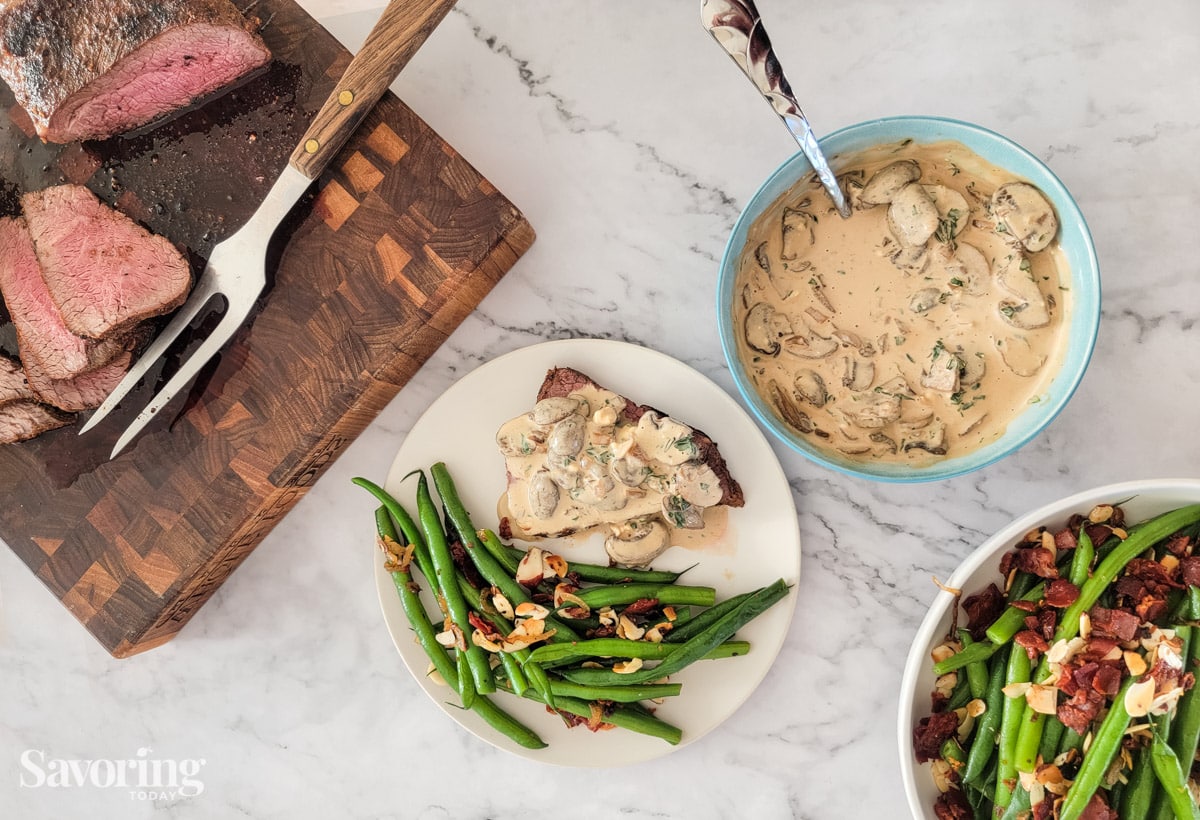 Mushroom & Blue Cheese Ragout
A sumptuous mushroom sauce ideal for roasted or grilled beef, lamb, pork chops, or wild game.
Ingredients
1/2

cup

chopped sweet onion

, Vidalia or Maui type

3

tablespoons

extra-virgin olive oil

sea salt

freshly ground black pepper

16

ounces

cremini mushrooms

, (baby bella) sliced 1/4 inch thick

1/3

cup

dry Marsala

1/4

cup

homemade chicken stock

3/4

cup

heavy cream

1

tablespoon

fresh thyme leaves

1/2

cup

crumbled blue cheese

2

tablespoons

chopped fresh parsley
Instructions
In a 10-inch skillet, heat 2 tablespoons of olive oil over medium heat with onions. Cook until onion is softened,

6 minutes

.

Add an additional tablespoon of oil and the mushrooms to the skillet with the onions. Salt and pepper mushrooms and cook until they have released their liquid and browned, about

10 minutes

. TIP: Try not to stir too much so the mushrooms have a chance to brown. Increase heat to encourage evaporation and browning if needed.

Add the Marsala, chicken stock, and thyme to the skillet, stir to loosen browned bits, and cook over medium heat until half of the liquid evaporates,

3 minutes

.

Reduce heat to medium-low, add the cream, and simmer for

3 minutes

to allow the cream to reduce and thicken slightly. (Sauce will continue to thicken as it cools.)

Stir in blue cheese and parsley (more blue cheese can be added according to preference); salt and pepper to taste.
Video Displays Here or In Post
Notes
A range of mushrooms can be used for this sauce–porcini, shitake, morel–anything woodsy and hearty. The ragout can be made hours in advance and gently reheated just before serving. Add chicken stock or cream to thin the sauce, as desired.
Gluten-Free: This recipe as written is gluten-free, however, if using chicken stock from the store, check the packaging or the manufacturer to be sure it is gluten-free.
If you have questions about eating blue cheese as part of a gluten-free diet, check this link for more information: Celiac
Nutrition
Calories:
254
kcal
|
Carbohydrates:
9
g
|
Protein:
6
g
|
Fat:
21
g
|
Saturated Fat:
10
g
|
Polyunsaturated Fat:
1
g
|
Monounsaturated Fat:
9
g
|
Cholesterol:
42
mg
|
Sodium:
161
mg
|
Potassium:
534
mg
|
Fiber:
1
g
|
Sugar:
4
g
|
Vitamin A:
691
IU
|
Vitamin C:
4
mg
|
Calcium:
107
mg
|
Iron:
1
mg