Grilled Lamb Loin Chops with Bearnaise Sauce turns a routine Saturday evening into a special occasion every time. 
Bits of rosemary and garlic cling to the lamb chops creating a fragrant, succulent lamb dinner cradled in herbaceous Bearnaise perfection.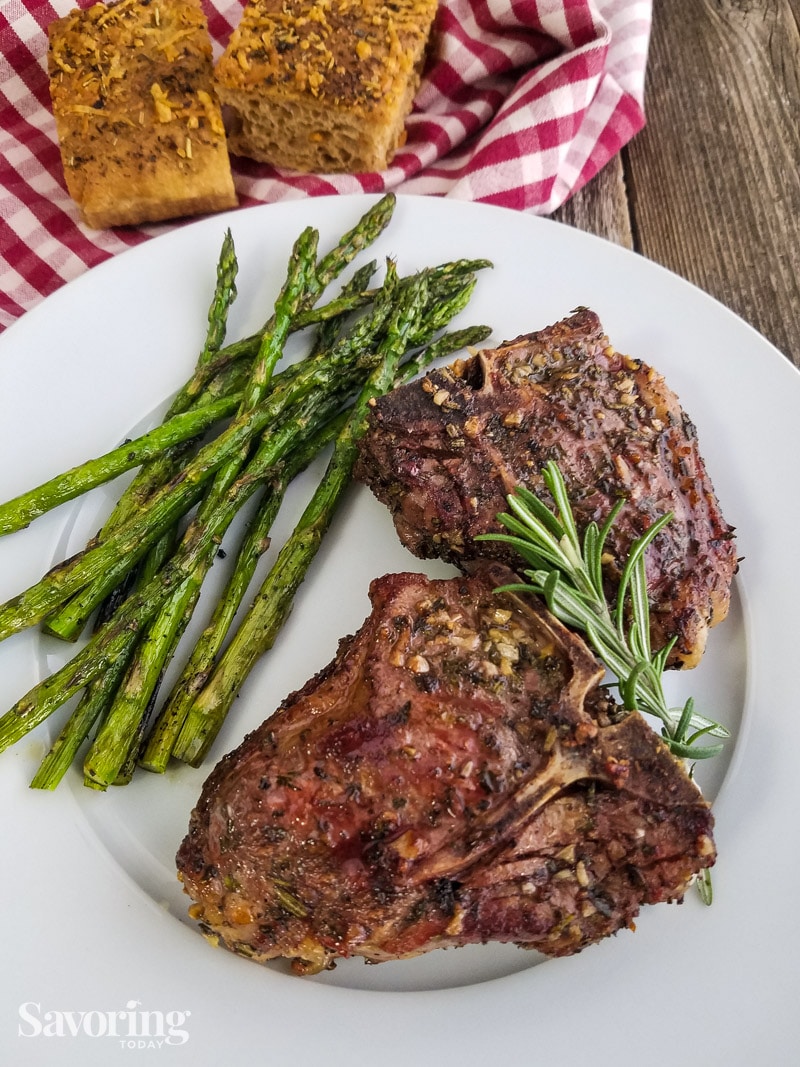 Grilled lamb is also our family's go-to for Easter dinner, even if it's snowing. One of the reasons I love grilling lamb chops for Easter and holiday dinners is how impressive it turns out with minimal effort.
Why Choose Lamb Loin Chops?
Loin chops are from the lamb's back, just behind the ribs. These chops are cut into 2-inch thick chops and look like tiny t-bone steaks. It's is a favorite for the grill because it is tender, flavorful, and cooks quickly.
Loin chops are especially appealing to those ordinarily put-off by the robust flavor of leg or shoulder portions. The loin area along the back doesn't get worked like the heavier muscles which results in very tender meat and more mild lamb flavor.
TIP: Plan 2 loin chops per person for a dinner portion and for large appetites, like teenage boys, figure 3 each.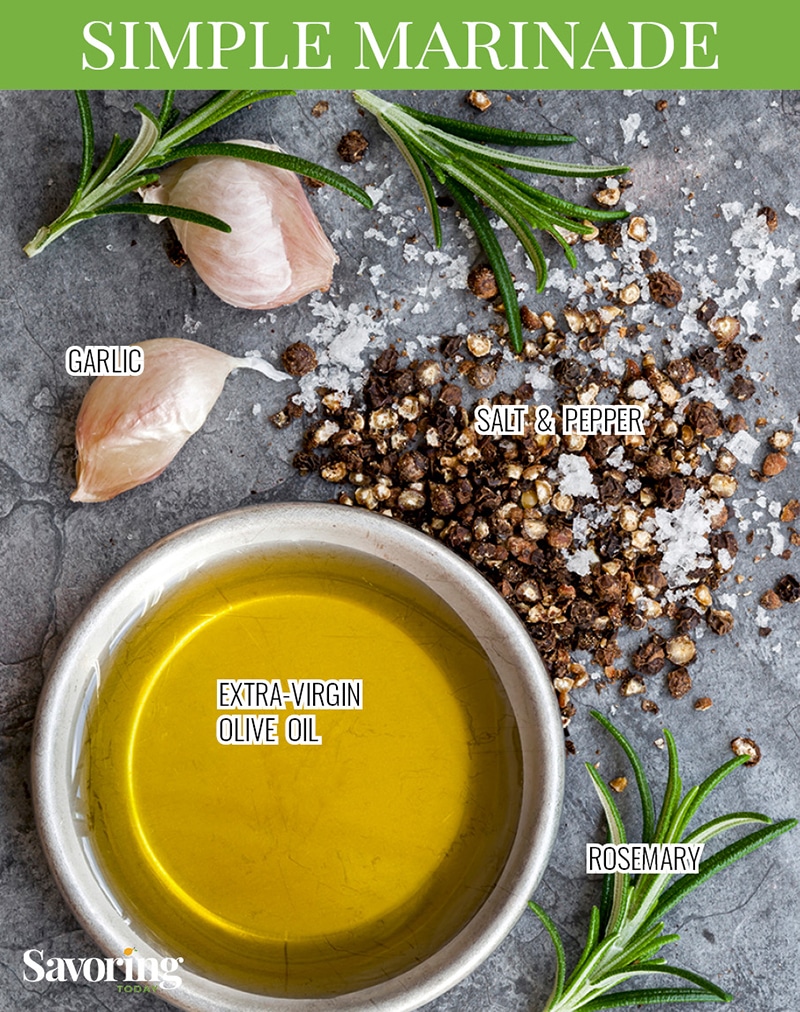 Garlic and Rosemary Marinade for Lamb Chops
Lamb is unique in flavor all on its own, so seasonings or marinades with complementary herbs are preferable to heavier barbecue-type rubs. Our garlic and rosemary marinade is mixed with extra-virgin olive oil and seasoned simply with salt and pepper.
Salt needs 40 minutes to work and penetrate, so any rubs or dry seasoning with salt should be allowed to rest on the meat for at least 40 minutes, up to overnight.
Fresh herbs like rosemary, thyme, savory, chives, cilantro, and sage are all excellent choices to complement and enhance lamb loin chops.
Lean chops and steaks also benefit from luxurious sauces like the Bearnaise Sauce Recipe below or our savory Mushroom & Blue Cheese Ragout.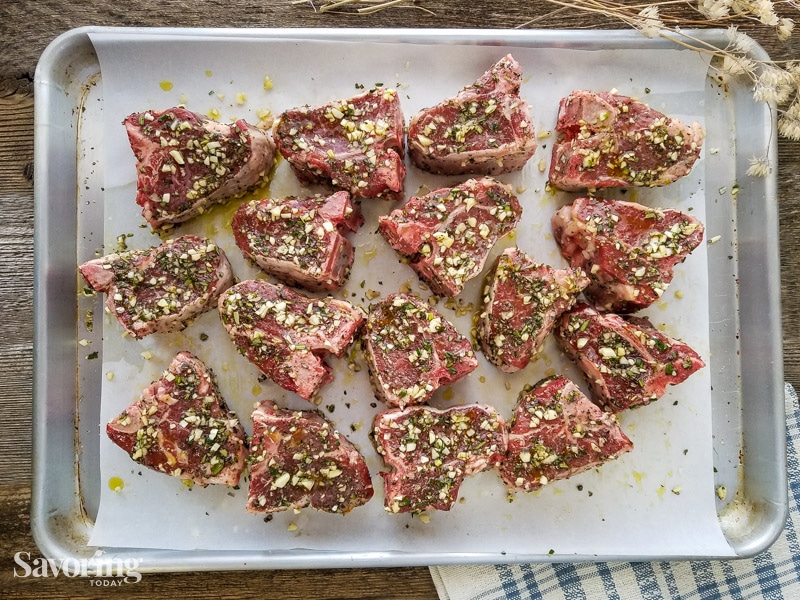 This post may contain affiliate links. See our disclosure policy for more information.
Tips for Grilling Lamb Loin Chops
The dry heat of the grill or oven creates amazing browned edges and renders the layer of outer fat in just minutes. Ideally, you'll want to treat loin chops like a high-end steak and cook only to medium-rare for the best texture and flavor.
Treat lamb chops like a steak. Loin chops are like mini T-bone steaks—on one side of the chop is the lamb loin, on the other side is the fillet. The fillet side is smaller and will cook quickly, so point that side out away from the hottest part of the fire.
Trim any thicker layer of exterior fat 1/8-inch before grilling to reduce flair-ups.
Cook to medium-rare (between 125-135 degrees), and use an instant-read thermometer to test for doneness.
Rest the cooked chops 10 minutes, tented with foil, before serving.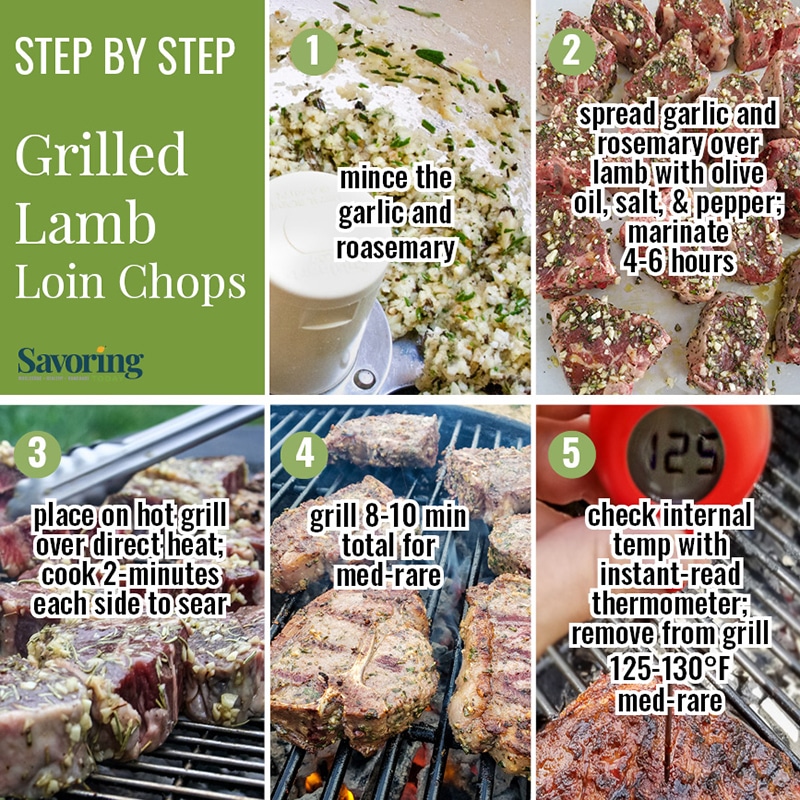 Grilled Lamb Chops Step by Step
Mince the garlic and roasemary.
Spread over the lamb with olive oil, salt, and pepper; Marinate

4-6 hours with salt, pepper, fresh garlic and rosemary, and drizzled with olive oil.

Grill lamb over direct heat for 2 minutes on each side to sear

, 8 to 10 minutes total, depending on size.

Check internal temperature; remove from heat

when the internal temperature in the thickest part of the meat is 125-130° for medium-rare, 135° for medium.

Rest for 10 minutes, tented with foil.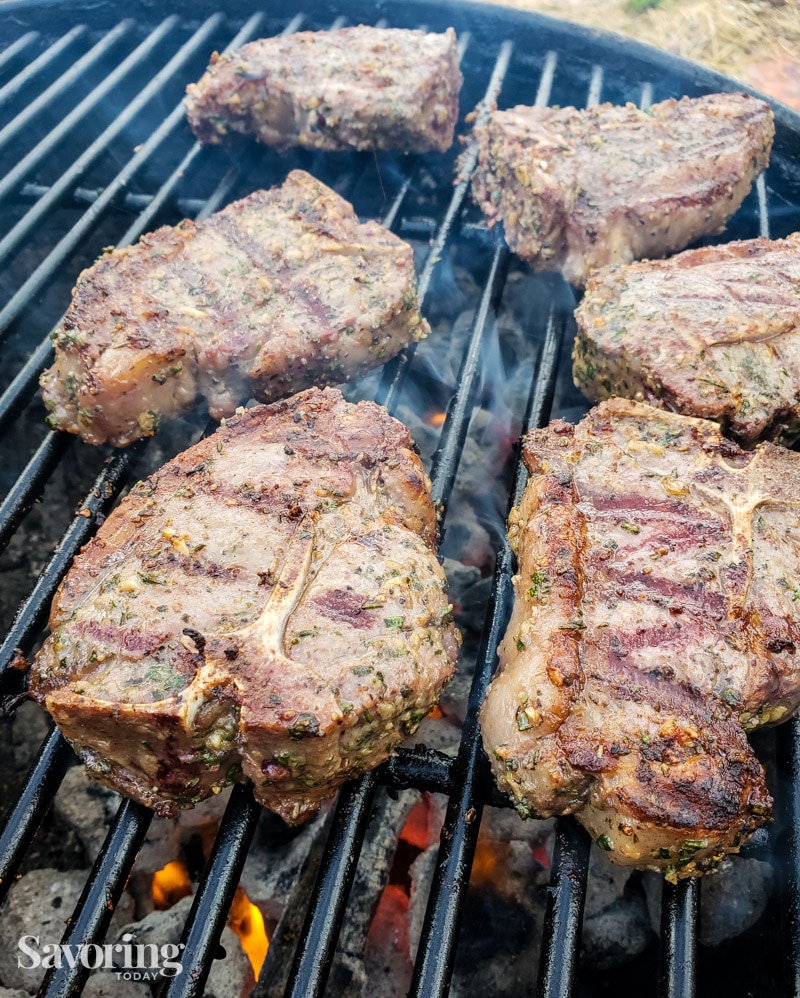 How to Source the Best Lamb
Just like the beef, pork, and chicken we buy, we look for meat raised without growth hormones or antibiotics from producers who make animal welfare a priority. New Zealand, Australia, and the United States are the major players when it comes to buying lamb in U.S. supermarkets.
Here in the U.S. and Australia, hormones and antibiotics are approved to be used in lambs for slaughter, though the use is less widespread in Australia. New Zealand does not permit hormone use in lambs, and antibiotics are only allowed therapeutically (to treat sickness), which is something I'll keep in mind when shopping.
There are numerous lamb producers in Australia and the U.S. (especially local farmers) who take great care to graze their livestock naturally and do not use hormones or antibiotics for growth stimulants. It's worth the effort to read the label and ask the question.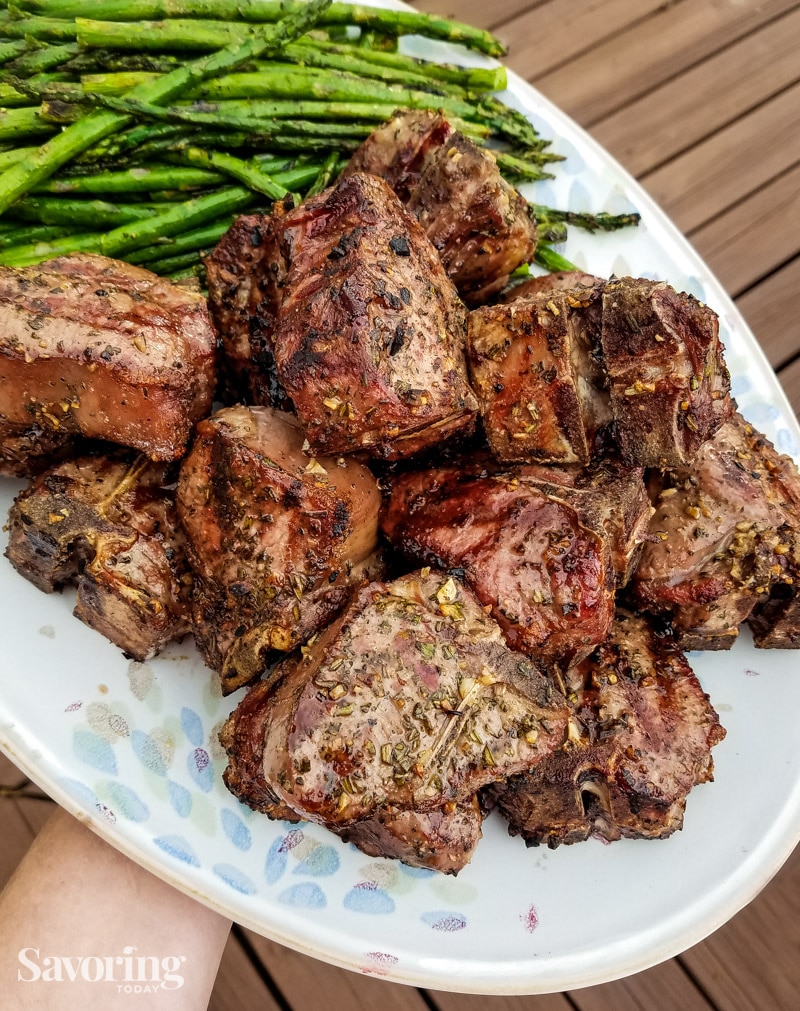 Side Dishes You'll Love Serving with Lamb
Grilled Lamb Loin Chops
Lamb loin chops grilled until medium-rare and served with Bearnaise sauce.
Ingredients
12 

lamb loin chops

12  

cloves 

garlic

, chopped

2 – 3

tablespoons

fresh rosemary

, coarsely chopped

Sea salt and freshly ground black pepper

Extra-virgin olive oil
Instructions
Arrange lamb chops on a rimmed baking sheet. Generously season with salt and pepper on both sides and drizzle with olive oil.


Rub garlic and rosemary over chops incorporating with the olive oil, until evenly covered. Cover the pan with plastic wrap or transfer to a container or zip-type bag and refrigerate 4 to 6 hours.

Light a charcoal grill and once the coals are hot, spread on only one side of the grill to allow for an indirect cooking zone on the other side. If using a gas grill, light all the burners and heat grill to 450 degrees. Reduce heat to low before placing lamb on grill.

Place lamb directly over hot coals, cover with the lid and cook for 2 minutes. Remove lid and turn the chops, cooking on each side for about 2 minutes to sear each side. Cover with lid after turning each time.

Grill lamb until medium-rare, 8 to 10 minutes total, depending on size. Once browned on all sides, check internal temperature.

If the thickest part of the meat is within 5 degrees of medium-rare temp, rotate to the indirect heat zone. If using a gas grill, simply turn off one of the burners to create an indirect heat zone.

The chops should have an internal temperature in the thickest part of the meat of 125-130° for medium-rare, 135° for medium.

Once done, remove chops from grill, tent with foil, and allow to rest for 10-15 minutes. Serve with Béarnaise Sauce.
Notes
Total Time includes marinating, cooking and resting the meat.
Nutrition
Calories:
703
kcal
|
Protein:
37
g
|
Fat:
60
g
|
Saturated Fat:
26
g
|
Cholesterol:
167
mg
|
Sodium:
126
mg
|
Potassium:
491
mg
|
Vitamin C:
0.7
mg
|
Calcium:
38
mg
|
Iron:
3.7
mg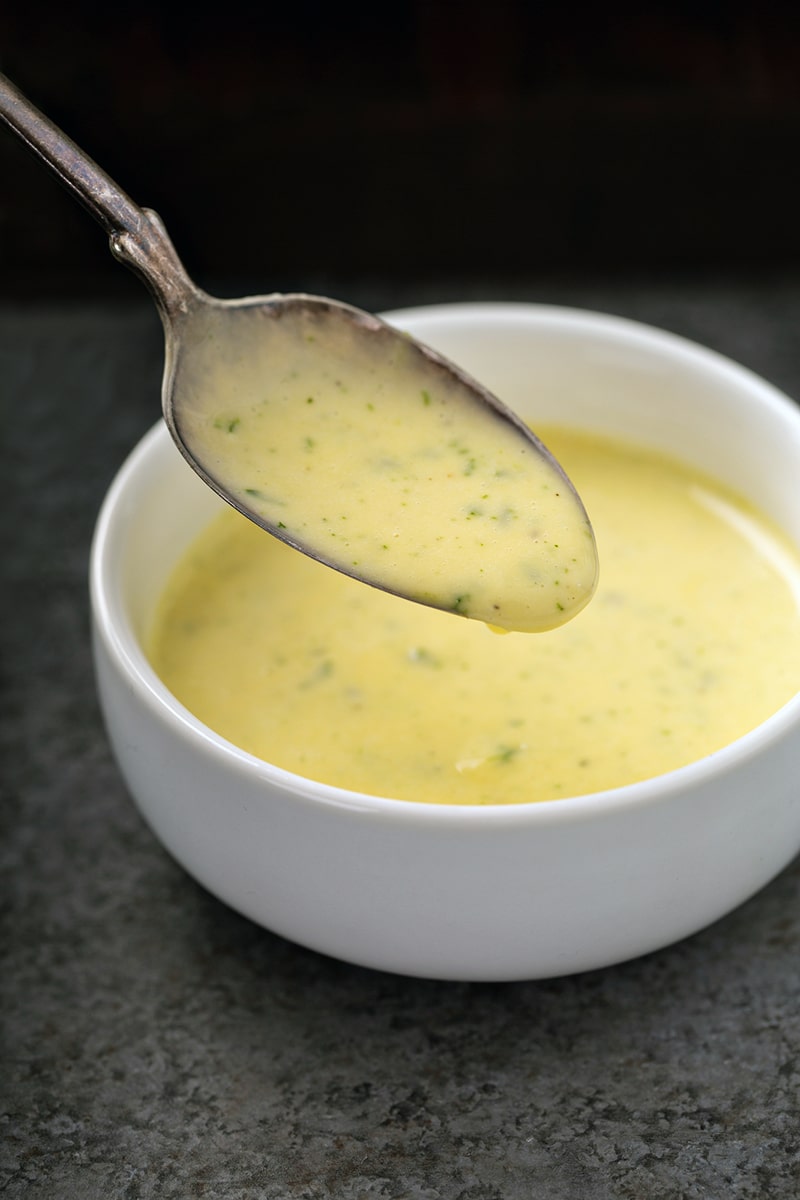 Bearnaise sauce is a classic sauce for grilled or roasted meats with the distinct flavor of shallot and fresh tarragon. This rich, buttery sauce complements lamb and grilled vegetables beautifully and you'll love this no-cook version.
Bearnaise can be made in advance and kept warm set in a hot water bath until ready to serve, or refrigerate and gently reheat before serving. Note: Raw egg is not recommended for infants, the elderly, and pregnant women. To minimize the risk of salmonella, use pasteurized eggs. Alternatively, the sauce can be gently heated.
Béarnaise Sauce
A classic rich, buttery sauce with savory shallot and the fresh taste of tarragon.
Ingredients
1/4

cup

fresh tarragon leaves

, coarsely chopped

2

small

shallots

, minced (about 3 tablespoons)

1/4

cup

dry white wine

1

tablespoons

champagne vinegar or tarragon vinegar

3

*egg yolks

8

tablespoons

melted butter

Pinch

White pepper

Sea salt

, to taste
Instructions
In a small saucepan, combine 2 tablespoons of the chopped tarragon, the minced shallots, 1 tablespoon vinegar, and 1/4 cup of wine over medium heat.

Simmer until reduced by about half–the easiest way to tell is to tip the pan to see the amount in the corner of the saucepan. Remove from heat and cool slightly.

In a food processor, blend 3 egg yolks, a pinch of white pepper, and the tarragon reduction. With the processor running, slowly add the butter in a steady stream until all 8 tablespoons have been added.

The sauce consistency should be like a thin gravy. For thicker sauce, gently heat the sauce on low in a saucepan while stirring constantly until desired consistency is reached.

Remove from the processor and whisk-in remaining fresh tarragon. Season with salt and pepper, to taste.
Notes
Sauce can be made in advance and kept warm set in a hot water bath until ready to serve, or refrigerate and gently reheat before serving.
*Raw egg is not recommended for infants, the elderly, and pregnant women. To minimize the risk of salmonella, use pasteurized eggs available in some supermarkets or easily pasteurize eggs at home. Alternatively, the sauce can be gently heated.
Nutrition
Calories:
1146
kcal
|
Carbohydrates:
18
g
|
Protein:
13
g
|
Fat:
111
g
|
Saturated Fat:
66
g
|
Cholesterol:
840
mg
|
Sodium:
888
mg
|
Potassium:
652
mg
|
Fiber:
2
g
|
Sugar:
4
g
|
Vitamin A:
4270
IU
|
Vitamin C:
10.4
mg
|
Calcium:
262
mg
|
Iron:
6.2
mg