With plenty of crunch and bright, herbaceous flavor, Fennel-Apple Slaw is a super-quick side dish that complements any meal.
This no cabbage, no mayo slaw is a fast family favorite and simple enough to invite them into the kitchen to "help."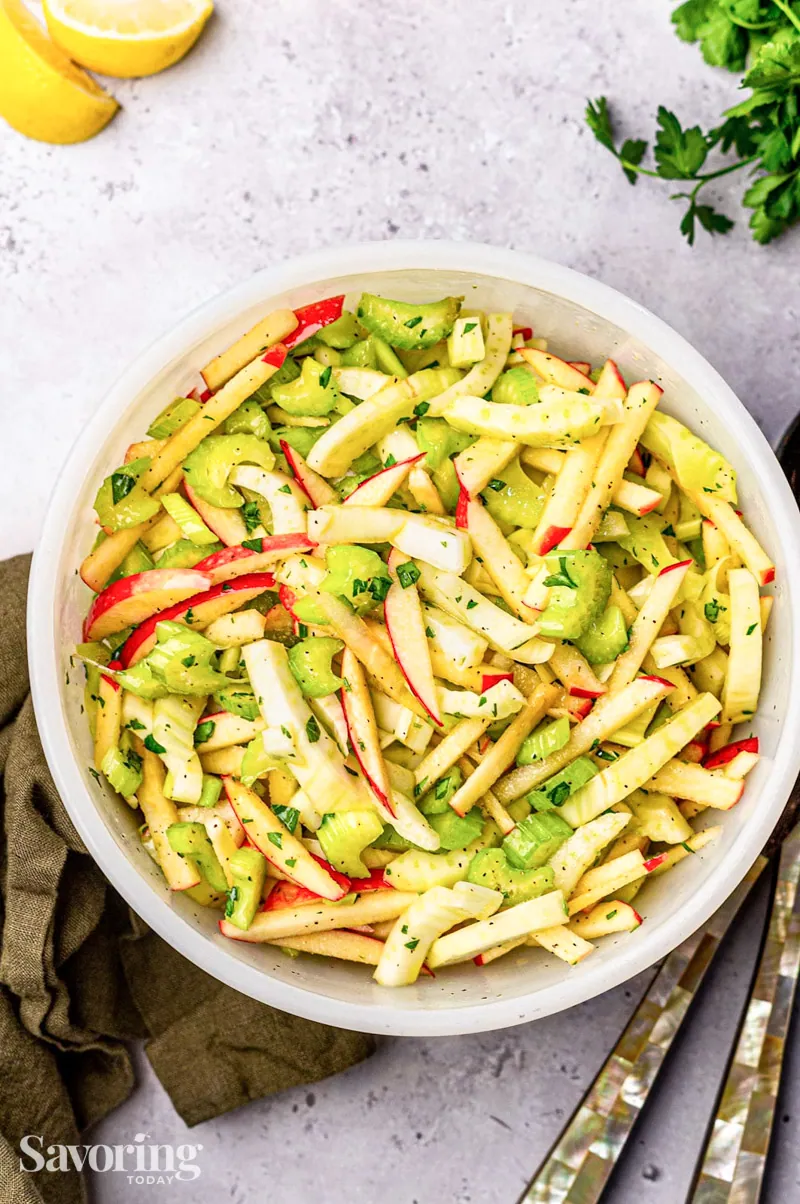 I love classic coleslaw—the crisp cabbage and tangy dressing—but regular coleslaw with raw cabbage can be challenging for some to digest.
Turns out, you can create a fantastic slaw without cabbage by simply chopping up any favorite produce to enjoy with your summer barbecue or roasted meats. Loaded with flavors and textures, this recipe goes beyond classic slaw with fresh apples, fennel, and celery tossed in a simple citrus dressing.
I like to use sweet-tart apples like Honeycrisp or Cortland because they have a firm texture like Granny Smith but a sweeter taste. I also like that their skin is red or pink, which adds to the beauty of the slaw.
The citrusy vinegar dressing has enough acidity to keep the apples from turning brown, and you won't be worried about creamy sauces sitting out for hours at parties.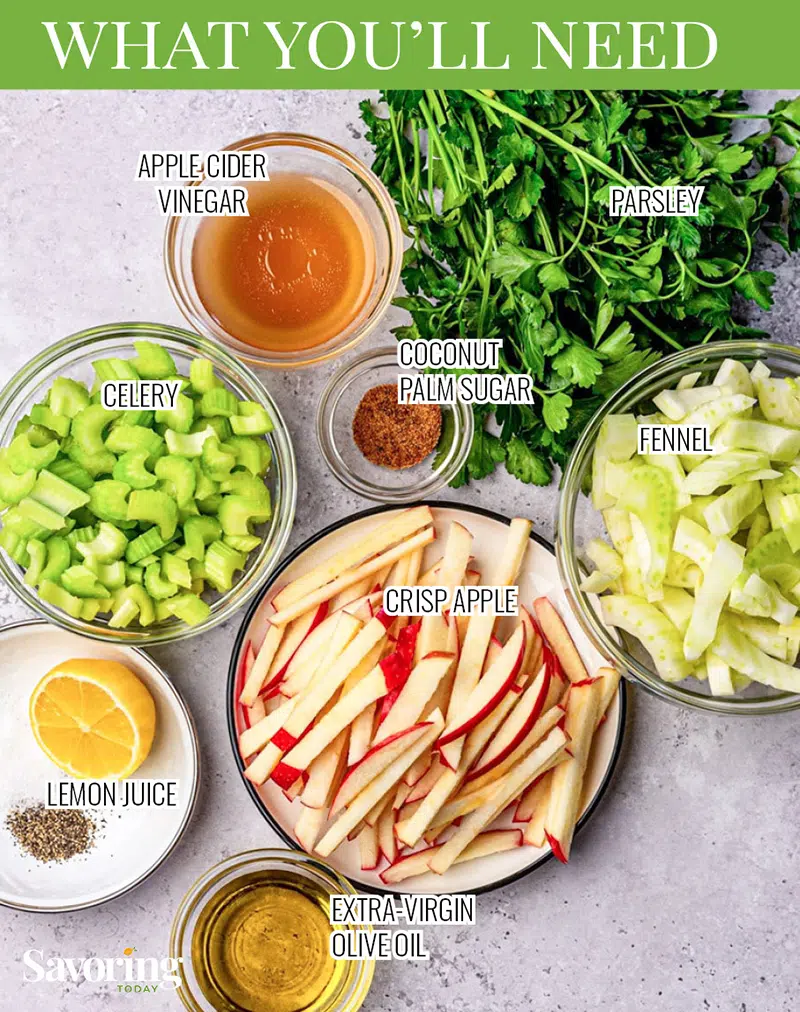 What is Fennel?
Fennel has a unique yet delicate flavor that goes so well in grilled vegetable medleys, juicy salads, and slaws. It tastes similar to anise, somewhat like licorice, with a hint of earthy sweetness.
Its bulb end looks like a cross between celery and onion with feathery fern-like leaves at the top of the stalks. We mostly just use the bulb and delicate leaves and discard or compost the stalks, which are pretty fibrous.
The BEST Apples for Fennel-Apple Slaw
Sweeter apple varieties include Ambrosia, Envy, Gala, Golden, and Fuji (Fuji will brown faster, so dress it quickly).
Sweet-tart apple varieties include Honeycrisp, Braeburn, Cortland, and Rave.
Tart, only slightly sweet apple varieties include Jonathan, Granny Smith, and Pink Lady.
I love the bit of color and the added fiber, so I always leave the apple peel on.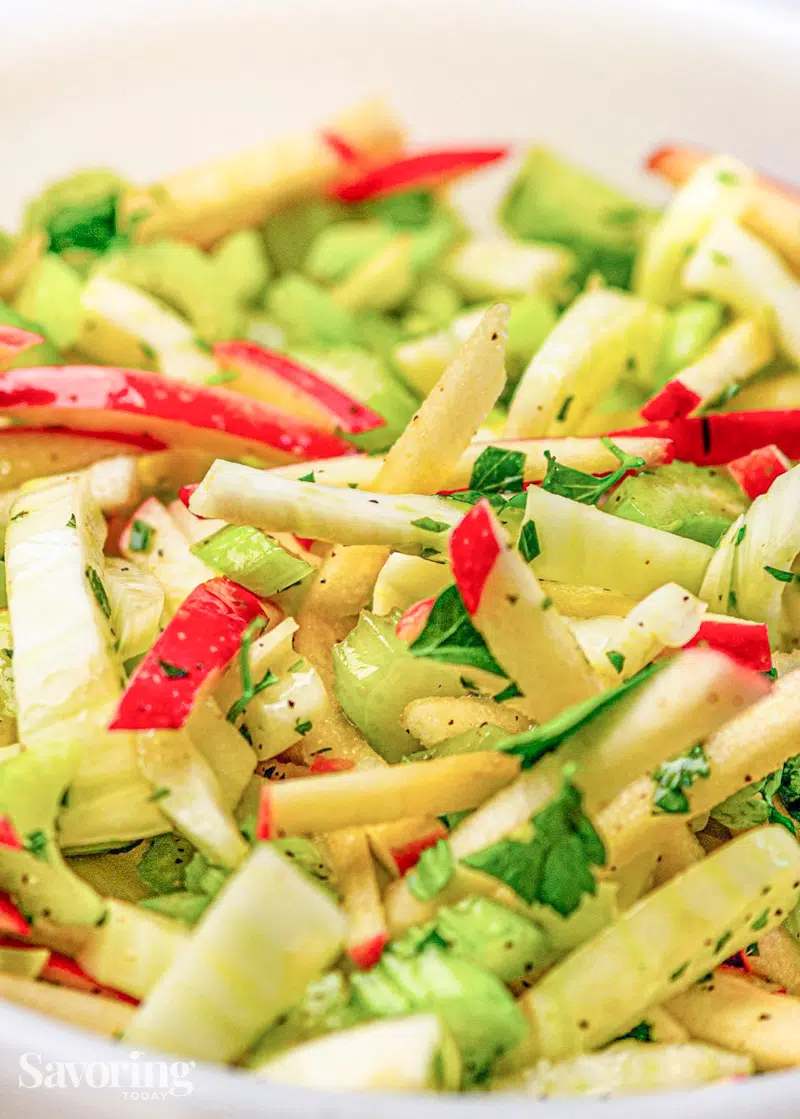 How to Make Slaw Crisp or Crunchy
The texture of this slaw relies on the crispness of the vegetables as well as how they are prepared. The more the cells of the fruit or vegetable that are ruptured (cut smaller) the softer and less crisp it will be.
Chopping the ingredients into larger pieces will maintain the most texture and crunch.
We use a combination of smaller, matchstick apples with chunkier pieces of celery and fennel in our Fennel-Apple Slaw recipe below.
You can easily create Crunchy, Crisp, or Softer slaw texture in the following ways:
For Crunchy Slaw—Chop into larger, chunkier pieces (1/4 to 1/2-inch) with a sharp knife.
For Crisp Slaw—Slice into 1/8-inch pieces (or matchsticks) with a sharp knife, spiralizer, or a food processor with a slicing blade (similar to the size of cabbage in a classic slaw).
For Softer Slaw—Slice ultra-thin with a sharp knife or use a box grater to shred into much smaller pieces.
Crunchy Fennel Apple Slaw

Step By Step
Whisk

the extra virgin olive oil, apple cider vinegar, fresh lemon juice, and sugar in a small bowl to make the coleslaw dressing.

Add

the fennel, apple, celery, and parsley.

Toss

to coat the vegetables and apple with the slaw dressing.

Season

with salt and freshly ground black pepper.
Recipe Variations
Substitute fresh mint, basil, cilantro, or leafy greens for the parsley
Substitute different apples based on desired sweetness or texture.

Granny smith apples lend a more sour note to the fennel slaw, while Gala apples are sweeter. 

Substitute any mix of vegetables like carrots, zucchini, golden beets, turnips, or leafy greens
Substitute orange or lime juice for the lemon juice
Change up the texture by chopping, spiral slicing, or shredding the ingredients
Spice it up with fresh jalapeno or red Thai chilis
Garnish with toasted nuts or seeds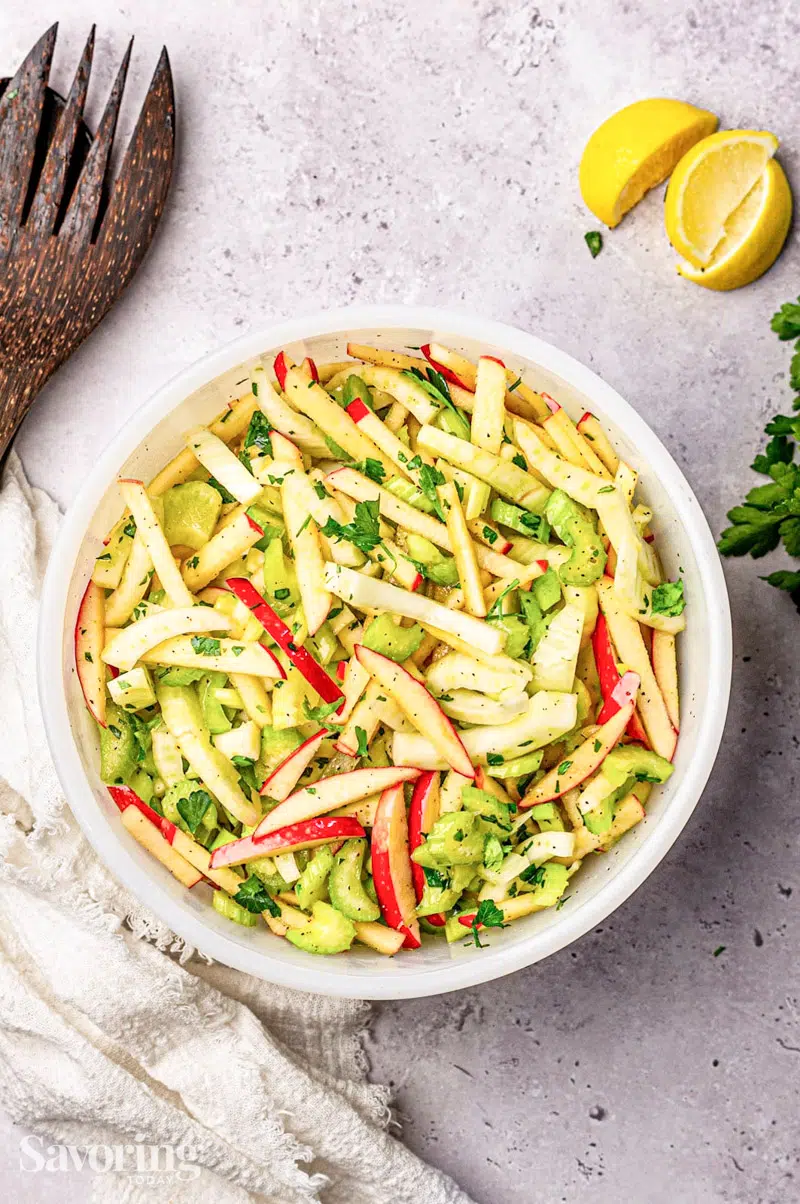 What To Serve with Fennel-Apple Slaw
This post may contain affiliate links. See our disclosure policy for more information.
Crunchy Fennel-Apple Slaw
A bright, slightly apple-sweet slaw with earthy notes of celery and fennel.
Ingredients
2

tablespoons

extra-virgin olive oil

, or flavored olive oil

2

tablespoons

apple cider vinegar

2

teaspoons

fresh lemon juice

, or lime, or orange

1

tablespoon

coconut palm sugar, or honey

, or sweetener of choice (to taste)

1

heaping tablespoon

chopped parsley

, or mint, or cilantro

1

large

fennel bulb

(or two small), thinly sliced or chopped

1

large

apple

(such as Pink Lady, Honey Crisp, or Granny Smith), cut into matchsticks

2

large

celery stalks

, thinly sliced or chopped

Kosher salt and freshly ground black pepper

to taste
Instructions
Whisk 2 tablespoons olive oil, 2 tablespoons apple cider vinegar, 2 teaspoons lemon juice, and 1 tablespoon coconut palm sugar (or honey) in a medium bowl.

Taste dressing and adjust for sweetness and tanginess, as desired, by adding more lemon or sweetener for balance.

Pour dressing over celery, fennel, apple, and parsley; toss to coat. Season to taste with salt and pepper.
Notes
Recipe Variations & TIPS
Substitute fresh mint, basil, cilantro, or leafy greens for the parsley
Substitute different apples based on desired sweetness or texture. Granny smith apples lend a more tart note to the fennel slaw, while Gala apples are sweeter. 
Substitute any mix of vegetables like carrots, zucchini, golden beets, turnips, or leafy greens
Substitute orange or lime juice for the lemon juice
Change up the texture by chopping, spiral slicing, or shredding the ingredients
Spice it up with fresh jalapeno or red Thai chilis
Garnish with toasted nuts or seeds
Nutrition
Calories:
141
kcal
|
Carbohydrates:
10
g
|
Protein:
2
g
|
Fat:
11
g
|
Saturated Fat:
2
g
|
Sodium:
68
mg
|
Potassium:
515
mg
|
Fiber:
4
g
|
Sugar:
1
g
|
Vitamin A:
635
IU
|
Vitamin C:
22.4
mg
|
Calcium:
65
mg
|
Iron:
1.3
mg