This Blackened Salmon with Spinach and Garlic recipe is a restaurant-quality dish anyone can make—even if you've never cooked fish before!
Five simple ingredients and 10 minutes is all you need to enjoy a healthy salmon dinner at home.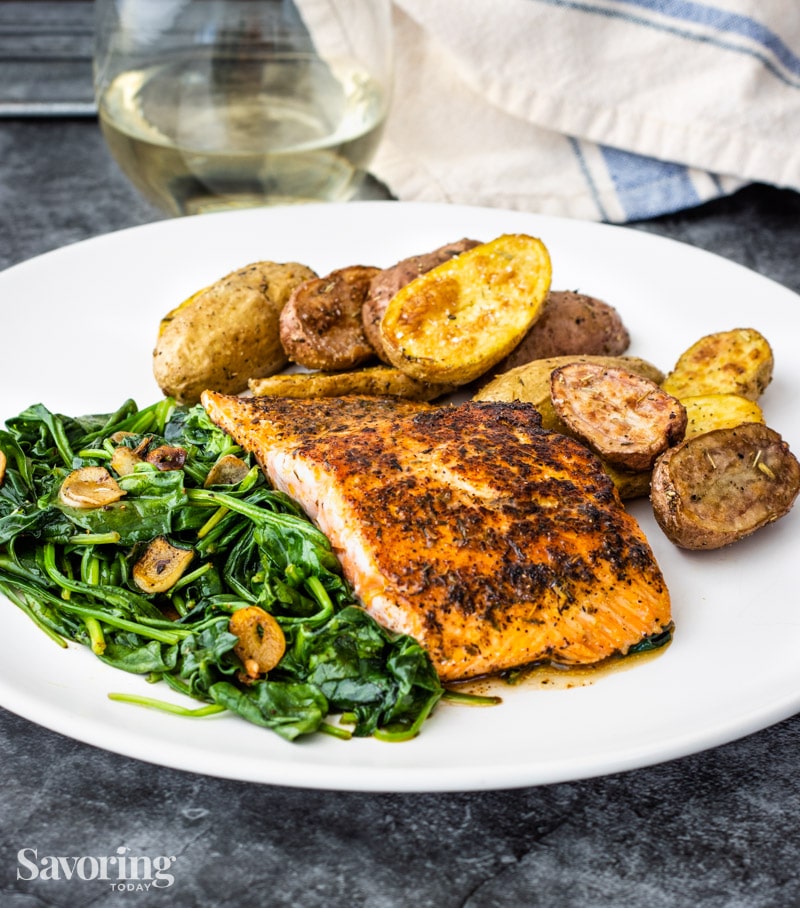 My first experience tasting blackened fish was in New Orleans and I was immediately hooked on the savory, spicy flavors so different from the usual dill or lemon offerings for fish.
Chef Paul Prudhomme created this blackening technique in the restaurant he and his wife K opened in 1979, and it became so popular he later sold the "magic" spice blends commercially.
I have used the Blackened Redfish Magic on fish like this salmon with spinach and garlic dish, but also on chicken, pork, and even in casseroles. Tasty, easy, like magic, I tell ya!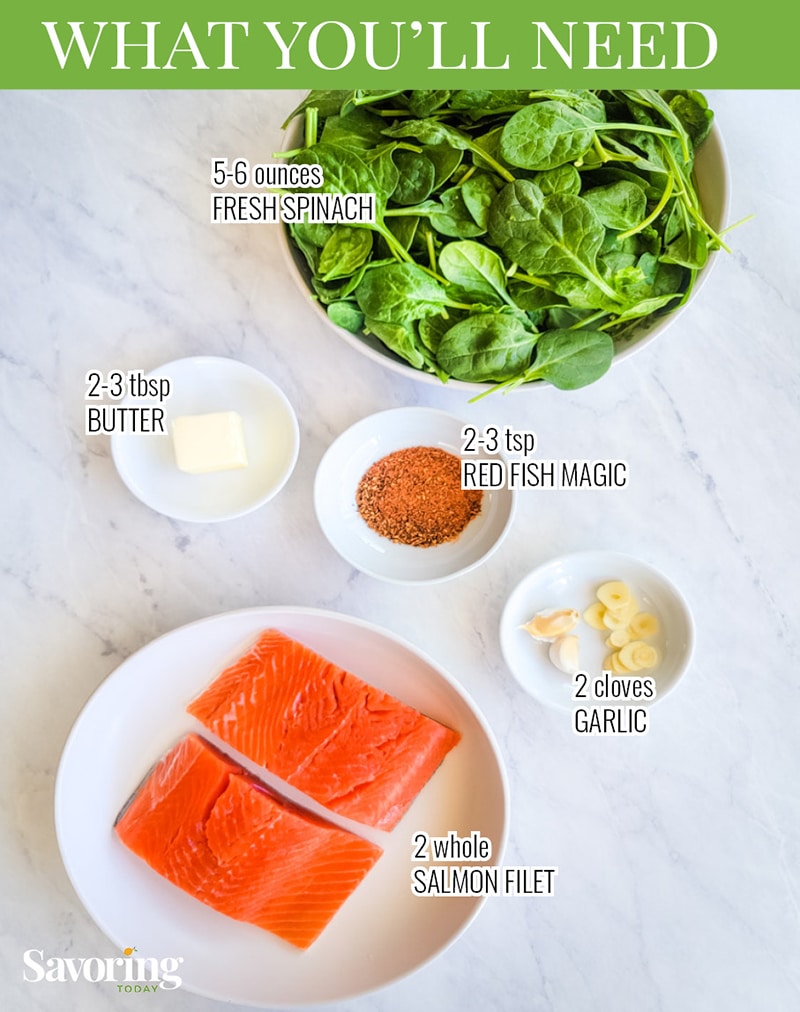 What is Blackening Seasoning?
Blackening seasoning is a unique mix of spices and herbs, including paprika, garlic, ground peppers (black, white, cayenne), thyme, and oregano you can even make for yourself at home (see our recipe notes).
Blackening seasoning is not the same as Cajun or Creole seasoning, as it highlights the flavor of paprika over the spicy heat of cayenne, so generally, it is not spicy.
What you may not realize is the seasoning is not what blackens so much as the milk solids in the butter used to dress the salmon just before seasoning.
The magic of "blackening" meat is the savory, toasted-spice flavor that happens when the spice is bloomed in the butter as it smokes in the skillet.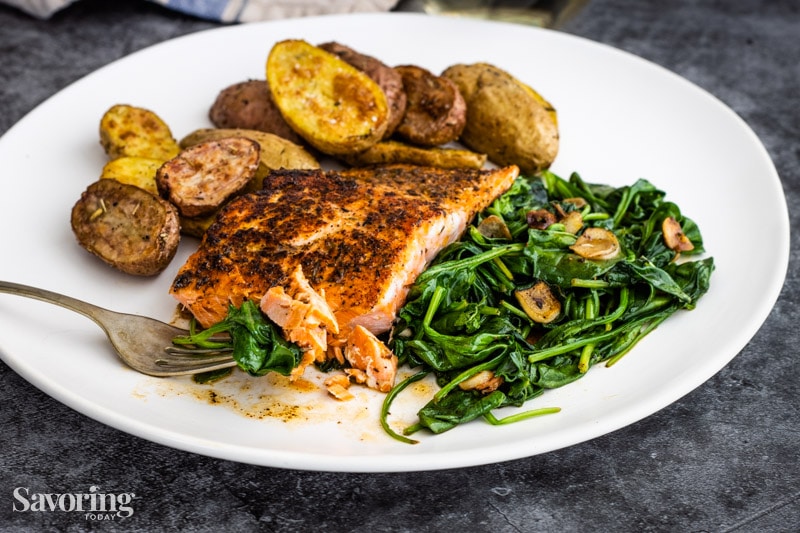 TIPS for Blackened Cooking
Blackening is not burning. The goal is to sear proteins just slightly past the browning phase so that the elements of charred flavor (smoky, earthy, robust) are mixed and balanced in a deeply browned, almost black crust.
Cast iron is the ideal skillet to use for blackening because it retains heat for proper browning and searing.
Meats should be thin and quick-cooking (an inch or less thickness).
Brush on the butter rather than dipping. This helps control the amount of smoke.
Start with a hot skillet and keep a watchful eye. This cooking method is fast and goes from blackened to burnt in less than a minute.
It's okay to turn the heat down after the first sear. This will reduce the smoke yet still yield beautiful results.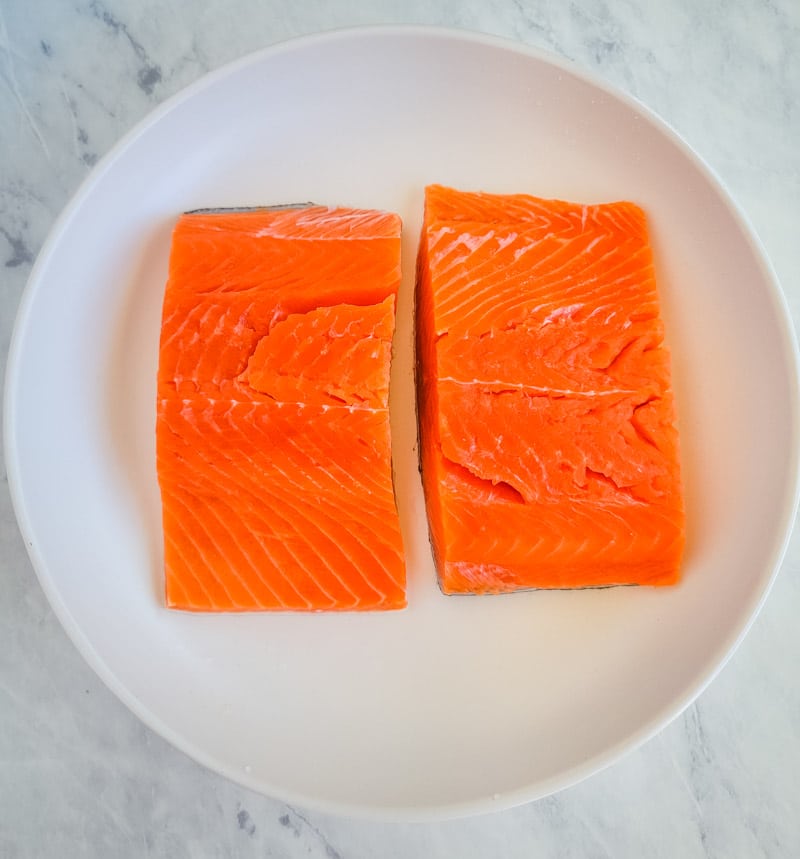 How To Buy Salmon
The Salmon fishing season is brief. Chinook (king), sockeye (red), and coho (silver) salmon are available fresh from May to September. Every hour past being caught, salmon loses some level of freshness and quality. This is why most of what is sold in stores has been previously frozen to retain freshness whether it is farmed or wild-caught, in the freezer or cold case.
TIP: If you are fortunate to have a fresh fish market, ask for filets to be cut from the head end, or better yet, the fatty middle. Most fish counters will happily oblige cutting a piece from the head end where it is meatier but may grumble if you ask for it cut from the middle. The middle is where all the delicious salmon belly fat is.
When Frozen is Better Than Fresh
Being landlocked here in Colorado, I buy frozen wild-caught salmon rather than looking in the "fresh" case. Unless you are shopping close to the source, fresh is simply "thawed" and you can never be certain how long it has been out.
When buying frozen salmon or any fish, look for fillets frozen in individually vacuum-sealed pouches. These individually frozen pieces will be better protected from freezer burn and can easily be separated to defrost just the right amount.
Salmon fillets or steaks both work for this recipe, however, if buying salmon steaks you will want to pay closer attention to any bones, especially small pin bones. Pin bones might be soft and edible, but they're not pleasant and can still be a choking risk.
TIP: It is not recommended to re-freeze fully thawed raw fish products. Read more about storing and thawing salmon.
Why Use Wild-Caught Salmon?
Fish is one of those areas of life where it is best to go wild. Wild-caught salmon is rich in omega-3 fatty acids and is superior in taste to farm-raised, which can be a host for unwanted contaminants.
While wild-caught salmon will cost more per pound, the health benefits far outweigh the price difference. One of the ways we try to off-set the cost is to reduce portion size (we can all eat a little less here in the U.S., right?), look for seasonal sales, buy in bulk, or ask a fishmonger about seafood trimmings (the scraps from fish, trimmed for the display case).
How Much Salmon Per Person?
A reasonable portion of salmon is 6 ounces per person, though that may seem like a petite portion for someone in sports or growing teenagers. When our kids were young, they usually split a single fillet that size. Keep in mind fish does shrink a bit when cooked, so it's never quite as much as it seems to be when raw.
This post may contain affiliate links. See our disclosure policy for more information.
TIPS for Cooking Fish So It's Never Dry
Brine the fish before cooking. If your nervous about cooking fish without drying it out, check out our grilled salmon recipe for brining instructions. Brining the salmon enhances its natural flavor, helps keep it moist, and diminishes the white albumin film that sometimes forms as it cooks.
Watch it closely. Fish goes from perfectly tender and moist to dry and overcooked in less than a minute. NOTE: It's best to get side dishes or sauces ready before your fish meets the heat.
Use a timer and an instant read thermometer for accurate doneness. You can pierce the flesh with a sharp knife to peek inside to make sure it's barely translucent, but a thermometer is faster and more reliable.
Serve fish with a sauce (just like they do in restaurants) if you're worried about overcooking it.