Our easy Goat Cheese Stuffed Chicken Breasts look impressive on the plate and are quick and simple to prepare.
It's also super-easy to customize because everyone likes different flavors, right?!
In this recipe, we keep it simple with an added layer of roasted green chiles but also give you lots of ideas for creating your favorite flavor combo!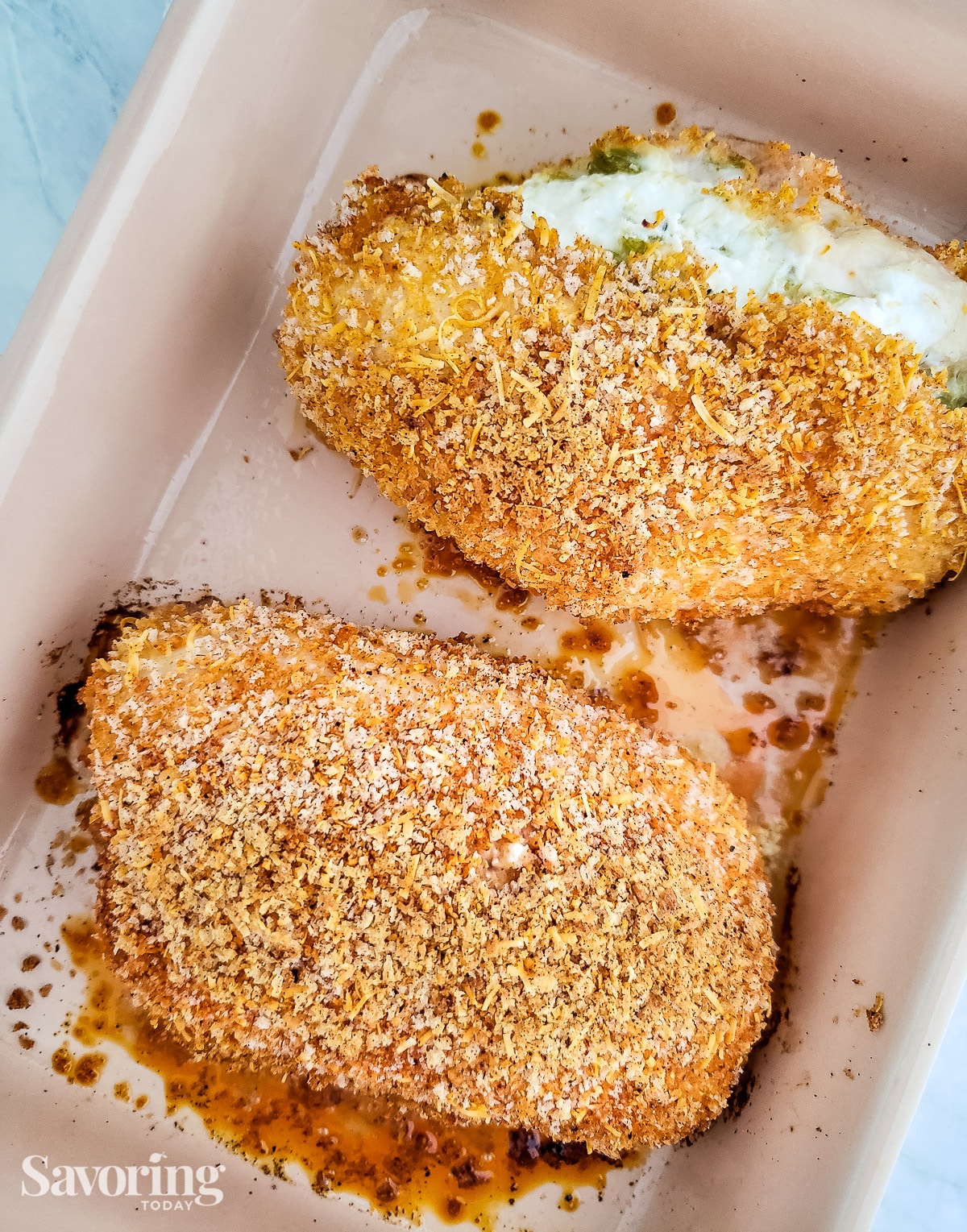 Stuffing chicken breasts with tangy goat cheese and spicy green chiles goes a long way to keeping baked chicken breasts moist and tender.
Goat cheese is excellent to bake with; its creamy texture melts well when baked, allowing the other flavors to meld into it. Your family will love the oozy, molten, cheesy center.
And did I mention how easy they are to make? Just 4 simple steps—flatten, stuff, roll, and bread.
And to make weeknight life even easier, these stuffed chicken breasts are great for make-ahead meals, so there's nothing left to do but bake and serve when you're ready.
Make-Ahead Stuffed Chicken Breasts
Make-ahead proteins make weeknight dinners a breeze, and this Goat Cheese Stuffed Chicken recipe has been a regular part of our meal rotation for years.
There are two ways to prep and freeze this recipe.
Prep the entire recipe as written; instead of baking, place the rolled and breaded chicken into a freezer zip-type bag, and freeze.
STEPS FOR DEFROSTING AND BAKING: (1) Spray an oven-safe baking dish with cooking spray and place frozen chicken rolls seam-side down in the dish. Cover the dish with wrap and defrost in the refrigerator overnight. (2) Remove the covering and place the dish in a cold oven and set it to bake at 350°F for 45 minutes or until 160° internal temp with an instant-read thermometer. (Transferring the chicken to the dish while frozen will retain more of the coating.)
Prep the recipe through STEP 5. Transfer the stuffed, rolled chicken to a freezer zip-type bag. Transfer the crumb mixture to a separate freezer zip-type bag. Mark the bags to indicate they go together and freeze. Defrost in the fridge overnight and roll the chicken in butter and the crumb mix before baking as directed in the recipe. (This method will result in a crispier crust when baked.)
For more information on how to get ahead with all your meal prep, click on the link to our Monthly Cooking Meal Prep Course, where I teach meal planning with freezer meals.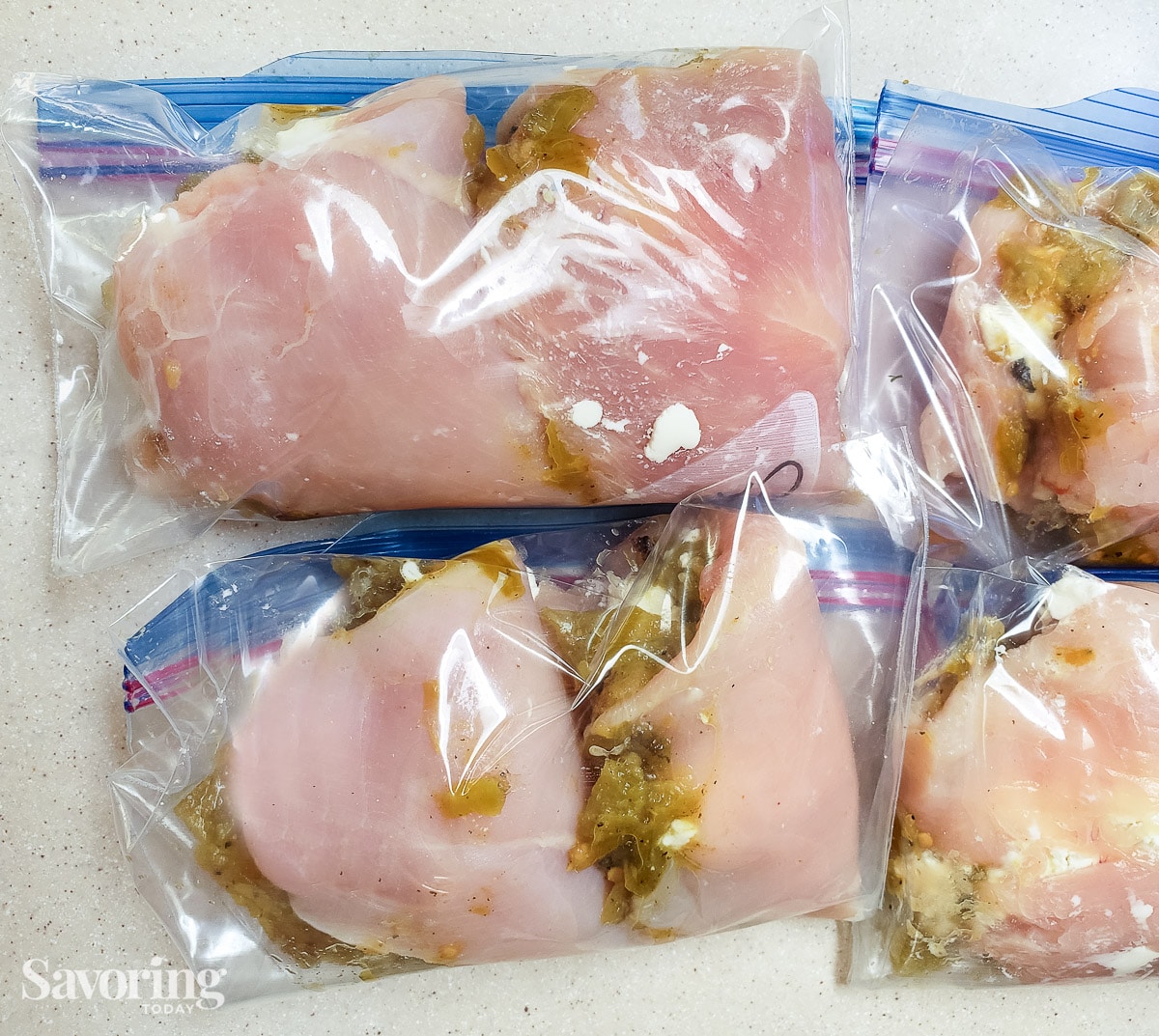 How to stop the cheese from melting out of stuffed chicken?
There is no one way to deal with oozing cheese because every type of cheese has different melting properties. The goat cheese we use in this recipe will melt without being runny, so while some may leak at the edges, most of it stays in place.
My perspective on this topic is, what's wrong with oozing cheese?
The bits of browned cheese in the pan is the yummiest part, so I don't worry too much about it. However, if you're using mozzarella or brie, it can get pretty runny.
Three suggestions for containing melted cheese:
Dust the stuffed side of the chicken with flour, which helps keep the melting cheese in place.
Use toothpicks to secure the seam.
Wrap the chicken breasts in either Parma ham or thin slices of pancetta, taking care to cover the seam.
STEP BY STEP
Mix breadcrumbs, cheese, and other seasonings in a shallow dish.
Melt butter in another shallow bowl.
Flatten the thicker part of the chicken breasts with a mallet so that each piece is even in thickness.
Spread equal amounts of goat cheese and green chiles on each chicken breast.
Roll the meat over the stuffing.
Dip the chicken roll in the melted butter to coat and then into the breadcrumb mixture, pressing the crumbs against it to adhere well.
Place the chicken seam-side down into a prepared baking dish and bake at 350°F for 30-40 minutes or until the chicken reaches an internal temp of 160°F (check with an instant-read thermometer).
TOP TIP: An instant-read thermometer is a must-have kitchen tool for checking the internal cooking temperature of the meat.
Why do you flatten the chicken breast?
Chicken breasts have a large thick end and a thinner end. When cooked, the thick end may still be raw in the center, while the thin end is overcooked and dry.
You can avoid this by flattening the meat out with a mallet and ensuring an even thickness across the breast—this will also help it roll around the stuffing more easily.
There are two ways of creating thinner even pieces of chicken breast—with a mallet or by cutting the chicken in half with a sharp knife, as shown in the image below.
Customize the Stuffing
In our Goat Cheese Stuffed Chicken, we use a combination of goat cheese and roasted green chiles to form the base of our stuffing.
The key is to use ingredients that are dry rather than too wet, like wilting and draining spinach or roasting mushrooms, to remove moisture before stuffing.
You can easily adapt the flavors within your stuffing by changing up the cheese and or the add-ins.
Types of cheese that work well for stuffed chicken breasts:
goat cheese
cream cheese
Monterey Jack
fontina
feta (blocks in brine, not crumbled)
brie
gouda (young, not aged)
Gruyere
Swiss
provolone
muenster
blue cheese
mozzarella
Flavorful add-ins that work well for stuffed chicken breasts:
roasted bell peppers
olives
wilted spinach
roasted garlic
sun-dried tomatoes
pesto
caramelized onion
sauteed mushrooms
artichokes
capers
fresh herbs
cooked vegetables like broccoli or asparagus
ham or cooked bacon
pepperoni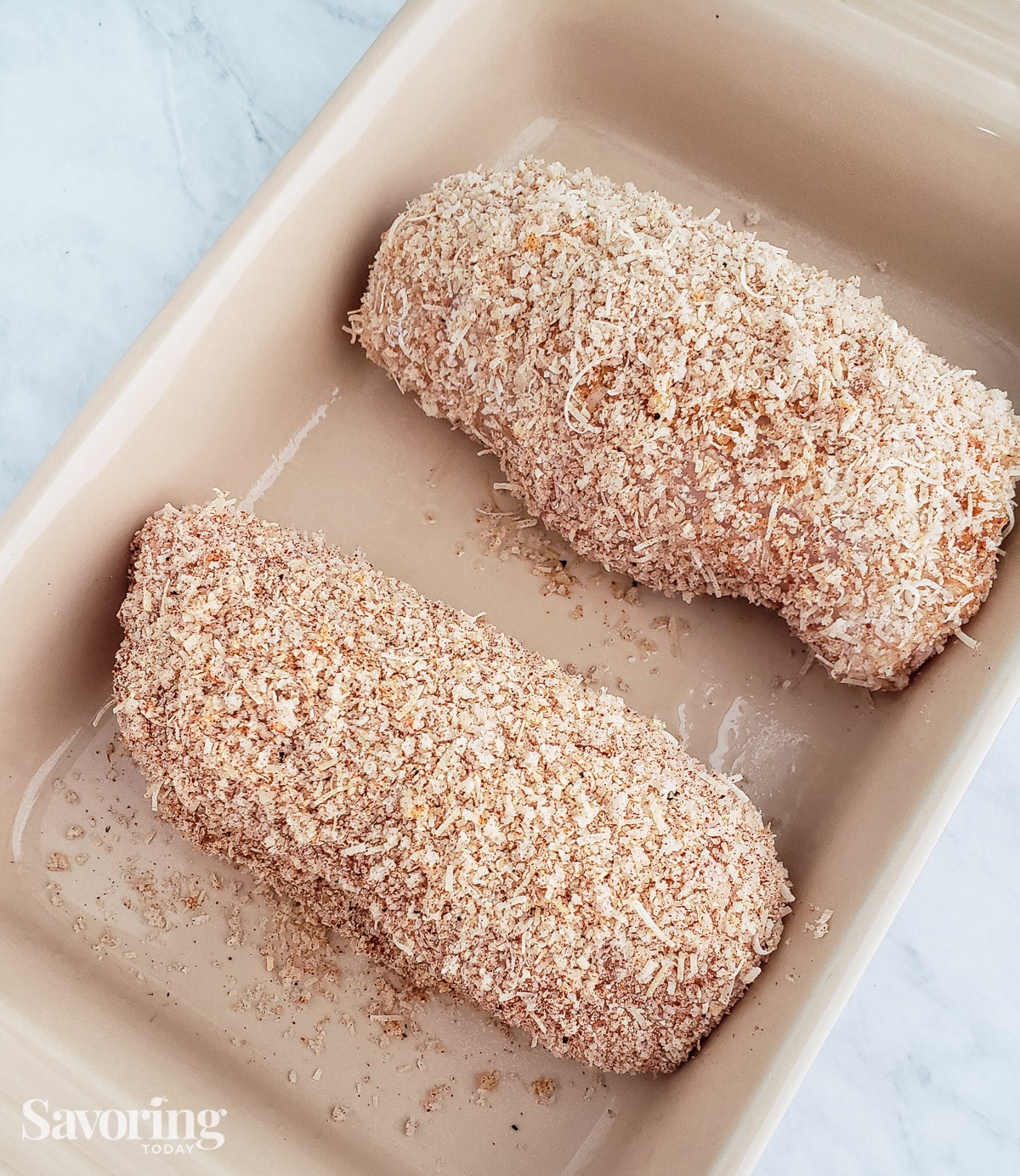 TOP TIP: For a great tasting low-carb alternative, leave off the breadcrumbs and wrap the Cheese Stuffed Chicken Breast with thin layers of prosciutto instead.