Over the next eight weeks it will be a pleasure to introduce you to a few of the bloggers I adore. Actually, if I were to string together guest posts of all the bloggers I admire, you wouldn't hear from me again until late summer. Ah, summer … that word sounds so good right now! 
Thank you all for your comforting well wishes as I approach and recover from surgery, I will  let you know how I'm getting on as the weeks pass. 
Our guest today is April at The 21st Century Housewife
I began working with April as a co-host for Hearth & Soul Hop several years ago and during that time had the privilege of sharing bits of life as Facebook friends. April's blog, The 21st Century Housewife continues to be one of my favorites to visit as she shares inspired tips and trends for anyone who loves food, cooking, entertaining, fashion, travel & the finer things in life. One of my blogging buddies across the pond, I always enjoy following her travels and perspective and I think you will too.
It didn't surprise me when April offered to write a post about helping someone recovering from surgery, she's like that, always willing to reach out with a helping hand. She has timely and practical advice to share here today.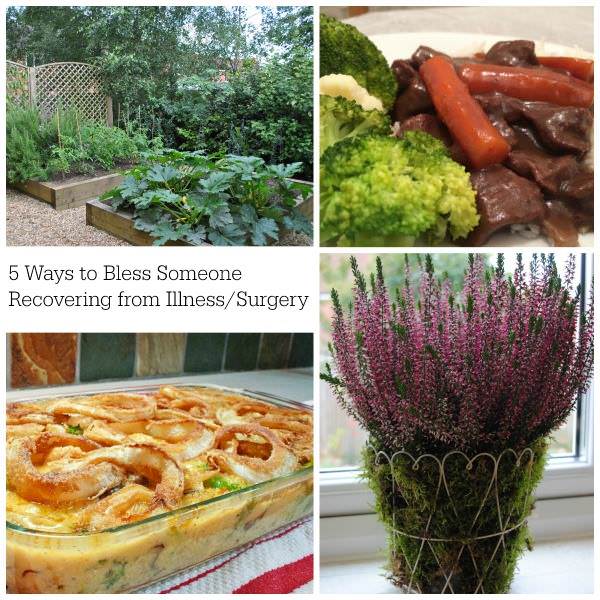 5 Ways to Bless Someone Recovering From Illness or Surgery
Hello there! I'm April of The 21st Century Housewife and I've been a friend and fan of Judy's for some time now. I'm so pleased Judy asked me to write a guest post. I'm based in England and it's lovely have a way to provide a bit of support to Judy from far away while she recovers. 
There are many seasons in our lives and when we find ourselves facing one that includes health issues it can be incredibly daunting. The support of friends and family means everything at times like these. However sometimes it can be hard to know how to support those we love. How much support is enough and how much is too much? After all, rest is part of healing and it's hard to do that with a house full of people. Having said that, you don't want to be alone all the time either.
It's important to communicate with your friend or family member to find out what they need and how much support they feel comfortable accepting, recognizing it may not be the same as what you feel you might require in a similar situation. Equally, it's important for the person facing the health issue to be honest with their friends and family about what they need and want without worrying about hurting people's feelings. Both parties need to bear in mind this may change during the course of the recovery.
There are all sorts of practical and comforting things we can do to show we care, here are just a few.
Flowers
This may seem like an obvious idea but what I'm talking about isn't necessarily a bouquet from a florist – although that can be very nice particularly if you live far away. What I'm thinking of here is simply bringing a bit of the outdoors in by picking a few flowers from your garden and popping them in a clean jam jar. Or give a small plant that doesn't require a lot of care or watering.  Flowers have always been a symbol of hope and renewal and provided there are no allergies to consider, they are almost always a very welcome gift.
Handwritten Letter
The days can be long when you are resting and recovering so it's lovely to have something to read when you feel up to it. While there's absolutely nothing wrong with email, there is still something very special about the act of writing, sending and receiving a hand written missive by traditional mail. Choose a pretty card or stationery and just share the news of the day. It's easy to feel out of touch when you are not feeling well.
Meal Ministry
If you live close to the person who is recovering, there's nothing nicer than making a meal for them. Double your favorite casserole recipe and take one round. You can even include some home baked cake or cookies if you like. Be sure to choose a recipe that doesn't have to be eaten the day it is prepared so that it can be stored in the fridge or freezer if necessary.  Try my Boeuf Bourguignon or Judy's Chicken Broccoli Casserole.
Running Errands or Helping with Children
If you have kids of school age, how they are going to get to school or to the school bus while you recover can be a huge worry.  Offer to help with the school run, take kids to after school activities and provide childcare so it's possible for your friend or family member to rest. Also everyone needs errands run from time to time – doing the weekly shop, collecting dry cleaning, and offering to help can be a wonderful gift to the person recovering as well as to their family.
Help with Practical Tasks
Offer to help with practical tasks like cleaning and gardening. These are the tasks we worry about and feel we ought to be doing when we are resting. Knowing they are being taken care of can provide real peace of mind.
Your Presence
Just having someone nearby in case you need something can be such a boon when you are recovering. You don't have to sit with the person every minute; this is a great opportunity to ask them if there is any cleaning they would like doing or if there are any errands you can run for them. Always be sure the person is feeling up to visitors before you go.
It is amazing how small acts of kindness can lift the mood and even help to speed their recovery. Whether you live nearby or far away, there's always something you can do to support those you love during difficult times. It doesn't have to be a grand or expensive gesture. Even the smallest act of kindness can make a huge difference.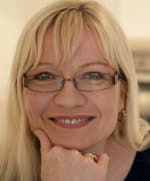 April Harris is a housewife and mother living in Berkshire, England who is passionate about  encouraging others to live life to the full. She shares information, tips and trends for everyone who  loves food, cooking, entertaining, fashion and travel at The 21st Century Housewife.