The title is a bit long-winded; hopefully you didn't miss the part about the cauliflower crust. Cauliflower, you say?
I do say, and all my husband could say was "mmm" and "this is my favorite way to eat cauliflower." (He's not a fan of the white stuff.) He gave it a 9 out of 10, which is sayin' something around here.
I discovered the recipe on Recipegirl.com, who discovered it on Eat-Drink-Smile.com, who discovered it on a low-carb message board posted by the original recipe developer, Jamie VanEaton of Your Lighter Side.  Jamie has done some amazing things with vegetables as low-carb mainstays; this is just one of her brilliant ideas.
Brilliant, because it works. Really.
The crust does not have the classic pull or chewy texture of regular dough crust; it is more delicate and soft with a crisp edge and quite flavorful. Since mozzarella cheese is a sizable part of the crust ingredients, as the crust browns the flavor of browned cheese is pronounced. If you're like me, that's a good thing. (I love the crisp cheese at the edges of nachos and pizza so much I am always sure to spill a little for those choice tidbits.) We enjoyed this pizza so much we had it twice last week, inviting a friend over for lunch and she loved it too.
Super Bowl eats?  Of course, everybody loves pizza!  I wouldn't consider it finger food—you will want to serve it with a plate and fork since the crust is so tender.  Basil, tomato, goat cheese, and sautéed mushrooms is my personal favorite, but like any pizza, you can customize the toppings to suit your preference. The process may feel a little funky baking the crust before adding the toppings, but the results are absolutely delicious.
It is a perfect crust for gluten-free and grain-free folks as well, so if you know someone who has been missing pizza because they can't eat the crust, pass this along, they will love you for it.  Better yet, make it and invite them over—food always tastes better when shared.
Adapted from Original Cauliflower Crust Pizza Recipe, used with permission.
Basil, Tomato & Goat Cheese Pizza with a Cauliflower-Mozzarella Crust [Gluten-Free]
A delicious gluten-free cauliflower pizza crust topped with Tomato, Basil and Creamy Goat cheese!

Servings:
2
Servings (1 9 -11 inch pizza)
Ingredients
For the crust:
2

cups

cauliflower -- grated

2

tablespoons

coconut flour

2

whole eggs -- lightly beaten

1

cup

mozzarella cheese -- grated

1

teaspoon

dried oregano

1

teaspoon

garlic

(about 1 large clove) -- minced

1/4

teaspoon

sea salt

olive oil
For the toppings:
pizza sauce -- any favorite

mozzarella cheese

(about half a cup)

sautéed mushrooms with sliced garlic cloves

goat cheese -- crumbled or in small dollops

grape tomatoes -- sliced

basil -- whole fresh leaves

Pecorino Romano -- shredded

(for the finishing touch)

olive oil -- drizzled on top
Instructions
Preheat oven to 450° and position rack in the lower third of the oven.

Using a box grater, shred fresh cauliflower until you have 2 cups. Spread cauliflower in the bottom of a dry cast iron skillet and cook on medium heat for 6-8 minutes, stirring frequently, as cauliflower moisture evaporates. Cauliflower will lightly roast, but that is okay.

Pour cauliflower out of skillet onto paper towels and let cool. Once cooled, squeeze any additional moisture out of the cauliflower within the paper towels.

Mix cooled cauliflower, coconut flour, cheese, oregano, garlic, and salt until blended. Stir in eggs until all ingredients are combined.

Lightly brush olive oil on a non-stick pizza pan or line other types of pizza pans with parchment paper. Press crust mix out on pan to form a 9"-11" crust. Size can vary.

Place crust in the oven and bake 12-15 minutes in the lower part of the oven (this will help the crust brown on the bottom), until the crust is light golden brown.

Remove crust from oven, position rack in the middle, and turn oven on broil.

Arrange sauce on crust and spread almost to the edge. Sprinkle a layer of mozzarella (about a quarter cup), add sautéed mushrooms and garlic, grape tomatoes, goat cheese, and basil, as desired.

Sprinkle additional mozzarella on top. Finish with Romano cheese and drizzle lightly with olive oil.

Return pizza to the oven and broil until toppings are hot and cheese is melted.
Notes
If desired, the dry cauliflower can be placed in the microwave for 7-8 minutes instead of using a skillet.
Nutritional Value is for Crust only.
Nutrition
Calories:
292
kcal
|
Carbohydrates:
11
g
|
Protein:
21
g
|
Fat:
18
g
|
Saturated Fat:
9
g
|
Cholesterol:
207
mg
|
Sodium:
751
mg
|
Potassium:
423
mg
|
Fiber:
5
g
|
Sugar:
3
g
|
Vitamin A:
615
IU
|
Vitamin C:
52.1
mg
|
Calcium:
347
mg
|
Iron:
2
mg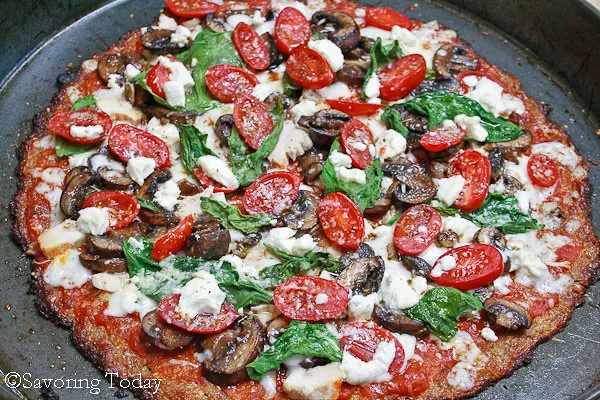 Shared on the following Blog Hops:
Mom Trends Friday Food
The 21st Century Housewife Gallery of Favorites
Real Food Forager Fat Tuesday
The Nourishing Gourmet Pennywise Platter Thursday
Real Food Whole Health Fresh Bites Friday