Summer means different things to different people. For some, it's time to head to sandy beaches, for others, the mountains call for epic hikes. Gardeners are either trying to survive drought or torrential rain, or in our case here in Colorado, the threat of hail. If summer has a sound it would be a mix of hissing water sprinklers, barking dogs, ice dropping in a glass, and the sizzle of food's first kiss on hot grill grates.
For me, the warm invitation of this season means a fresh coat of red polish on my toes, vibrant blooms in the garden, a full hummingbird feeder, long evenings on the deck, arms full from the farmers market, early morning walks, and a hot grill for fast and easy dinners. Since we are talking summertime in America, burgers top the list of quick and easy meals.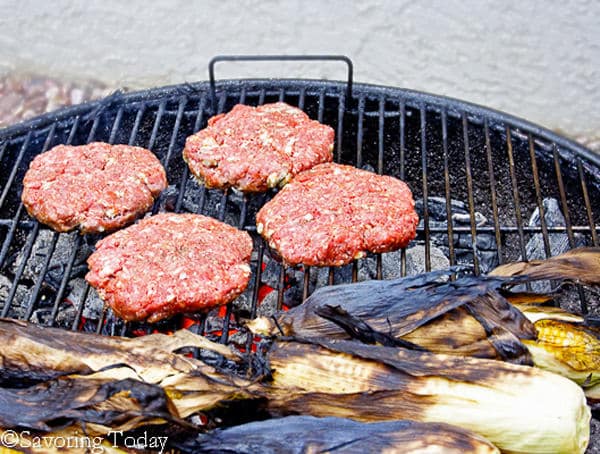 Blue cheese is my all-time favorite burger add-in, providing a flavor one-two punch that requires little else than hot coals. In this case, you don't even need a bun. Gluten-free doesn't have to mean choosing a sub-par bun to enjoy a good burger. In this recipe, we forgo the bun and embrace ripe summer tomatoes for our blue cheese burger to rest on and avocado as a topper. Without the distraction of condiments, the choice of ground meat is especially important, as is trusting the source if you like them cooked less than well-done, which we do. Don't be tempted by lean options either, 80% lean is ideal for burgers, even when you're adding blue cheese.
Grilled sweet corn is another marker of warm weather goodness and its natural sweetness brings balance to a savory burger. It can be a little intimidating to try and remove hot charred husks straight from the grill, but we have some tips for saving your hands without letting the corn cool so much the butter doesn't melt. Oh yes, sweet cream butter. I'm a purist here, nothing but butter for me, but feel free to sprinkle your favorite chile or curry powder, sharp cheese, or herb butter on top just before serving.
Print
Blue Cheese Burgers [GF]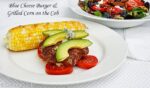 Buns are an option, but we think these savory blue cheese burgers are delicious without them served over summer-ripe tomatoes and topped with avocado.
Author:

Judy

Prep Time:

5 mins

Cook Time:

15 mins

Total Time:

20 minutes

Yield:

2

Category:

Main Dish

Cuisine:

American
Ingredients
2/3 pound ground chuck — 80% lean is ideal
1/3 cup blue cheese + 1 tablespoon for garnish — crumbled
1/2 teaspoon paprika — optional
1/2 teaspoon sea salt & pepper
1/2 teaspoon papper
1 large tomato — or 2 small-medium — sliced 1/4″ thick
1 whole avocado — sliced 1/4″ thick
Instructions
In a mixing bowl, break ground meat apart and line the bottom of the bowl so it is loose and spread out. Sprinkle 1/3 cup of crumbled blue cheese over the meat and gently mix into the meat with a fork or with your fingertips. Separate the mixture and form into approx 1/3 lb patties and place on a platter. Sprinkle with paprika, salt, and pepper on both sides. Make a small indentation in the center of the patty with your thumb about 1/4″ deep — this will help the patty keep its shape when grilled.
Grill burgers over high heat or directly over hot coals until seared well and the meat releases easily from the grill, about 4-5 minutes on each side and cooked through. If using a meat thermometer, the inside temperature should be 125° for rare, 140° for medium, 155-160 for well done. When done, let rest on a platter tented with foil for 5 minutes.
While the burgers are resting, arrange the sliced tomatoes on plates for each burger. Sprinkle salt and pepper over tomatoes. Place burgers directly on tomatoes and top with 2-3 slices of avocado and a few crumbles of blue cheese.
Notes
Choosing quality meat is important to a great tasting burger. If you cannot find ground chuck, ask the butcher to grind it for you and make sure it is no more lean than 85% — 80% is ideal.
**The USDA recommends 160 degrees for all ground meat. We prefer our burgers cooked medium rather than well done, but we feel more confident in the meat we purchase from local butchers. Another option to reduce risk is to purchase whole muscle meat, cut it into 1 inch cubes, add small cubes of butter if it's lean, then place in the freezer for about 30 minutes until it is slightly hardened on the edges, yet still pliable. Pulse in a food processor until it resembles ground meat, 10-15 pulses.
Print
Grilled Corn on the Cob
Author:

Judy

Prep Time:

15 mins

Cook Time:

15 mins

Total Time:

30 minutes

Yield:

2

Category:

Side Dish

Cuisine:

American
Ingredients
4 ears sweet corn — in the husk
1/4 cup butter — softened
Instructions
Heat a gas or charcoal grill for 15 minutes or until hot (about 400°). Place corn on the grill directly over the heat and cook for about 15 mintues. Watch for flare-ups and rotate the corn once the husks begin to blacken so that it cooks on all sides and most of the husks are charred or at least well browned.
Remove from the grill and let cool slightly on a baking sheet. Wearing cooking gloves or heavy neoprene-type gloves to protect your hands, peel away the husks from the corn and place corn on a platter with the butter. The easiest way to do this to grasp the husk with fingertips at the tip of the corn and peeling down. Once all the husk is at the bottom of the cob, grasp the cob with one hand and the husks in the other and twist the husks off of the cob like you're wringing water out of a towel. Don't worry too much about bits of husk or silks that may cling to the corn, it's easier to remove those once it's all shucked and you're not wearing gloves.
When all the corn in on the platter, roll in the butter and serve.
Notes
It is not necessary to soak the corn in water before grilling, unless your grill tends to have hot spots that are difficult to control. Also, it is not necessary to remove the silk from the corn either, as it can help keep the corn from drying out.
We served these with a salad as well, but that isn't always the case. We're not above skipping the salad for just burgers and corn. Yes, three ears of corn per person is probably over the top, but we are happy to indulge during peak season.
I'd love to know, what does summer mean to you?