Lately, I've been cooking like my hair is on fire. I have a self-imposed deadline of March 31 to finish writing my first cookbook, even if it kills me. (If you don't hear from me in April, that's why.) In the midst of proofing recipes for the book, a friend was looking for ways to replace or reduce the cream in a soup she recently made and loved. My first thought was, why would you do that, it's the cream that makes it taste so good. However, she is trying to eat real food—instead of non-fat, zero calorie crap—and also maintain dietary goals she has set for herself. My second thought was a cream sauce made with cauliflower to use as a substitute.
More vegetables is always a good thing, right?!
So I started with Alfredo because if I could enjoy an Alfredo using cauliflower to replace heavy cream as the main ingredient, adding it to soups or other sauces should be a slam dunk. Inspired by Bon Appetit's Parm Broth and Pinch of Yum's Creamy Cauliflower Sauce, the mixing, measuring, and blending ensued. The upside is this deliciously creamy Cauliflower Alfredo Sauce recipe that I believe will satisfy the most discerning palate. The downside is it took almost an hour to make, when my regular Alfredo Sauce is done in under 30 minutes. It was important to me to infuse as much of the Parmesan flavor as possible and use a few of the (gazillion) Parmesan rinds I have saved. However, to reduce the cooking time, you can substitute chicken or vegetable broth for the Parm Broth. Doing so, you may need to add more cheese.
Creamy, luxurious sauce from cauliflower? Absolutely. 
Another friend recently posted on Facebook, "So far, none of the cauliflower food hacks have been worth altering the perfectly good head of raw cauliflower I start out with. Except using it in place of rice." I'm sure you've seen your share too. But if you're trying to shave a few calories or want more vegetables in your diet (or hide them from your kids), this is your chance. The rich, smooth quality of this Cauliflower Alfredo is a worthy food hack. Serve over your favorite pasta or spiralized zucchini noodles for an even healthier dish. The savoriness of the sauce will work in most soups just as it is, and because of the Parmesan, will add an umami quality as well. But if you're looking for a cream substitute without the cheese flavor, omit the cheese and lemon juice. In order to achieve an ultra-smooth sauce, use a high-powered blender or food processor.
Have you tried any cauliflower food hacks? Did they work?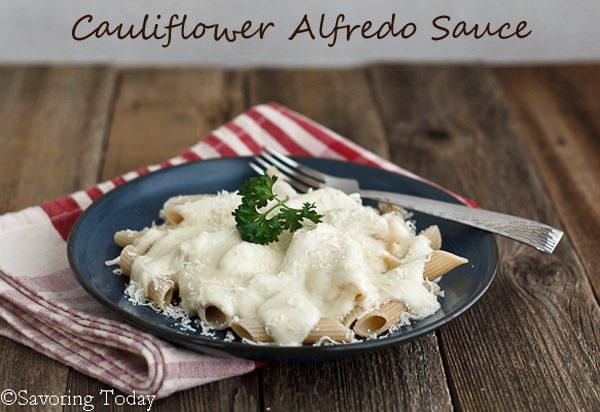 Cauliflower Alfredo Sauce
A deliciously creamy Alfredo sauce to satisfy the most discerning palate.
Ingredients
For the Parmesan Broth:
2

tablespoons

extra virgin olive oil

1/2

large

sweet onion

, coarsely chopped

5

cloves

garlic

, sliced

1

whole bay leaf

1

tablespoon

fresh parsley leaves

2

tablespoons

white wine

4

cups

water

5

ounces

Parmesan rinds
For the Sauce:
2

tablespoons

butter

2

tablespoons

minced sweet onion

2

teaspoons

minced garlic

5

cups

chopped cauliflower

, 1" pieces

1/2

cup

grated Parmesan cheese

1/2

cup

grated Romano cheese

2

tablespoons

heavy cream

, optional

2

tablespoons

lemon juice

1/2

teaspoon

ground black pepper

Salt

, to taste
Instructions
Heat the oil in a wide skillet (12 inches or larger) over medium heat. Cook onion, garlic, bay leaf and parsley in the oil, stirring occasionally, until garlic begins to brown, about

5 minutes

.

Add the wine and allow to cook for 30 seconds, then add the water and Parmesan rinds. Bring to a boil, then reduce heat and simmer for

30 minutes

, uncovered. Stir occasionally to loosen cheese from bottom of skillet if needed.

Strain Parmesan broth through a fine mesh strainer into a measuring cup and discard solids. This should yield 2 cups of broth.

In the same skillet, saute minced onion and garlic in the butter for

2-3 minutes

. Add the Parmesan broth and cauliflower; bring to a boil. The broth will not quite cover the cauliflower. Cover, reduce heat and simmer on low for

10 minutes

, or until cauliflower is soft.

Carefully transfer the cauliflower and all the liquid from the skillet to a blender or food processor; puree until smooth.

Return the puree to the skillet over low heat and whisk-in the cheeses, heavy cream, lemon juice, and pepper until smooth. Taste and salt as desired.
Notes
Substitute chicken or vegetable broth for the Parmesan broth.
Nutrition
Calories:
382
kcal
|
Carbohydrates:
14
g
|
Protein:
15
g
|
Fat:
29
g
|
Saturated Fat:
14
g
|
Cholesterol:
62
mg
|
Sodium:
610
mg
|
Potassium:
582
mg
|
Fiber:
3
g
|
Sugar:
4
g
|
Vitamin A:
690
IU
|
Vitamin C:
94.1
mg
|
Calcium:
443
mg
|
Iron:
1.2
mg
Shared on the following Blog Hop:
Hearth & Soul Hop