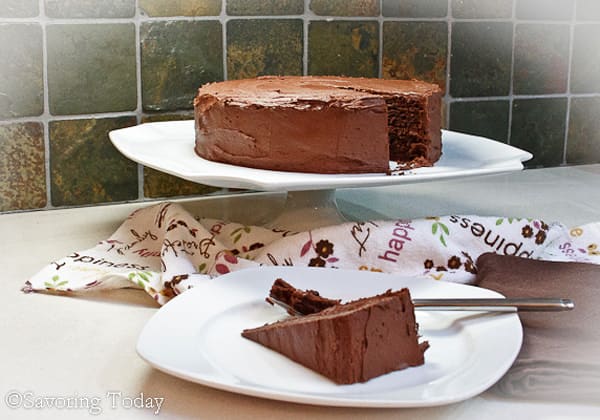 It is worse than "the holidays", I tell ya. From mid April through the first of June, it is six straight weeks of parties, cakes, and special dinners, lined-up one behind the other around here. Only this year, it started in March and will turn out something like this—bridal shower, bridal shower, wedding, wedding, bridal shower, Easter, birthday (mine), birthday (hubby), Prom, birthday (daughter), Mother's Day, wedding, graduation party, birthday (friend's 50th), graduation party, Memorial Day weekend, birthday (Mom). Whew!
If life were a train ride, right now we are riding the Celebration Express.
This Chocolate Cake with Chocolate Buttercream Frosting [Gluten-Free] was for Kayla's 21st birthday. I'm not exactly sure how that happened so fast … parenting is definitely the high-speed train, milestones pass by quickly. She is clever and witty, always making me laugh. She is bold, shy, adventurous, cautious, bright, and beautiful, always the artists, and true to herself. We are proud of her and the young woman she has become. She gave me permission to share a few photos: 🙂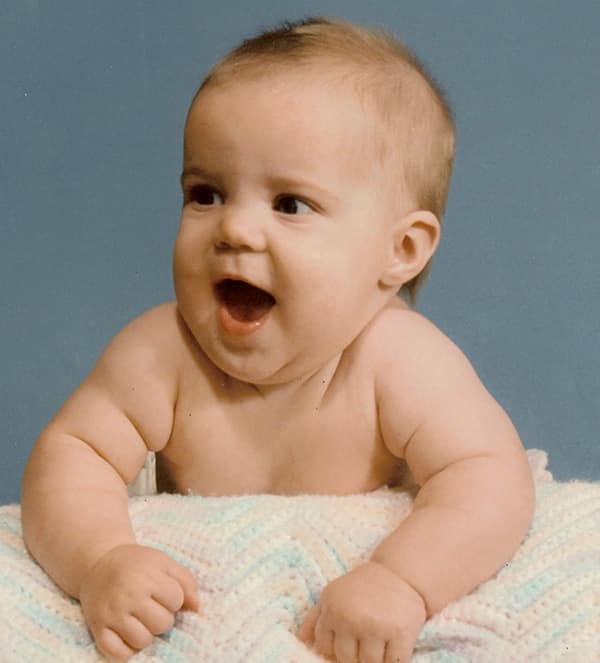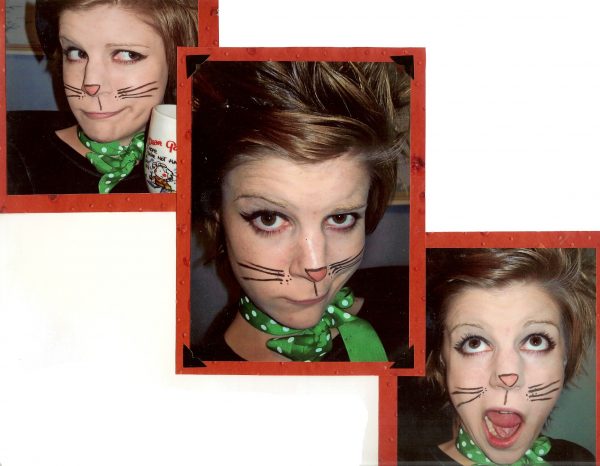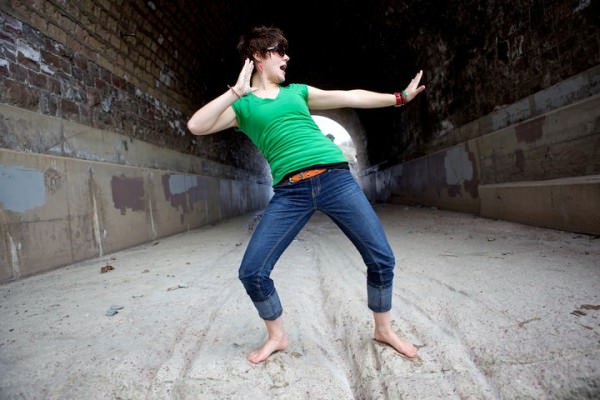 Shaving her head was on her bucket list … she held off as long as she could, one bad perm is all it took to convince me. I should have known it would all be alright, she was beautiful without hair at 6 months, why not at 20?! What we didn't know is that it would be the highlight of our July 4th barbecue. This was not the first time our kids used their own bodies as a canvas for their paint … she named this one "self portrait".
Do you remember being 21 and wondering what might be just ahead?
Thanks for allowing me to indulge in a quick jaunt down memory lane. :')

Now back to the cake!
Kayla has been on a gluten-free journey since last summer. I call it a journey because she hasn't gone in for testing, but based on her symptoms, it is likely she is gluten intolerant and feels tons better when she avoids it. Even though she made no effort to go gluten-free for the rest of her birthday indulgences, I still made a GF cake so she could enjoy it over several days. All I had to do was find a good recipe, which is not as easy as you might think. Recipes can vary widely and I was trying to avoid exotic flour combinations. After comparing half a dozen "ultimate" "best" and "amazing" recipes, I decided to adapt one from King Arthur Flour. After the Limoncello Tiramisu I was a little nervous about trying a new recipe for a birthday dessert, but I've learned to have a back up plan—dessert at the restaurant.
Rich, fudgy, the texture somewhere between cake and a brownie, it reminded more of a torte. Ghirardelli Buttercream Frosting topped it off with creamy, buttery, chocolaty perfection. She loved it! Everyone loved it. You'd think it would be safe, you know, leave the GF goodies for those who need it. Not a chance! Chocolate cake this good is fair game once the birthday passes … it almost disappeared before I could get photos!
Oh, did you hear that whistle? Yep, that's the Celebration Express sounding off for departure again, next stop Mother's Day!
Adapted from King Arthur Flour Gluten-Free Chocolate Cake
Chocolate Cake with Chocolate Buttercream Frosting [GF]
Moist, rich chocolate cake with chocolate buttercream frosting will make everyone happy--especially your gluten-free friends. Just be nice and make sure they get a piece!
Servings:
2
Cakes (8 or 9 inchs)
Ingredients
For the Cake:
1 1/2

cups

King Arthur Gluten-Free Multi-Purpose Flour

1

cup

Dutch Dark Cocoa or Dutch-process cocoa -- check brand for GF

2 1/2

teaspoons

baking powder

1/2

teaspoon

salt

1

teaspoon

xanthan gum

1 1/2

cups

sugar -- divided

2/3

cup

butter -- softened

4

large eggs

1

cup

buttermilk

1/3

cup

water

2

teaspoons

vanilla extract -- gluten-free
For the Chocolate Buttercream Frosting:
6

tablespoons

butter -- softened

2 2/3

cups

powdered sugar

1/2

cup

Ghirardelli Unsweetened Cocoa

½

teaspoon

instant espresso

1/3

cup

milk

1/2

teaspoon

vanilla extract
Instructions
For the Cake:

Preheat the oven to 350°F. Prepare two 8" or 9" round pans with cooking spray and lining the bottom of each pan with parchment.

In a medium mixing bowl, whisk together the multi-purpose flour, cocoa, baking powder, salt, xanthan gum, and 1/2 cup of the sugar.

Place the butter and 1 cup of the sugar in the bowl of a mixer and beat until light and fluffy, about 2 minutes. Add the eggs, buttermilk, water, and vanilla into your mixer bowl, and mix until well blended.

Blend in the dry ingredients 1 cup at a time, beating for 1 minute and scraping the bottom and sides of the bowl after each addition.

Once all of the dry ingredients have been mixed in, beat at medium-high speed for 2 minutes, to make a smooth batter.

Pour the batter equally into the prepared pans. Using a kitchen scale helps to get the batter evenly divided.

Bake the cakes for 30 to 33 minutes, about 3 to 4 minutes past the point where a toothpick inserted into the center of one comes out clean.

Remove the cakes from the oven, and let cool in the pan for 10 minutes. Turn pans over onto a rack and cool cakes completely.

Once cooled, frost cakes, or serve with a dusting of powdered sugar or whipped cream.
For the Chocolate Buttercream Frosting:
In bowl, beat butter until light and fluffy. In a separate bowl, mix confectioner's sugar with cocoa and espresso.

Add vanilla to milk. Blend sugar mixture with butter and vanilla milk, alternating between the two, beating well after each addition. Beat until smooth.
Nutrition
Calories:
2743
kcal
|
Carbohydrates:
425
g
|
Protein:
39
g
|
Fat:
121
g
|
Saturated Fat:
71
g
|
Cholesterol:
597
mg
|
Sodium:
1758
mg
|
Potassium:
1843
mg
|
Fiber:
31
g
|
Sugar:
319
g
|
Vitamin A:
3680
IU
|
Calcium:
621
mg
|
Iron:
14.3
mg
Shared on the following Blog Hops:
Premeditated Leftovers Gallery of Favorites
Mom Trends Friday Food