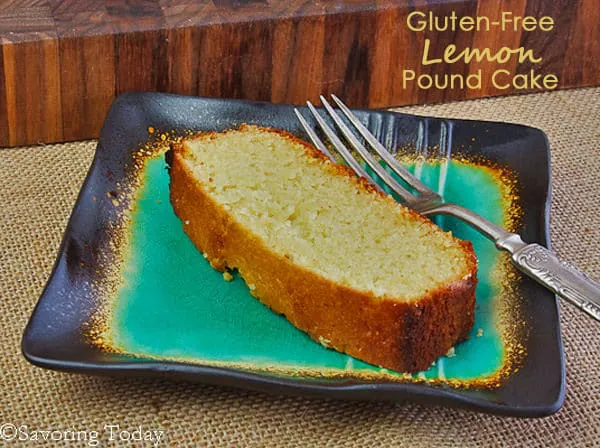 Lemon Pound Cake is a versatile treat to enjoy with a cup of afternoon tea or dressed up for birthdays and holidays.
Even better, this one is gluten-free, and sugar-free, and dairy-free, so it works for friends with dietary limitations too. There is almond flour, so it is not appropriate for someone with nut allergies.
I made this cake for a friend's birthday brunch. She was feeling a little grumpy about the restrictive diet she was trying to follow to treat a medical issue, knowing her birthday was coming.
No one looks forward to birthday cake that doesn't taste special. So she and I narrowed it down to something lemon and luxurious. No sugar, no gluten, and no dairy were the challenge and it had to taste so good she would feel like it was an indulgence.
Normally, I would top off a lemon pound cake with lemon icing, but to keep it sugar-free, I had to go in a different direction.
Whipped cream … dairy, hmm. I'd seen coconut whipped cream, but hadn't tried it.
Boy was I missing out! I fell in love with coconut whipped cream during this exercise and will not hesitate to make it again to top fresh berries, pies, crisps, and the like. Seriously, it's delicious.
So I started baking, and whipping, and baking, and tasting … I had it. How did I know? Because my tasting staff (Matt) asked for more and he's not even the lemon lover that I am. Most important, my friend loved it and her birthday celebration. ♥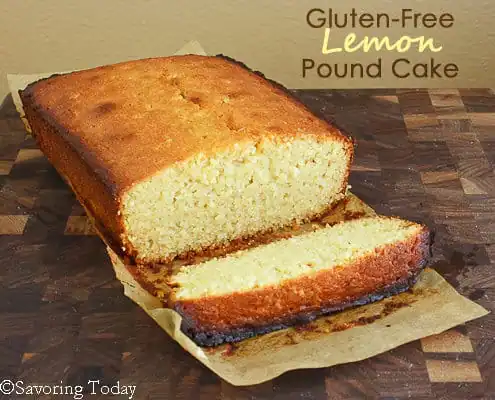 The original recipe includes butter, but no other dairy, which worked for her. To make it completely dairy-free, see the recipe notes which also include adjustments for adding other sweeteners.
Funny thing about proofing recipes, it is best done without distractions.
When making the recipe with coconut oil instead of butter, the math side of my brain was on vacation, so I ended up adding twice the amount of oil than needed.
Luckily I had enough to double the rest of the ingredients, but then I had two pound cakes.
Two more pound cakes on top of the three I made to create the recipe. Thankfully, the neighbors helped save my hips from the glut of lemon cake … what are friends for, right?
This distinctly lemon, buttery pound cake, topped with coconut whipped cream, is worthy of a celebration. You'll forget about all the things it doesn't have because it has the one thing we all can savor—it tastes good.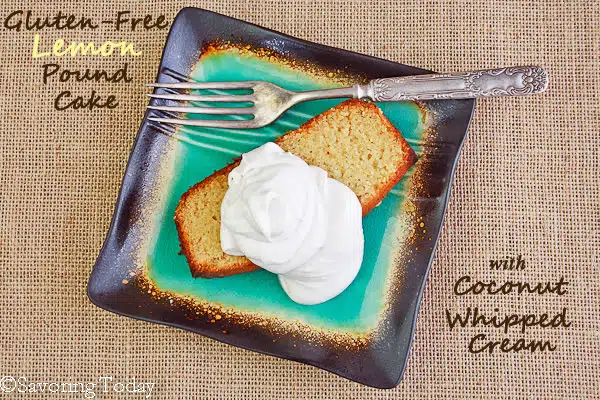 Gluten-Free Lemon Pound Cake [Sugar-Free and Dairy-Free Options]
This distinctly lemon, buttery pound cake, topped with coconut whipped cream, is worthy of a celebration. You'll forget about all the things it doesn't have because it has the one thing we all can savor—it tastes good.
Ingredients
8

tablespoons

butter -- softened

, plus more for greasing pan

2

large eggs -- room temperature

2/3

cup

coconut milk -- full-fat

3

teaspoons

lemon zest -- 1-2 lemons

4

tablespoons

lemon juice -- 1-2 lemons

(of those used for zest)

1

teaspoon

lemon extract

1/2

teaspoon

vanilla

1

cup

almond flour

1/2

cup

King Arthur Gluten-Free Flour Mix

1/4

cup

coconut flour

2/3

cup

xylitol -- Xyla brand

(hardwood derived)

1/2

teaspoon

stevia -- Sweet Leaf brand

1

teaspoon

baking powder

1/4

teaspoon

sea salt
Instructions
Preheat oven to 350°F. Mix the butter, egg, lemon zest, lemon juice, lemon extract, vanilla, and coconut milk until combined.

In a separate bowl, whisk together flours, xylitol, stevia, baking powder, and salt until well blended. Add the dry ingredients to wet ingredients and beat until smooth and the consistency of cake batter, about 2 minutes.

Use butter to grease a 8X4 or loaf pan, then line the bottom of pan with parchment (parchment can run up the sides), this will ensure a clean release. Pour batter into pan and bake until golden, 45-50 minutes.

A toothpick inserted in the loaf should come out mostly clean with maybe a single crumb clinging to it, but not coated with batter. Once removed from the oven, allow to cool in pan for 15-20 minutes. Remove loaf from the pan and cool competently on wire racks.

Serve with whipped coconut cream or dairy whipped cream.
Notes
Make this dairy-free: substitute 6 Tablespoons of coconut oil or ghee for the butter. Make this with sugar: substitute 3/4 cup of honey or sugar as a substitute for the xylitol and stevia.
Nutrition
Calories:
276
kcal
|
Carbohydrates:
12
g
|
Protein:
6
g
|
Fat:
24
g
|
Saturated Fat:
12
g
|
Cholesterol:
71
mg
|
Sodium:
199
mg
|
Potassium:
114
mg
|
Fiber:
3
g
|
Sugar:
1
g
|
Vitamin A:
410
IU
|
Vitamin C:
4
mg
|
Calcium:
69
mg
|
Iron:
1.7
mg
Coconut Whipped Cream
Light, creamy dairy-free topping made with coconut cream.
Ingredients
3/4

cup

coconut cream

(from 1 can of full-fat Native Forest coconut milk) -- it's okay if there is a little less than the 3/4 cup

2

tablespoons

powdered sugar -- or 2 tablespoons xylitol for sugar-free

1/2

teaspoon

vanilla extract
Instructions
The day before you plan to whip the coconut cream, put the can of coconut in the fridge the night before so the cream hardens and is easy to separate.

When ready to make the whipped cream, remove the can from the refrigerator, turn it upside down and remove the end with a can opener.


Pour off the liquid that has separated from the thick coconut milk. (You can use the liquid in smoothies or soups.) Scoop the coconut milk out of the can into a mixing bowl, it should measure about 3/4 cup of coconut cream (it's okay to have a little less).

Beat with a mixer until cream begins to firm up and form soft peaks, 3-4 minutes. Add sugar (or sugar substitute) and vanilla and mix until combined.

Serve immediately or refrigerate for up to one week until ready to use.
Notes
I have the best luck with the Native Forest brand coconut milk. It easily separated and had the most coconut cream out of the 4 brands I tried.
Be sure to refrigerate the can for several hours or overnight before you start.
The finished whipped cream will keep in a sealed container in the refrigerator for up to a week. Stir again before serving.
Nutrition
Calories:
82
kcal
|
Carbohydrates:
3
g
|
Fat:
7
g
|
Saturated Fat:
6
g
|
Potassium:
73
mg
|
Sugar:
1
g
|
Vitamin C:
0.7
mg
|
Calcium:
2
mg
|
Iron:
0.5
mg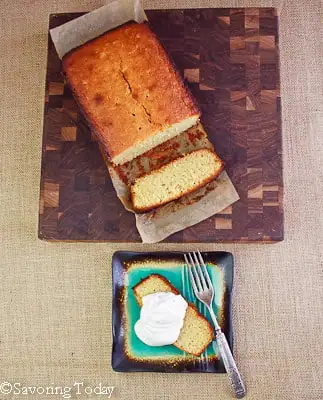 Shared on the following Blog Hops:
Hearth & Soul Hop