Our guest today is John at from the Bartolini kitchens 
John's engaging stories and shared family recipes are like reading a letter from a friend. I rarely sit down to read his posts without coffee in hand, just to remind myself to linger.
I have often thought how fun it would be to step into his kitchen for a long chat while rolling out fresh pasta for dinner—he makes it look so easy!
He is also a fearlessly cheesy. I mean, he makes homemade cheese look easy too.
If you've never attempted such a feat, I recommend starting with his ricotta recipe, it's simple and delicious. Never worked with ramps before? John will show you how with this Ramps Pesto.
It is so quick to make, you'll have it ready before the pasta is done boiling. After dinner, relax as you browse from the Bartolini kitchens for even more satisfying recipes.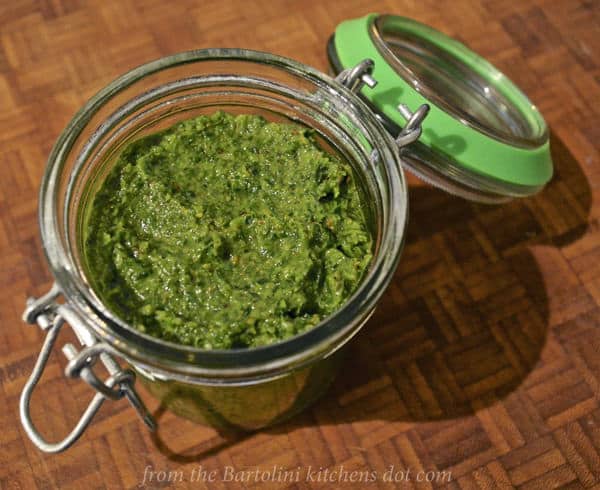 Forget Garganelli, Today We're Making Ramps Pesto
Good morning to the followers and friends of Judy and this wonderful blog, as well as to my own blogging family. Savoring Today, is an excellent blog, one that sets the bar pretty high for the rest of us and, as a long-time subscriber, I'm honored to be here today as guest host. My name is John, "ChgoJohn", and I maintain the blog, from the Bartolini kitchens.
At its heart, my blog is a repository for my family's stories and recipes, some of the latter haven't been prepared in decades. With an enormous amount of help from Mom's Sister, "Zia", as Master Chef, Instructor, and Family Historian, this blog is our gift to the youngest and future members of our family. So, thank you, Judy, for offering me the opportunity to guest host and introduce my family and recipes to your readers. I think I can speak for everyone when I say that it is such great news to hear that your recovery is progressing so well. I can't wait to see you back here once again, sharing more of your fantastic recipes.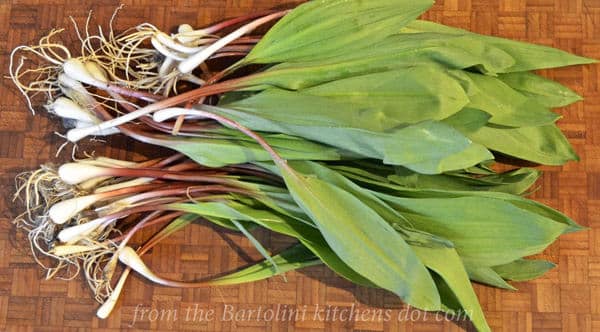 Today was supposed to be a post demonstrating how to make garganelli, but last week I saw ramps were available through a local CSA. Rather than wait for our farmers markets to re-open for the season, I jumped at the chance to make this pesto recipe.
Ramps are a wild member of the onion family. This variety has a very short growing season, about 6 weeks in all, and grows only in North America, east of Manitoba, Minnesota, and Mississippi River, and north from Alabama to Nova Scotia.
As you can well imagine, they were once far more available than they are today. In fact, one theory suggests that my city's name, Chicago, is derived from the Algonquian word for smelly onions, shikaakwa, (chicagou).
At that time, the area surrounding the Chicago River was rich with wild ramps. Today, with their popularity at an all-time high, people must exercise restraint when harvesting or ramps will become less and less available.
Once trimmed, the entire ramp is edible, leaves and all, and some describe their mild taste as a cross between leeks and garlic. Ramps can be served in many ways: in omelets, dumplings, pickled, sautéed with vegetables, in salads, and, of course, with pasta. In fact, two years ago, I shared a recipe for Fettuccine with Asparagus, Artichokes, and Ramps.
The one rule to follow when presented with ramps is to use them as quickly as possible. Last year, I bought some that had been kept fresh with the bulbs submerged in a jar half-filled with water, as one would do with cut flowers.
I duplicated that at home and the leaves were a wilted mess by the time I got to Michigan 4 days later. Not knowing how truly fresh those ramps were, I'm not entirely certain that this method was the problem.
The ramps used here arrived a little damp in plastic bags. I immediately removed them, wrapped them in paper towels, and stored them in my fridge's vegetable crisper. 2 days later, they were still very fresh, though I did have to trim away about 3 wilted leaves.
Would they have been in better shape than last year's ramps after four days? I have no idea and see no reason to risk any ramps finding out. Again, the sooner you use them the better.
As you'll soon see, I used only ramps in today's recipe and, as a result, the pesto has a wonderful earthy flavor. If that's not for you, however, you can easily add parsley or basil leaves to the mix.
Similarly, if you aren't a fan of walnuts, pine nuts (pignoli) or pistachio nuts may be used. If you can't get ramps in your area, try using spring garlic or baby leeks, instead. Use as much of the greenery as possible, augmenting it with basil or parsley.
Ramps Pesto
Ramps bring a mild, wild onion flavor for a unique twist to this pesto recipe.
Ingredients
2

bunches

(approx 7 oz or 200g) fresh ramps

3

tbsp

walnuts

, toasted

3

tbsp

Grana Padano

, grated – Parmigiano Reggiano or Pecorino Romano may be substituted

Olive oil

Sea salt and pepper

, to taste
Instructions
Prepare the ramps: Wash and thoroughly dry the leaves. Trim away the bottom roots of each bulb, much like you do with spring onions/scallions. Cut off and roughly chop each ramp bulb, then roughly cut or hand tear the leaves and stems.

Add the bulbs and walnuts to a food processor. Process until a thick paste develops, about a minute. Be sure to scrape down the sides of the bowl midway through.

Add the ramp leaves, cheese, salt, and pepper to the food processor bowl. Process until evenly combined.

With the processor still running, add olive in a slow steady stream until the pesto is the consistency your prefer. (See Note)
Notes
I prefer my pesto to be a thick paste, so, I don't add much oil to the processor. When it's time to dress the pasta, I'll first coat the pasta with a little olive oil and then add the pesto. I find that a paste, also, works better when using pesto in other ways, like seasoning roasted chicken.
Nutrition
Calories:
273
kcal
|
Carbohydrates:
8
g
|
Protein:
10
g
|
Fat:
23
g
|
Saturated Fat:
4
g
|
Cholesterol:
10
mg
|
Sodium:
240
mg
|
Potassium:
132
mg
|
Fiber:
2
g
|
Sugar:
1
g
|
Vitamin A:
625
IU
|
Vitamin C:
3.6
mg
|
Calcium:
225
mg
|
Iron:
1.5
mg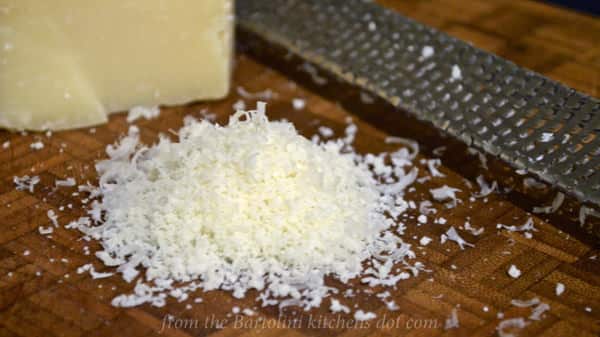 A few words about the cheese
Grana Padano is a hard cheese made from cow's milk, much like Parmigiano Reggiano. Grana Padano, however, is made using skim milk and is produced in a broad area of Northern Italy, whereas Parmigiano Reggiano uses both skim and whole milk and is created in a much smaller area.
Because the Parmigiano Reggiano region is so much smaller, the cows graze in pastures that are more uniform, creating a more distinctive — and expensive — cheese.
Those with better palates than mine will make note of subtle differences in taste between the two cheeses. I cannot detect the difference, especially when used in a recipe like pesto.
So, why did I use Grana Padano here? That's an easy one. It was on sale at the market.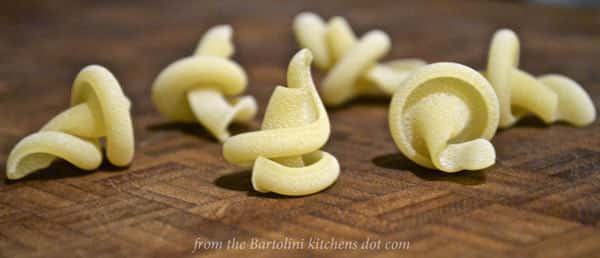 A few more words about the pasta
I had another pasta in mind for this post but, as luck would have it, I couldn't find it. Instead, I chose "Vesuvio (Napoli)" pasta. This pasta originated in Campania and is said to resemble Mt.Vesuvius. Yes, that Vesuvius.
What's this? You don't see the volcano? Not to worry. There are those that claim the pasta looks like Naples and its harbor. How can you not love a people with this kind of imagination when it comes to naming their food?
Because of it's shape, sauces have no trouble clinging to Vesuvio pasta. This particular brand, however, goes one step further.
Unlike other manufactured pastas, this one was formed by being passed through a bronze plate. "Trafilata al Bronzo" is the name for the process and the resultant pastas are considered artisanal.
The advantage of the method is that the pastas are more rustic and not quite as smooth as others, meaning that sauces are even more likely to cling and hold on to them.
It's déjà vu all over again …
Although I did mention one ramps recipe earlier, I saved the best for last. For today's blast from the past, I'll send you to my favorite ramps recipe—Ramps Ravioli with Morel Mushrooms.
In it, ramps are combined with spinach and ricotta cheese to fill ravioli, which are then served with a sauce prepared with morel mushrooms. You can learn how to prepare this sensational dish by clicking on the recipe title, the photo, or HERE.
Coming not too soon to a monitor near you … Handmade Garganelli
The Final Word
Thanks again, Judy, for offering me this chance to lend a hand. I hope it won't be much longer before you're fully recovered and back at the helm of this, your fantastic blog.