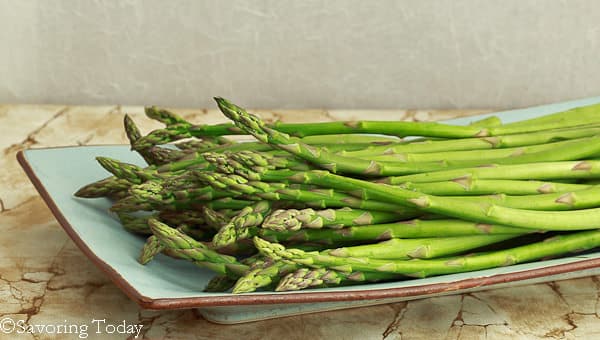 It would seem there is a longing for spring, unlike any other season. Not necessarily everyone's favorite if asked, but for those weary of winter, every peek of green inspires hope. The first kiss of sun's warmth on cheeks, new song on bird's beak, cheerful daffodils—it is absolutely glorious! In our yard, the Iris and tulips break through first, and the grass will slowly wake as we check our phones for the latest weather update. Remember when we just looked outside and went with the flow? Those were the days. Of course, in Colorado, springtime weather is best described as changing.
One day it's 80°F and sunny, followed by 39°F with a drippy, gray overcast gloom, so having the forecast at my fingertips is handy when menu planning. One day I'm grilling asparagus, the next calls for pizza in a piping hot oven. Fortunately, this recipe works no matter how fickle the weather might be because you can grill it or roast it with equally delicious results. Asparagus is plentiful right now, and even though it is generally available year round, its tender shoots are best in spring.
Originally, this hoisin sauce was for a Mongolian Beef recipe I'm working on for the cookbook, but the sweet-savory sauce can do so much more. While hoisin is widely available in stores, it is easy to mix-up, and you won't miss the caramel color or modified food starches. I like the way it clings to the asparagus just enough to season every bite and the sesame seeds stay exactly where sprinkled.
If you've never grilled or roasted asparagus, wait no more. We put it on the grill right after the rib eyes, so it was ready to serve when the steaks were done resting. The only thing that would have made the meal better is if the deck chairs had been cleaned for dining outside, but it's a teensy bit early for that. Even still, there will be more warm days than cold days now, and we are ready to peel the grill cover back every chance we get to savor the new season.
Hoisin-Sesame Asparagus
Grilled asparagus Brushed with Hoisin sauce and topped with sesame seed.

Ingredients
1

pound

asparagus

, rinsed and ends trimmed

1

tablespoon

avocado oil

sea salt and pepper

1/4

cup

hoisin sauce

1

tablespoon

sesame seeds
Instructions
Lightly coat the asparagus with oil, arrange in a single layer on a rimmed baking sheet, and season lightly with salt and pepper.

Either roast the asparagus under an oven broiler on HI or over high heat on a grill. Check every few minutes to turn or roll, as needed, when lightly browned. Roast or grill until fork tender and browned in spots, about 10 minutes.

Brush with hoisin sauce and cook briefly to warm sauce. Remove from oven or grill and sprinkle with sesame seeds. Serve immediately.
Nutrition
Calories:
137
kcal
|
Carbohydrates:
16
g
|
Protein:
4
g
|
Fat:
6
g
|
Sodium:
373
mg
|
Potassium:
345
mg
|
Fiber:
4
g
|
Sugar:
9
g
|
Vitamin A:
1145
IU
|
Vitamin C:
8.5
mg
|
Calcium:
70
mg
|
Iron:
3.9
mg
Hoisin Sauce
Homemade Hoisin Sauce, Serve as a dipping sauce or simply add to a stir fry

Ingredients
3

tablespoons

water

2

tablespoons

soy sauce

(Tamari for gluten-free)

1 1/2

tablespoons

brown miso

(soy-brown rice for gluten-free)

1

tablespoon

Mirin

1

tablespoon

toasted sesame oil

5

teaspoons

rice vinegar

1/4

teaspoon

liquid smoke

6

tablespoons

coconut palm sugar

2

teaspoons

cornstarch

1/2

teaspoon

Chinese five-spice powder

1/8

teaspoon

granulated garlic
Instructions
Whisk the water, soy sauce, miso, Mirin, sesame oil, rice vinegar and liquid smoke in a small saucepan until well combined. Mix the sugar, cornstarch, spice, and garlic in a small bowl to combine and add whisk into the sauce.

Bring to a boil over medium heat, reduce heat and simmer 2-3 minutes until the flavors meld and sauce thickens.

Store in a glass jar in the refrigerator for up to 3 months.
Nutrition
Calories:
246
kcal
|
Carbohydrates:
42
g
|
Protein:
3
g
|
Fat:
7
g
|
Saturated Fat:
1
g
|
Sodium:
1622
mg
|
Potassium:
64
mg
|
Sugar:
27
g
|
Calcium:
14
mg
|
Iron:
1.1
mg