This medium-spicy homemade chili seasoning has a smoky chile flavor with enough spice to get your attention without setting your mouth on fire.
One look at our ingredient list and you'll know you've found something unique!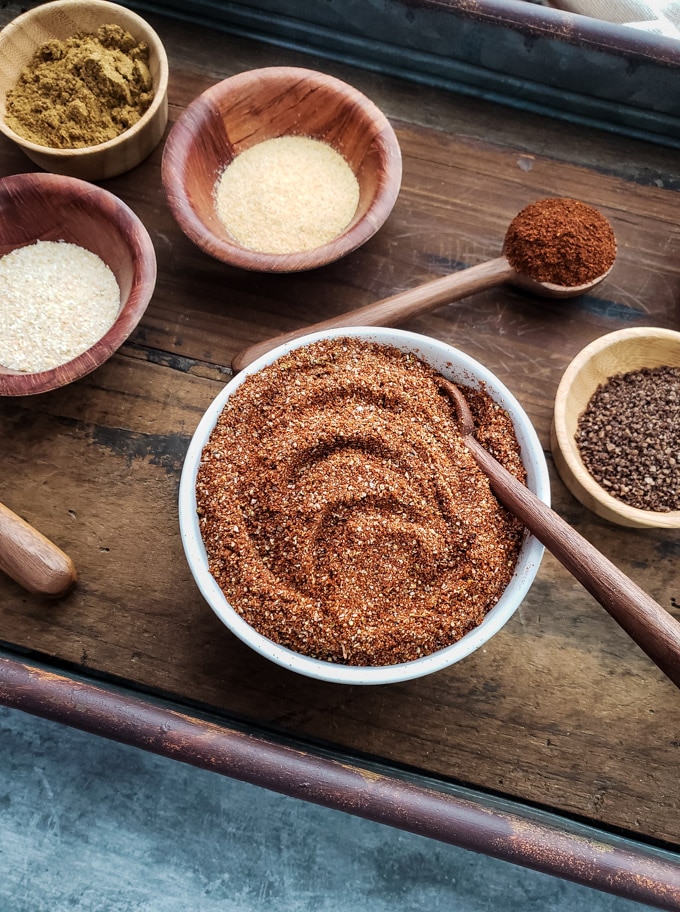 Yeah, sure, everyone thinks their own chili mix is the best around. We're no different. And if you have a mix you love you're probably not here looking for a new one.
For years I made chili with Carroll Shelby's Chili Mix and still would if I didn't have a homemade recipe I liked better.
Our chili mix recipe has a medium spice profile with a hint of smoky flavor because of the carefully selected smoked ingredients. I've chosen ancho chile and chipotle chile powders to anchor this homemade chili seasoning mix for balanced spice and they're easy to source as well.
We also include masa harina flour as part of our chili fixin's because it mellows and thickens the sauce base of any chili to perfection. If you've never added masa to your chili, you're missing out—it's gluten-free too.
Enjoy it in chili, bean dips, enchilada sauces, and more!
Chili Seasoning Mix Ingredients
ancho chile powder—made from the dried version of poblano chiles with a slightly sweet, smoky flavor and a 1 on a heat scale of 1 to 10
chipotle chile powder—made from smoked ripe jalapenos with a smoky, earthy, spicy flavor and medium-hot 6 on a heat scale of 1 to 10
smoked paprika (Spanish, sweet)—also known as pimenton and comes in sweet or hot varieties from peppers dried over an oak burning fire providing a smoky-sweet flavor profile
granulated onion—flavor is not as strong as onion powder in equal measure; use less powder if subbed
granulated garlic—flavor is not as strong as garlic powder in equal measure; use less powder if subbed
ground cumin—deep earthy flavor with hints of citrus smooths out the sharper acidic profile of chiles
dried oregano—the earthy, musty, minty aroma is released even more when the dry leaves are crushed to release the oils before mixing (Mexican oregano is a good substitute)
smoked sea salt—sea salt smoked over different woods release subtle, yet pleasant smoky flavor
freshly ground black pepper—the floral properties of black pepper are released immediately when ground and are lost quickly so grind just before mixing
masa harina flour—a finely ground corn flour made from corn soaked in limewater traditionally used for homemade corn tortillas and tamales ♦ IMPORTANT: this is not mixed into the seasoning mix but is part of the chili-making process
Recipe Variations
Make it less spicy by adding more ancho chile powder and less chipotle chile powder or substitute guajillo chile powder for the chipotle altogether
Spice it up with more chipotle chile powder, spicy smoked paprika, or add a little cayenne to light your fire
Experiment with different smoked salts like hickory, mesquite, applewood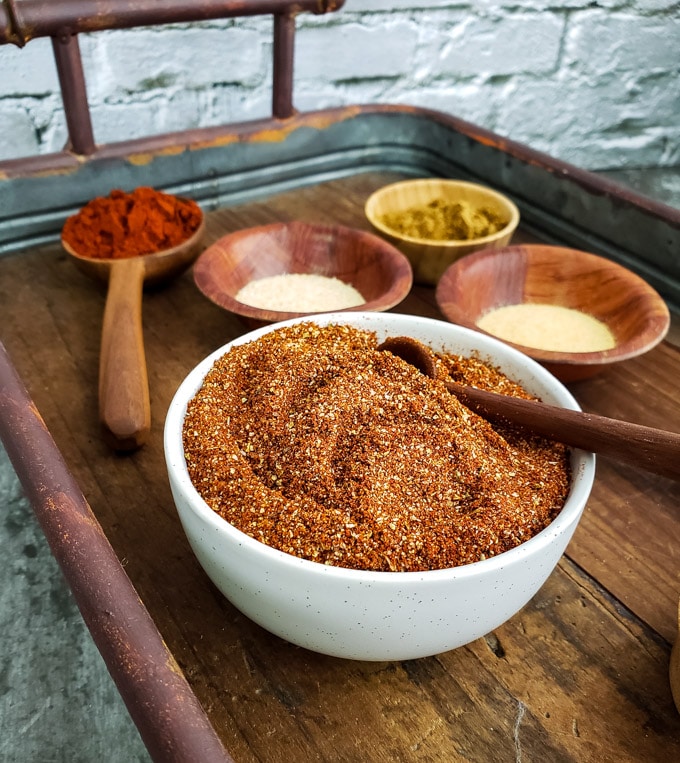 Recipes To Use Chili Seasoning
Homemade Chili Seasoning Mix
A mix of dried chiles, spices, and herbs for a medium-spice chili seasoning mix delicious in chili, dips, enchiladas, burritos and more.
Ingredients
3

tablespoons

ancho chile powder

1 1/2

tablespoons

granulated onion

1 1/2

tablespoons

granulated garlic

1 1/2

tablespoons

ground cumin

1

tablespoon

chipotle chile powder

1

tablespoon

smoked sea salt

, or regular sea salt

1

tablespoon

freshly ground black pepper

1

tablespoon

smoked paprika

1

tablespoon

dried oregano

3

tablespoons

masa harina flour

keep separate; do not mix with other spices
Instructions
Mix all ingredients except masa flour in a small bowl until well blended. Use to season up to 7 quarts of chili, as desired (mix will be medium-spice).

Mix masa flour with 1/2 cup water and stir into chili the last 10 minutes of cooking time.
Notes
Yields 4 ounces spice mix = almost 1 cup (use the entire amount on a 7-quart recipe)
Recipe Variations
Make it less spicy by adding more ancho chile powder and less chipotle chile powder or substitute guajillo chile powder for the chipotle altogether
Spice it up with more chipotle chile powder, spicy smoked paprika, or add a little cayenne to light your fire
Experiment with different smoked salts like hickory, mesquite, applewood
Nutrition
Calories:
20
kcal
|
Carbohydrates:
4
g
|
Protein:
1
g
|
Fat:
1
g
|
Saturated Fat:
1
g
|
Sodium:
419
mg
|
Potassium:
79
mg
|
Fiber:
1
g
|
Sugar:
1
g
|
Vitamin A:
735
IU
|
Vitamin C:
1
mg
|
Calcium:
23
mg
|
Iron:
1
mg