Grandma Sarah sent a tin of soft, chewy molasses cookies to my husband every Christmas when he was young.
We add white chocolate icing to the same old fashioned molasses cookie recipe which remains a holiday baking tradition.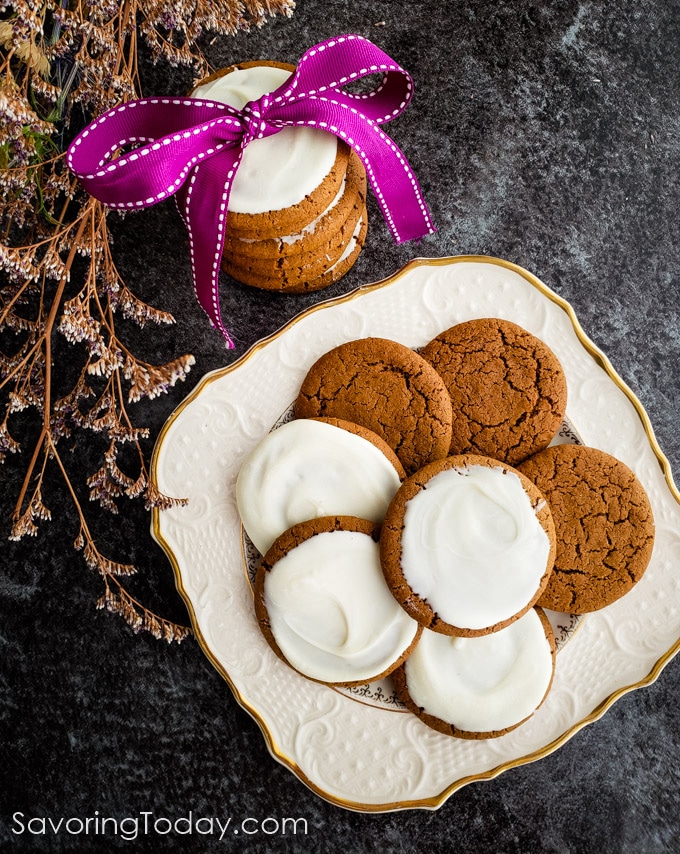 "Traditions, traditions. Without our traditions, our lives would be as shaky as… as… as a fiddler on the roof!" Tevye proclaims in the classic musical.
Our traditions serve as ballast, connecting generations in continuity. 
Stories of favorite memories, recipes, quirky habits, scriptures, sacred moments—whatever makes the holiday uniquely memorable. 
Our Molasses Cookie Tradition
Shortly after I married my husband, we began blending traditions. One of his fond Christmas memories was receiving a coffee can full of his grandmother's molasses cookies each year.
Let me just say, it was tough to match what he remembers. (Some women are convinced their mother-in-law leaves out something in a recipe so it is never just like what she made for him.) In my case, I am convinced it has more to do with the altitude of Colorado, but I keep trying.
One year, determined to bring this childhood memory alive again for him, I bought a can of ground coffee so the cookies could be wrapped in the can and placed under the tree. 
I wondered if the residual aroma of the coffee somehow penetrated the cookies—the secret ingredient if you will.
"Close", he said, but still not the same as Grandma's.
I decided close was good enough.
Grandma Sarah's Molasses Cookies
Years ago, when Grandma Sarah wrote out the recipe card for me I was careful to save it and savor it.
The significance of carrying-on this tradition didn't sink in until a few months before her 102nd birthday, she passed away.
As we mingled and traded stories after the funeral, a cousin began to reminisce about receiving her molasses cookies as a kid (evidently, it was a fond memory for all the grandchildren). Another lamented they had no idea if the recipe had ever been written down.
At that moment, it felt like I held something sacred, a precious generational memory. They were all relieved to know the recipe was not lost.
A few weeks later, the original recipe arrived in the mail with a few other keepsakes from Sarah's life. To say I felt honored to have her mother's molasses cookie recipe is an understatement.
No one knows for sure if it is her own handwriting or her mother's.
Looking at them side-by-side, I suspect it was the way her mother passed the recipe on to her, now ready to be passed on to a fourth generation.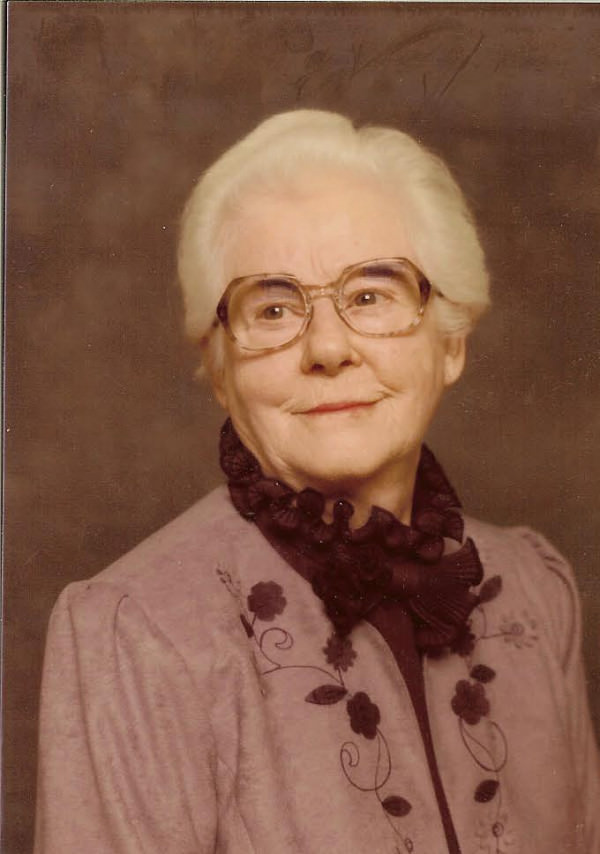 Grandma's comments on the recipe card:
"This is a double recipe. I have better luck if the dough is stiff. This is my mother's recipe. She made good molasses cookies—Good Luck."
−Grandma Sarah
Yes, Grandma Sarah, your mother did make good molasses cookies and based on the fond memories of your grandchildren, you did too. Love, Judy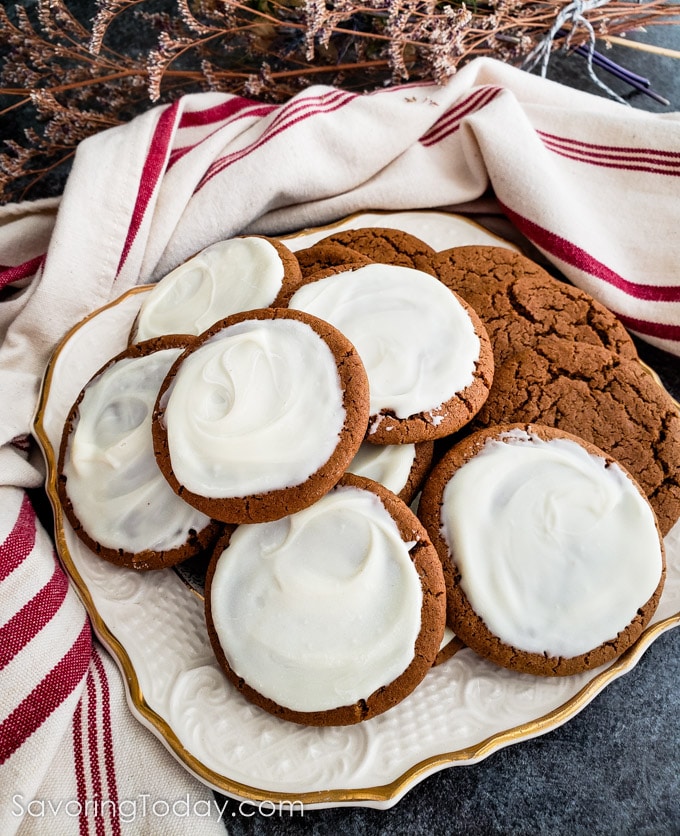 This post may contain affiliate links. See our disclosure policy for more information.
Old Fashioned Molasses Cookies Get A Modern Twist
Grandma's Molasses Cookies are still a central theme to our holiday baking each year, stirring childhood memories not only for my husband but for our kids as well.
This recipe is an adjusted version of Grandma Sarah's old fashioned molasses cookies to include butter instead of shortening and a simple icing of melted white chocolate.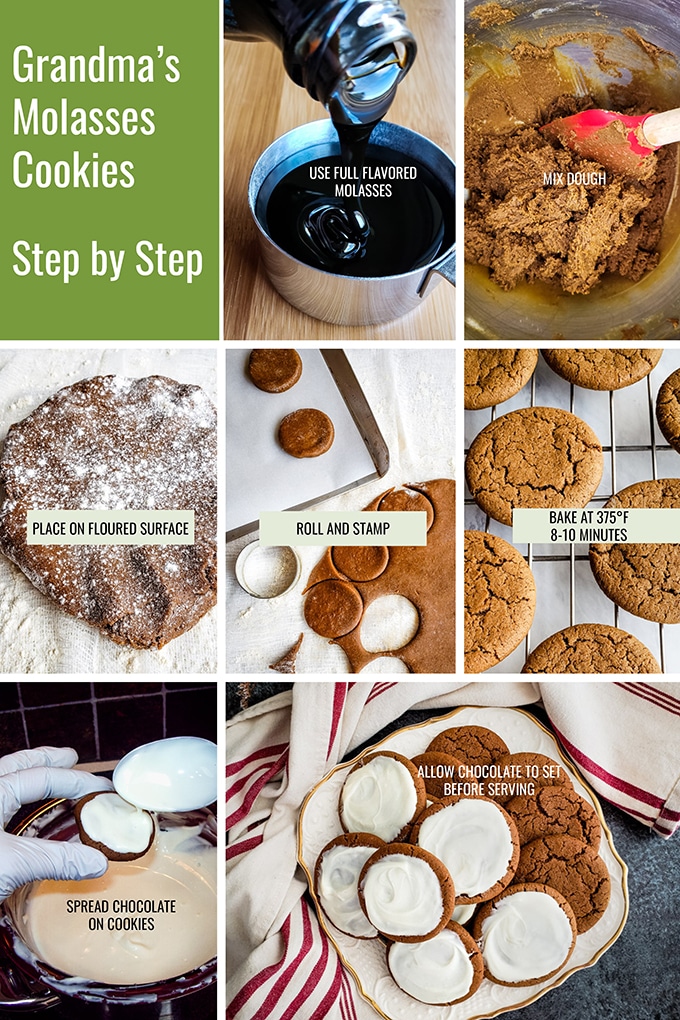 Molasses Cookies with White Chocolate Icing Step by Step
Use full-flavored molasses.
Mix dough, adding enough flour to make a stiff dough.
Roll half the dough on a floured surface to 1/4-inch thick.
Stamp with a cookie-cutter into 2-inch rounds.
Bake at 375°F for 8-10 minutes on a parchment-lined cookie sheet. Cool on wire rack.
Melt white chocolate and spread on top of each cookie in a thin layer with the back of a spoon.
Cool completely until chocolate is set.
Grandma's Molasses Cookies with White Chocolate Icing
A chewy old fashioned molasses cookie iced with white chocolate.
Ingredients
1

teaspoons

baking soda

1

teaspoons

vinegar

2 1/2

cups

all-purpose flour

, organic, unbleached

1

teaspoons

ground cinnamon

1

teaspoons

ground cloves

1

teaspoons

ground ginger

Pinch

sea salt

3/4

cups

Brer Rabit Full Flavor Molasses

1

cups

brown sugar

, or regular granulated sugar

2

large

eggs

1/2

cup

butter

, softened, or non-hydrogenated shortening

1

pound

Ghirardelli White Melting Chocolate

, melted (optional)
Instructions
Dissolve baking soda in vinegar. Sift

2 cups flour

with

1 teaspoon

each of cinnamon, ground cloves, and ground ginger, and a pinch of sea salt.

Mix

3/4 cup

molasses,

1 cup

packed brown sugar,

2

eggs,

1/2 cup

butter, and dissolved baking soda together in a large mixing bowl.

Stir in flour and spice mixture. Add more flour

1/4 cup

at a time until the dough is pretty stiff—1/2 to 3/4 cup more total.

Divide the dough in half. Roll out one half at a time on a lightly floured surface to 1/4" thickness. Stamp with a cookie-cutter into 2" rounds. If the dough is sticky, use a pastry knife to lift cookies from the counter.

Bake at 375°F for

8-10 minutes

on a parchment-lined cookie sheet until cookies are set and just beginning to brown at the edges. Cool on a wire rack.

Once cookies are cooled, melt white chocolate in a double boiler until smooth. Spread melted chocolate on top of each cookie in a thin layer with the back of a spoon. Set on a wax paper-lined tray and allow to cool completely until chocolate is set.
Notes
Yields 4 1/2 dozen 2-inch cookies.
I find that brown sugar helps to keep the cookies soft, but white sugar can also be used.
Adding vinegar to baking soda is an old fashioned way of activating the baking soda if they didn't have baking powder. We still use the method to preserve the tradition.
Due to the dark color it can be difficult to know if the cookie is done. It is best to test one or two at 8 or 9 minutes rather than over-baking so the cookies remain chewy.
Nutrition
Serving:
2
g
|
Calories:
236
kcal
|
Carbohydrates:
35
g
|
Protein:
3
g
|
Fat:
10
g
|
Saturated Fat:
6
g
|
Cholesterol:
29
mg
|
Sodium:
102
mg
|
Potassium:
222
mg
|
Fiber:
1
g
|
Sugar:
26
g
|
Vitamin A:
138
IU
|
Vitamin C:
1
mg
|
Calcium:
68
mg
|
Iron:
1
mg
More Christmas Baking Recipes You'll Love