Silky smooth, this easy Hummus with Canned Chick Peas and Tahini takes center stage among healthy snacks.
You'll love the classic flavors of lemon and garlic in this simple to make a creamy dip.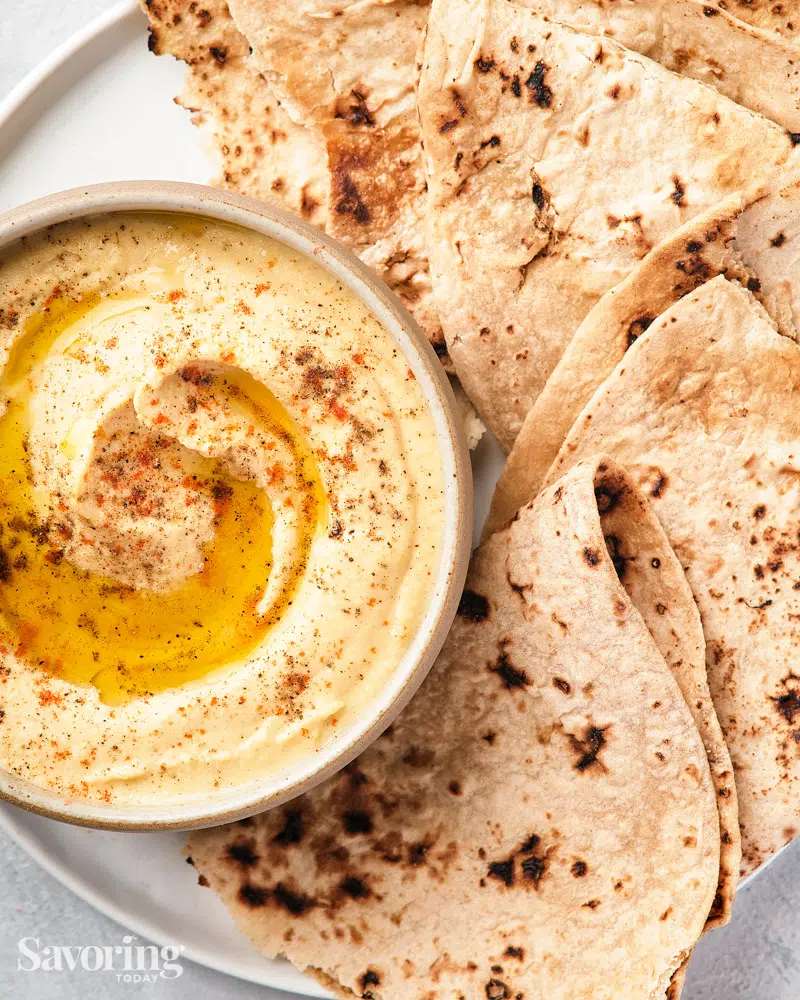 A few simple ingredients transform a humble can of chickpeas into a worthy dip for your veggies at snack time. I love the creamy texture and tang of lemon in this recipe which stands far above the usual bland, chalky stuff often found at the store.
It isn't just delicious, it's also good for you. We use canned chickpeas in this hummus recipe, which are an excellent source of protein and fiber, so it is a dip you can feel good about eating.
Hummus with tahini is also one of our top picks for travel snacks on road trips too. You can pack it up for picnics, send it with the kids for lunch at school, take it for lunch at the office, or even share it at a party or potluck.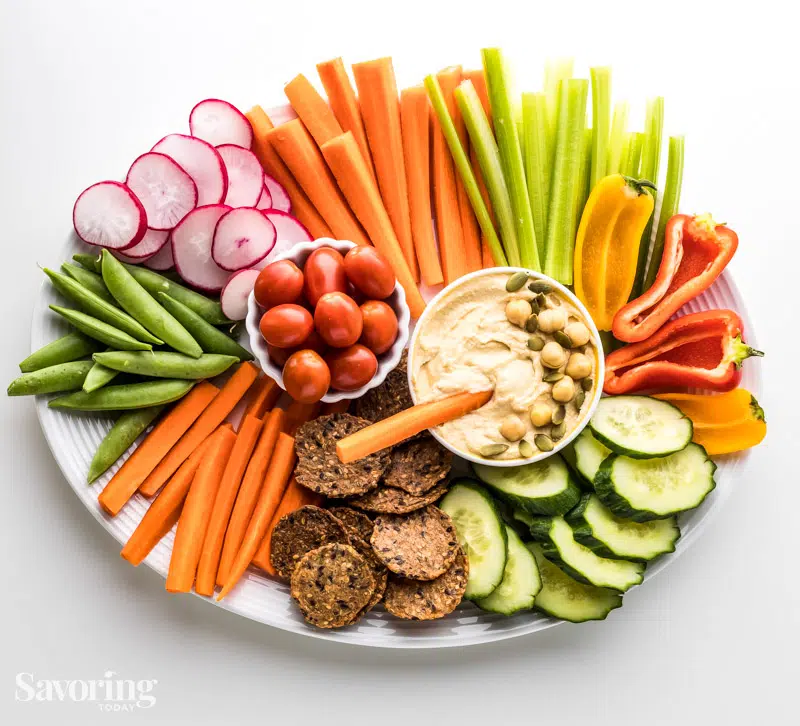 What is Hummus?
Hummus is a staple in the Middle East and the Mediterranean. It's a creamy puree made from cooked chickpeas (also called garbanzo beans) tahini, an acidic element (like fresh lemon juice), and sometimes other flavors.
Hummus is naturally vegan, gluten-free, dairy-free, and nut-free, which makes it a perfect pick for a take-along to a potluck.
Can You Make Hummus with Other Beans?
Hummus can be made with other beans and even vegetables like beets, squash, or carrots. Swapping out the chickpeas for white beans will keep a similar flavor profile.
Using black beans, pintos, or lima beans will change the taste more so and easily handles a stronger level of spice.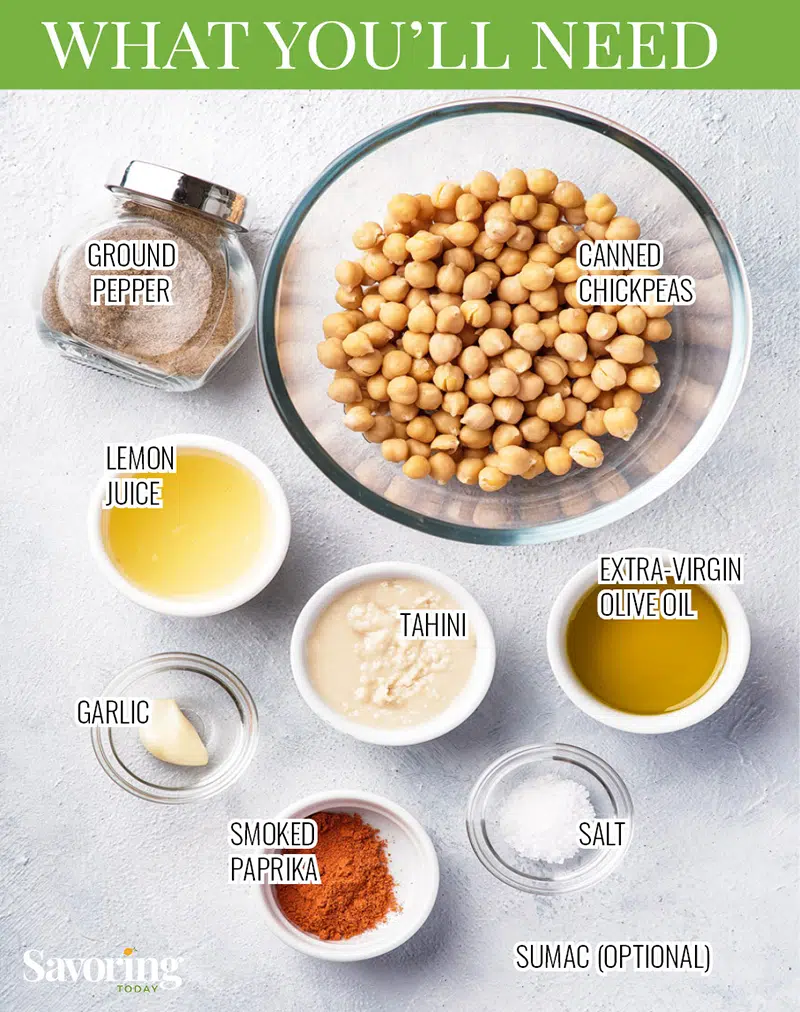 Ingredient Highlight
CANNED CHICKPEAS make stirring up hummus even faster. To be sure, if you have the time to soak and cook dried chickpeas, you can substitute cooked chickpeas (once cooled) for the canned ones.
PRO TIP: Whether you use canned or cooked, the important thing is to remove and discard the skins so the hummus can be as smooth as possible.
TAHINI is available in most grocery stores, made from roasted or raw sesame seeds. It has a very smooth texture with a nutty and lightly, pleasantly bitter taste. You don't have to add it to hummus, but it elevates the richness and creaminess of your homemade hummus.
Tahini can be stored in your pantry if you use it up within a few months, otherwise, store it in the fridge. TIP: For a flavor change-up, look for roasted tahini.
EXTRA-VIRGIN OLIVE OIL with a bright, grassy flavor takes plain hummus from good to great. A generous garnish of olive oil infused with chiles, garlic, herbs de Provence, harissa, or truffles is a simple way to add another layer of flavor.
SMOKED PAPRIKA adds a layer of smokiness as a garnish. Paprika is ground red peppers, which vary in sweetness and spice, so select this ingredient carefully as it will affect the overall flavor and heat level of the finished hummus. If you can't find smoked paprika, sumac is an ideal substitute.
SUMAC is a bright, deep red spice made from the ground berries of the sumac flower. It has a bright tartness and sour acidity reminiscent of lemon zest, complementing hummus like none other.
If you have sumac it in your spice cabinet, use it to garnish the hummus. And if you are not sure what else to use it for, go ahead and make roasted sumac carrots too!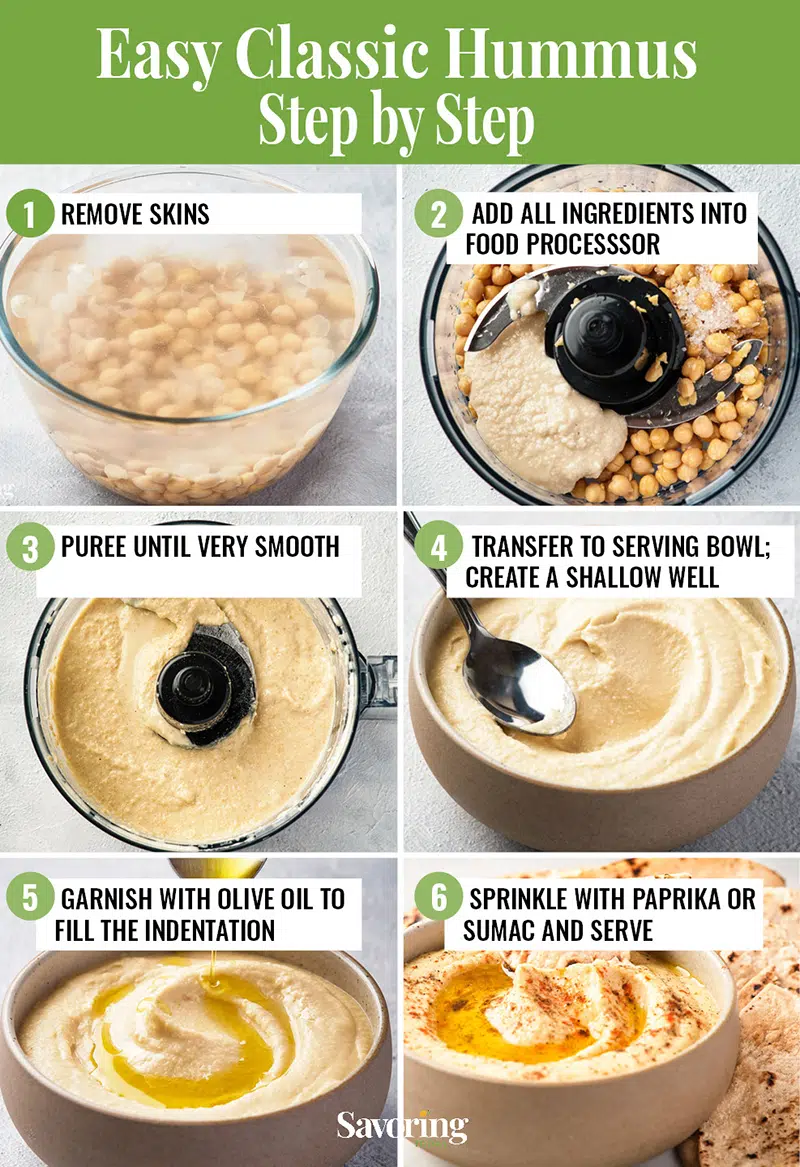 Step By Step
Grab your food processor and get ready to puree this delicious dip!
Remove the skins from the chickpeas. Drain the chickpeas and add them to a large bowl. Cover the chickpeas with enough water so that there's an inch or two above the chickpeas. Rub the chickpeas gently between your fingers to remove the chickpea skins.
Drain the chickpeas again and transfer them to a food processor with the garlic, tahini, and salt and puree the chickpeas until the mixture forms a paste. Keep the machine running and add the lemon juice and olive oil.
Scrape down the sides after stopping the food processor, then taste it for salt and fresh lemon juice, adding more if necessary. Add a tablespoon of water at a time if your hummus is too thick or not smooth.
Transfer to a serving bowl and create a shallow well with the back of a spoon to create an indentation in the top of the hummus.
Garnish with olive oil over the top.
Sprinkle with paprika or sumac (photo below) and serve.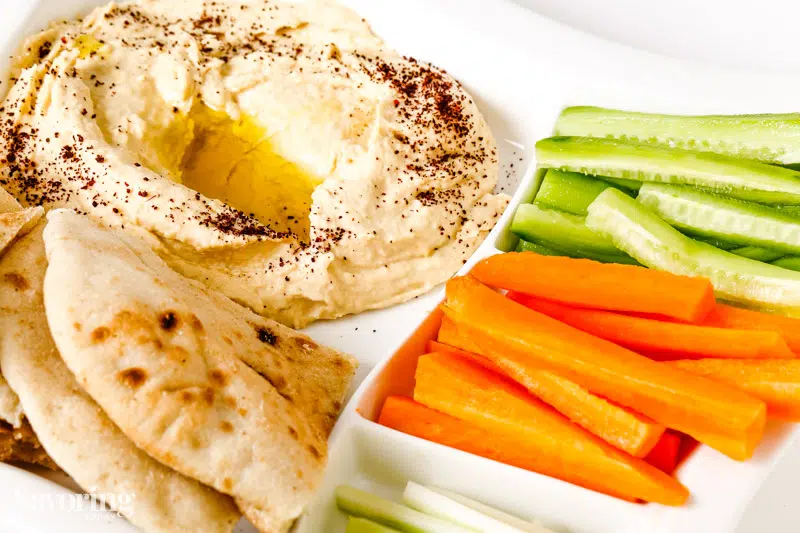 Do You Have to Cook Chickpeas Before Making Hummus?
Canned chickpeas are already cooked, so all you need to do is drain the can to whip up a tasty snack.
That's the beauty of this recipe—there's no cooking required!
If you don't use canned chickpeas and opt for dried beans, then yes, you'd need to cook and cool them first.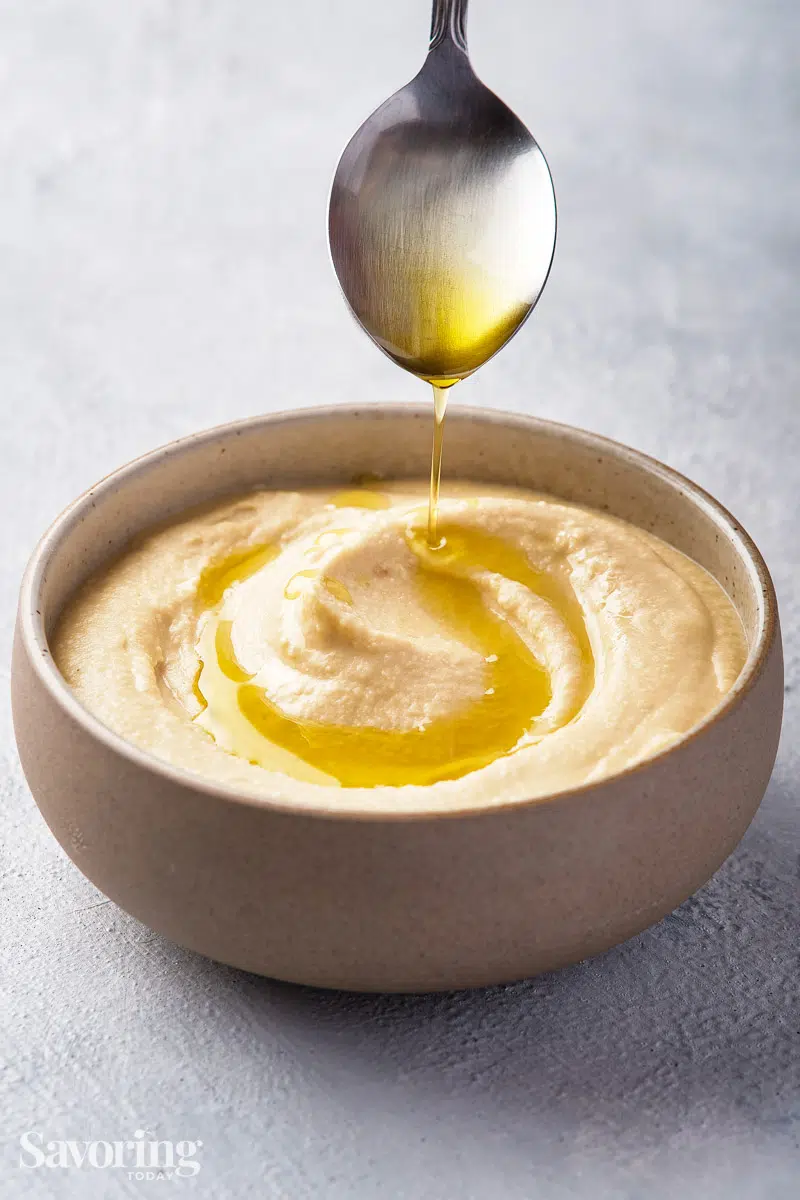 I love hummus as a dip but also as a sandwich spread. Spreading a layer onto sprouted grain bread and then filling the sandwich with vegetables is a delicious and nutritious lunch.
Recipe Tips
Canned chickpea hummus can be made several days in advance. Wait to garnish with oil until you're ready to serve.
This is a naturally gluten-free hummus recipe, so to keep your snack gluten-free, use gluten-free dippers.
Store homemade hummus in the refrigerator for up to 7 days.
To serve, remove from the fridge and bring to room temperature for the best flavor and texture.
Recipe Variations
Spice it up with a sprinkle of crushed red pepper flakes over the top before serving.
Substitute roasted garlic for the fresh garlic.
Substitute toasted tahini for regular.
Add 1/2 a roasted red pepper when pureeing the chickpeas.
Add leftover cooked sweet potatoes, pumpkin, or grilled squash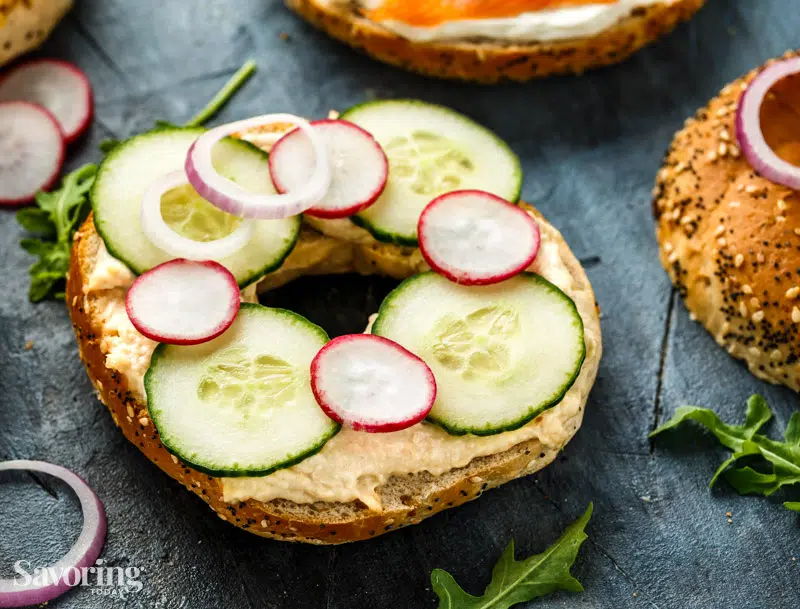 How To Serve Creamy Hummus
Tearing off pieces of freshly baked pita bread to dunk into the hummus is one of my favorite ways to eat it, but there are lots more you can serve with it. Serve your hummus with:
Serve on a veggie tray, charcuterie tray, or with pita bread, tortilla, or crackers
Serve alongside Falafel
Spread on sandwiches in place of mayo
Thin with a little oil and vinegar for a pourable and tangy salad dressing
Mix into egg yolks when making deviled eggs
Add to soups or pasta sauces to thicken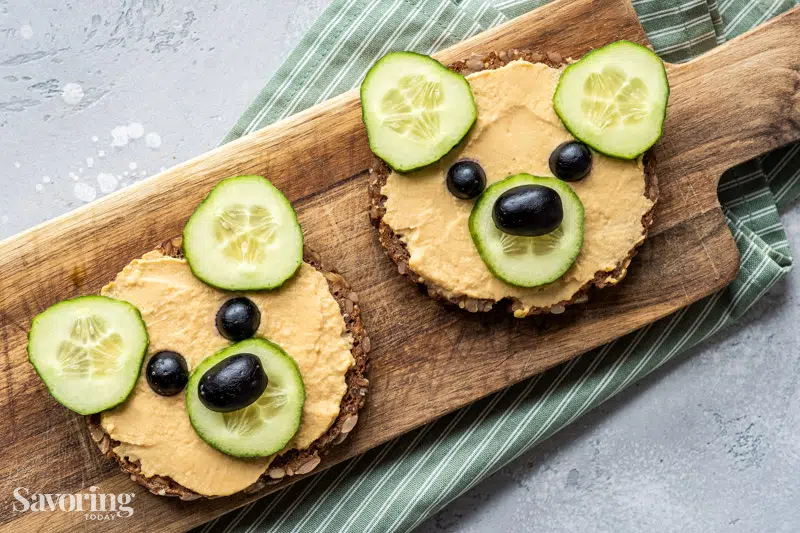 Easy Hummus with Canned Chickpeas and Tahini
Silky-smooth hummus with lemon and garlic topped with olive oil and paprika.
Ingredients
1

(15-ounce) can

chickpeas

, drained

1/4

cup

tahini

1

large

garlic clove

, minced (about 1 1/2 teaspoons)

1/2

teaspoon

sea salt

2-3

tablespoons

freshly squeezed lemon juice

2

tablespoons

extra-virgin olive oil – plus more for serving

Freshly cracked pepper

, for garnish

Smoked paprika

, or sumac (for garnish)
Instructions
Drain the chickpeas and transfer to a large bowl with enough water to cover the chickpeas by a couple of inches. Gently rub the chickpeas with your fingers to help dislodge the skins. As the skins float to the top of the water, skim off bean skins with a slotted spoon and discard.

Continue to remove as many of the skins as possible (this may take about 5 minutes, but is important for a creamy-smooth texture). Drain the water off the chickpeas and transfer the chickpeas to a food processor.

Add the garlic, tahini, and salt to the chickpeas and process until the mixture begins to form a paste. With the machine running, add the lemon juice and olive oil. Stop the machine and scrape down the sides. Taste, and add more lemon juice or salt, if needed. If the hummus isn't smooth in texture, add 1-2 tablespoons of water, and process again.

Just before serving, use the back of a spoon to create a shallow indentation on the surface of the hummus. Drizzle with 2-3 tablespoons olive oil and sprinkle with paprika and freshly cracked pepper. (Can also be served with lemon wedges.)
Notes
Recipe Tips
Canned chickpea hummus can be made several days in advance. Wait to garnish with oil until you're ready to serve.
This is a naturally gluten-free hummus recipe, so to keep your snack gluten-free, use gluten-free dippers.
Store homemade hummus in the refrigerator for up to 7 days.
To serve, remove from the fridge and bring to room temperature for the best flavor and texture.
Recipe Variations
Spice it up with a sprinkle of crushed red pepper flakes over the top before serving.
Substitute roasted garlic for the fresh garlic.
Substitute toasted tahini for regular.
Add 1/2 a roasted red pepper when pureeing the chickpeas.
Add leftover cooked sweet potatoes, pumpkin, or grilled squash
Equipment
Nutrition
Calories:
77
kcal
|
Carbohydrates:
2
g
|
Protein:
1
g
|
Fat:
7
g
|
Saturated Fat:
1
g
|
Polyunsaturated Fat:
2
g
|
Monounsaturated Fat:
4
g
|
Sodium:
148
mg
|
Potassium:
40
mg
|
Fiber:
1
g
|
Sugar:
1
g
|
Vitamin A:
5
IU
|
Vitamin C:
2
mg
|
Calcium:
12
mg
|
Iron:
1
mg