A Classic Margarita on the rocks is simply the best of summer sipping. Its layers of sweet-tart citrus and slightly boozy, saline vibe give this tequila cocktail a refreshingly smooth finish.
Put aside those mixes and experience the real thing with just 4 simple ingredients (and some ice)!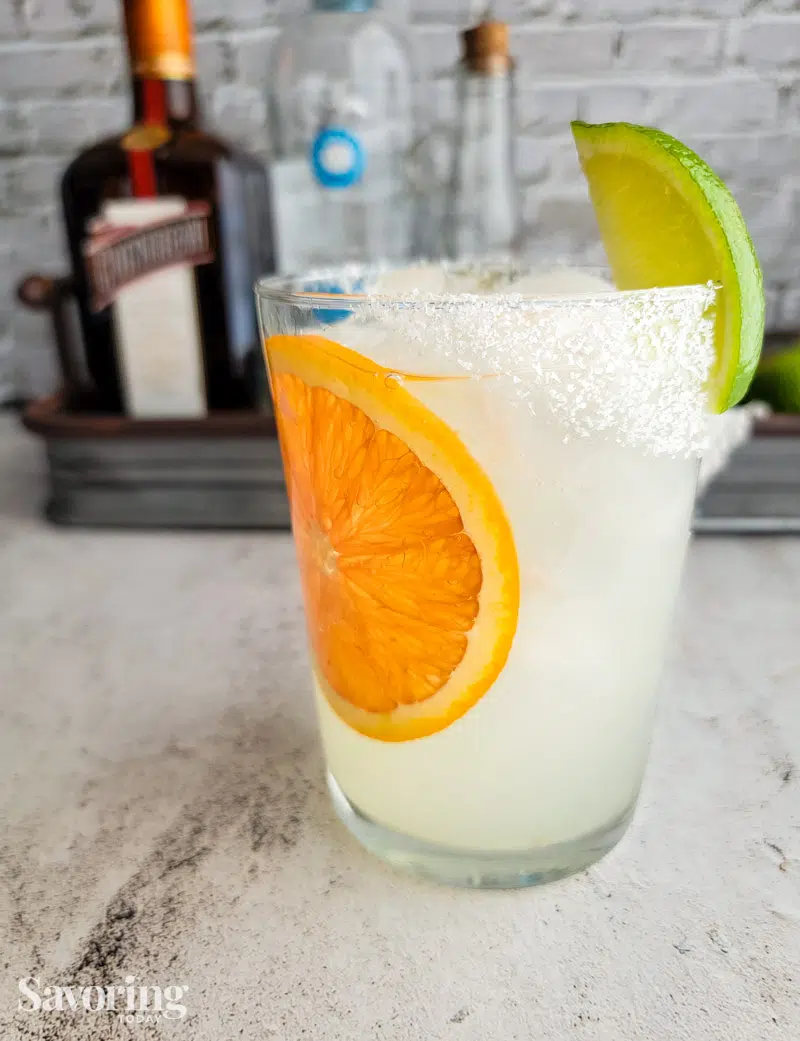 I started this post dreaming about tequila drinks, and while there are MANY classics to try, the overarching favorite has always been and forever will be, the Margarita.
Who can deny the bright, tenacious flavor of tequila with freshly squeezed lime juice, a hit of orange liqueur for sweetness, and a salt rim to balance the flavors?
Tequila is one of the ultimate hot weather spirits, inclined to pair up with citrus, and takes your palate to a happy place where you might close your eyes for a moment and imagine your toes in the sand and the smell of the ocean gently greeting your senses.
Snap back to reality, and you'll still have a delicious beverage in hand on your back porch with a couple of loved ones nearby.
A Little Tequila History (for Cocktail Nerds Like Me)
Tequila is a spirit distilled from blue agave, a member of the lily family native to Mexico. It is produced only in Mexico, specifically in these five states: Jalisco, Guanajuato, Tamaulipas, Michoacan, and Nayarit. The name comes from the Mexican town Tequila, which lies northwest of Guadalajara within the state of Jalisco, where the majority of tequila is produced.
If there's one thing that has followed humankind through history, it's fermenting any and every natural ingredient we can turn into alcohol. Agave spirits are not new to the scene, and this modern-day favorite has been around since the Aztecs first started fermenting agave sap to create 'pulque', a slightly sour fermented drink very similar to kombucha, in 250 AD. In the 1500s, the Spanish conquistadors brought their knowledge of distillation with them and began the first steps of modern agave distillates. 
Since then tequila has come a long way, gaining popularity, strict regulation on its production, better quality, and a slew of different types. It is a long-game distillate as an agave plant must grow for a minimum of 6 years to reach maturity, with some of the highland agave taking up to 12 years. The process of making tequila is fascinating and I think you'll appreciate this video on how tequila is made for insight into the full process.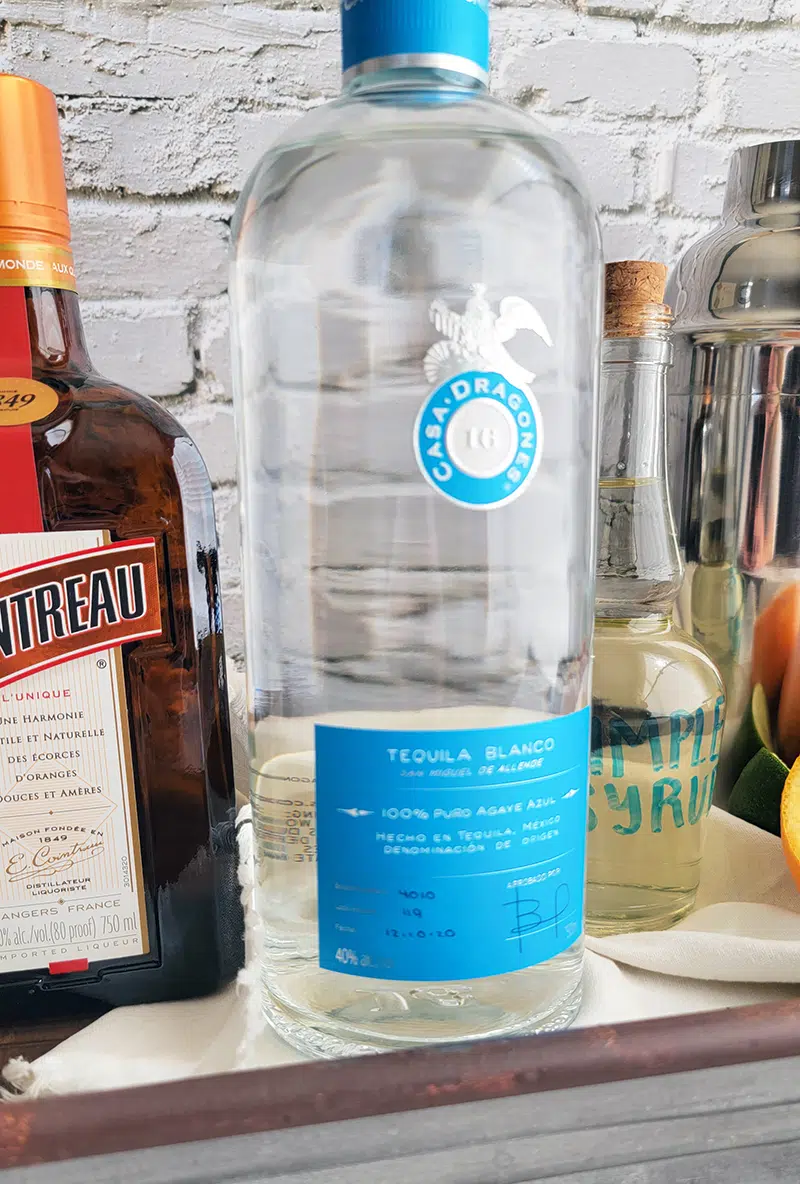 What is the Best Tequila for Classic Margaritas?
For starters, always choose a bottle with "100% Blue Agave" somewhere on the label. Good quality tequila starts there and for classic margaritas, look for blanco or silver for its intense, citrusy, and clean taste.
Blanco won't compete with the Cointreau but won't get lost either. Opt for a mid-range priced bottle. The nuances of a more expensive tequila won't be perceptible among Cointreau and lime and a higher price doesn't necessarily mean better quality. 
There are other "top shelf" tequila brands besides Don Julio, Clase Azul, and Patron, many of them being smaller production and higher quality. Don't be afraid to try a new brand just because the name isn't popular. 
Here's a list of favorite tequilas for cocktails:
Olmeca Altos
Espolon
Fortaleza
Chamucos
Ocho
Lalo
Arette
Milagro
123 (organic, small production)
Hiatus
There are no "locally made" tequilas anywhere except in Mexico. Some American distilleries have started making their own agave-based spirits, and while they may have similar characteristics, they are not true tequila.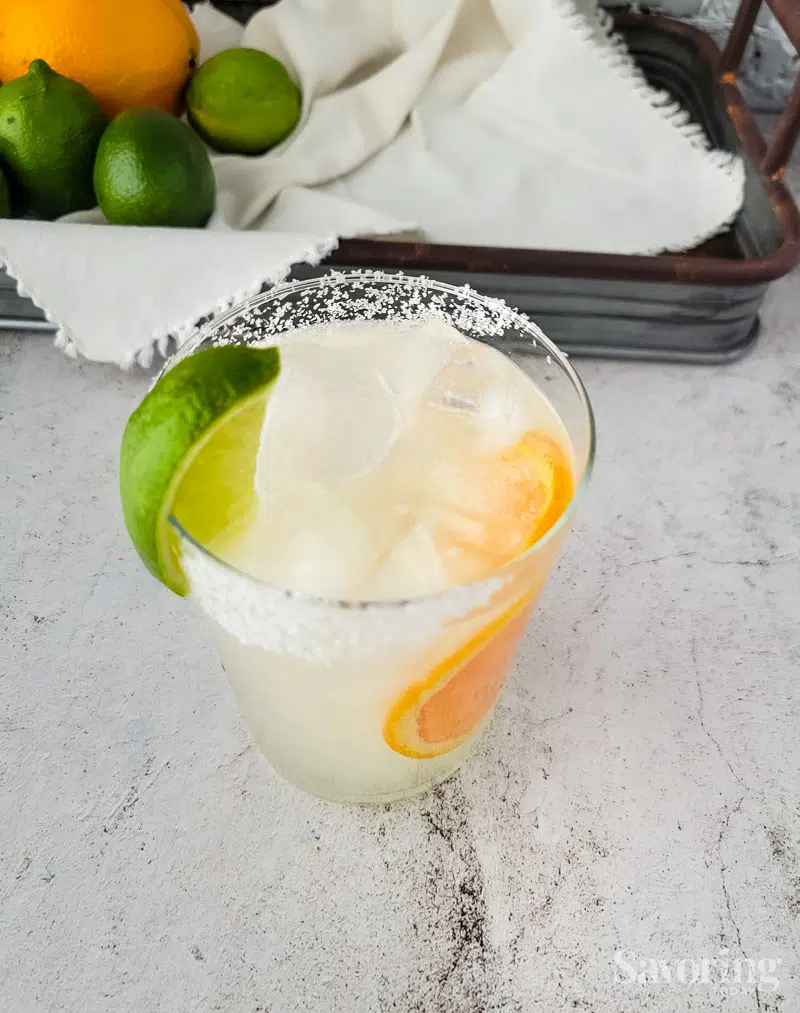 Tequila Varieties and How to Use Them
It's not all blanco and silver—tequila has a massive family tree worth exploring with wild techniques and unique flavor profiles. There are highland tequilas, which tend to be sweeter, and lowland tequilas, which lean more herbaceous.
Aging, which comes in a broad spectrum of times and methods, can dramatically affect the flavors in tequila, including mellowing or imparting elements of a wood barrel. In addition, there is a whole branch of smoky tequila called mezcal.
Blanco, White, Plata, Silver: All tequilas see 14-21 days of aging due to its regulations, but this group is "unaged" in neutral oak or stainless steel to oxidize and then go to the bottle, producing a clear, lively, clean tequila. These have a more intense, bold, citrusy, vegetal palate and represent a more authentic flavor of the agave. TIP: High-quality blanco tequila is great for both sipping and cocktails, and is my go-to for margaritas. 
Joven: A bit of a wild card, Joven tequilas can be unaged or a blend of unaged and aged tequila with additives like sugar or food coloring to give it a golden hue. A less expensive option meant specifically for cocktails and sometimes not 100% agave. TIP: For this reason, I recommend simply choosing a blanco and avoiding Joven for the sake of quality. 
Reposado: A blanco tequila that has been "rested", or aged for a minimum of 2 months up to one year. Aging draws tannins and other elements of wood from the barrel, and similarly to other aged spirits like whiskey, can mellow the spirit. This brings out more nuanced notes of caramel, vanilla, and spices while still supporting those beautiful vegetal and citrus flavors from the agave. TIP: Reposado is great for cocktails and sipping. 
Anejo: Meaning "aged" sees one to three years specifically in a 600-liter oak barrel and pushes the process of wood melded flavors further than reposado. Darker color (though still not as dark as rum or whiskey), more elegant notes with a deep toasty, caramelized flavor. You can use anejo in a cocktail, but due to the delicate flavors of an aged spirit (and cost). TIP: I recommend it for something like an old-fashioned or spirit-forward cocktail, though the best option is sipped on its own. 
Extra Anejo: Three years plus in a barrel with a high price tag, extra anejo approaches the level of scotch or fine cognacs, where you'd want to specifically employ them for sipping to enjoy the full character of the tequila. TIP: Putting heavily aged tequila in a cocktail is not a punishable sin, but a sin nonetheless. 
Mezcal: The smoky sister of the tequila you know and love, you'll find this in and around the tequila section at the liquor store. All tequilas are mezcals, but not all mezcals are tequila. While it is indeed an agave-based liquor, it is produced from up to 50 different agave types (not just blue agave, which is one of the stipulations for making tequila), grown in different regions (with some overlap), and made by a certain method: the agave pina is cooked in earthen pits with lava rock, wood, and charcoal, and then distilled in clay pots. Mezcal is nearly another family tree, famous for its smoky flavor profile, but has incredible range and ability to showcase the terroir, unlike any other spirit. TIP: Don't hesitate to try mezcal in place of tequila in a cocktail. 
TOP TIP: When choosing tequila, always go with a bottle labeled 100% blue agave. This is an indicator of quality and will ensure that there aren't a bunch of additives or extra sugar.
Always Use Fresh Lime Juice
This is not even up for debate. Do not reach for Rose's Lime or bottled lime juice for mixing this classic cocktail. Fresh lime juice is the only way to go for making margaritas, but it can be hard to figure out how many to buy so you have enough.
How many limes do I need for a single drink?
Every piece of fruit holds a different amount of juice. On average 1 lime will yield about 1 tablespoon or 1/2 to 1 ounce of juice. This will vary depending on the size and seasonal crop of limes. Since limes keep in refrigeration for up to 2 weeks, I always buy more than I think I'll need just to be sure.
Buy 2 limes for every cocktail. This will cover any dry limes (it happens) as well as garnishes.
How to get the most juice out of limes
When shopping, select heavier fruit with smoother skin.
Allow the fruit to sit at room temperature for at least 30 minutes to an hour. TIP: You can also warm it in the microwave for 10 to 15 seconds, but room temp is ideal.
Roll the fruit on the countertop while pressing down with the palm of your hand before cutting.
Use a juicer that fits smaller fruits like limes so the ribs of the juicer can really dig into the pulp.
What about Margarita Mix?
Margarita mix comes one of two ways, the first being alcohol-free (also known as sour mix) which typically has some mix of sugar, lime, lemon, and orange flavors to which you add the tequila yourself.
The second is a fully integrated mix with all juices and alcohol in it, so you just pour it over ice and enjoy. This is a great option if the process of making the individual cocktail is too involved for what you're looking to do. After all, there is a bit of work involved to juice the limes, measure and shake each drink, and rim the glass.
Pros: Margarita mix is easy to bust out for gatherings where you can't be shaking drinks all night lest you miss out on quality time with your guests. It is consistent, straightforward, a bit lower ABV, and tastes pretty good!
Cons: Many mixes come with a lot of additives and sugar. A typical margarita mix from the grocery will be an unspecified tequila and orange liqueur (if alcoholic), artificial lime and citrus juices, citric acid, and high fructose corn syrup, with the potential side of glycerol abietate, gum arabic, sodium citrate, yellow #5 and Blue #1.
TIP: Store-bought mixes are often high in sugar, and in the case where you must use one, I recommend buying limes and oranges to go alongside it. The acid from a squeeze of fresh lime juice can bring balance to an overly sweet mix should it be too sugary for your taste.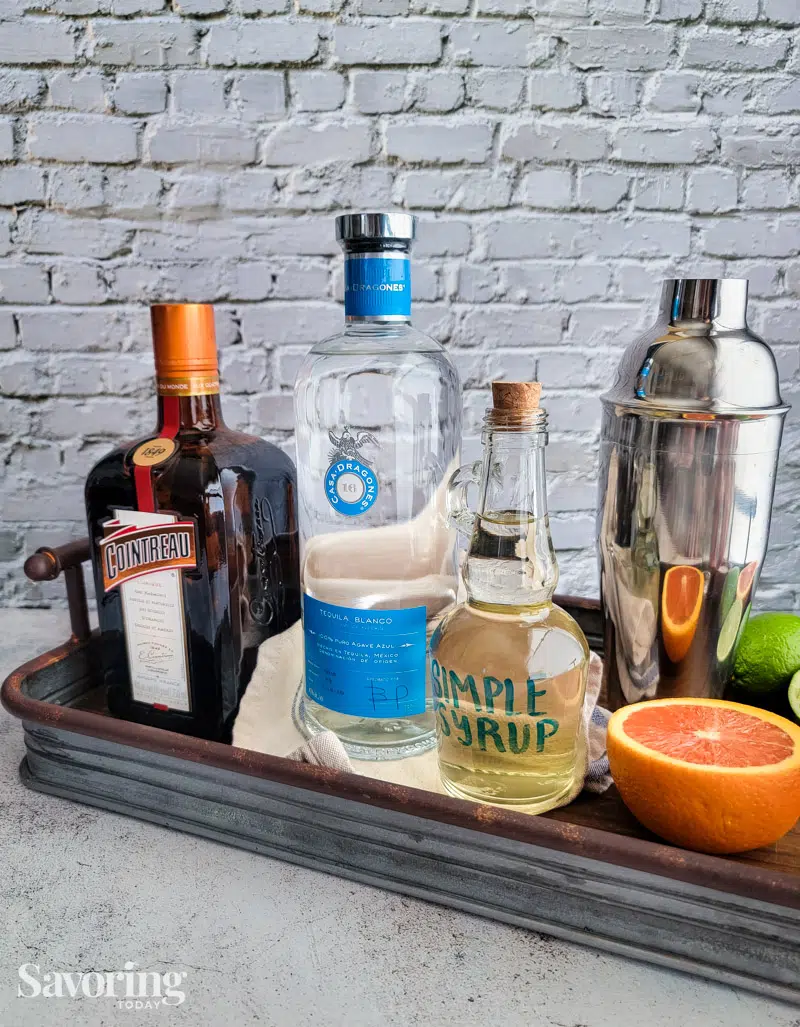 What goes in a Classic (Original) Margarita?
The Margarita is singlehandedly responsible for the popularity of tequila in the United States today. This refreshing cocktail comes with numerous origin stories and a whole slew of "best" and "secret" margarita recipes floating around in the world. They include any number of differences: Triple sec instead of Cointreau. A Grand Marnier float. Smoked salt rim. A splash of orange juice (we like a fresh orange slice). Reposado tequila only. Sour mix. Skinny. Coin style. Blended. On the rocks. Up. The list goes on and on. 
Here's the reality: The Margarita does in fact have an original and established recipe. If you want to make the real thing, it will contain just these 4 ingredients—tequila, orange liqueur, lime, and salt.
This will produce that light, bright, somewhat boozy, slightly green, pearly-opaque drink with layers of citrus, tartness, saline, and thirst-quenching freshness. There's a reason we love this cocktail across the board: because it's damn near perfect. 
Margaritas have been reimagined and occasionally bastardized one hundred times over, resulting in a very loose definition of how and what they are. The world is your oyster, however, and that means you can make a 'Rita however it suits you.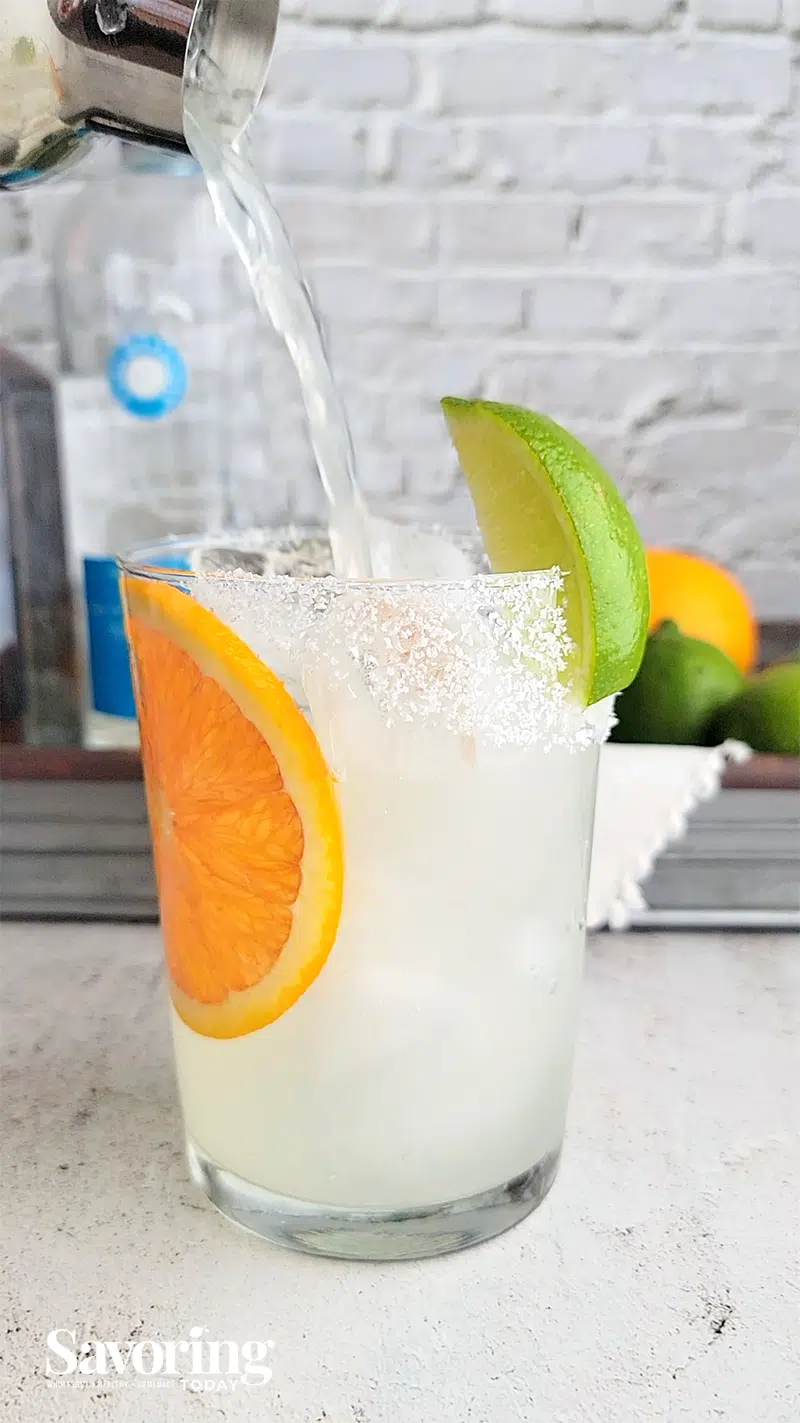 How to Make a "Perfect" Classic Margarita
As a bartender, I strive for balance in cocktails and love to play with ingredients to push different aspects of flavor in a drink. Every cocktail you'll make will have 4 parts to it in various ratios: spirit (tequila), acid (lime), sugar (Cointreau), and body (dilution). Tequila itself can have a subtle sweetness, but overall acts as the backbone for the flavors of lime and orange liqueur.
You'll always dilute a cocktail to some degree by shaking it with standard freezer ice for about 8 seconds. The water melting into your spirit and juice mix will integrate the flavors, chill the cocktail, and round out the sharpness of the acid and spirit. Ever had an undiluted margarita? You'd probably have a coughing fit.
My Standard Recipe Methods
In the printable recipe card below, you'll find my standard recipe, which can be found in varying but similar ratios across vetted cocktail and bar literature.
A good margarita should taste like tequila, that lively peppery vegetal flavor, which is why I'll go for the full 2 ounces as a base.
Cointreau is a good quality orange liqueur with a bright orange flavor, a decent level of sugar, and silky viscosity to match.
Fresh lime is a must for me, I use ¾ of an ounce because I like that bright, zippy, acidic citrus in a cocktail.
I employ simple syrup in my recipe for the same reason I sprinkle salt on top of cookies or add a little sugar to a savory meat rub: balance. The body of a 1:1 simple syrup can increase the viscosity of a cocktail and give it a fuller, smoother mouthfeel while also complementing the acid of the lime and tequila. 
Pros: Low sugar content, showcases the ingredients, highly refreshing, balanced, tasty, and classic! You can adjust all levels of the drink—more or less booze, no sugar, more lime, to make it your own.
Cons: Assembly and preparation are more involved. (Not by much!) Not great for large gatherings unless you go the punch route (recipe below).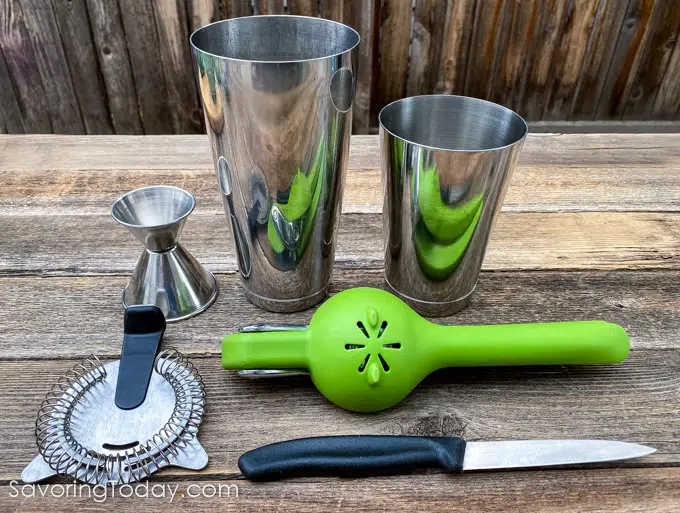 Tips for Properly Shaking a Cocktail
Shaking a cocktail is one of the most important steps in bartending and there are a few things to keep track of when you do it!
Ice size: Most folks have standard refrigerator ice which, due to its smaller size, dilutes much quicker than the ice that many professional cocktail bars use. The time needed to shake the cocktail changes more or less according to the ice cube size.
For home ice, I usually do a quick shake, anywhere from 5-8 seconds. If you shake it too long, the drink may become so diluted that it will taste watered down. If you shake it too short, it may taste a bit too intense. 
Mind you, you'll be pouring it over fresh ice, which will cause further dilution in time, so it is best practice to shake less in most cases.
PRO TIP: I do not recommend "dirty dumping", which is when you shake your cocktail and then dump all the contents from the shaker into the glass to use that same ice in the drink. Fresh ice is full-sized and will melt more slowly than small chips, leading to a better quality cocktail.
Do I have to put salt on it? Why? What kind?
You don't have to have salt with a margarita. If anything, put a pinch in the cocktail before you shake it up to achieve a certain balance, but if you don't care about salt then let that sleeping dog lie.
However, salt does play an important role. Not only does it amplify the sweetness and flavors in a margarita, but it also works to temper bitterness and causes everything to taste brighter and lifted.
Select a medium-size grain for this cocktail, like Kosher salt.
Do not use iodized table salt. It is a very fine grain, and when used as a rim salt often creates unsightly clumps and tastes harsh due to the sheer concentration of the small grains.
Large format grains are pretty, but save your precious Maldon sea salt for another day. If the grains are too big, they will fall off of the glass resulting in hardly any salt at all.
This post may contain affiliate links. See our disclosure policy for more information.
What kind of glass should I use?
You can get creative here and use whatever glassware you want! Some folks love those funky stemmed margarita glasses and traditionalists serve it sans rocks up in a coupe. Some choose to drink everything out of mason jars.
I prefer a rocks glass, as shown, which is typically large enough for the ice, good for salt rims, and fits the 5 or so ounces of liquid the shaken cocktail will yield.
Can I make it non-alcoholic?
By definition that is a limeade, so, no, you cannot make a non-alcoholic margarita. There are some fun "non-alcoholic spirits" like Seedlip and Ritual that are great for making NA cocktails with, should you ever want to try them!
Is this recipe good for blended drinks?
Not really. The addition of blended ice invites a whole new element to cocktail making with different ratios and dilution. Blended margaritas are popular in the summer as there is more ice involved, so if you're looking for more of a slushy, frozen drink try this Frozen Margarita recipe from Isabel Eats. 
How do I make Classic Margaritas for a party?
In the case of a large gathering (6+ people), you've got to assess quantity and effort together. Do I want to be shaking individual cocktails all night? Can I just put everything together in a bowl and let them at it? Do I make full-strength drinks? These are good questions!
You can take virtually any single cocktail recipe and multiply the ingredients. The goal is to stretch it out to give it a more approachable alcohol content, have enough for all of your guests, and still be delicious.
Things like juice, soda, and low ABV wine are great options for stretching a large-format cocktail. In a margarita, opt for orange juice, more lime, club soda, lemon/lime soda, or even some prosecco.
For a party, plan an average of 2 drinks per person, assuming some folks may not have any and others have a third. See the example for Party Margs serving 8 people below!
Important NOTE: When serving alcohol to a group of guests, do NOT serve something extremely high in alcohol. For your guests to navigate a self-serve situation responsibly, have a drink available that is under 15% alcohol. For reference, the average 6oz glass of wine is 12-15% alcohol, and two glasses for any person under 250lbs within an hour will make one legally drunk.
The margarita recipe here contains three ounces of ~40% booze in one 4.5 oz cocktail, which equates to 26% alcohol after the lime, simple, and water dilution.
That means after two margaritas you will have consumed SIX ounces of alcohol. This is enough to affect anybody, no matter what their tolerance is. It is irresponsible to overserve anyone at your home especially if they are driving themselves home.
Classic Margarita Cocktail (On The Rocks)
A light, bright, somewhat boozy, slightly green, pearly-opaque drink with layers of citrus, tartness, saline, and thirst-quenching freshness.
Ingredients
2

oz

tequila blanco

1

oz

Cointreau

.75

oz

freshly squeezed lime juice

.25

oz

simple syrup

SEE NOTES

Ice

for shaking and serving

Kosher salt

for rimming the glass

Lime wedge

for garnish

Slice of cara cara orange

for garnish, as shown (optional)
Instructions
Rim half of your glass with salt, then fill the glass 3/4 full with ice.

Here's how to salt the rim: Set out a shallow saucer with salt spread evenly across the center. Cut a lime wedge and slice into the center of the flesh. Stick the rim of the glass into the sliced part of the lime to use the juice of the lime to wet the rim. Roll the glass gently, wet side down, over the salt. I usually do a ¾-inch salt rim on half of the glass. This should result in a very pretty rim and not too much salt.

Add the tequila, Cointreau, lime juice, and simple syrup to a cocktail shaker with about a cup of ice. Shake for 8 seconds.

Pour into the prepared glass. Top with a lime wedge and slide a slice of orange down the side (optional).
Notes
This recipe packs a punch with a full 3 ounces of liquor per beverage.
How to Make Simple Syrup for Cocktails: Simple Syrup is equal parts cane sugar and water. All you have to do is heat the water to dissolve the sugar completely. You may also use a sugar alternative like honey, coconut palm sugar, brown sugar, whatever is in the cabinet. It may affect the flavor slightly but consider it an adventure.
NOTE: Shaking a cocktail is one of the most important steps in bartending and ice size matters. Ice size: Most folks have standard refrigerator ice which, due to its smaller size, dilutes much quicker than the ice that many professional cocktail bars use. 
For home ice, I give it a quick shake, anywhere from 5-8 seconds. If you shake it too long, the drink may become so diluted that it will taste watered down. If you shake it too short, it may taste a bit too intense. Mind you, you'll be pouring it over fresh ice, which will cause further dilution in time, so it is best practice to shake less in most cases.
PRO TIP: I do not recommend "dirty dumping", which is when you shake your cocktail and then dump all the contents from the shaker into the glass to use that same ice in the drink. Fresh ice is full-sized and will melt more slowly than small chips, leading to a better quality cocktail.
Nutrition
Calories:
243
kcal
|
Carbohydrates:
16
g
|
Protein:
1
g
|
Fat:
1
g
|
Saturated Fat:
1
g
|
Polyunsaturated Fat:
1
g
|
Monounsaturated Fat:
1
g
|
Sodium:
7
mg
|
Potassium:
39
mg
|
Fiber:
1
g
|
Sugar:
15
g
|
Vitamin A:
11
IU
|
Vitamin C:
6
mg
|
Calcium:
4
mg
|
Iron:
1
mg
Mix up a version of our Classic Margarita to serve 8 (or more) with this example of stretching the original recipe for a small party.
Party Margs for 8
An example of stretching a classic margarita recipe to serve a larger group.
Ingredients
12

oz

tequila

6

oz

cointreau

8

oz

lime

2

oz

simple syrup

4

oz

lemon/lime soda or club soda

2

oz

orange juice

4

oz

prosecco
Instructions
Add ingredients to a pitcher with about 4 cups of ice. Pour over ice in glasses.
Notes
~4 oz dilution to start, will increase as ice melts
With the margarita ingredients alone, the punch is sitting at about 24%. In this recipe, I am allotting 1.5 oz tequila and .75 oz Cointreau, adding soda and orange juice, which both mimic the flavors already in the drink, a bit of extra lime to keep the acid balanced with the added sugars, and a prosecco top to keep it light. After all that the punch will sit around 18%, gradually diluting even further as the ice melts. 4-5oz servings would work best.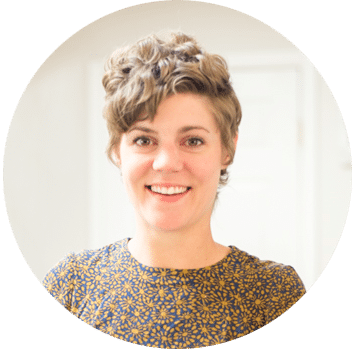 Article by Kayla Purcell
Kayla's creativity spills over into everything she does, especially in the kitchen. She is passionate about bringing people together around tasty food that's good for you. We love that too.