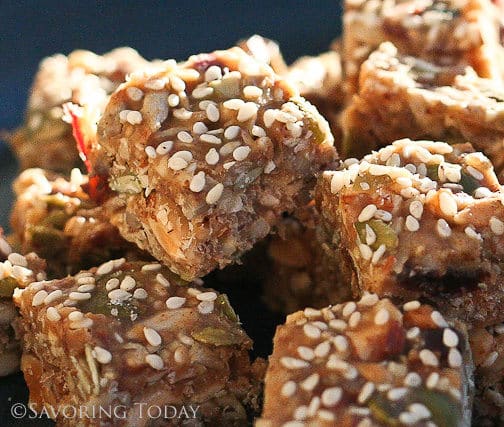 A new favorite snack, these really help satisfy those mid-morning hunger pangs. I discovered the basic recipe on Enjoying Healthy Foods blog a few weeks ago, tweaked it to suit my own preferences and thought it was too good not to share.
I love how easy it is to customize, that I know exactly what's in it—no artificial ingredients or preservatives—and it is a snap to put together. Soft, chewy, and satisfying, these granola bites are great for on-the-go snacks, broken-up over yogurt, or added to morning oatmeal. Oh, so naturally good!
Fruit & Nut Granola Bites
A tasty snack of nuts, seeds, and dried fruit.
Ingredients
1

cup

crispy almonds

(or raw almonds)

1

cup

sweetly spiced crispy pecans

(or raw pecans)

1/2

cup

pumpkin seeds

(pepitas)

1/2

cup

raw sunflower seeds

4

tablespoons

sesame seeds

, divided in half (or chia seeds)

1/4

cup

coconut flakes

1/4

cup

dried cranberries

1/4

cup

chopped dates

1/4

cup

dried blueberries

1/4

cup

raisins

1/3

cup

almond butter

1/4

cup

honey

1/4

cup

coconut oil

sea salt
Instructions
Add almonds and pecans to a food processor and roughly chop. Mix with remaining fruit, seeds (reserve 2 tablespoons of sesame seeds), and coconut flakes in a mixer or stir by hand.

Melt coconut oil in a sauce pan. Remove from heat and add almond butter and honey. Mix until well blended.

%http://savoringtoday.com/wp-content/uploads/2012/01/Fruit-Nut-Granola-Bites-pan-1-of-1-copy-e1325780366256-300x230.jpg

Pour over nut & fruit mixture and mix to coat. Spread evenly in a parchment covered 9x13 pan. Sprinkle with remaining sesame seeds and a touch of sea salt. Place in freezer for 2 hours to chill and set. Cut into desired shape and size.

%http://savoringtoday.com/wp-content/uploads/2012/01/Fruit-Nut-Granola-Bites-close-up-1-of-1-copy.jpg
Notes
Dried pineapple, dates, golden raisins, or any other dried fruit can be substituted for the cranberries, blueberries, or raisins. Also, chia seeds can be substituted for sesame seeds if desired.
Nutrition
Calories:
226
kcal
|
Carbohydrates:
15
g
|
Protein:
5
g
|
Fat:
18
g
|
Saturated Fat:
4
g
|
Sodium:
2
mg
|
Potassium:
215
mg
|
Fiber:
3
g
|
Sugar:
8
g
|
Vitamin A:
5
IU
|
Vitamin C:
0.2
mg
|
Calcium:
64
mg
|
Iron:
1.4
mg