Tastier than raw nuts, Crispy Almonds have become a central part of creating healthy grab-n-go snacks at our house.
Super-simple to soak and dehydrate, you're gonna love this crunchy, protein-rich solution for those afternoon cravings!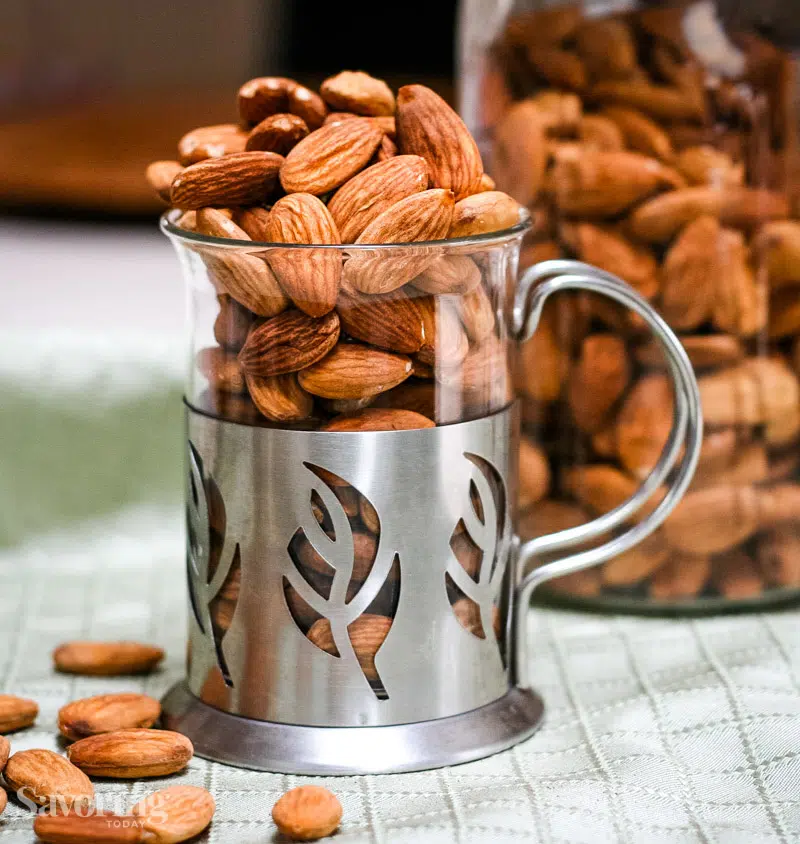 Almonds are literally a "health nut", helping to lower LDL and raise HDL cholesterol, ground into flour for baked goods for those with celiac disease, and provide a host of vitamins and minerals for those seeking to develop healthier snacking habits. 
As nutritionally power-packed as they are, nuts can also leave folks with a heavy, bloated feeling if eaten by the handfuls. Nuts have enzyme inhibitors, which interfere with digestion, causing this bloating and discomfort. 
Soaking and dehydrating the almonds neutralizes these inhibitors, increasing the absorption of the vitamins and minerals. The dehydrating process also makes the nuts delightfully crisp like roasted nuts, but without adding any oil.
Ball wide mouth jars are ideal for storage and any dehydrator will work as long as the screen or grid is small enough to hold the nuts.
In addition to snacking on Crispy Almonds just as they are, I also use them to make granola bites, in baked goods, on pan-seared fish, or to sprinkle over oatmeal and yogurt. 
Combine with Sweetly Spiced Crispy Pecans and Walnuts to serve as mixed-nuts for parties or holidays.
Crispy Almonds
Soaked with salt and dehydrated to create delicious, crispy almons for snacking.
Ingredients
4

cups

raw almonds

1

tablespoon

sea salt

Filtered water to cover almonds

4-5 cups
Instructions
Soak almonds in a large bowl with filtered water and salt for 12-24 hours. Pour off water and allow to drain well, 5-10 minutes. 

Spread out the almonds on the trays of a dehydrator in a single layer. Dry at 150° for about 24 hours, or until the almonds are crisp. Note: To test the nuts, allow a couple to cool for a few minutes first.
Equipment
Nutrition
Calories:
206
kcal
|
Carbohydrates:
8
g
|
Protein:
8
g
|
Fat:
18
g
|
Saturated Fat:
1
g
|
Polyunsaturated Fat:
4
g
|
Monounsaturated Fat:
11
g
|
Trans Fat:
1
g
|
Sodium:
436
mg
|
Potassium:
252
mg
|
Fiber:
4
g
|
Sugar:
1
g
|
Vitamin A:
1
IU
|
Calcium:
95
mg
|
Iron:
1
mg