My friend and I began our monthly cooking journey more than 20 years ago with the Once-a-Month Cookbook, Master Cook recipe software, and six kids in-tow.
We have stirred, chopped, tasted, and mixed more meals than we could possibly count.
Since my own family was never keen on casseroles, the cookbook served as inspiration only and we organized our own recipes around the concept. It has worked like a charm for all these years.
With hundreds of recipes at our fingertips to create menus, shopping lists, and precisely scaled recipes, we load our freezer with some of the same meals you see here at Savoring Today.
We have learned what freezes well and what doesn't, understanding it is more important to have the menu and the plan than have every part of the meal cooked and frozen.
There are casseroles sprinkled in here and there with soups and stews every cook learns to make in big batches, but many of the recipes are everyday favorites with single meats and separate side dishes.
Recipes are evaluated for freezer quality to determine if they will be partially or fully cooked. Sometimes only choice components are frozen for later use. The menu hangs on the front of the refrigerator, ready for the month.
Here are just a few of the recipes we use:
It is not our goal to cook 30 meals in one day (though we did once, and barely escaped with our sanity).  We learned quickly that a plan of 15-18 meals would carry a family through an entire month, which made the endeavor more realistic (and a lot less exhausting). 
Leftovers, dining out, and quick-fix meals like sandwiches or quesadillas fill-in for the remaining meals during an average month. Monthly cooking has enabled us to consistently gather our family around great-tasting food for more than 20 years.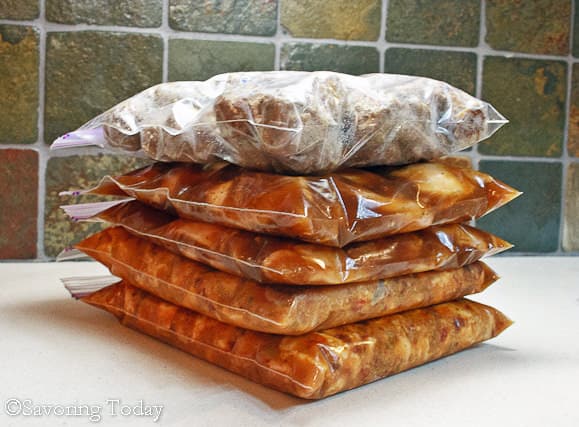 [thrive_leads id='17676′]