Spaghetti Bolognese is not your average meat sauce; it is a sauce you can spend an afternoon falling in love with as its simmering aroma wafts through the house. I discovered Bolognese while watching Emeril Live years ago and spaghetti pasta has never had a better companion (we enjoy it over spiralized vegetables too!). Over the years, this rich, meaty sauce has won a special place in the hearts of family and friends—it feels like I am giving away a secret family recipe, but what is food if you cannot share it.
This sauce does not need constant attention, but it requires patience as the ingredients are layered and perfected by long simmering. Serving it with ricotta on top was a new twist when I first tried the recipe, now we cannot imagine having it any other way. Grab a bottle of good red wine and get ready to see spaghetti dinner in a whole new light.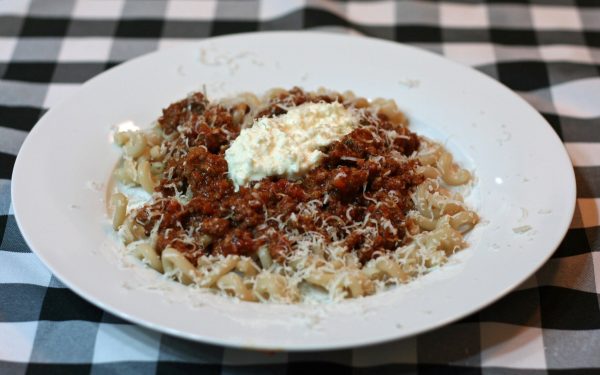 There are a few important steps to creating a magnificent sauce:
Don't get in a hurry, this is a food of love.
Don't skimp on ingredients, the subtleties of each flavor is what make it so special. (I have tried shortcuts; it does not turn out the same.)
Use a good dry red wine; if it's too cheap to drink, it is too cheap to eat.
The cream finish is very important; it is remarkable how the cream ties it all together.
Print
Spaghetti Bolognese: Ragù Magnifico!
Author:

Prep Time:

30 mins

Cook Time:

2 hours

Total Time:

2 hours 30 minutes

Yield:

8

Category:

Main Dish, Sauces

Cuisine:

Italian
---
Ingredients
3 tablespoons extra-virgin olive oil
1 pound ground beef or ground veal
1/2 pound hot Italian sausage — removed from the casings
1 pound ground lamb
4 ounces pancetta — diced
1 1/2 cups chopped yellow onions
3/4 cup diced carrots
3/4 cup diced celery
1 tablespoon minced garlic
1/2 teaspoon ground black pepper
2 whole bay leaves
1/2 rounded teaspoon dried basil
1/2 rounded teaspoon dried thyme
1/2 rounded teaspoon dried oregano
1/2 teaspoon ground cinnamon
1/2 teaspoon ground nutmeg
2 teaspoons sugar
2 tablespoons tomato paste
1 1/2 cups dry red wine
1 cup dried porcini mushroom
2 cans crushed tomatoes and their juice — (14 1/2-ounce)
1 can tomato sauce — (14 1/2-ounce)
1 cup beef broth
3 tablespoons fresh parsley leaves — chopped
1 cup freshly grated Parmesan
2 tablespoons unsalted butter
1/4 cup heavy cream
8 ounces ricotta cheese
1 pound spaghetti
Special equipment: cheese cloth
---
Instructions
Rinse the mushrooms well under cold water. Add 1/2 cup of hot water to 1/2 c wine and soak mushrooms to re-hydrate while starting the sauce. Mix spices in a small bowl and set aside. Dissolve tomato paste in beef broth.
In a large skillet, heat 2 tbsp oil over medium heat. Add the diced pancetta and cook, stirring, until well browned and the fat is rendered. Remove pancetta from skillet and place in a large pot for the sauce. Add the beef, lamb, and sausage to the skillet in small batches to brown the meat (adding too much meat at once will steam the meat instead of browning it). Add a small amount of wine at the end of each batch to loosen browned bits from the skillet. Once browned, add meats to the large pot.
Add the onions, carrots, and celery to the skillet with 1 tbsp oil and cook, stirring, until soft, 4 to 5 minutes. Add the garlic, pepper, bay leaves, basil, thyme, oregano, cinnamon, and nutmeg and cook, stirring, until spices are fragrant. Add the other 1 cup of wine and cook, stirring, to deglaze the pan and remove any browned bits sticking to the bottom of the pan, and until half of the liquid is evaporated, about 2 minutes. Remove from skillet and add to the large pot with the meats.
Add the tomatoes and their juices, the tomato sauce, tomato paste and beef broth mixture, and sugar; bring to a low boil. Drain the mushrooms, reserving the liquid. Add mushrooms to the sauce and strain the reserved liquid through a piece of doubled cheesecloth to remove any sediment; add reserved liquid to the pot. Reduce the heat to medium-low or simmer, stirring occasionally, to keep the sauce from sticking to the bottom of the pan, until the sauce is thickened and flavorful, at least 2 hours (longer is better!).
Toward the end of the simmering time, add the cream, butter, and parsley, stir well, and simmer for 5 minutes. Discard the bay leaves and adjust the seasoning, to taste. Remove from the heat and cover to keep warm until ready to serve.
Place a serving of spaghetti on a plate and cover with sauce, add a couple serving spoons of ricotta on top. Add grated Parmesan on top of that and serve. Alternatively, serve this "family style" on one large platter as described for individual servings.
---
Notes
I often double this recipe and freeze in 2-3 cup portions so we always have Bolognese on-hand for a quick, delicious meal.
Posted on the following Blog Hops:
The Healthy Home Economist Monday Mania
Hearth & Soul Blog Hop
The Nourishing Gourmet Pennywise Platter Thursday
EKat's Kitchen Friday Potluck
Real Food Whole Health Fresh Bites Friday