Our New York Style Cheesecake Recipe with Blueberry Topping is for those longing for dense, soul-satisfying, unbutton-your-jeans kind of cheesecake.
It's a full 7 pounds of eye-rolling yum.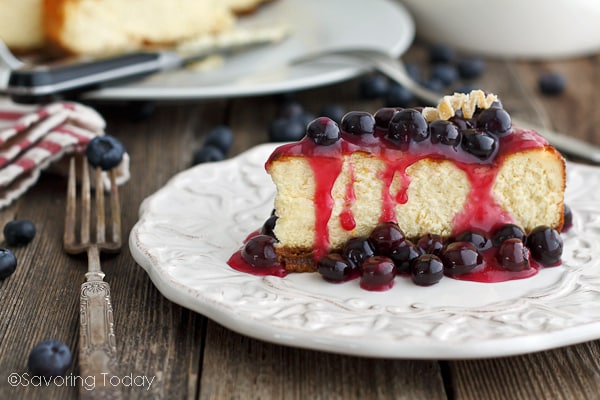 New York-Style Cheesecake with Blueberry Topping has become the standard for my husband's birthday cake.
He's married to a food blogger and knows he could pick any dessert, from anywhere, and I'd make it for him.
But he also knows if he picks something else, there won't be cheesecake … and he loves cheesecake. New York-style cheesecake, to be precise.
This post may contain affiliate links. See our disclosure policy for more information.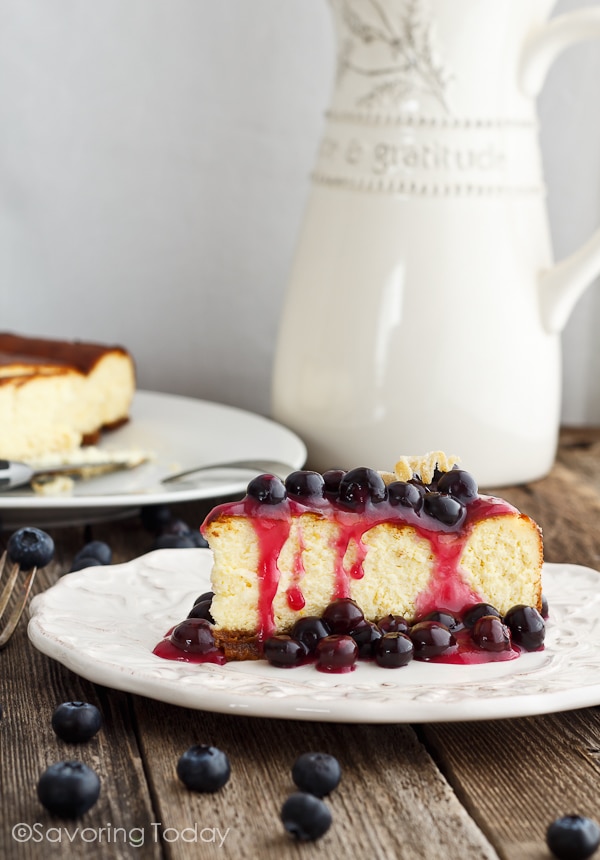 TIPS to make the BEST New York-Style Cheesecake
Great cheesecake does not need any topping, however, when the topping is a birthday request, you make it. Fresh fruit is also nice.
There must be lemon zest. In my book, a measly tablespoon of lemon juice is not enough to balance the richness of the filling.
Graham cracker crust is better with coconut palm sugar, or brown sugar … and real butter.
Get an oven thermometer to be sure the temp is right if you don't really know your oven is accurate.
Temperature matters inside the cheesecake too. An instant-read thermometer is the best way to gauge when it's ready to pull from the oven. You'll spend time and treasure making cheesecake, you don't want to guess when it's done … or over bake. (Trust me, I know.)
A fabulous cheesecake is worth the small investment in a springform pan. You don't want to have to dig your treasure out of a lesser vessel.
Let the cheesecake set out at room temperature for at least 30 minutes before serving for optimum flavor.
When the celebrating is done, freeze the remaining cheesecake in slices on a rimmed baking sheet. Once frozen, wrap each slice in plastic wrap and keep in the freezer. To thaw, unwrap while frozen and defrost in a container in the refrigerator.
About refined ingredients, like white sugar: Most of the recipes you'll find on Savoring Today encourage unrefined, whole food ingredients. We make an exception for birthdays and holidays. 🙂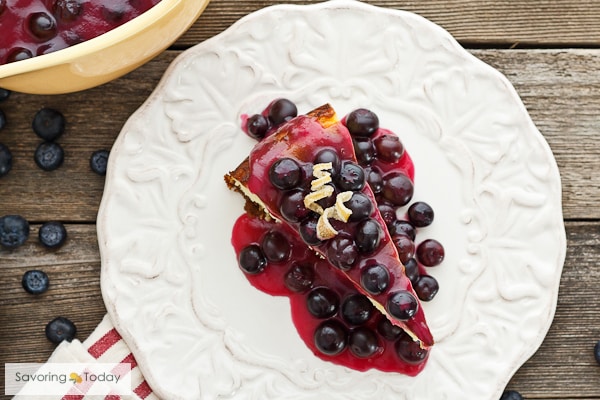 New York-Style Cheesecake with Blueberry Topping
Rich, creamy cheesecake with a graham cracker crust topped with blueberry sauce. This luxurious cheesecake recipe has a rich, dense texture, perfect for special occasions.
Servings:
12
-14 Servings
Ingredients
Graham Cracker Crust:
1 1/2

cups

graham cracker crumbs

about 12 (2 1/4 x 4 3/4-inch) crackers, processed until uniformly fine

2 1/2

tablespoons

brown sugar

packed

6

tablespoons

melted butter

, plus extra for greasing pan
Cheesecake Filling:
2 1/2

pounds

cream cheese

softened at room temp (45 min-1 hour)

1/8

teaspoon

sea salt

1 1/2

cups

sugar

1/2

cup

sour cream

2

medium

lemons

zested and juiced

2

teaspoons

vanilla extract

2

large

egg yolks

6

large

eggs
Blueberry Topping:
1

cup

sugar

3

tablespoons

cornstarch

2

cups

water

4

cups

fresh blueberries 

2

tablespoons

lemon juice — freshly squeezed

2

teaspoons

lemon zest

3

tablespoons

butter
Instructions
Adjust top oven rack to lower-middle position while also making sure there is room under that rack for a shallow pan of water. Heat oven to 400°F degrees.
For the Graham Cracker Crust:
Process graham cracker crumbs until fine, add brown sugar and process to incorporate well. In medium bowl; add processed crumbs with 6 tablespoons melted butter and toss with fork until evenly moistened.

Brush bottom of 10 1/2-inch springform pan with additional melted butter. Pour crumbs into springform pan and press evenly into pan bottom. Bake until fragrant and beginning to brown around edges, 6-8 minutes. Cool on wire rack while making filling.

While preparing the filling, increase oven temperature to 500°F degrees and bring 2 cups of water to a boil in a kettle or pan on the stove for the steam pan you'll position on the lowest rack under the cheesecake.

Once boiling, pour the water into a 9×13 pan and carefully place the pan on the lowest rack of the oven, just under the rack for the cheesecake. (This is optional, however it will help prevent the cheesecake from cracking while baking. It will not affect the quality of the cheesecake, only the appearance.)
For the Cheesecake Filling:
In a mixer, beat cream cheese at medium speed to break up and soften slightly, about 1 minute. Scrape beater and sides of bowl well after each add-in to be sure all the ingredients are well incorporated.

Mix-in salt and sugar; beat at medium-low speed until combined. Add sour cream, 1 tablespoon lemon juice, all the zest, and vanilla; beat at low speed until well mixed.


Add egg yolks and beat at medium-low speed until combined, then add remaining whole eggs two at a time, beating until thoroughly combined and smooth, scraping bowl and beaters between additions.

Just above the crust edges, brush sides of springform pan with melted butter. Set springform pan on rimmed baking sheet to catch any pan leaks. Pour filling into pan and bake 10 minutes.

Then reduce oven temperature to 200 degrees and continue to bake until instant-read thermometer inserted into center of cheesecake registers 150 degrees, about 1 and 1/2 hours (check at 1 hour, 15 minutes).

Remove from the oven and run a paring knife around inside of pan to make sure the cake releases from the sides (this will help prevent it from cracking as it cools).


Cool completely in the pan on a wire rack, 2 1/2 to 3 hours. Wrap tightly in plastic wrap and refrigerate until cold, at least 3 hours.
For the Blueberry Topping:
Reserve 1/2 cup of blueberries for garnish. In a small saucepan over medium-high heat stir together the sugar, cornstarch, water, lemon juice, and lemon zest. Cook over medium heat, stirring until thickened, about 5 minutes.

Stir in blueberries and simmer the mixture, stirring occasionally, until the berries break down, 5-8 minutes. Add the butter and stir until melted. Remove from heat and let cool before serving with the cheesecake. Yields 3 cups. (Taste can be adjusted by adding more lemon if too sweet.)

To unmold cheesecake, run paring knife around inside of pan and remove sides of pan. Slide thin metal spatula between crust and pan bottom to loosen, then slide cake onto serving plate. Let cheesecake stand at room temperature about 30 minutes before serving.

When cutting the cake into wedges, wipe the knife clean after each cut to make neat slices. To serve, dress each piece with Blueberry Topping and fresh blueberries.
Notes
To make this dessert gluten-free, use gluten-free graham crackers for the crust.
Make-ahead: Cheesecake and blueberry topping can be made several days in advance and leftovers can be frozen with good results.
Nutrition
Calories:
720
kcal
|
Carbohydrates:
68
g
|
Protein:
10
g
|
Fat:
47
g
|
Saturated Fat:
25
g
|
Cholesterol:
245
mg
|
Sodium:
521
mg
|
Potassium:
263
mg
|
Fiber:
2
g
|
Sugar:
55
g
|
Vitamin A:
1780
IU
|
Vitamin C:
15.8
mg
|
Calcium:
142
mg
|
Iron:
1.6
mg
More Cheesecake Dessert Recipes You'll Love