What do you do when it's early August and the forecast is 20 degrees cooler than yesterday?
You bake.
Or make chili.
Or you bake and make chili.
Lucky for me, this 65° overcast day landed right in the middle of International Scone Week, so it was literally no sweat to mix up a batch of Triple Ginger & Coconut Scones [GF] . I decided to make them gluten-free so we could enjoy a few and then give the rest to our daughter—a poor college student always appreciates gifts of homemade food. I also figured there would be numerous recipes for regular scones. Celia at Fig Jam and Lime Cordial created a post with all the photos and scone recipes here — what a tasty way to celebrate International Scone Week.
The inspiration to load up on ginger came from a Triple Ginger Pound Cake recipe by April at The 21st Century Housewife last month. She had me at triple ginger, I just needed to figure out how to translate the idea into a scone recipe…with coconut…and cardamom.
I pulled the pan out of the oven two hours ago and I have already eaten three of them.
Which is bad.
I couldn't help myself.
Chewy bits of crystallized ginger are the main attraction here, after all it is triple ginger we're talking about. A hint of cardamom is there too, mysterious and earthy, and a sprinkling of coconut toasts as it bakes for a perfect finish. Can you believe I didn't have any jam for International Scone Week? No worries, a dollop of whipped cream did the trick today.
Although these scones truly need nothing extra, a touch of sweet from jam or lightly sweetened whipped cream brings a nice balance. If you do serve them with jam, blackberry or raspberry would be especially tasty with the ginger.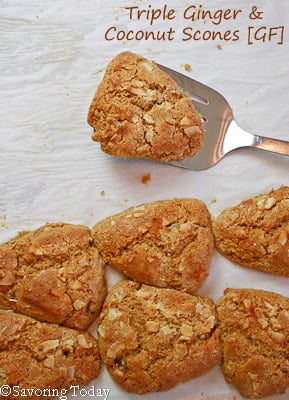 Print Recipe
Triple Ginger & Coconut Scones [Gluten-Free]
Servings:
16
small 2 inch wide scone wedges
Ingredients
1 1/2

cups

gluten-free flour mix -- King Arthur Gluten-Free Multi-purpose Flour

1/2

cup

almond flour

1/3

cup

coconut palm sugar -- + 1 tablespoon

1/2

teaspoon

cardamom

1/2

teaspoon

ground ginger

2

teaspoons

baking powder

1/4

teaspoon

baking soda

1/4

rounded teaspoon sea salt

1/4

teaspoon

xanthan gum

1/2

cup

coconut flakes -- + more for tops

6

tablespoons

butter -- very cold

1/2

cup

crystallized ginger -- chopped

3/4

cup

heavy cream -- less 2 tablespoons

(, set aside)

1

whole egg

2

teaspoons

fresh ginger -- minced or micro grated

1

teaspoon

vanilla extract
Instructions
Preheat oven to 425°F.

Mix all the dry ingredients in a medium bowl or food processor until well combined. Using a pastry knife or a food processor, cut butter into dry ingredients until the butter is the size of small peas (using a processor will produce more fine pieces, but works beautifully).

Once butter is incorporated, gently mix in the coconut and crystallized ginger until combined.

Reserve 2 tablespoons of the cream in a cup or small bowl. In another bowl, whisk the remaining heavy cream, egg, fresh ginger, and vanilla extract until blended.

%http://savoringtoday.com/wp-content/uploads/2013/08/Triple-Ginger-Coconut-Scones-Mix_edited-1.jpg

Add the wet ingredients to the dry ingredients in the larger bowl and stir to combine. The dough will begin to hold together and may be somewhat stiff, depending on the flour mix used. The dough should be sticky, not crumbly. If the dough is too dry, add a small amount of cream and mix-in.

%http://savoringtoday.com/wp-content/uploads/2013/08/Triple-Ginger-Coconut-Scones-Pressed-out.jpg

%http://savoringtoday.com/wp-content/uploads/2013/08/Triple-Ginger-Coconut-Scones-pressed-out-with-coconut.jpg

Divide dough into two equal parts. Sprinkle a small amount of GF flour mix to lightly dust the counter and place half the dough on the flour. Press dough into a disc approximately 6 inches wide and 1 inch thick. With a sharp knife, cut the circle into 8 equal pieces, cleaning the knife after each cut. Sprinkle with coconut flakes, lightly pressing the coconut into the dough just a little.

%http://savoringtoday.com/wp-content/uploads/2013/08/Triple-Ginger-Coconut-Scones-ready-for-the-oven-e1375927742144.jpg

Using a pastry knife to slide under the cut pieces, place the dough pieces on a parchment lined baking sheet 2 inches apart. Brush or dab researved cream on the tops, then bake for 10-12 minutes until light-golden brown.