This Yogurt-Marinated Grilled Chicken keeps the grill lit and the oven turned off during hot summer weather.
A simple marinade of yogurt and herbs makes the chicken tender and delicious when grilled.
No more dry chicken!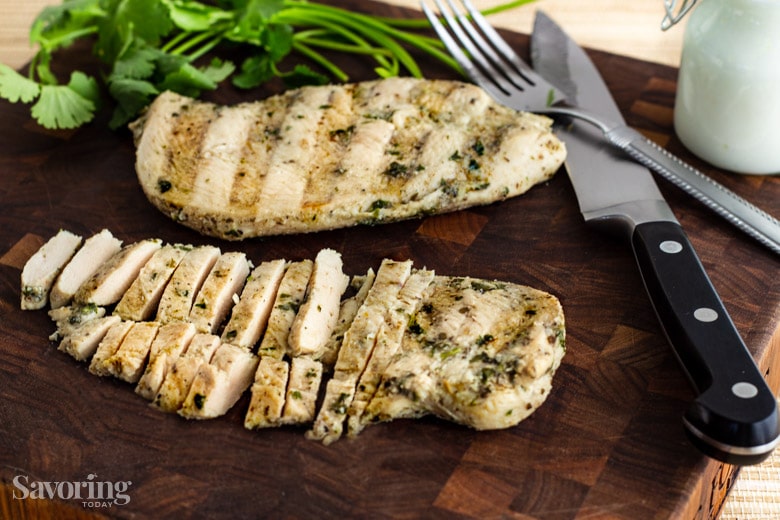 Boneless, skinless grilled chicken breasts are easy to make and freeze, versatile for an array of meals throughout the week. Though lean and quick cooking, chicken breast needs help in the flavor department, so I am always on the hunt for good marinades. 
The intense heat of a grill can leave chicken breast rubbery and dry if it isn't prepped with a marinade or brine and monitored closely for doneness. That's where yogurt and an instant-read thermometer come in.
We use these same marinating and grilling techniques whether grilling our Tri-Tip Roast, Lamb Chops, Pulled Pork, Savory Herb Chicken, or Salmon.
This post may contain affiliate links. See our disclosure policy for more information.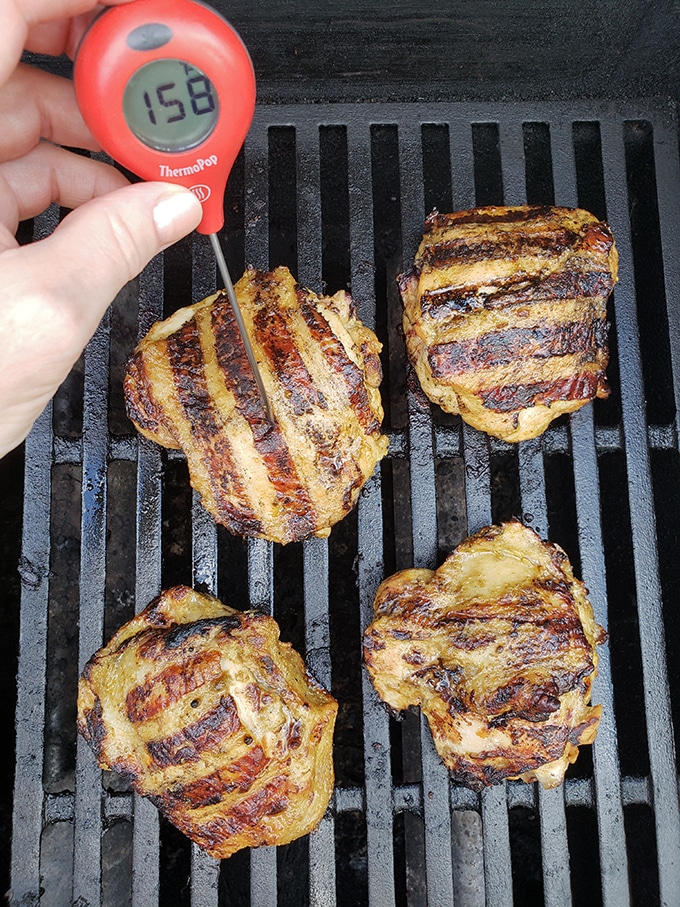 Check Temperature, Not Time
If you're grilling without an instant-read thermometer, it's time to invest in this grilling tool and stop guessing about doneness. Great grilling or barbecue relies on temperature, not time. There are so many variables, any grilling recipe depending on time alone will always be a shot in the dark.
Set up two-zone heat; direct and indirect
Gas grill: Once the grill is heated, leave the burners on one side of the grill on high and leave the other side off to create a direct and indirect source of heat. If the grill ordinarily runs hot or cold, you'll have to adjust the settings to maintain a temperature around 375°F when the lid is closed.
Charcoal grill: Build your fire in a chimney starter and once the coals are hot and ready, spread them out over one side of the bottom of the grill.
Tips for the Best Grilled Chicken Breasts
Start with an even thickness – use a meat mallet to pound out the thicker end
Marinade in yogurt or buttermilk – citrus marinade works for flavor, but not as well for tenderness
Always use a glass dish or zip-type bag with an acid-based marinade—aluminum and stainless steel can react with the acid and affect the meat.
Check doneness with an instant-read thermometer – the best way to safeguard over-cooking lean proteins
TIP: Another important step in prepping chicken breast for the grill is even thickness. Using a meat mallet, it should only take two or three whacks on the thicker end to create an even piece of meat that will cook, well, evenly.
Fabulous Vegetable Side Dishes for Grilled Chicken
Yogurt-Marinated Grilled Chicken
Tender chicken marinated with yogurt, fresh cilantro, and earthy spices, then grilled to perfection.
Ingredients
8

boneless, skinless chicken breasts

(about 3 pounds)

1

cups

plain whole-milk yogurt

1

cup

fresh cilantro leaves and stems

, coarsely chopped

6

cloves

garlic

, coarsely chopped

1

2-inch piece

fresh ginger

, peeled and chopped

1

tablespoon

garam masala

, or favorite seasoning

2

teaspoons

kosher salt

, plus more for seasoning

1

teaspoon

freshly ground black pepper
Instructions
Working with one chicken breast at a time, place chicken inside a zip-type bag and pound the thicker part of the chicken with a meat mallet to create a more even piece. Transfer chicken breasts to a separate gallon size zip-type plastic bag.

Combine the remaining ingredients in a food processor and blend until mostly incorporated. Pour yogurt mixture over chicken, move the chicken around in the bag until well coated. Seal bag and marinate chicken in the refrigerator for at least 3 hours or overnight.

Build a medium fire in a charcoal grill, or heat a gas grill to medium-high. Brush grill grates with oil. Scrape excess marinade off chicken; season with salt. Grill chicken, turning once, until browned and cooked through, 3-4 minutes per side.
Nutrition
Calories:
154
kcal
|
Carbohydrates:
3
g
|
Protein:
25
g
|
Fat:
4
g
|
Saturated Fat:
1
g
|
Polyunsaturated Fat:
1
g
|
Monounsaturated Fat:
1
g
|
Trans Fat:
1
g
|
Cholesterol:
76
mg
|
Sodium:
727
mg
|
Potassium:
479
mg
|
Fiber:
1
g
|
Sugar:
1
g
|
Vitamin A:
66
IU
|
Vitamin C:
2
mg
|
Calcium:
48
mg
|
Iron:
1
mg