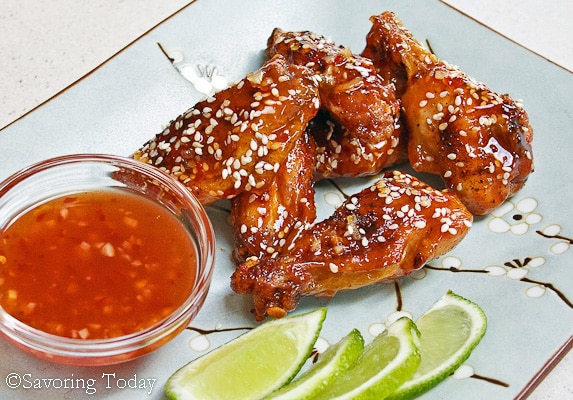 Thai Chili Sesame Chicken Wings are flat-out hard to stop eating when sweet and spicy sauce clings to every crispy bite. I'm not even sure if it is the texture of the wing or the flavor of the sauce I love more or the symbiotic sensation of their perfect union, but love them I do. Based on the sheer number of wing recipes and numerous wing places with a cult following, it is safe to assume I am not alone in this. This particular recipe left me a bit embarrassed by the pile of bones that quickly replaced the garlic and chili studded wingettes (my favorite) on my plate, while my husband was only halfway through his.
Let's just say he did a better job savoring his, while I guess I got a little carried away
.
Too dark for photos last night, I held some back for lunch today (I know, bummer) and shared them with our daughter when she came home from work. She was a little worried she had missed it. I assured her there were some for her too, but the sauce was not her favorite Mae Ploy, rather it was a new homemade sauce. Skeptical, she muttered something about me leaving well enough alone … then all I heard was finger licking sounds, followed by, "okay, this one's a keeper." In short order, she too sat with a pile of bones.
Glad you enjoyed the wings, honey.
No special coating or fussy technique required, as browned chicken skin needs little help to be delicious. Baked in the oven with freshly ground sea salt, black pepper, and smoked paprika is all it takes—you don't even have to be neat about it, they don't care. You will have plenty of time to make the sauce and prep a few fresh vegetables, which were good with the sauce as well. For a heavenly finish, squeeze fresh lime over the wings just before serving.
Which do you prefer, wingettes or drumettes?
Try the sauce on Grilled Shrimp too!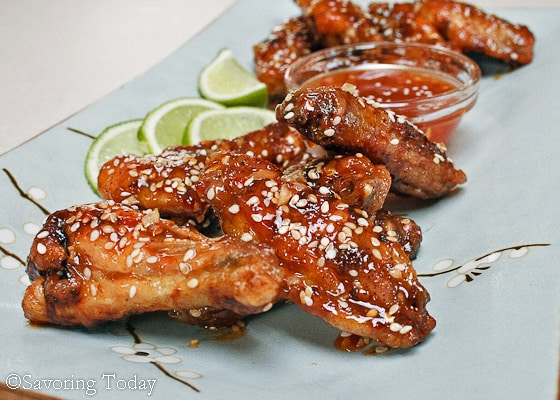 Thai Chili Sesame Chicken Wings
Ingredients
24 chicken wing pieces -- drumettes & wingettes separated
2 teaspoons sea salt
2 teaspoons pepper
smoked paprika

For the sauce:

1/2 cup honey
1/4 cup rice vinegar
2 tablespoons fish sauce -- Red Boat
2 tablespoons dry sherry
1 1/2 tablespoons chili garlic sauce -- Panda Brand
4 cloves garlic -- minced
1 1/2 tablespoons cornstarch or arrowroot -- dissolved in 1/4 cup water
sesame seeds
lime wedges
Instructions
Preheat convection oven to 350° or regular bake to 400°.
Spread chicken wing pieces out on a cutting board or baking sheet. Sprinkle with salt, pepper, and paprika on both sides. Transfer wings to a parchment lined rimmed baking sheet, being sure to leave space between each piece and not overcrowd the pan.
Bake for about 40-50 minutes, or until wings are well browned on both sides (this will depend on size of wings and oven). Check wings periodically and turn over if one side is browning faster than the other.
While wings are baking, mix the honey, rice vinegar, sherry, chili sauce, and garlic in a saucepan and bring to a boil over med-high heat. Once boiling, reduce heat and simmer for about 10 minutes to reduce and consentrate the sauce.
Stir in cornstarch mixture and continue to cook until sauce thickens, 2-3 minutes.
Remove from heat and set aside until chicken is done. The seasoning can be adjusted at this point--adding more chili sauce for spice or more honey for sweetness.
Once the wings are golden and crispy, remove from oven. Using tongs, dip each wing into the sauce and transfer to a clean parment lined pan until all the wings have been well coated with the sauce.
Sprinkle each wing with sesame seeds and return to the oven for 2-3 minutes.
Serve wings with extra sauce for dipping and a lime wedge to squeeze over the wings just before eating.
Notes
Convection bake will allow for more even browning and less turning during the baking process, but either baking method works fine.
http://savoringtoday.com/2012/02/29/thai-chili-sesame-chicken-wings/
© 2011 Savoring Today LLC. All Rights Reserved. www.savoringtoday.com
Shared on the following Blog Hops:
Premeditated Leftovers Hearth & Soul Hop
Real Food Forager Fat Tuesday
Real Food Whole Health Fresh Bites Friday
The Nourishing Gourmet Pennywise Platter Thursday