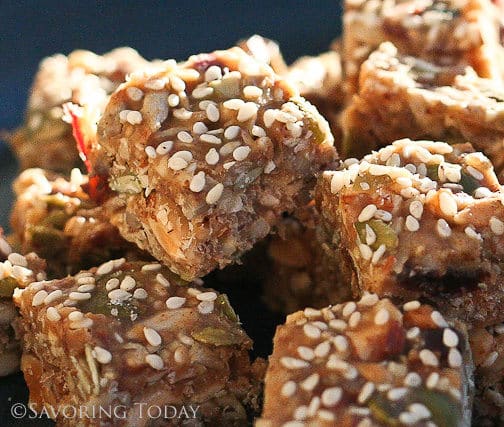 1. Snack Attack
Remember snack time in kindergarten? It was a good idea then and it's a good idea now. I don't mean casually snack your way through the day, plan to snack so you can fight off the hunger that sabotages the best of intentions. I count snacking as a healthy habit because it helps me avoid the temptation of inferior food choices when hunger gets my attention.
When on the run, there are very few healthy choices for something to eat. A latte, fast food, or the extra food I tend to buy when hungry at the grocery store can all be avoided if I am not running on empty. When working in an office environment, having a snack available makes it easier to say no to the vending machine or box of doughnuts in the conference room. Once I am hungry, I am a lot less picky about what I eat, so I have learned to set myself up for success.
Like meals, only healthy snacks are on the menu, so ditch the granola bars, baked crackers, diet cookies and other popular "health" snacks, which are convenient, but far from healthy. Instead, think real whole food, which can simply be smaller samples of main meals. More than once, I've had a 1/3-1/2 cup serving of leftovers for a 3:00 pm snack, which makes a big difference in my energy level and decision making toward the end of the day. Here's a list of 10 easy snacks to get you started. Remember, snack time is about staving off hunger, not being completely satiated, so the serving is small, but effective.
Cinnamon-Spiced Almond butter with celery sticks or apple slices
Hummus with carrots, celery, and red pepper slices
Crispy Nuts (recipe)
Cubed or sliced cheese with pear or apple slices
Yogurt with honey, pumpkin seeds and berries
Snap peas, radishes, sliced jicama, grape tomatoes
Fruit & Nut Granola Bites (recipe)
Avocado Dip with sliced cucumbers
Asparagus (cooked) wrapped in slices of prosciutto
Beef Jerky (recipe)
2. Reading is Power
Deciphering food labels is the only way to really know what we consume. Reviewing labels may not even change what you buy, but knowing what you are eating is a big step toward better choices. Even with trusted brands, it is important to take another look (a lesson I learned recently). A good place to start is to look for food with 5 ingredients or less, or buy more food that doesn't require long labels like fruits and vegetables. This basic practice will help you avoid all sorts of preservatives and additives.
Don't fall for marketing gimmicks touting natural, no trans fats, no cholesterol, gluten-free, or heart healthy. Make sure the claims on the front of the package don't distract you from reading the label on the back. Know what you are eating, it is the only way to make informed decisions about healthy food choices.
3. Grab a Smaller Plate
From super-sized portions at every turn to all-you-can-eat buffets, it is easy to over indulge. Using a smaller plate and fork will automatically help you eat 10% less (careful not to fill it twice!). Years ago, we decided to use the family china passed down to my husband from his grandma for a holiday meal. It was remarkable the difference in the size of the plates compared to what we have now. We have friends who switched to using salad plates rather than dinner plates for everyday use creating a subtle, but effective healthy habit.
Automate this habit: Arrange the dishes in the cupboard so smaller plates are in the go-to spot and the larger plates are in a less convenient location. This removes having to make the decision every time you eat and makes the change automatic.
What say you? What are you doing to keep healthy habits on track?