When you post a Sprouted Wheat French Bread recipe and you get an email from a company offering to send you a sample of their sprouted grain products, that my friends, is serendipity.  Which is exactly what happened and I am a new fan of Columbia County Bread and Granola.  As I mentioned in my French bread post, it has been difficult to find really good tasting sprouted wheat products outside of my usual sandwich bread. Unfortunately, many of the "healthy" crackers resemble cardboard more than food. We avoid most commercial crackers, chips, or other snack type products because of the flour or oils used, so if we eat them at all, it is sparingly. Rice crackers have been a good substitute, but tend to be more hard or crunchy than truly crisp.
I fell in love with its flavor and texture, which is somewhere between a cracker and a chip—truly light and crisp.  At first, I thought the distinct taste of cumin (which I adore) might overwhelm a delicate artichoke dip or compete with a schmear of balsamic and goat cheese (in case you're wondering, a schmear is a more generous application). As you can tell by the photo, I tried a variety of samples and loved every single one. So impressed by this product, I immediately placed an order for all three flavors: Sesame-Cumin (the one shown), Rye-Caraway, and Orange-Poppy Seed.
Sesame-Cumin Flat Bread ingredients: sprouted-wheat mash (ground wheat berry sprouts), molasses, flax seeds, cumin seeds, sesame seeds, poppy seeds and sea salt.
The second sample was Sprouted Grain Pocket Pita, a 2 oz. version slightly smaller than the size you see in stores. Since I did not have a real plan in mind for testing it when it arrived, I put it in the freezer, hoping it would not change the fresh taste too much. Homemade sprouted grain breads are soft and moist, but commercial sprouted grain products can be dry, which is why we primarily enjoy our sandwich bread toasted or grilled.  To test the pita, I pulled it out of the freezer and popped it in the toaster to defrost and warm it, but not toast it. The smoked turkey, Swiss cheese, tomato, spinach, and honey mustard spread were ready to fill it, but how would it hold up? Would it be soft?  Would it tear? Would it crumble and fall apart?
I was impressed yet again.
These babies were soft and tender, yet sturdy enough to withstand a good amount of filling—one had to be stuffed twice because I forgot to spread the honey mustard on the inside first, and it stood the test.  It went from freezer, to toaster, to table, without any compromise in texture or flavor at all. My husband and I both loved the idea of stuffing them with all sorts of lunchtime favorites, but also plan to use them as burger buns this summer. Yes, burger buns. I know, I could make my own, but I'm not likely to once the weather turns warm (which I am looking forward to right about now). The sprouted wheat buns we've tried up to this point have been dense and heavy, so the CCB&G Sprouted Grain Pocket Pita will definitely make grilling burgers fun again.
Pocket Pita ingredients: whole-grain sprouted wheat, molasses, sea salt, and naturally occurring leavens.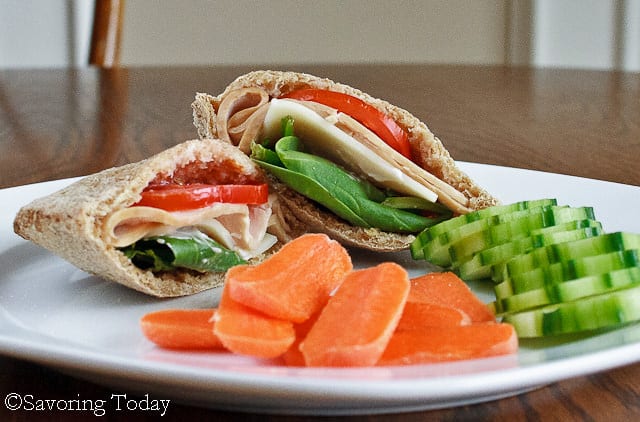 Michael and Doug at Columbia County Bread and Granola have developed some fantastic tasting, healthy products. I was not paid for this review or promotion, they were just kind enough to send me samples and let the quality of their products do the rest. If you have never tried sprouted grain products before, this is a perfect introduction.
So how can you get your hands on some?
Three ways:
1. Visit one of the stores that carry their products in NY, PA or CT.
2. These products are available to order on-line. You can place an order and wait for the deliciousness to arrive.
3. [This drawing has concluded.] Enter the drawing to win a free package!  CCB&G graciously offered 5 packages of pocket pita and 1 package of flat bread (your choice of flavor), which means we will have SIX winners selected from the drawing entries.
Here's how to enter the drawing:
Each of the following will be counted as 1 entry, which means you can enter up to 5 times to increase your chances to win. This drawing ends Tuesday, January 31, at midnight (MST). [This drawing has concluded.]

1.  Leave a comment on this post and let me know which of the two prizes you would most enjoy. (Be sure to include an email that is checked frequently in the comment form.)
2.  Subscribe to Savoring Today (top of the right column) and leave a comment to let me know you did. IF you are already a subscriber, let me know that too!
3.  Share this post on Face Book and leave a message that you did so on the Savoring Today Face Book page.
4.  Tweet about the giveaway on Twitter with a link back to this page and mention @savoringtoday in your tweet.
5.  Email friends (no minimum) about the giveaway with a link back to this page and leave a comment here that you did.
[This drawing has concluded.]  Drawing entries will be collected until Tuesday, January 31, 2012 at midnight (MST).  The winners will be determined by

Random.org

, and announced in February. Only U.S. residents are eligible.

Shared on the following Blog Hops:
SS&GF Slightly Indulgent Tuesday
Real Food Forager Fat Tuesday
Premeditated Leftovers Hearth & Soul Hop
day2day joys Healthy 2day Wednesdays