For Thanksgiving, you want a turkey that is minimally processed, tastes good, and won't break the bank.
Check out these 5 Best Turkey Buying Tips everyone needs before stepping up to the cooler to buy your bird.
1. Types of Turkeys
I know, it should be straight-forward, but as soon as you step up to the cooler at the grocery store you're confronted with turkey labels boasting natural, organic, free-range, pastured, kosher, heritage, raised without hormones or antibiotics.
It all sounds good, right?!
Well, here is what you'll want to know before you ever get to the store.
All-Natural Turkey
As required by USDA, meat, poultry, and egg products labeled as "natural" must be minimally processed and contain no artificial ingredients.
What this means: The natural label does not include any standards regarding farm practices, antibiotic use, or feed.
Organic Turkey
According to the USDA, "Organic is a labeling term that indicates that the food or other agricultural product has been produced through approved methods. These methods integrate cultural, biological, and mechanical practices that foster cycling of resources, promote ecological balance, and conserve biodiversity. Synthetic fertilizers, sewage sludge, irradiation, and genetic engineering [GMO] may not be used."
What this means: The turkeys are fed organic feed their entire lives and antibiotic use is limited, in that, it may have been given antibiotic injections before it hatched and until its second day of life. This does not indicate humane, uncrowded conditions.
Free-Range Turkey
Free-range indicates the flock was provided shelter in a building, room, or area with unlimited access to food and fresh water, as well as continuous access to the outdoors during their production cycle. The outdoor area may or may not be fenced and/or covered with netting-like material. This label is regulated by the USDA.
What this means: Conditions differ from farm to farm. This is not a guarantee of humane, uncrowded conditions. Some farms provide the minimum to meet the label requirements while others are conscientious about humane practices as well as providing adequate space and sunshine.
Pasture-Raised Turkey
Pasture-raised turkeys are given access to open pasture to forage for bugs and experience a more natural existence. Due to the number of variables involved in pasture-raised agricultural systems, the USDA has not developed a federal definition for pasture-raised products.
What this means: Like free-range birds, conditions vary from farm to farm as to the amount of time the turkeys are given access to pasture. While this is not a guarantee of humane conditions, it is more likely to find favorable conditions when abundant space for natural behaviors is provided.
Kosher Turkey
The Hebrew word "kosher" means fit or proper as it relates to Jewish dietary law. Kosher turkeys have been slaughtered accordingly and salted. Since they are pre-seasoned there is no need for additional salt or brining before roasting or it will end up over-seasoned.
What this means: Kosher refers to the processing of the meat, not how it is raised, so look for additional labeling like organic or pasture-raised as well.
TIP: This might sound like a shortcut, but I don't recommend pre-seasoned birds because you can't tell if they are seasoned enough until after they are cooked.
Heritage Turkey
A heritage breed turkey is akin to wild turkeys with smaller breasts, longer legs, and a greater portion of muscle that tastes like dark meat.
Growing in popularity for their unique taste and texture, sourcing a heritage turkey will often require pre-ordering; unlike commercial breeds, quantity is limited.
What this means: Heritage indicates the specific breed of turkey but does not necessarily mean organic or free-range—the way it is raised, fed, or processed should also be specified. Like free-range and pasture-raised birds, conditions vary from farm to farm.
No Added Hormones (or Steroids)
No added hormones and a similar claim 'Raised without Hormones' is a popular term included on packaging to sway consumers. However, federal regulations have never permitted hormones or steroids in poultry, pork, or goat, so it is true for all whole turkeys regardless of type.
What this means: Nothing, it's the same for every turkey.
Raised without Antibiotics
Administering antibiotics through feed as a preventative practice has been common in the poultry industry, though it is changing. Reducing preventative antibiotic use in animals benefits public health.
Raised without antibiotics means that no antibiotics of any kind were used in the raising of the animal. Sick animals that require antibiotics are removed from the "no antibiotics" flock and processed with turkeys raised conventionally.
However, the FDA has no regulatory definition for "raised without antibiotics" labels.
What this means: A "no antibiotics" claim is verified when a Department of Agriculture's USDA Processed Verified shield or USDA Organic seal is on the package. Raised Without Antibiotics Certified by NSF is another form of verification.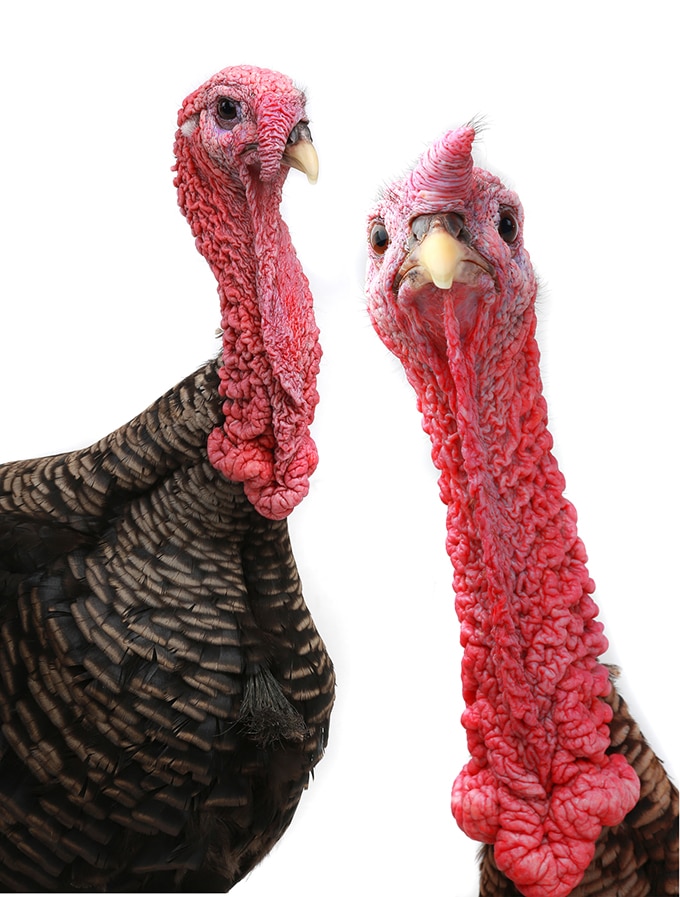 A Note About Humanely-Raised
We see animal welfare, our health, and being good stewards of the environment as intricately linked.
Labels may claim their animals are treated humanely during the production cycle, but the verification of these claims varies. As mentioned, the USDA has not developed a definition for pasture-raised or humanely-raised, so it is not closely regulated.
Humane Farm Animal Care (HFAC) is a non-profit certification organization dedicated to improving the lives of farm animals in food production.
I appreciate HFAC standards as they do not allow:
Beak trimming
Toe clipping
Caponizing
Dubbing
Other surgical alterations
Find a Certified Humane Producer at Humane Farm Animal Care (HFAC).
What this means: You as the consumer have the power to influence the poultry industry with your wallet by seeking out meat producers who welcome oversight.
2. Ingredients—Read the Label
When selecting a quality turkey for Thanksgiving look for a label that doesn't have a lot of extra ingredients.
Popular commercial brand ingredient label example: CONTAINS UP TO 20% OF A SOLUTION OF WATER, SALT, MODIFIED FOOD STARCH, SODIUM PHOSPHATE, DEXTROSE, NATURAL FLAVORS TO ENHANCE JUICINESS
In taste tests by Cook's Illustrated, Epicurious, and Eat This, Not That, injected turkeys are never chosen as the best for taste and texture. While those injected juices might help protect the bird from drying (most turkeys are over-cooked), it can water down the flavor of the turkey.
What this means: A turkey with minimal ingredients is better. These added solutions don't interfere with additional seasoning or brining, but they do add to the overall weight so you're paying for something you don't need.
Self-Basting, Injected, or Pre-Brined Turkey
A self-basted, pre-seasoned, or pre-brined turkey has been "enhanced" with a solution of broth, salt, sugar, and sometimes spices. This can seem like a time-saver but the downside is it varies from bird to bird and you may not like the flavor.
I once decided to try a kosher bird to save brining time. Because it is pre-seasoned with salt or brine, I didn't add more salt before roasting. It was actually under-seasoned and bland which I could only know once it was cooked.
Big bummer. No one wants to find out their turkey wasn't seasoned properly when sitting down to Thanksgiving dinner.
What this means: Only consider a pre-seasoned turkey is if the ingredients are simple like salt brine and you've tried it before. I wouldn't risk an unknown on Thanksgiving day.
This post may contain affiliate links. See our disclosure policy for more information.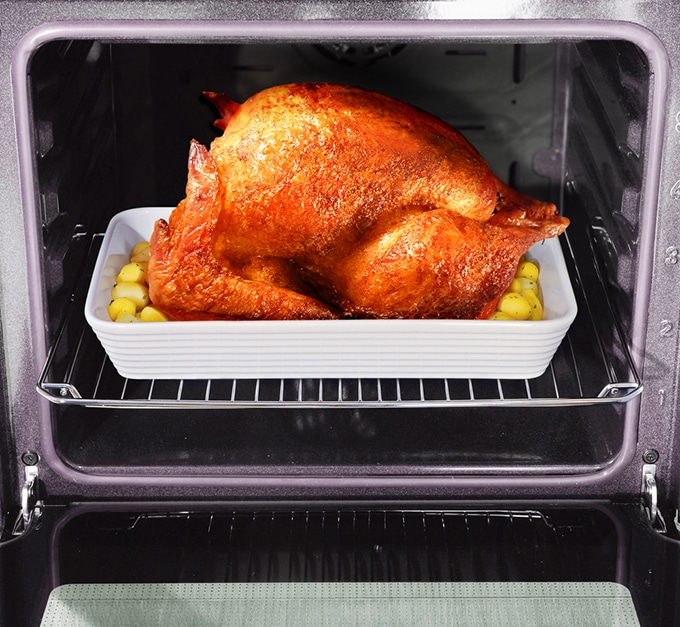 3. Size—Bigger is Not Better
Let's just get this out of the way first thing—bigger is not better. If you've got a lot of people to feed, the answer is two smaller birds instead of one big one.
If you only need just a little more to cover a couple of extra guests, add a bone-in turkey breast instead of an additional bird.
I roast two 12-14 lb turkeys every year for Thanksgiving.
One turkey is roasted the day before and one the day of, which means less stress and plenty of leftovers.
What to consider when deciding on the size of your turkey:
4. Fresh, Deep-Chilled, or Frozen
Choosing a fresh, hard chilled, or frozen turkey is about timing over anything else. Taste tests don't show significant differences in flavor between fresh or previously frozen turkey, though the texture of frozen birds tends to be a little denser and chewier.
What this means: A deep-chilled turkey or frozen turkey needs to be defrosted so you'll have to work that into your timeline.
TIPS for Storing and Defrosting Turkeys
Allow plenty of time for thawing, brining, and air-drying the turkey (crispier skin).
Place the turkey in a container or on a rimmed baking sheet to prevent the juices from dripping on other foods.
For crisper skin, unwrap the turkey the day before roasting and leave it uncovered to air-dry in the refrigerator overnight.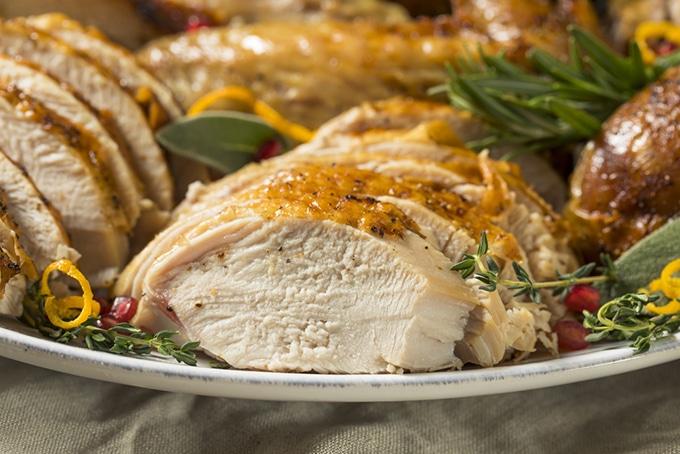 How to Properly Store a Fresh Turkey
A fresh turkey is just that—it has never been chilled below 26 degrees. Maintaining the temperature of the turkey is vitally important, so it is trickier for suppliers to provide fresh vs. frozen turkeys.
Always check the sell-by or use-by date and purchase fresh turkey within one or two days of Thanksgiving.
Never let the turkey get warm.
Fresh turkey tends to cook faster so check the internal temperature earlier during baking time.
How to Thaw a Deep-Chilled Turkey
Thaw 1 to 2 days in the refrigerator in advance of cooking.
For a deep-chilled turkey that feels hard, thaw in your kitchen sink in cold water (in the original packaging) for between 1 and 4 hours, changing the water every 30 minutes, until the turkey feels soft.
Never let the turkey get warm while defrosting.
After the turkey is thawed, store it in the refrigerator for up to 2 days in the original packaging.
DO NOT THAW IN A MICROWAVE.
How to Thaw a Frozen Whole Turkey
Allow to thaw in the refrigerator (40°F or below) approximately 24 hours for each 4 to 5 pounds in advance of cooking.
Example of pounds and thawing time:
4 to 12 pounds — 1 to 3 days
12 to 16 pounds — 3 to 4 days
16 to 20 pounds — 4 to 5 days
20 to 24 pounds —5 to 6 days
What to do when short on time:
Thaw the turkey (in the original package) in your kitchen sink in cold water, changing the water every 20 to 30 minutes until the turkey feels soft.
Never let the turkey get warm while defrosting.
After the turkey is thawed, store it in the refrigerator for up to 2 days in the original packaging.
DO NOT THAW IN A MICROWAVE.
5. Whole Turkey Price Comparison (Updated Nov 2021)
I've included this printable price comparison at the end so that by the time you got here you'd know what kind of turkey you're looking to buy.
If your store is not on this chart, check this larger list of Best Turkey Prices.
To print the chart below, simply click on the image.
More Thanksgiving Articles and Recipes You'll Love