If you're intimidated by the idea of hosting Thanksgiving for the first time these 7 tips make it so much more do-able!
Keep stress to a minimum with all the planning and get a head start with a Basic Thanksgiving Dinner Menu for first-timers.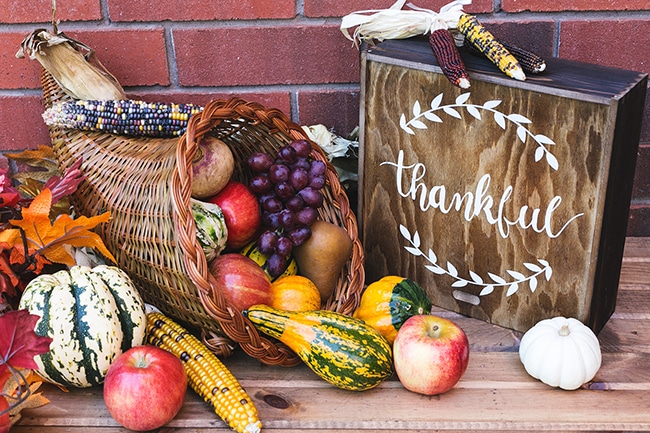 What is the most stressful part of planning food for the holidays or having people over?
When I pose that question I most often hear about the stress of meeting expectations and performance. Concerns over specialty diets, how much to make, blending traditions and families, what to bring when invited, or dreading the frustration of no one appreciating the effort—it is enough to drain every ounce of joy out of the entire holiday season if you let it.
1) Preparation is the key to success.
Years ago, I created a Thanksgiving Dinner Schedule, including a list of cleaning tasks to take the guesswork out of getting everything on the table at the same time. It makes a huge difference seeing it in black and white to see where adjustments are needed.
Various articles include a schedule for their holiday menus, but I have never found it to be very practical to adopt someone else's menu during the holidays. Developing my own, to include our family favorites, was the solution I needed.
Start as early as a week before checking linens, candles, decorations, dishes, and flatware. The easiest way to create a cooking schedule is to use one hour or half-hour increments and with each recipe, fill-in working backward from the time you plan to sit down to eat.
This extra investment of time will be a benefit for years to come since Thanksgiving dinner doesn't change drastically. I use a general outline, but you can make it as detailed as you would like—feel free to copy and use my Thanksgiving schedule as a guide.
2) Blending traditions can be tricky when a holiday meal is not "real" without ________ .
Whether we are sharing a holiday meal with extended family, new in-laws, inviting friends over, or guests we know would otherwise be alone, the question I ask is, "If you had to choose a single item that defines the holiday meal for you, what would it be?"
This question helps set the menu and ensure everyone at the table will have at least one thing special to them. For me, homemade egg noodles are my favorite at Thanksgiving, comfort food reminding me of home like nothing else.
3) Specialty diets can be difficult to navigate, especially when preparing traditional meals.
It is important to consider guests with special diets, however, you are not expected to gear the entire menu around it (obviously, life-threatening allergies are the exception).
Ask your guest for help with locating recipes that accommodate their needs, as well as bringing a dish they are sure to be able to enjoy. The individual with the special diet will be happy to be asked and feel more at ease when they know ahead of time what to expect.
There are numerous online resources for dairy-free, gluten-free, diabetic, allergy-free, vegetarian & vegan, and other dietary considerations.
4) Let guests participate; they will feel more like

family

.
After hosting holiday meals for more than 25 years, I have learned that I do not have to do it all and it is important to be specific when guests ask what they can bring. Everyone is more invested in the meal when participating in some way, but no one wants to show up with the fifth pumpkin pie. 
If they are not well acquainted with their kitchen or don't know what to bring, don't hesitate to be specific, even naming the place to pick up a pie or the type of wine you would like with the meal. They would rather know than have to guess.
5) If this is your first time to host …
♦  Stick with a basic menu [see below] and don't hesitate to ask guests to bring a dish.
♦  Do a little planning, whatever time you think it will take, allow for more. All new recipes take extra time to make because nothing is on autopilot.
♦  Invest a few dollars in an oven thermometer so you can be certain you are actually baking your bird at the temperature you intend to. According to Cooks Illustrated, ovens set to the same temperature can vary by as much as 90 degrees.
♦  Don't be a stickler about making everything from scratch the first time, give yourself the flexibility to include a few shortcuts with store-bought pie crust or stuffing mix you can modify.
♦  Borrow what you don't already have. If you are not in the practice of entertaining, you may not have large platters or enough dinner plates. More than once, I have borrowed what I needed from a neighbor or friend when hosting a large group—it saves money and storage space.
6) Saying grace at mealtime needn't be the only grace offered, even

toward

yourself.
The holidays can be a tough time for people financially, emotionally, and physically. Often, we expect everything to be the same as it always has been, even though things aren't the same—loss of a loved one, joblessness, divorce, illness, and other major life changes can leave us worn and weary. If you are in the midst of a difficult season, extend grace; give yourself permission to do less (a lot less!), or nothing at all. Focus on the people, places and certainly the food that brings comfort, refreshing, and rest.
7) Thanksgiving is about thankfulness, not performing or impressing.
We can drive ourselves crazy with all the variables of preparing the house, what to make, how much, what to do with all the leftovers or without leftovers, and trying to make everything perfect. By all means, make the house mother-in-law-clean if you have to, but skip painting and room makeovers three days before Thanksgiving. If you have space to invite people into and food to share, you have much to be thankful for. Your invitation, generosity, and attitude will always set the tone for your gathering.
Let the peace of Christ rule in your hearts, since as members of one body you were called to peace.  And be thankful.

Colossians 3:15 
Basic Thanksgiving Dinner Menu for First-Time Hosts