So you want to host a Friendsgiving and don't know where to start?
No worries. With these tips, you've got this!
Have you received a Friendsgiving invitation and you're not sure what to expect or what to bring?
Let us guide you to guest-of-the-year status.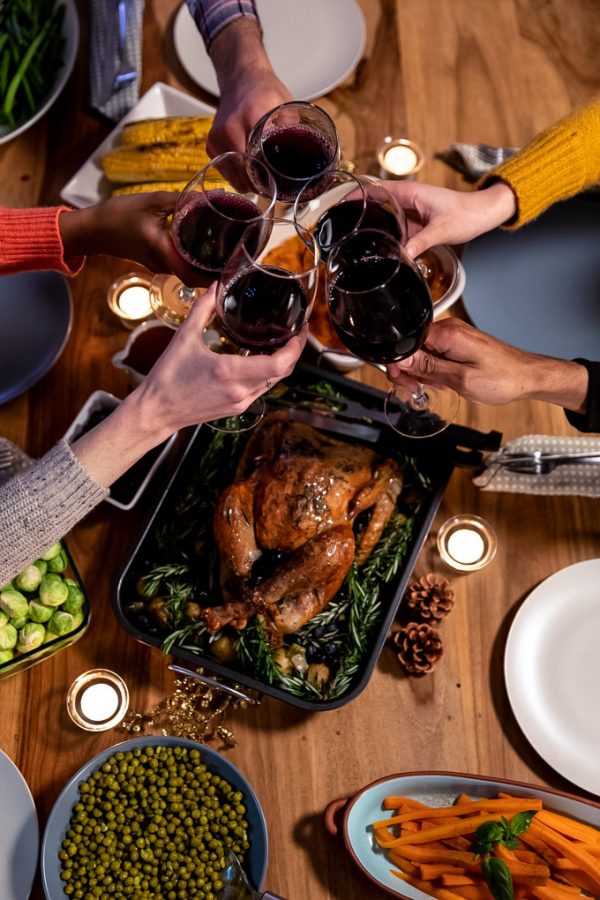 For as long as I can remember, I've loved hosting parties—any and all kinds of parties. We've gathered friends for full-blown costume dance parties on Halloween with easy pulled pork sandwiches and punch, 4th of July shindigs with a crawfish boil and kiddie pool full of beer, and small dinner parties featuring great wine and a 4-course menu.
Gathering friends is my thing.
My roommate, planning cohort, and genius of decoration, and I both work in the service industry, so hospitality is a really important part of who we are and what we do.
Having a group of friends over is what you make it, but in order to make it successful, you must plan. There is a method, I tell you!
So here's an easy guide to how we go about having the best gatherings possible and Friendsgiving is one of our favorites.
What is Friendsgiving?
Friendsgiving is a Thanksgiving-themed meal for close friends or for those who can't necessarily gather with their families for Thanksgiving so they gather with friends instead.
This gathering of friends is as varied as any holiday tradition you'll find from house to house. You have the freedom to start a new tradition of your very own.
It sounds simple enough, but it still leaves people wondering what to do and how to do it. Do you make a turkey? Do you only invite friends? Do you dress up? Decorate? Is there pie? What day is it on? How does it work?
Fret not, here's the guide to all your questions!
7 Steps Hosting a Friendsgiving
Select DATE & TIME
Decide on Food Theme
Create & Send Invitations
Plan Set-Up & Decorating
Prep Music & Activities
Double-check the Details
Party & Clean-Up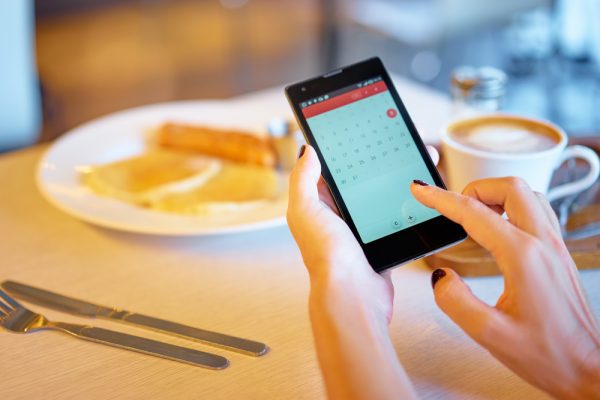 ---
Step 1: Select a Date and Time
What day is Friendsgiving supposed to be?
There is no set date on a Friendsgiving. You can schedule your party for the week of Thanksgiving, the day of or the week after, or whenever.
If you're far from home, you may want to host it on Thanksgiving day and invite others who are also not able to be with family over the holiday.
Perhaps you are always home for Thanksgiving but have too many friends to bring them all home, so you have your own Friendsgiving party the week before.
Decide on a day that works for you and then give your friends plenty of notice so they have adequate time to plan the food they'll be bringing.
What Time of Day should I plan a Friendsgiving party?
We have found that 4:00 or 5:00 pm is a good starting time. This way everyone can accomplish their cooking tasks and arrive with hot food if needed. Then dinner can be a long affair full of good conversation, laughs, and going back for seconds.
You can also plan to gather for a late lunch around 2:00 if you want to keep the party more casual, but dinnertime tends to be more fun and cozy.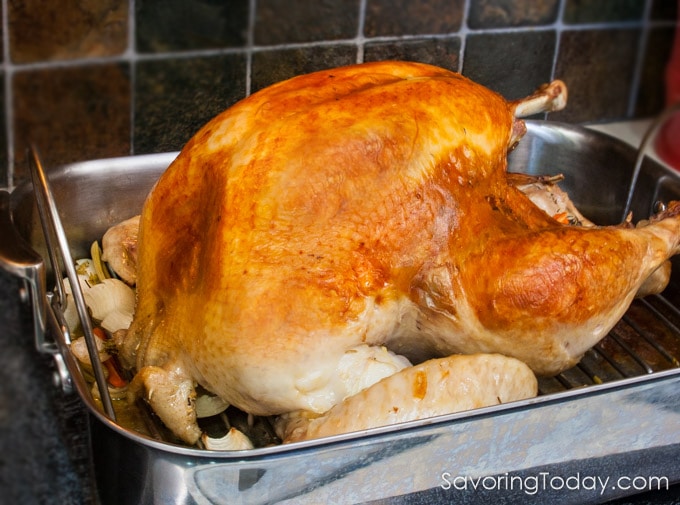 STEP 2: Decide on a Food Theme
Even though Friendsgiving is the non-traditional, flexible cousin of Thanksgiving, traditional cooking and dishes are always allowed (and often favored)!
For those who really love Turkey Day food, the nostalgia attached to it, the day-long process and food coma, absolutely follow your heart!
What did your family make when you were a kid? What food is your favorite part of the holiday? Sharing these favorite food memories with friends makes the day that much better.
Traditional Friendsgiving Food Ideas
Turkey (obviously!), pies, rolls, ham, gravy, cranberry sauce, mashed potatoes, stuffing, green bean casserole, pies (oh, yes, always need more pies) and mulled wine are traditional go-to classics.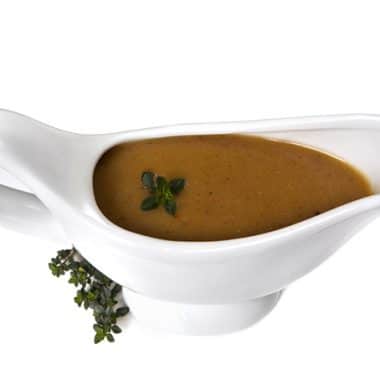 Portabella Mushrooms with Blue Cheese & Vegetable Stuffing
Take a Look


Pumpkin Dream Pie with Graham Cracker Crust
Take a Look

Mint Chocolate Cream Pie with Chocolate Cookie Crust
Take a Look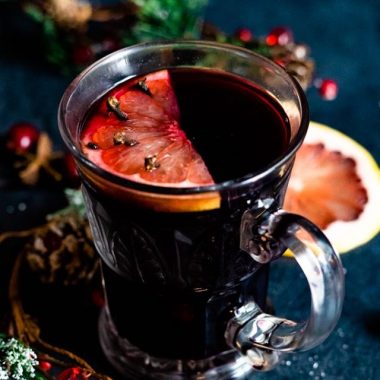 9 Dishes That Will Make You the Star at Friendsgiving – Rosemary & Rye
Take a Look

---
Non-Traditional Friendsgiving Food Ideas
For those who aren't big fans of traditional foods or don't want to spoil the turkey day for anyone, be a little adventurous with your menu.

Our theme in the GirlHaus this year will consist of a sit-down dinner party with international dishes like fried rice, bolognese, cornbread, hummus, and guacamole. We'll ask everyone attending to bring a dish to fit the theme and a bottle of wine or beer.
If friends need inspiration, we may suggest bringing cheese and a baguette, empanadas, Thai curry, or straight-up salad.
Need more theme ideas? We love these 10 creative Friendsgiving party themes by Make it Grateful
How to answer the "What can I bring?" question every host faces.
Instead of putting all the work on your shoulders, Friendsgiving was made for potlucks. Make one or two main dishes and ask your guests to bring the sides you need or something they had when they were kids at Thanksgiving.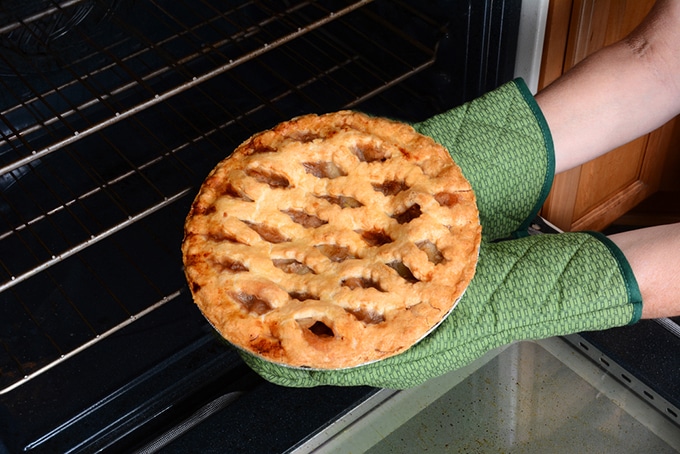 Either way, I like to communicate what we need and what's being provided so we avoid doubling up or missing something entirely.
Fact: No guest is permitted the honor of cooking the turkey without permission. That is the sole right of the host.
Here's a handy FREE Friendsgiving Sign-up Sheet Google Doc you customize or Download for easy printing to keep things straight.
Be Aware of Allergies & Dietary Restrictions
Sneaky gluten, dairy, or nuts can ruin a holiday.
Please do not invite your vegetarian friend over and then offer no vegetarian options. Yes, options. Making vegetarian-friendly meals is easy and good for you! And if you've got a vegan in the mix, do a little research.

There are many alternatives, and while you don't need to give up on your turkey dreams, you may consider trying out a new vegan pie recipe and grab some extra veggies to satisfy a special request.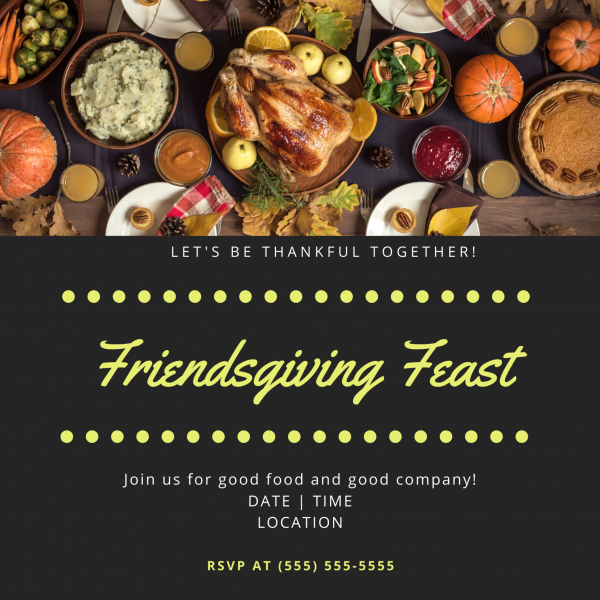 Step 3: Create & Send Invitations
How Many Friends Should You Invite?
Consider your space, the actual number of chairs and tables you own or can borrow. For a more cozy, intimate gathering 6-10 friends is where I limit myself for a sit-down dinner simply due to space.
If you're planning on everyone having a seat at the table it's as simple as counting your chairs. If you prefer buffet-style gatherings and are cool with guests eating on your couch then the number of invites can be more flexible.
This post may contain affiliate links. See our disclosure policy for more information.
Who to invite?
Invite your core people. Your favorite people. Those you are thankful for, who pour good things into your life. This is where you start.
Are you open to making new friends? Invite some new people you'd like to get to know better or introduce to your really great friends. Consider inviting people who aren't getting home for the holiday you think might jive with everyone. Maybe it's your neighbors, coworkers, or even your book club.
Who do you want to be with to celebrate?
Get the Word Out with Posters, Paper or Digital Invites
Paper invitations of any kind are rare these days and for sure sets a slightly more formal tone for your party. Print or handcraft your own if that's something you enjoy.
E-invitations like punchbowl or evite make it easier to share links to your Friendsgiving Sign-Up Sheet, which is a clear advantage. Also, a social media group chat, group text, or Facebook event is a casual and effective way to get the word out and keep everyone on the same page.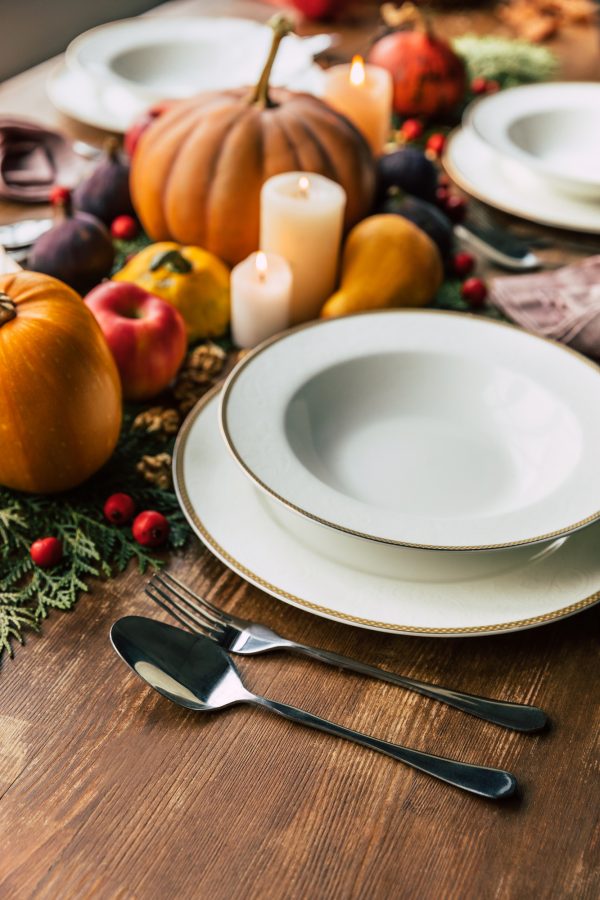 ---
Step 4: Plan Set-Up & Decorating
Sit-Down Dinner Option: Everyone has a seat at the table
I recommend having a table where everyone can sit down together with all the food is in various vessels on the table. We call this family-style because everyone will be passing bowls and asking for seconds from the end of the table.
There is something cozy and special about communing together for dinner, gathering around food, looking each other in the eye, and sitting close. This option limits the number of friends you invite, but that's not a bad thing. It means you'll be more intentional and that is good.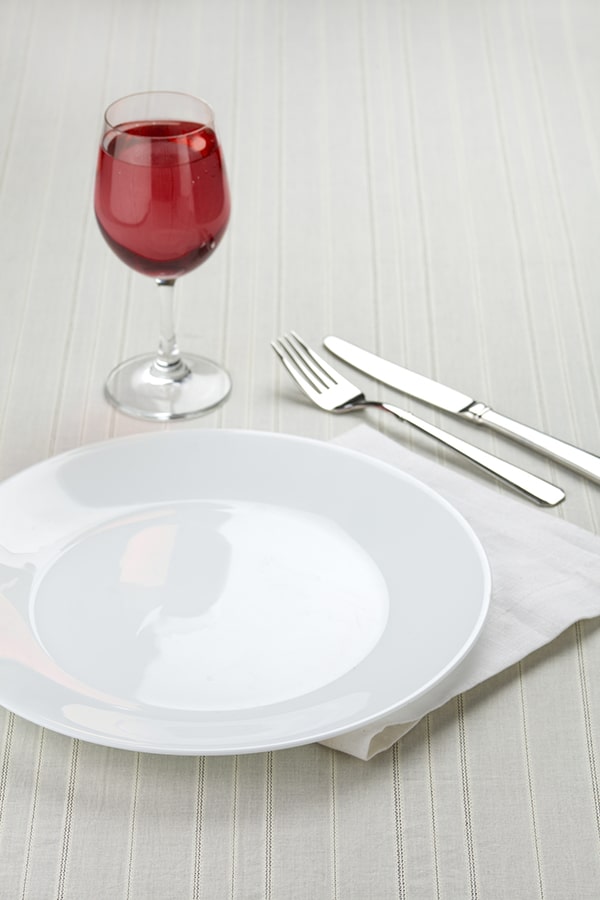 ---
The Basics of Hosting a Sit-down Dinner
Make sure everyone is equipped with a plate, fork, knife, spoon, napkin, water glass, and wine glass. If you're one of those people who own literally 2 forks, 2 spoons, and a couple of mugs, it may be time to update your home supplies.
TIP: Beautiful stemware is not only practical it adds sparkle as it reflects and magnifies other decorations on the table.
Think of it as your decor booster.
This is simple to do by heading to Goodwill or whatever store you're comfortable with and buying some plates and silverware. It's also perfectly fine to borrow these items too.
You can use paper plates and plastic wares but for the sake of the planet and all things special about holiday dining, please do not.
Find a table cloth and cloth napkins (optional, but a nice touch), maybe buy some flowers or fall decorations for the center of the table and you're good to go.
TIP: Make sure you have all the platters and serving pieces you'll need.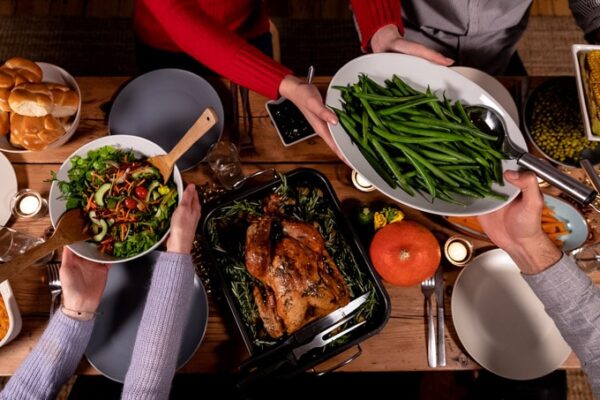 Buffet Style Option: Everyone Sits Where they Fit
This option works best for larger groups. Maybe you're watching football or it's a kind of free for all of friends grazing, talking, and hanging out until all the pie is gone. (Oh no, don't run out of pie!)
Food, plates, and napkin-wrapped silverware are set up on an extra table, a long kitchen bar top, or whatever surface works for your home.
This setup means all available seating for guests—chairs, couches, pillows on the floor—is flexible. Of course, standing in the kitchen chatting works too.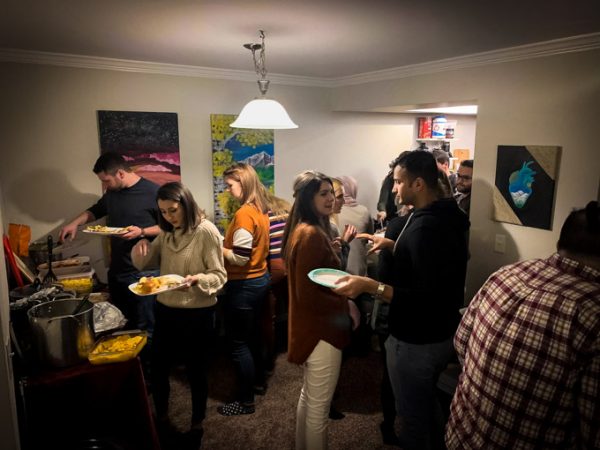 This is a perfectly reasonable time to use disposable goods, but we still prefer the real deal for holidays.
Set a few colorful gourdes or mini pumpkins on the buffet for a splash of fall colors and you're set.
Need more decorating ideas? Check out our Friendsgiving Pinterest Board
Step 5: Prep Music & Activities
There are no rules here. Go with what feels like a good fit for the guests you've invited. Music, games, movies … sometimes it just depends on the flow of the evening, but it's a good idea to have a plan.
Don't assume you have to nail it all down yourself. It's perfectly fine to ask a friend or two to bring board games, frisbees or cornhole (for afternoon parties), share a playlist, or bring their guitar.
---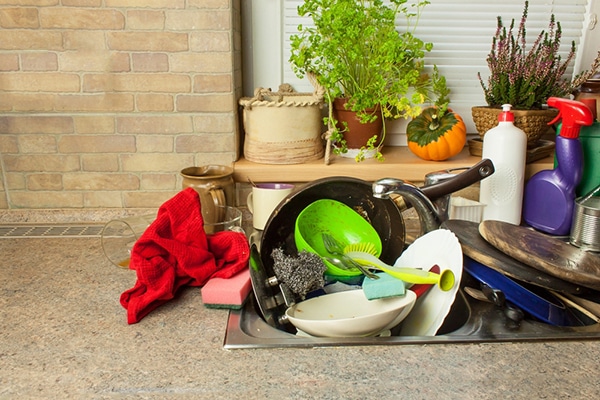 Step 7: Party & Clean-Up
You've been an awesome host and your friends are starting to clear the table. Accept help getting some things back in order—really good friends will know where things go.
This is a good time to box up some leftover pie to send home with these helpful friends. Remember the club soda on your party checklist? It's a great spot remover for food stains.
All your party planning has paid off—your heart is as full as your belly!
---
Top 10 Ways to Be a Good Guest (and Friend) at Friendsgiving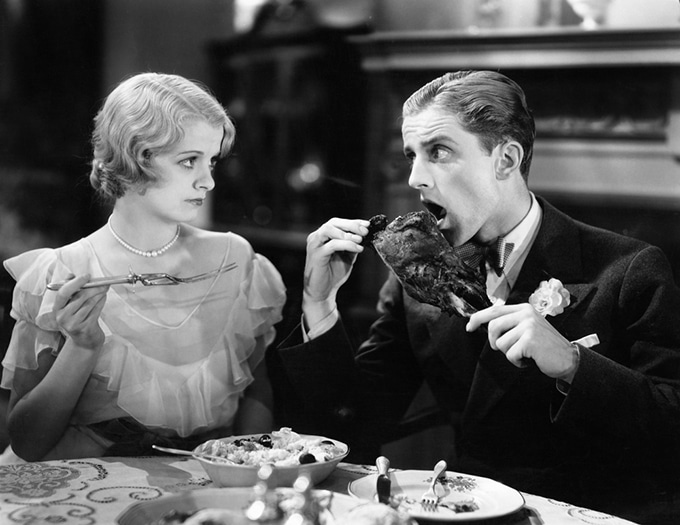 First, read the rest of this post and you'll get an appreciation for all the things the host is putting together.
Cook your food at your house before you arrive at the party. Meaning, the host may have 5 projects on their counter and do not need an additional item in the oven or an extra crockpot in the kitchen. Barring a 10 minute warm-up in the oven (and ALWAYS ask the host if there will be room), try to limit the cooks in the kitchen.
Ask about allergies. Your hosts and potentially other guests.
Be flexible about what's provided and what to bring. You do not have to cook, you can buy a pie! No one turns away store-bought dessert, but don't you dare bring instant mashed potatoes!
Bring a bottle of wine, don't be an animal (or sparkling cider if you're not drinking). The host will always appreciate special sips for special gatherings!
Offer to help with setting up or fill the ice bucket if you arrive and things aren't quite ready. Don't just dive in unless you know it's okay. The host may want things done a certain way.
Follow the host's lead when it comes to games and activities. You may have a great idea for a party game, but it's not your party, so ask the host before you unpack the board game tucked under your arm.
Pray or don't pray, just be polite if the host decides to say a blessing over the meal.
Offer to leave leftovers with the host (the host should do the same for guests). If you're really on your game, bring an extra container so you don't have to leave your favorite bowl.
Help with the dishes and cleanup. Hosting is incredibly fun and rewarding, but it requires a lot of time and effort and having help to get things tidy and not having a mountain of dishes is greatly appreciated.
Say thank you. I know, it goes without saying, but I'm just sayin'.
Check out our Friendsgiving Ideas Pinterest Board for more inspiration on food, decorations, how-tos, invitations, games, organizing, and more.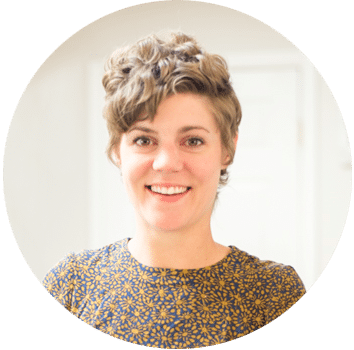 Article by Kayla Purcell
Kayla's creativity spills over into everything she does, especially in the kitchen. She is passionate about bringing people together around tasty food that's good for you. We love that too.