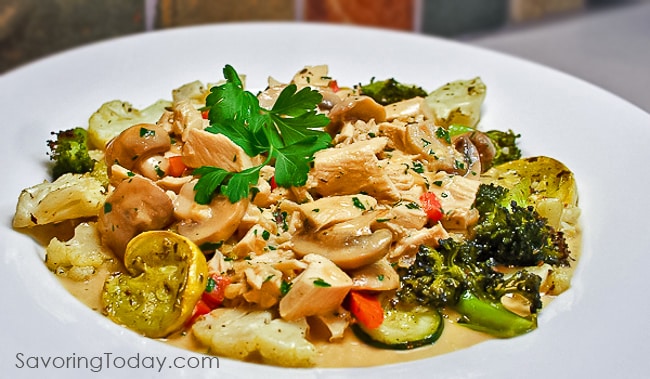 Turkey Tetrazzini is a dish traditionally heavy on pasta, which helps bulk-up the dish and stretch leftover turkey even further. We limit the amount of grains we eat, so this Turkey & Vegetable Tetrazzini recipe includes an assortment of vegetables, creating a healthier low-carb alternative. Of course, the luxurious mushroom cream sauce is an essential element to bring it all together.
A Healthy, Low-Carb, Gluten-Free Turkey Tetrazzini Recipe
Broccoli, cauliflower, and zucchini boost the nutritional value of this dish, while tender turkey and creamy sauce make it especially satisfying. Though I don't think you will miss the pasta, if you really must have it, scatter a few pieces on top as a garnish or spiralize the zucchini instead of slicing it into rounds.
Get the recipe for spiralized zucchini => Fresh Basil Pesto Sauce with Spiralized Zucchini
Beyond the sought-after sandwich on homemade dinner rolls, the remaining bits and pieces gathered for soups or stews like Tetrazzini make Thanksgiving dinner even more rewarding.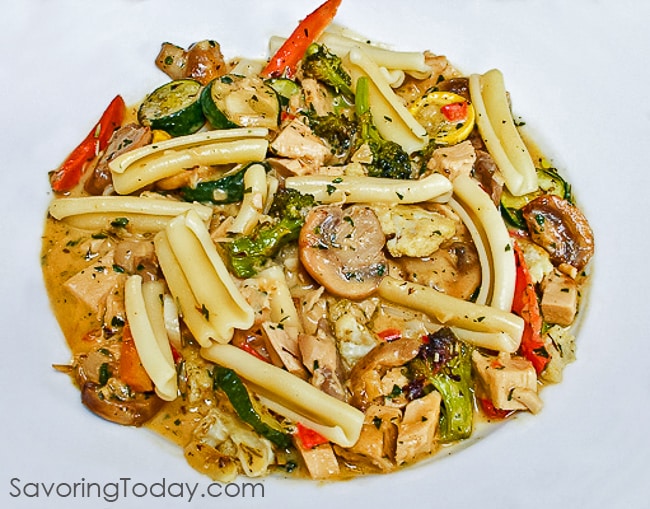 Inspired by Emeril's Turkey Tetrazzini
Print
Turkey & Vegetable Tetrazzini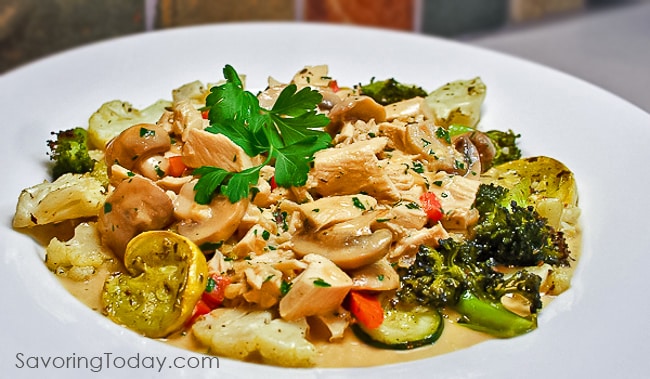 Author:

Judy Purcell

Yield:

Serves 4-6
Ingredients
2 tablespoons extra virgin olive oil
1 cup broccoli — cut into bite-sized pieces
1 cup cauliflower — cut into bite-sized pieces
1 cup zucchini — sliced into 1/4″ thick rounds and halved
3 tablespoons butter
1 small sweet yellow onion — chopped fine
2 cloves garlic — minced
1/2 large red pepper — sliced 1/4-inch thick
2 cups button mushroom — cleaned and sliced
2 tablespoons flour or sweet rice flour for GF
1/2 teaspoon paprika
2 teaspoons fresh thyme leaves — or 1/2 tsp dried thyme
1/4 teaspoon dried thyme
1 teaspoon salt
1/2 teaspoon pepper
1/2 cup white wine
1 1/2 cups chicken stock
1 1/4 cups heavy cream
3-4 cups cooked turkey — cubed or coarsely chopped
1 tablespoon fresh parsley — chopped
1/2 cup Parmesan cheese + more for garnish — freshly grated
8 ounces pasta (optional) — penne, ziti, or fusilli — substitute gluten-free pasta here
Instructions
Saute cauliflower, broccoli, and zucchini in olive oil in a large skillet over medium heat, season with salt and pepper, and cook until vegetables are just fork tender and lightly browned in spots. Remove from skillet and reserve on a platter.
In the same skillet, add butter and cook onions over medium heat until onions begin to brown at the edges, about 8-10 minutes. Add mushrooms, pepper, and garlic to the onions and cook until mushrooms are soft and have released their liquid.
Sprinkle mushroom, onion, and pepper mixture with flour, paprika, thyme, salt, and pepper; stir to incorporate and cook for 2 minutes. Add the wine and chicken stock to the skillet and cook over medium heat, stirring to loosen any browned bits, until thickened, 2-3 minutes.
Add cream to the skillet and bring to a low boil, reduce heat and simmer for 10-15 minutes, or until sauce is thickened and coats the back of a spoon.
Add turkey, parsley, Parmesan cheese, and reserved vegetables into the mushrrom sauce and stir to combine. Season with salt and pepper, to taste.
Serve just as it is, or add a small small sprinkling of pasta or egg noodles as a garnish with additional Parmesan cheese.

More leftover turkey recipes: 
Inside Out Turkey Pot Pie
Turkey Pot Pie with Gluten-Free Crust
Emeril's Turkey Club Casserole: One-Dish of Delicious
Healthy Cranberry-Avocado Turkey Salad: Make the Most of Leftover Turkey
Helen's Chicken Soup: A Bowl of Comfort (can be made with turkey)
Shared on the following Blog Hops:
Hearth & Soul Hop