Perusing Emeril's Sizzling Skillets and Other One-Pot Wonders cookbook was like having coffee with an old friend. Here in Colorado, crisp fall breezes arrived with the desire for warm, hearty dinners so Emeril's Cajun Shrimp Stew is the perfect way to get the party started.
Following Important Cajun Shrimp Stew Traditions
This comforting shrimp stew is a Cajun dish many home cooks in Louisiana enjoy, especially during the Lenten season.
Some recipes include simmering hard boil eggs in the shrimp stew creating an even heartier meal.
The secret is getting the roux to the right color . . . about a notch darker than peanut butter should do the trick. And don't be tempted to skip the important step of starting with a homemade shrimp stock, it makes all the difference in the world.
Rich Shrimp Stock

provides a fortified base for this stew.
Layer vegetables and seafood within the savory flavor of shrimp stock to discover the real secret behind the recipe.
Unlike some comfort food, this dish is warming, but not heavy. In the second photo, notice the yellow carrots and celery added for part of the potatoes—we mix in more vegetables every chance we get.
Easily customize the stew for spice, vegetable preference and food sensitivities like shellfish allergies or gluten-free diets (shown below).
When you pull out the Dutch oven you know there will be plenty to share, so invite someone to join you for dinner.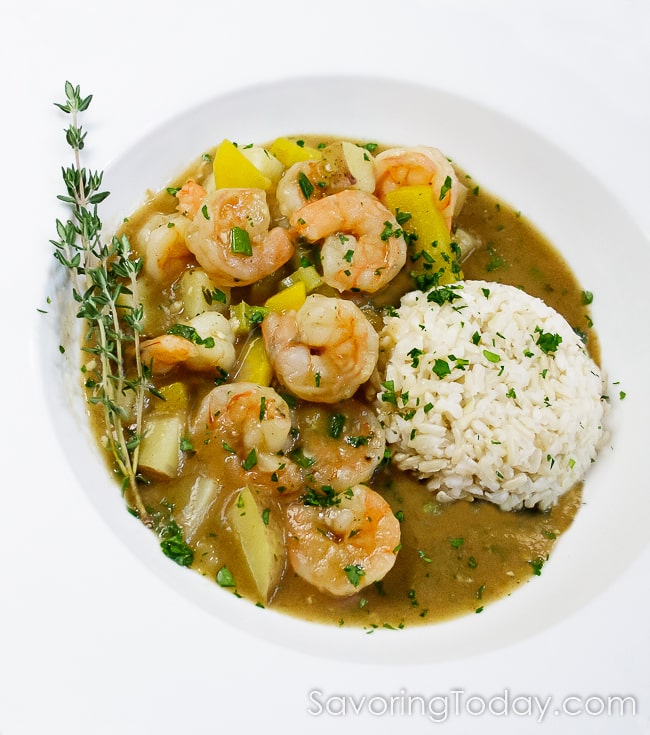 Emeril's Cajun Shrimp Stew: A Hearty One-Pot Wonder
Hearty shrimp stew made with savory shrimp stock and served over rice.
Ingredients
1

cup

vegetable oil

(avocado oil is healthier choice)

1 ½

cups

all-purpose flour

2 ½

cups

finely chopped onion

¼

cup

minced garlic

(about 12 cloves)

10

cups

Rich Shrimp Stock

(pg 173)

2

bay leaves

1 ¼

teaspoons

freshly ground black pepper

¾

teaspoon

cayenne

2

teaspoons

chopped fresh thyme leaves

1 ½

tablespoons

kosher salt

3

large baking potatoes

(2 ½ to 3 pounds), peeled and cut into 2-inch pieces

2

pounds

small or medium shrimp

, peeled and deveined

¼

cup

chopped green onion

, green part only

2

tablespoons

chopped fresh parsley leaves

Steamed long-grain white rice

, for serving
Instructions
Heat the oil in a heavy-bottomed Dutch oven over medium-high heat and, when hot, add the flour. Whisk to combine and continue to cook, stirring constantly, until a medium roux is formed (it should look a bit darker than peanut butter), about 10 minutes.

(If the roux begins to brown too quickly, reduce the heat to medium or medium-low and take your time—it is important that the roux not be burned at all or the stew will have a bitter taste.) As soon as the roux is the right color, add the chopped onion and cook until soft, stirring occasionally, 4 to 6 minutes.

Add the garlic and cook for 2 minutes. Stir in the stock, little by little, and bring the sauce to a gentle boil. Add the bay leaves, black pepper, cayenne, thyme, and 4 teaspoons of the salt and reduce the heat so that the sauce just simmers. Cook, stirring occasionally, until the floury taste is gone, 30 to 45 minutes.

Add the potatoes and continue to cook, uncovered and stirring occasionally, until the potatoes are very tender and the sauce is thick and flavorful, 30 to 40 minutes longer. (Add a bit of water or chicken broth to thin the gravy should the stew get too thick during the cook time. The sauce is meant to be thick and rich but not pasty.)

Toss the shrimp with the remaining ½ teaspoon salt. Stir the shrimp, green onion, and parsley into the stew and continue to cook until the shrimp are just cooked through, 3 to 4 minutes. Taste and adjust the seasoning if necessary. Remove the bay leaves. Serve the stew in shallow bowls over hot white rice.
Nutrition
Calories:
417
kcal
|
Carbohydrates:
51
g
|
Protein:
38
g
|
Fat:
6
g
|
Saturated Fat:
3
g
|
Cholesterol:
381
mg
|
Sodium:
4502
mg
|
Potassium:
733
mg
|
Fiber:
5
g
|
Sugar:
6
g
|
Vitamin A:
1125
IU
|
Vitamin C:
28.9
mg
|
Calcium:
291
mg
|
Iron:
8.7
mg

How to make Emeril's Cajun Shrimp Stew Gluten-Free:
Sometimes recipes are avoided due to food sensitivities like gluten intolerance, and one reader commented she has a shellfish allergy.
Here are a few adjustments to accommodate those needs so anyone can enjoy this savory stew:
1. Sweet rice flour
makes a wonderful gluten-free roux, replacing wheat flour measure for measure. As long as the spices are gluten-free, this one adjustment will create a gluten-free meal.
2. Any firm fish like cod or sea bass can substitute for the shrimp; simply cut into manageable pieces and cook it in the same manner (briefly). Use fish carcass or heads rather than shrimp to make the fish stock—ask your local fish market for such scraps.
More Recipes from Emeril's Sizzling Skillets and Other One Pot Wonders:
---
This post contains affiliate links. Thank you for supporting what I do here at Savoring Today. For more information regarding ads and advertising affiliations, please see our Disclosure Policy.