BBQ Pulled Pork and BBQ Pulled Chicken Sandwiches are the stress-free choice for your Memorial Day BBQ Menu.
Of course, you can throw burgers and brats on the grill, but burgers can be dry or cold before your guests get one on a bun.
Easy make-ahead recipes give you more time to attend to guests or other important events.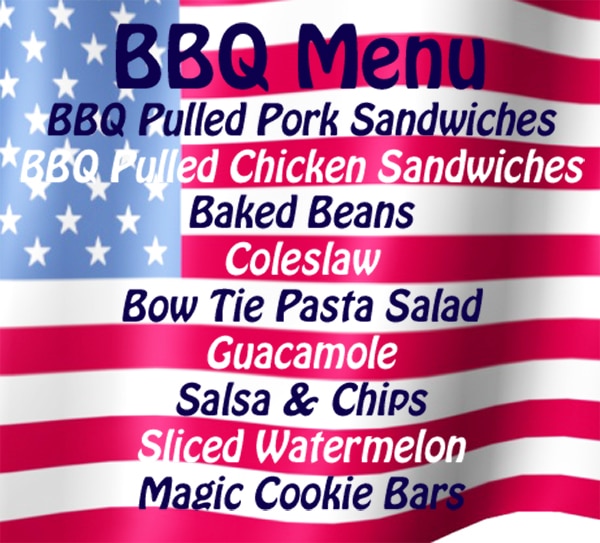 See our Special Note about Memorial Day at the end of the post.
Grilled Baby Back Ribs with Smoked Chile Dry Rub
Baby back pork ribs seasoned with dry rub, grilled for smoky flavor, and finished low and slow in the oven for juicy tenderness.
SEE THIS RECIPE
Grilled Pulled Pork BBQ Sandwiches
Grilled pulled pork so tender and smoky, you won't believe it came from a grill instead of a smoker.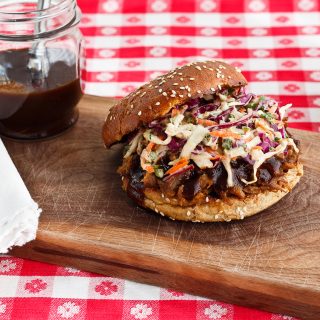 BBQ Pulled Chicken Sandwiches
Smokey Pulled Chicken tossed in a delicious BBQ sauce and served on Sprouted Wheat Buns with coleslaw.

SEE THIS RECIPE
Coleslaw with Celery Seed
This delicious Coleslaw with Celery Seed is the perfect side with any BBQ or Picnic

SEE THIS RECIPE
Guacamole
Earthy, creamy avocados mixed with tomatoes, onions, and garlic with a kiss of lime and cilantro.
SEE THIS RECIPE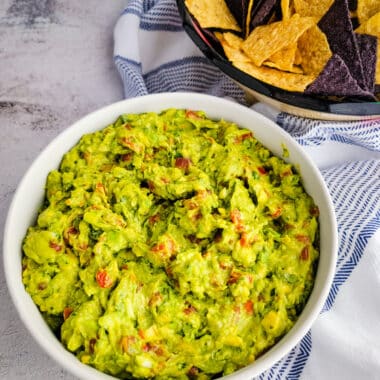 Baked Beans
Ingredients
1

pound

dry Navy beans

, about 2 cups

2

teaspoons

Sea salt

, plus more to taste

1/2

pound

bacon

, cut into 1/4" pieces

1

medium

onion

, chopped

1

cup

chopped mild green chilies

2

cloves

garlic

, minced

2

teaspoons

cider vinegar

1

tablespoon

Dijon mustard

2

tablespoons

brown sugar

1/4

cup

molasses

1/2

cup

Show-Me BBQ sauce

, or favorite BBQ sauce

1

bay leaf

1/2

teaspoon

black pepper
Instructions
Rinse and cover dry beans in water with 1 teaspoon baking soda. Soak for at least 8 hours. Drain and rinse beans, then add beans and enough water to cover by 2 inches in a large pot. Bring to a boil then reduce heat so beans are cooking at a rapid simmer for 1 hour. Check for doneness and add 2 teaspoons salt to the pot and continue to cook until beans are tender, about 30 more minutes.

In a skillet, fry the bacon pieces until fat is rendered and bacon is crisp. Remove from skillet and set aside. Saute chopped onion in 3 tablespoons of the bacon fat until caramelized; add garlic and cook until fragrant.

Mix hot water, vinegar, mustard, sugar, molasses, bbq sauce, bay leaf, and pepper in a bowl until well combined. Taste sauce and adjust seasoning as desired. Mix cooked beans, bacon, onions and garlic, and green chilies in a separate bowl until combined. Once mixed, pour into a large casserole dish and cover with the sauce mix. If needed, add additional water to cover the beans.

Cover and bake at 325º (or place in slow cooker on high) for 3-4 hours. Add liquid if necessary to keep beans just covered. For the last hour of baking, remove cover to allow sauce to evaporate and thicken, if needed. Remove bay leaf before serving.
Bow Tie Pasta Salad
Ingredients
16

ounce

mini bow tie pasta

, cooked and drained

1 1/2

cups

grape tomatoes

, halved

1 1/2

cups

zucchini

, coarsely chopped

1 1/2

cups

yellow summer squash

, coarsely chopped

12-

ounces

artichoke hearts

, drained and quartered

1

whole

red pepper

, chopped

8

ounces

sliced black olives

, drained

1/2

cup

finely chopped red onion

1

cup

crumbled feta cheese

1

cup

diced Provolone cheese

, 1/4″ dice

1/2

cup

chopped fresh basil

1/2

cup

chopped fresh parley

vinaigrette or Italian dressing

, as desired
Instructions
Prepare pasta according to package directions, drain and allow to cool. In a large bowl, combine all ingredients. Toss with enough dressing to coat well just before serving.
Primo Salsa
Ingredients
1/2

small

sweet onions

1/4

Serrano pepper

1/4

green pepper

1/2

yellow chili pepper

, mild

1

clove

garlic

5

Roma tomatoes

1/2

bunch

cilantro leaves

2

teaspoons

lime juice

1/2

teaspoon

Sea salt

, to taste
Instructions
Put garlic, peppers, and onion in food processor and pulse to chop fine. Cut stems off of cilantro just below leaves. Add tomatoes and cilantro to processor and pulse to chop slowly so that tomatoes do not become too small.

Remove from processor and squeeze fresh lime over mixture, stir well. Add salt and stir well. Serve with tortilla or pita chips.
Notes
For spicier flavor use whole Serrano pepper. For milder flavor use more tomatoes or less peppers
Ghirardelli Magic Cookie Bars
Ingredients
1/2

cup

butter

1 1/2

cups

graham cracker crumbs

14

ounces

sweetened condensed milk

12

ounces

Ghirardelli double chocolate chips

1 1/3

cups

flaked coconut

1

cup

chopped walnuts
Instructions
Preheat oven to 350° (325° for a glass dish). In a 13×9 inch pan, melt butter in oven. Sprinkle crumbs over butter; pour sweetened condensed milk evenly over crumbs. Layer evenly with remaining ingredients; press down firmly. Bake 25 minutes or until lightly browned. Cool. Chill if desired. Cut into bars. Store loosely covered at room temperature.
Special Note


Memorial Day is a day of remembrance for those who have died in our nation's service. All holidays are difficult for families who have lost loved ones, but Memorial Day must be especially difficult to process as others plan picnics and backyard parties. Parades, street fairs, vacation plans coincide with graveside visits.
This is an excerpt from an article featured in The Gazette, What to say to grieving families, and why it's important to remember, about the grief families experience as they remember those they have lost:
"But after the crowds go home, grief is rarely tidy, say those who have lost a child in Iraq and Afghanistan. Some people inadvertently contribute to the heartache with awkward talk of closure or a tone-deafness about the significance of Memorial Day."
So what expressions of sympathy are truly helpful?
"The kindest thing you can do is just say, 'Tell me about him,' because if you don't talk, you get sick. I've had some terrible times after Jake was killed, but for me, being of service is the way to go. I'd hope Jake would say, 'I'm proud of you, Pops.'"