Flogging Molly set the mood while fresh baked rye buns were prepped and ready to hold all we had assembled for our St. Patrick's Day corned beef Reuben Sandwich recipe. As I mentioned in the previous Sprouted Rye Sandwich Buns post, I'd been scheming to build a healthier version of the Reuben even though the Irish really consider corned beef an American thing. Either way, it's a good thing and we consider every layer of this delicious concoction is an international celebration.
It was the best Reuben I had ever eaten.
Of course, it was also the first Reuben sandwich I'd ever eaten. How can this be so?
When faced with a choice of sandwiches at a deli, I have always been partial to pastrami and Swiss on rye with brown mustard. I have also never liked corned beef (gasp) because it seemed to have a chemical sort of taste or heavy salt flavor, which is why many people end up rinsing or soaking it in water before cooking. The idea of having to rinse meat to eat it is a turn-off for me, so I haven't been inclined to serve it in any form.
Until now.
We began with homemade Sprouted Rye Buns inspired by Jewish rye breads, freshly sliced corned beef brisket warmed with Russian dressing, then piled it high with sauerkraut and melted Emmentaler Swiss. Served with extra dressing, there was not a crumb or stray piece of sauerkraut left on any plate. I am completely enthralled with the textures and flavors of these Reuben sandwiches and cannot wait to make them again.
What makes the best corned beef for Reuben sandwiches?
I opted for an uncured corned beef brisket from Wellshire Farms. The pickling spices were included in the package, but I still added a few vegetables and a beer to the water when I boiled it. This product uses sea salt and beet juice for color, so it did not stay pink when cooked due to the absence of pink salt (curing salt). More interested in flavor than color this didn't bother me though it may be a drawback for someone else.
I can't say for sure if it is the pink salt itself or the amount used in regular corned beef that gives it the harsh, off-putting flavor, but there was none of that with this uncured version. The flavor was subtle with bay leaf and allspice undertones revealing a clean, salty taste, yet still beefy. Next time I may even try curing my own brisket with this recipe from Nourished Kitchen or one from Cookistry, I like how Donna shows corned beef made both with and without pink salt.
With the corn beef question settled, there was still sauerkraut and dressing

to consider.
Sauerkraut is not all the same, and like most things food related I can be a wee bit picky about it [Irish accent added for emphasis]. Good sauerkraut has a bright, sour taste, not overly salty or vinegary. It should not be necessary to rinse kraut before you can eat it. The cabbage must be crisp-tender, not mushy or seemingly waterlogged. I can still remember making sauerkraut on the farm growing up. An old mandolin-style device from the Middle Ages (or so it seemed) was used to cut the cabbage and my dad would top each jar with a grape leaf from our garden. As a child, I was not fascinated with gardening and canning and there was even a time I would only eat meat and potatoes (yes, I was a pill at times), but I always ate the sauerkraut. Our favorite from the store is Bubbies because it satisfies all my requirements and is naturally fermented, retaining live cultures.
Thousand Island or Russian dressing is given to debate when it comes to Reubens.
After reading the ingredient list of both, I decided Russian dressing would top ours and Emeril inspired the final sauce in the recipe below. With tangy and sweet complexity, this sauce makes the sandwich—if done right, you'll need more than one napkin.
Update: Check the recipe notes for pressure cooker instructions too!
Print
Reuben Sandwich
Author:

Judy Purcell

Prep Time:

20 mins

Cook Time:

3 hours

Total Time:

3 hours 20 minutes

Yield:

4 Sandwiches

Category:

Main Dish, Sandwiches, Beef
Ingredients
For the corned beef:
2 pounds corned beef brisket, Wellshire Farms brand, uncured
2 tablespoons butter
1 medium onion, coarsely chopped
5 cloves garlic, coarsely chopped
2 stalks celery, coarsely chopped
1 tablespoon pink peppercorns, or 1/2 tablespoon black peppercorns
12 ounces beer, any favorite
For the Russian dressing:
1/2 cup mayonnaise
1/4 cup chili sauce
1 tablespoon Dijon mustard
1 tablespoon green onion, white part minced
1 tablespoon dill pickle, minced
1 tablespoon celery, minced
1 tablespoon parsley, minced
1 tablespoon buttermilk or heavy cream
1 teaspoon Chipotle Tobasco
1/2 teaspoon unrefined sugar
1/4 teaspoon Worcestershire sauce
For the sandwiches:
4 sprouted rye buns — sliced in half
2 tablespoons butter
2 cups sauerkraut, any favorite, but our favorite is Bubbies
4 slices Swiss cheese
Instructions

For the Corned Beef:
Heat butter in a Dutch oven until hot, add onion, garlic, celery, and peppercorns to the pot and cook, stirring occasionally, until onions begin to brown. Place corned beef on top of vegetables in pot and cover with water to an inch above the beef. Bring to a boil, then reduce heat to low, cover and simmer for 3 hours, or until fork tender. Once tender, remove from pot and let rest on a cutting board to cool before slicing. Slice thinly against the grain once cooled and divide into 4 mounds (servings) for sandwiches.
For the Russian Dressing:
Whisk all the ingredients together in a bowl, set aside if preparing sandwiches within a few minutes. If made in advance, refrigerate until ready to use.
Preparing the Sandwiches:
Lightly butter the cut side of each bun and set aside. Fold 2 paper towels into a square and set in the bottom of a small bowl. Using a slotted spoon, place approximately 2 cups of sauerkraut in the bowl capturing as little liquid as possible. Let kraut set in bowl to allow paper towel to absorb excess liquid.
Heat a cast iron skillet over med heat until hot. Place buttered buns in skillet and toast until golden browned and crisp. Set aside until ready to build the sandwiches.

Place 2 piles of 1/2 cup servings of sauerkraut in the heated skillet. Along side the kraut, place 2 mounds of meat in the skillet. (A larger pan or griddle can make 4 at a time.) Allow to warm over medium low heat until lightly browned on one side. Carefully turn each pile of kraut over with a spatula, using your hand to guide it over on the other side. Do the same with the mounds of sliced meat. Once turned, place 1 slice of cheese on top of each pile of kraut and pour 2-3 tablespoons of dressing over the meat. Place a lid on over the skillet for 1-2 minutes or until the cheese has melted.
Using a spatula, assemble the sandwich by placing the mound of meat with sauce on a toasted bottom bun. Continue with the kraut and cheese by placing on top of the meat and sauce. Top with the other half of the bun.
Serve with extra sauce (and extra napkins) at the table.
Notes
Uncured corned beef brisket is unlike regular corned beef, the saltiness is less pronounced and the beef carries a milder flavor. Due to the absence of sodium nitrite, the beef will be brown when cooked rather than pink.
Pressure Cooker instructions:
Heat butter in pressure cooker over medium heat until hot and bubbly. Add onion, garlic, celery, and peppercorns to the pot and cook 8-10 minutes, stirring occasionally, until vegetables are soft. Place corned beef on top of vegetables and pour in beer and enough water to just cover the beef. Place lid on cooker and bring to pressure according to manufacturers instructions. Once at pressure, reduce heat to low to maintain a gentle release of steam, and cook for 50 minutes. Release pressure and allow to cool naturally, about 10 minutes. Beef should be fork tender and ready to serve.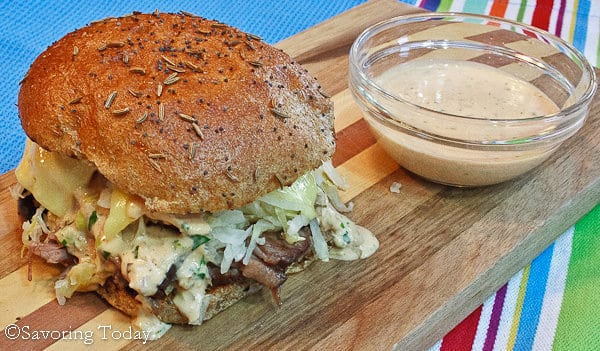 An Irish blessing for good measure:
May the road rise to meet you,
May the wind be always at your back,
May the sun shine warm upon your face,
The rains fall soft upon your fields and,
Until we meet again,
May God hold you in the palm of His hand.
For more fun St. Patrick's Day ideas, follow along on Pinterest: 
Follow Judy Purcell @ Savoring Today's board St. Patrick's Day on Pinterest.

Shared on the following Blog Hops:
Mom Trends Friday Food
Premeditated Leftovers Gallery of Favorites
Real Food Whole Health Fresh Bites Friday
Real Food Forager Fat Tuesday
SS&GF Slightly Indulgent Tuesday
The Healthy Home Economist Monday Mania
The Nourishing Gourmet Pennywise Platter
Tuesday's Table