Our healthier version of the classic Reuben sandwich will win you over with uncured corned beef, topped with sauerkraut, Swiss cheese, and homemade Russian dressing.
Grab a handful of napkins, you'll need them!
---
This post may contain affiliate links. For more information, please see our Disclosure Policy.
---
Freshly baked rye buns hold the delicious layers of our homemade Reuben Sandwich on Sprouted Rye Buns for St. Patrick's Day in classic fashion.
Even though the Irish consider corned beef an American thing, our St. Patrick's Day menu wouldn't be complete without it.
If you're curious where corned beef originated, read more about the history and cultural influence of this culinary delight at the Smithsonian.
But this isn't your ordinary Reuben.
Corned beef is made from beef brisket that is cured or pickled in brine. Its name comes from the grains of salt used in the brining process, once referred to as "corns of salt," hence the name "corned beef."
Our homemade Reuben is created with naturally brined, uncured corned beef, thick-cut Swiss, live culture sauerkraut, and fresh Russian dressing.
We layer all that goodness in made from scratch Sprouted Rye Buns so it's the healthiest Reuben sandwich you'll find anywhere.
Why choose "uncured" corned beef?
To me, the standard cured corned beef has a chemical sort of taste or heavy salt flavor, which is why most recipes recommend rinsing or soaking it in water before cooking.
I can't say for sure if it's the sodium nitrite in the pink salt itself or the amount used that gives it the harsh, off-putting flavor, but there is none of that with this uncured version.
The flavor of uncured corned beef is more subtle with bay leaf and allspice undertones revealing a clean, salty taste, yet still beefy.
Imagine that, corned beef that tastes like … beef.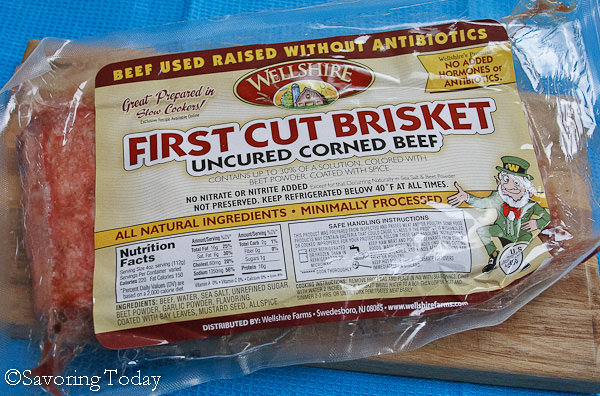 Wellshire Farms uses sea salt and beet juice for color.
Due to the absence of pink salt (curing salt), the meat does not stay pink when cooked. This didn't bother me, though it may be a drawback for someone else used to the bright pink color.
Pickling spices are included in the package, but I still add a few vegetables and beer to the cooking water.
At some point, I may try curing my own brisket with this recipe from Simple and Savory or one this from Cookistry, where Donna shows corned beef made both with and without pink salt.
Note: I purchased this product myself and was not compensated for this post by any brand.
Time Saver Tip:
Trader Joe's Uncured Sliced Corned Beef and Niman Ranch All Natural Uncured Sliced Corned Beef at Natural Grocers are already cooked, sliced and ready to serve.
Naturally Fermented Sauerkraut is Full of Enzymes and Probiotics
Sauerkraut is not all the same, and like most things food-related, I can be a wee bit picky about it.
Good sauerkraut has a bright, sour taste, not overly salty or vinegary. It should not be necessary to rinse kraut before you can eat it.
The cabbage must be crisp-tender, not mushy or waterlogged.
Unless otherwise indicated, most sauerkraut is pasteurized to make it shelf-stable. While keeping the product stable, the problem is pasteurization destroys the beneficial bacteria, digestive enzymes, lactic acid and vitamin C, which reduces nutritional value.
Raw, lacto-fermented kraut
or those treated at lower temperatures (usually in the refrigerated section) are the most nutrient-rich type, full of enzymes and probiotics.
Bubbies is our favorite classic kraut because it satisfies all my taste and texture requirements, and is processed at lower temperatures, retaining live cultures.
Learn more about fermentation and making your own kraut with this Homemade Sauerkraut Recipe from Cultures for Health.
Homemade Russian Dressing is the Perfect Finish
Homemade Russian Dressing tops our Reuben with tangy-sweet complexity and a hint of spice. This sauce makes the sandwich and is not a place to compromise.
This dressing takes only a few minutes to prepare and is far superior to anything you can buy at the store. Unfortunately, it's hard to find quality dressings at the store that aren't made with soy or canola oils, even organic brands.
Our recipe is completely homemade, even the mayo! Don't be scared, we use an immersion blender to make healthy mayo in less than a minute.
Served with extra dressing, there is not a crumb or stray piece of sauerkraut left on any plate—if done right, you'll need more than one napkin.
Sprouted Light Rye Buns for Sandwich Bread that Doesn't Bloat.
What's a Reuben without rye bread?! The accent of caraway seed is an important part of the flavor profile.
I've been making sprouted bread for years now and am particularly fond of our whole wheat sandwich buns. Whole grains get a nutritional boost from the sprouting process and often easier to digest as a result.
The Sprouted Light Rye Buns mentioned in the recipe are made from 100% sprouted wheat and rye flours. Deliciously light and tender, you'll want to make these buns in advance so they're ready to go when it's sandwich time.
Spread with butter and toast until golden brown for that ultimate grilled-bread crunch.
If you don't have time to make the buns, look for Alvarado Street Bakery Sprouted Rye Bread, available in most health food stores and major chains like Safeway or Kroger.
Store-bought sprouted breads won't be as fluffy as these Rye Buns, but it's still a healthier choice and will have a nice rye flavor and toasted crust.
Check the recipe notes for pressure cooker instructions too!
Reuben Sandwich
A classic Reuben sandwich made with uncured corned beef, topped with sourkraut, Swiss cheese, and Russian dressing. Served on homemade sprouted rye buns.
Ingredients
For the Corned Beef:
2

pounds

corned beef brisket

, Wellshire Farms brand, uncured

2

tablespoons

butter

1

medium

onion

, coarsely chopped

5

cloves

garlic

, coarsely chopped

2

ribs

celery

, coarsely chopped

1

tablespoon

pink peppercorns

, or 1/2 tablespoon black peppercorns

24

ounces

beer

, any favorite, Nitro Stout is especially good
For the Russian Dressing:
1/2

cup

mayonnaise

1/4

cup

chili sauce , Organic Ville brand

1

tablespoon

Dijon mustard

1

tablespoon

green onion

, white part minced

1

tablespoon

dill pickle

, minced (or non-sweet pickle relish)

1

tablespoon

celery

, minced

1

tablespoon

parsley

, minced

1

tablespoon

buttermilk or heavy cream

1

teaspoon

Chipotle Tobasco

, or favorite hot sauce

1/2

teaspoon

coconut sugar

, or honey

1/4

teaspoon

Worcestershire sauce
For the Sandwiches:
5

sprouted rye buns

, sliced in half

2

tablespoons

butter

2

cups

sauerkraut

, our favorite is Bubbies

5

slices

thick-cut Swiss cheese
Instructions
For the Corned Beef:
Heat butter in a Dutch oven until hot, add 1 chopped onion, 5 cloves chopped garlic, 2 chopped ribs of celery, and 1 tablespoon peppercorns to the pot and cook, stirring occasionally, until onions begin to brown. Place corned beef on top of vegetables in pot. Add 24 ounces beer and enough water to just cover the beef. 

Bring to a boil, then reduce heat to low, cover and simmer for 3 hours, or until fork tender. Once tender, remove from pot and let rest on a cutting board to cool before slicing. Slice thinly against the grain once cooled and divide into 4 mounds (servings) for sandwiches.
For the Russian Dressing:
Whisk all the ingredients together in a bowl, set aside if preparing sandwiches within a few minutes. If made in advance, refrigerate until ready to use, up to 1 week.
Preparing the Sandwiches:
Lightly butter the cut side of each bun and set aside. Fold 2 paper towels into a square and set in the bottom of a small bowl. Using a slotted spoon, place approximately 2 cups of sauerkraut in the bowl. Let kraut set in bowl to allow paper towel to absorb excess liquid.

Heat a cast iron skillet over med-high heat until hot. Place buttered buns on skillet and toast until golden browned and crisp. Set aside until ready to build the sandwiches.

Reduce heat to medium-low and place 2 piles of 1/2 cup servings of sauerkraut on the heated skillet and cover with a slice of Swiss cheese. Along side the kraut, place 2 mounds of meat. (A larger pan or griddle can make 4 at a time.) Allow to warm over medium low heat until lightly browned on one side. 

While the cheese is melting on the kraut, carefully turn each pile of meat over with a spatula, using your hand to guide it over on the other side. Spoon about 2 tablespoons of dressing over the meat.

Once the cheese has melted and the meat is warmed with the dressing, assemble the sandwich by placing the mound of meat with sauce on a toasted bottom bun. Continue with the kraut and cheese by placing on top of the meat and sauce. Top with the other half of the bun.

Serve with extra sauce (and extra napkins) at the table.
Video Displays Here or In Post
Notes
Uncured corned beef brisket is unlike regular corned beef, the saltiness is less pronounced and the beef carries a milder flavor. Due to the absence of sodium nitrite, the beef will be brown when cooked rather than pink.
Instant Pot (Pressure Cooker) Instructions:
SAUTE onion, garlic, celery, and peppercorns in the butter for 8-10 minutes, stirring occasionally, until vegetables are soft.
Place corned beef (fat side up) on top of vegetables and pour in only 12 ounces of beer.
Place lid on cooker and select MANUAL High Pressure; cook for 75 minutes (roughly 35 minutes per pound). Note: It takes about 7 minutes to come to pressure in a 6 quart Instant Pot.
Release pressure and allow to vent for 10-15 minutes. Beef should be fork tender and ready to slice and serve.
Nutrition
Calories:
861
kcal
|
Carbohydrates:
31
g
|
Protein:
40
g
|
Fat:
63
g
|
Saturated Fat:
22
g
|
Cholesterol:
157
mg
|
Sodium:
3319
mg
|
Potassium:
831
mg
|
Fiber:
4
g
|
Sugar:
7
g
|
Vitamin A:
720
IU
|
Vitamin C:
63.4
mg
|
Calcium:
311
mg
|
Iron:
6.1
mg
An Irish blessing:
May the road rise to meet you,
May the wind be always at your back,
May the sun shine warm upon your face,
The rains fall soft upon your fields and,
Until we meet again,
May God hold you in the palm of His hand.
More St Patrick's Day Recipes: